Review: Cecilia Bartoli is Fierce and Mercurial in Bellini's Norma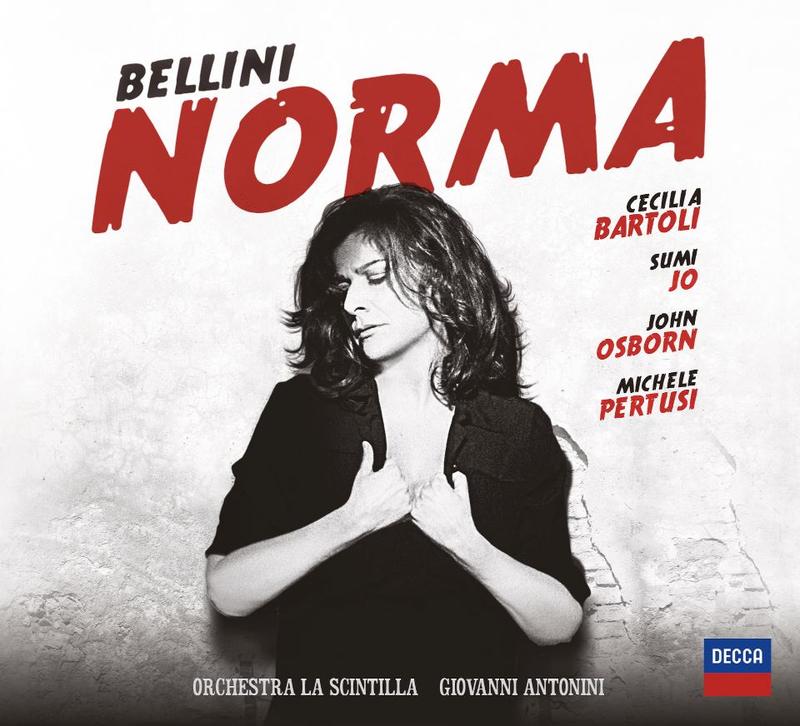 The new recording of Vincenzo Bellini's Norma starring Cecilia Bartoli on Decca is an operatic minefield. And since mines in opera, unlike those in real life, inflict no lasting harm, let's jump right in and enjoy the pyrotechnics.
Ever since she included "Casta diva" in her Maria Malibran tribute, Bartoli has been ridiculed for her "presumption" in tackling the music of Bellini's doomed priestess, which in the past century has been sung most often by dramatic sopranos such as Rosa Ponselle and Maria Callas. The late record producer Walter Legge described Ponselle as possessing "an Aida-Norma-Gioconda voice."
Ah, not so fast: Verdi was delighted that the gentle, ladylike Adelina Patti, a lyric soprano, planned to sing Aida. Today, with our earsplitting orchestras and absurdly high concert pitch, the thought of Patti as Aida boggles the mind. If what we presume to know about Aida is so far off target, doesn't it stand to reason that our thinking on Norma could also be more expansive? And that Bartoli, who sings both soprano and mezzo-soprano roles, might possibly have the right stuff for Bellini's monumental opera, too?
The Bartoli Norma is also based on a new critical edition of the score by Maurizio Biondi and Riccardo Minasi and played on period instruments. Operavore readers may know that the musicologist Richard Taruskin has argued that historically informed performances are radically inauthentic, shaped by "an ideal of fleet coolness and light that is wholly born of ironized 20th-century taste." But it is no less true that Callas's Norma recordings are based on scores that had been butchered to make them sound more like Puccini: efficient, streamlined, modernist. (See Philip Gossett's Divas and Scholars: Performing Italian Opera for more on this topic.)
Though the troglodytes who deemed Italian opera unworthy of serious study are surely long extinct, the Norma critical edition might be seen as a vexed undertaking by those who champion music as a transitory event rather than an inviolable "work" (Carolyn Abbate and Roger Parker, say, or Lydia Goehr). But why not learn all that we can about what Bellini and his librettist Felice Romani set down before performing Norma? A "perfect" realization of a "definitive" score can never happen, and we will always have more to learn about Norma—and Norma about us.
Vocal Thrills
As for the Decca set, it is thrilling from first note to last. Hearing Bellini's music played by the Orchestra La Scintilla under Giovanni Antonini (right) is akin to seeing the splendidly restored Holy Family by Andrea del Sarto in the Metropolitan Museum's renovated galleries. The transparent sound allows you to hear colors and inner voices that vanish in a blur when played by modern instruments. The strings are tangy and iridescent, the rhythms crisp and Antonini's leadership is lively and nuanced. The Act II introduction is especially impressive, from the cataclysmic opening chord to the stabbing figure that underpins the "Teneri figli" melody, here a nightmare's relentless echoes and throbs.
Granted, the "fleet coolness" decried by Taruskin does sometimes surface. "In mia man alfin tu sei" at first listen seems disconcertingly brisk, with little of the menace of a panther circling her prey that Callas brings to the scene. But the duet works at a volatile clip—with Norma and Pollione frantically thrusting and parrying, both coming apart at the seams. And its dispatch throws what follows into sharper relief.
Gentle readers, this four-hankie Callas orphan has never heard a more wrenching performance of the Norma finale than the one given here. When John Osborn, the set's superb Pollione, admits to Norma that he has come to know her too late, he sings pianissimo. He is no moonlighting Turiddu bawling to the gallery; he is a lover sharing hushed intimacies with the "sublime woman" he has lost. Similarly, Bartoli's girlish sound in "Deh! non volerli vittime" captures the human truth of a daughter's tearful pleas to her father, making the final scene an intimate, family tragedy that also happens to engulf an entire community. Masterfully paced by Antonini, its slow burn tears at the heart, just as Bellini wished: "Dramma per musica must make people weep, shudder, and die through song."
As ever, there is a Little-Engine-That-Could sense of effort to some of Bartoli's passagework, but she is a fierce and mercurial goddess of song and a Norma for the ages. Sumi Jo as Adalgisa serves up unfailingly lustrous tone, and Michele Pertusi is a patrician Oroveso.
So why wait for the Fourth of July fireworks? Listen to this groundbreaking and unusual new recording of Norma and let us know what you think.
Norma starring Cecilia Bartoli will be released on June 11. John Osborn sings Henri in Verdi's Les Vêpres siciliennes at Caramoor on July 6.
Photo of Giovanni Antonini by Paolo Morello