Singers and their Finances, Part One: The Challenges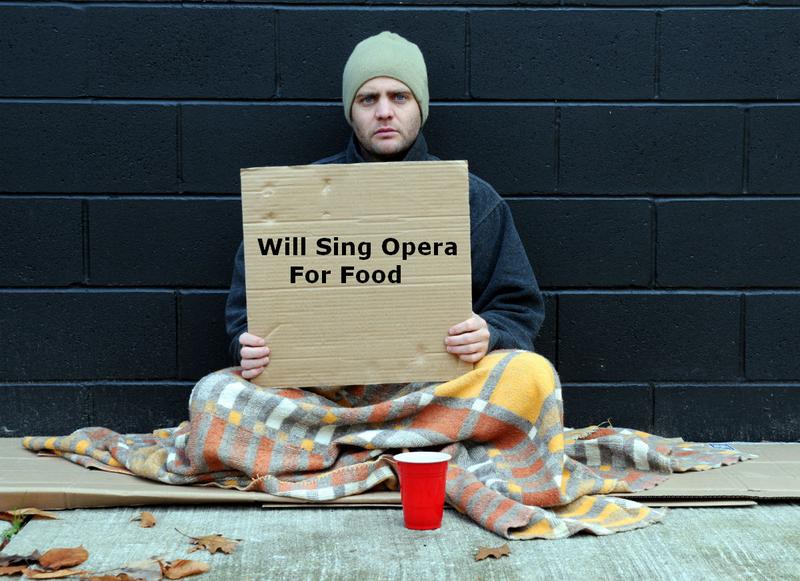 Following up on my article about opera singers and issues involving their health, I have decided to write about, and for, singers concerning their finances. This will be the first of two pieces on the subject because, sad to say, it is challenging and complex. I have discovered that most people don't understand how difficult it is for singers to manage financially unless they are superstars.
Let us begin with a few premises. The first is that most young people who aspire and train for lives as opera singers do not manage to have big careers. Like all performing artists, they must audition for roles unless they are big stars. Casting directors and conductors make subjective decisions about who should perform. Just because a singer is not cast for a role does not mean she is not good. It simply means that another artist was deemed more qualified for this particular production.
Second: even if a singer has a successful career, it seldom takes off until she is at least thirty and perhaps older. While dancers and athletes are in their primes at young ages, the singer -- for physical and other reasons -- comes into her own later on. But they still have to live and pay for the expenses of life. Imagine that a singer has gone to college, studied music, languages, literature and other disciplines that will enhance her skills as an opera singer. This education costs money. Then there might be an advanced degree at a school in America or any number of institutions in Europe. This costs even more money and, although some young singers receive some financial aid, there is never extra money around.
To survive, many singers enter singing competitions. This earns them some money if they win or place and might attract the attention of managers. But this is a very small percentage of the overall population of singers who hope to have careers.
This mention of competitions gives me the opportunity to send a big shout-out to American mezzo-soprano Jamie Barton (below), who just won what is often called the top prize among competitions, the Cardiff Singer of the World. In 2007, Barton was part of a stellar group, including soprano Angela Meade and tenors Michael Fabiano and Alek Shrader, that won at the Metropolitan Opera National Council finals. Meade, who is one of the top stars of her generation, is also rare in that she won more than fifty competitions. Winning a competition requires some different skills than being cast in a role, but Meade has the knack for both. Mark your calendars now for October 24 and 28, when Meade and Barton sing Norma and Adalgisa in what will surely be one of the must-attend performances at the Met next season.
Finding the Day Job
The likes of Meade and Barton, though, are exceptions and most young artists have a hard time making ends meet. Because working in their chosen career starts later than it does for most people (apart from physicians, whose school debts are large but whose earning potential is greater), most aspiring opera singers must find jobs to pay the bills and student loans while aiming for the stage. Many do clerical and office work, often as paralegals in law firms. Like many New Yorkers, I knew people who died in the attacks on September 11, 2001. These included several young opera singers who had office jobs in the World Trade Center.
Other young singers get jobs in the food business; or as athletes, truck drivers, manual laborers, and just about every other field you can think of. Some will get jobs as teachers of music or other subjects, while still others join choruses or do freelance work singing at weddings and in houses of worship on religious holidays. I have met many Christian singers who know Jewish religious music and, conversely, Jewish singers who regularly appear in Catholic and Protestant churches singing holiday music.
Young singers, like most young people, also want have love lives, perhaps get married, and perhaps have children. They also have to pay rent, buy clothing, continue to have singing lessons (which easily cost $100 each) and go out on auditions, often in cities where they do not live. If they are women, they also give consideration as to if and when to have children. Even in a situation where a woman is able to plan a pregnancy, it must be worked out with her partner in terms of finances, child care, and more. Because access to health insurance is so difficult in the U.S., American singers face additional challenges.
More than a few young singers go to Germany or a few other European countries to look for jobs as contract singers at opera houses. This gives them a place to be based and also, it most be noted, health coverage. There are pluses and minuses to this choice. Once it was customary for an American singer to be based in Europe, not only because there was more opportunity for work but because they they were able to acquire languages, culture and to nestle in the safety net of social programs. The tenor Bruce Ford told me "the one reason I went off to Germany at the beginning of my career was to build a repertoire at less expense."
Setting up abroad also means being away from home, family and friends. Not everyone wants to live in a foreign country. I happily did much of my opera training in Italy (with detours in Germany, Austria and France) but I realized after several years that I am a New Yorker and I wanted to be in my city. Had I stayed in Italy much longer I likely would never have come home and I was not quite willing to make that change in my life.
If a singer gets a manager, that person is entitled to a percentage of the singer's income, just as writers have agents who typically earn between ten and fifteen percent of the writer's earnings from books. A problem nowadays is that many opera houses are lowering their fees and asking singers to accept that. Singers feel pressured to do so because they want to be collegial and likable and, frankly. because they want to sing and have bills to pay.
The young soprano Anna-Louise Costello, in a couple of tweets, noted that it is difficult "Being offered little or no fee, because the 'experience' is deemed valuable enough. It is a difficult situation. I am just trying to clock up stage hours & pay my bills!"
Waiting for Payday
Soprano Leah Partridge, in a series of tweets, wrote, "It took me nine months to get paid from Italy. European companies don't pay after every performance but will wire 2-6 weeks after closing. However, singers pay flights and housing up front. Fees are down. I make less than what I made when I started. I had a company offer a fee, then come down on the offer because they knew another singer would come for less. I was told to take the new offer or lose the job! Still love what I do and keep going! But I am still paying for my college (sigh)."
Partridge is not the exception in this regard. I know of several young artists who are waiting to be paid for performances done in Italy. This is why many of them do not go there (apart from cities such as Milan and Turin). This saddens me no end, because they cannot draw from the wellspring of opera's birthplace and because Italy itself is being marginalized as a consequential place for opera. Most of the top Italian singers now work and live abroad.
You may not realize that opera singers in many theaters are not paid for the rehearsal period. They must find the money for food and lodging ahead of time. They are only paid when they perform. If they become ill and must cancel, they lose their fees for that performance. Many theaters require that a singer do at least one act to receive a paycheck, which is why you often see an unwell singer soldier through to the first intermission.
Other challenges are more personal. A young American tenor wrote to me, "My primary financial issue as a singer is budgeting. Even with a wife with a steady paycheck, it seems many of the smaller opera companies are booking later and later. Also, planning for the months of not working after the months of working is a unique challenge, not unlike teachers who don't get paid over the summer months. Deciding whether you have time to find other income earning jobs during these breaks."
He continued, "Even when you have a supportive and loving spouse, as I do, another challenge is the guilt of using so much of a tight money supply for flights to auditions for jobs/agents and taking jobs that do not have a large paycheck. As my wife is a contract worker, we provide our own health insurance. We chose a plan with a high deductible due to the lower monthly payment."
In an upcoming post I will discuss some ways for singers to better manage their financial lives.