King George III: Mad About Opera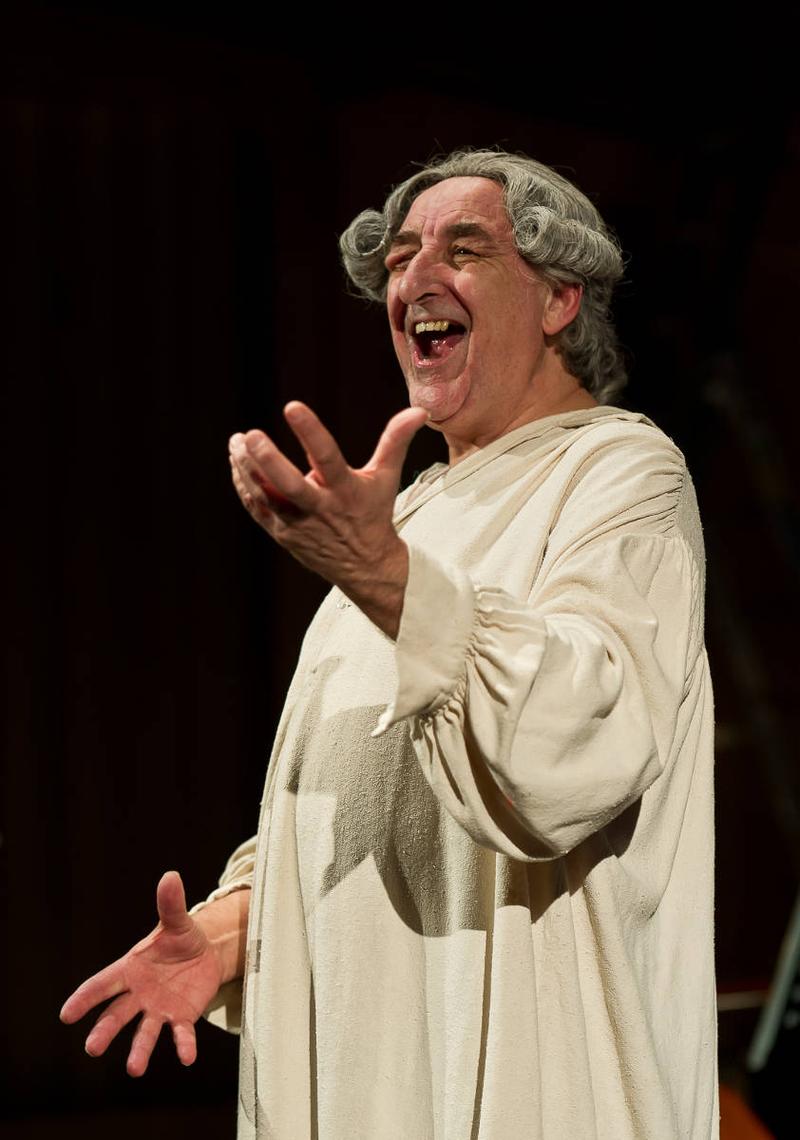 It is strange how fragments of language and snippets of song lyrics can lodge in the head and suddenly be summoned in the most unlikely way. For example, the line from some forgotten song, "Without King George the Third there would be no July the Fourth." Another fragment comes from Fiddler on the Roof, "Rabbi, is there a proper blessing for the czar? Of course! There is a proper blessing for everything: "May God bless and keep the Czar.....far away from us!"
The conflation of these snippets brought forth in me the question, "Is there an opera about King George III?" And the answer: "Of course! There is an opera about almost everything." I would like to tell you that it is a long-lost work by Donizetti called La Follia di Re Giorgio which would include a mad scene as good as anything in Lucia di Lammermoor or Anna Bolena. But alas, no such bel canto masterpiece about King George has been discovered.
The opera about George III, born in 1738 and who reigned from 1760 to 1820, was written by Peter Maxwell Davies in the late 1960s and is called Eight Songs for a Mad King. This 33-minute work "for baritone and ensemble" of six musicians is, when performed, a searing account of madness, whether it is of the actual George or someone mad enough to believe he is indeed the king. The instruments of the ensemble, all percussionists, include chains; cymbals; didgeridoo; ratchet; sleigh bells; tom-tom; and wind chimes.
The opera, sung in a stream-of-consciousness fashion, draws from words uttered by the king and also includes some recognizable passages from Handel's Messiah. There are parts of the opera that are especially compelling in which the king tries to teach birds to sing. They are not just suggestive of dislodged reason but quite thrilling in purely musical terms.
Here is a trailer describing a recent performance of the work at Music Theatre Wales in Cardiff. I was struck by the observation that George is "A man who is troubled but who understands at times what he is going through." Think of what that asks of the virtuoso performer who undertakes to play the role. 
This opera had its premiere on April 22, 1969 at London's Queen Elizabeth Hall, long before the hit play and film "The Madness of King George." It was a radical piece in its time and, in many ways, still is, even if audiences might be more open to it today. It can be seen nowadays through our more contemporary attitudes toward, and approaches to, mental illness. We might think of the character not as insane but perhaps afflicted with any number of syndromes and conditions that are described in medical literature and the science pages of the weekly newspaper.
What is interesting in this opera, among many things, is that it does not ask us or tell us to feel compassion and sympathy for the king, and yet I think we do. It does not play on the stereotypes of madness as a source of humor but, instead, looks at what happens when the madness takes hold.
I should note, in the interest of historical accuracy, that King George III was not driven mad by the American Revolution of 1776. Read this letter [PDF] he wrote after Britain "lost" the American colonies. He had a bout of serious illness in 1788 and then other problems after that before being declared mad in 1810. Other world leaders have had similar declines in mental faculties, with the difference being that almost all were not in power when it happened. We should recall too that only some people become "raving mad" and that is how George is usually depicted. Many others have a gradual and steady decline with brief plateaus of regular functioning and some lucidity. Such examples might include Ronald Reagan and Margaret Thatcher, about whom I heard someone in London say a couple of years ago that Mrs. Thatcher had "the dwindles." An evocative term.
Opera Lover
As it happens, Prince George, before ascending to the throne, was a devoted opera fan who often could be seen in London's theaters, especially when Handel's operas and oratorios were performed. Imagine living in London when Handel was composing new works and always having access to the best seats whenever you fancied them! Perhaps it was George's sudden separation from opera when he became monarch that drove him mad. It would me.
On the throne, as we are reminded in a rather curt and defensive entry in the British Royal family's website, George was an engaged, detail-oriented monarch. We are told he was a big arts patron, giving 65,000 books to the British Museum and the funds to create the Royal Academy of Art in 1768.
I love how the entry in the site describes him: "George III was the most attractive of the Hanoverian monarchs. He was a good family man (there were 15 children) and devoted to his wife, Charlotte of Mecklenburg-Strelitz, for whom he bought the Queen's House (later enlarged to become Buckingham Palace)."
I know that you now want to hear this special opera, Peter Maxwell Davies's Eight Songs for a Mad King. You can listen to the whole opera and read the lyrics below.
For the Fourth of July, I wish you enlightened revolutionary ideals, complete separation of church and state, and an egalitarian sense of greater good for all. May these endowments influence you to create a new opera or other works of art, whether or not people think you are mad.