In Opera, There is No Such Thing as a Magic Mike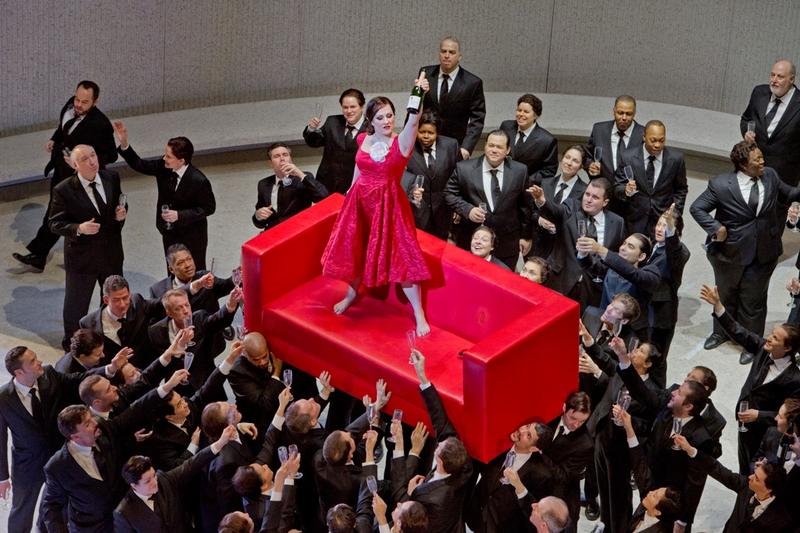 I was traveling when an article by Anthony Tommasini appeared in The New York Times showing a photograph of the wonderful soprano Diana Damrau wearing a microphone wire during a Metropolitan Opera rehearsal for a production of La Traviata intended for HD (High Definition) transmission to cinemas around the world. E-mails arrived to me suggesting I read the story but I only had the opportunity a couple of days ago.
According to the article, the Met claimed that microphones have been used in some HD transmissions to capture sound for broadcast: "In certain productions during certain scenes singers are sometimes positioned in places on the Met's large stage where their voices cannot be picked up by the network of microphones used for radio and for the HD broadcasts that have become so popular in recent years. In these instances a singer will wear a body microphone, which carries the singer's voice to the control panel for the broadcast, but not, [Met general manager Peter] Gelb insisted, into the house."
The issue, and controversy, about when and how microphones are used in opera is hardly new. One of my first articles here at WQXR, on April 25, 2011, approached this issue in such a way that it would stimulate discussion among readers. It certainly did.
Let me first make clear a couple of concepts so that we all understand certain parameters of the discussion. In the context of a performance, microphones serve at least two functions. In radio stations and recording studios, they capture sound to be transmitted to listeners or to a producer who will then make a recording. In theaters they can transmit sound for live radio and television broadcast. In performances at non-classical venues, microphones are typically used to amplify (make louder) sound so that it can be heard in an auditorium. 
To this I wish to add that microphones in a theater can be used to capture, amplify and adjust the sound we hear. In other words, there is a potential for manipulation of what we hear that can be so extreme that there is no way to know if it the real thing or a fake based on the taste and eardrums of the person turning the knobs. Once we take even one step down this road, we are--forgive my bluntness--screwed.
I need only remind you that when the New York City Opera performed at what was once called the New York State Theatre, a practice called "sound enhancement" was installed that purported to make up for inadequacies in the theater's acoustics. From that point forward, I ceased to think of City Opera productions in musical terms because there was no way to trust what I was hearing. Because City Opera's management at the time never adequately described how sound was being "enhanced," I had no faith that I was hearing singing done as the artists had been trained to do it. So I watched City Opera performances to see what ideas stage directors had about the works they were producing, but could not take them seriously as music.
Let me share with you some comments from readers of my article of two years ago. One commenter raised several strong points:
"In an operatic performance, the voice is part of the fabric of the orchestral ensemble and should be treated as such. The players in the pit need to listen sensitively to the singers, as if they were playing a string quartet. If you amplify one part of the ensemble but not the rest, you throw the whole thing off balance and you miss out on the sound world the composer was creating." (So I actually don't mind amplification of outdoor concerts...then at least everybody sounds equally lousy!)
"There is also a technical aspect: even some of the greatest venues in the world (like the Met) have, to date, achieved only mediocre sound quality in their broadcasts and recordings. Perhaps some day technology will advance to the point that operatic voices can be reproduced in a realistic fashion, but anyone with ears knows that this is currently far from the case. Radio and HD movie theater broadcasts have their value, but nobody can seriously think that they are a substitute for the real thing, can they? That's like saying you don't need to experience the great wonders of the world when you can just see pictures."
This reader felt there is a place for mikes in the opera house:
"Microphones, and actually all sound reproduction, are not what it was a decade ago. Digital signal processing has made huge strides in pickup and reproduction quality...Singers do need some practice with mikes. They can pick up every inhale, every throat clearing, every click of a heel on a floor and every costume ruffle. All workable issues. But the electronics can also pickup more vocal nuances, that last tear-drop of a note, that would be lost in the large volume of air where there is also the competition with the sound of the orchestra."
This commenter would not agree:
"I am firmly in the camp of 'No' regarding microphones in opera performances. I have heard miked performances in opera houses, and they are invariably very discernible, distorting and distracting. Microphones cheat opera-goers of one of the great aural experiences - the glory of a human voice, producing sound that is awe-inspiring, shimmering in the air like a jewel and soaring through (usually) vast spaces. As one whose earliest opera experiences were semi-open-air (the Cincinnati Zoo - yes, Zoo!) with no amplification, no amplified speaker (even with modern advances in sound) could capture accurately the glory of the sounds produced by great singers and a great orchestra, and no amplification was needed even in that open-air venue. It has been my experience that even recordings fail to accurately capture certain indefinable qualities of voices that make them great. I believe that the younger generation will become captive opera audiences simply because un-amplified opera is so different from the concerts they normally attend; it is so amazing to hear that unique sound, unavailable even in the best HD broadcast or on DVD! I hope opera houses will not cheat future generations out of this incredible experience by miking performances. And I agree that the ones that do should make full disclosure of the use of "sound enhancement", or be guilty of defrauding the public!"
I share with the reader from Cincinnati the awareness of having heard singers who are "miked" in opera houses with ostensibly good acoustics. It is always discernible to me because the miked singer sounds different from the others. I wrote the first article and have discussed the issue since in the hopes that we would not experience the further incursion of miking. The fact is that it is there, at least in some theaters and with some artists, whether or not opera companies own up to that fact.
Caveat Emptor
I believe we have reached the point where opera companies should be required to disclose in their season announcements and at the point of sale of tickets whether and how microphones are used in each of their productions. Then the information should be printed conspicuously in the program of the performances affected, just as theaters announce that herbal cigarettes, strobe lights and gunshots are part of a production. 
This is a question of trust and candor. If, like Elsa in Lohengrin, doubt is instilled and belief and trust are poisoned, it is almost impossible to recoup them. I don't want to even wonder, when seated in an opera house, whether a singer is being amplified. Rather than run a wire up Diana Damrau's back, wouldn't it be possible to hang microphones somewhat above the stage, as is done in concert halls that do broadcasting, to capture the sound for broadcast? And then, of course, announce in the program that this is being done.
A larger issue is the place of technology in theaters and how they impact on opera performances. I am not a Luddite in this regard. I love great stage technology, subtle lighting and some special effects. Opera in 17th century France was full of technical innovations and Wagner, in the 19th century, pushed opera house technology even further. But when technology dominates and intrudes rather than serves, something is terribly amiss.
I plan to address the positive and negative aspects of technology in the opera house in future articles and want to know what you think. Please share your thoughts and experiences on this essential topic.