In the Footsteps of Richard Wagner: Zürich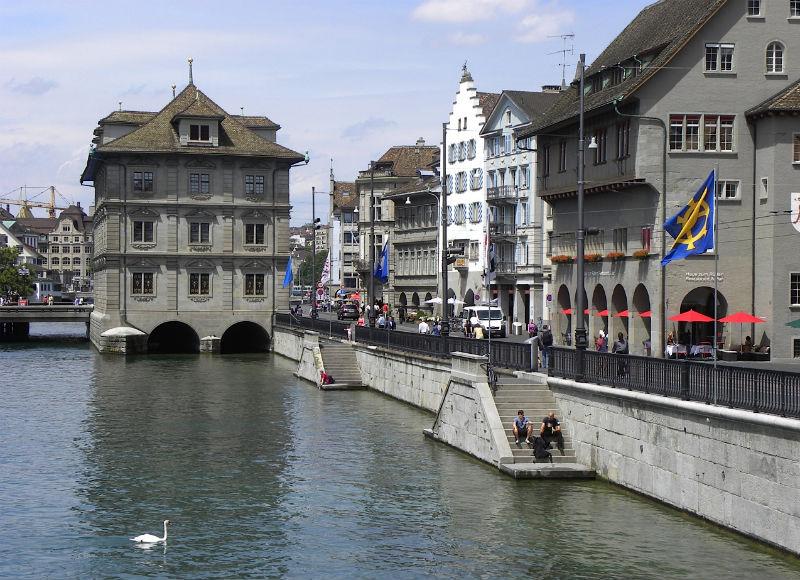 The story of Richard Wagner can be told in so many ways: genius, controversialist, rebel, narcissist and so much more. My approach in this, the year of the bicentennial of Wagner's birth, has been to walk in his footsteps to learn about him by visiting places important to his formation and creativity. First came Leipzig, where he was born and later studied. Then there was Dresden, where he lived as a boy and returned to for his early work. It was from Dresden that he fled with his wife Minna after participating in revolutionary activities in May 1849.
Wagner intended to go to Paris, whose Opéra paid very well and had the latest in stage technology. First the Wagners went over the border from the German lands into Switzerland, where a friend helped him secure a Swiss passport. He went on to Paris but quickly decided that it was not the place for him at that time. He returned to Zürich in July 1849. This was his base for nine years, until 1858, when he moved to Lucerne. I will describe his time there in a future article.
Zürich was different in so many ways from what he knew before. Dresden was a royal city with court orchestras and commissions for talented musicians, who performed at the pleasure of those who would pay them. In contrast, Zürich was a city of merchants and tradesmen for whom culture was not about the glorification of its patrons. 
The city had communities of foreigners, including Jews, and was less oriented toward emphasizing national characteristics in the way that Wagner did with his vaunted notion of German-ness, whatever we take that to mean. One expression of this was his admiration of the guilds of Zürich, those confraternities of artisans engaged in various crafts and professions. A tradition took place each year in early spring in which the guilds gathered on the large square where the Zürich Opera House now sits. There, they would burn old winter wood and detritus in a festive ceremony that inspired the third act of Die Meistersinger von Nürnberg.
Birthplace of Notorious Essays
Zürich became a place where Wagner could reflect upon, and amplify, his ideas and theories. Most of the famous and notorious essays for which he is known were written in Zürich. These include Die Kunst und die Revolution ("Art and Revolution"); Das Kunstwerk der Zukunft ("The Art of the Future"); Das Judenthum in der Musik ("Jewishness in Music")—published under a pseudonym (right, in a signed edition); Oper und Drama ("Opera and Drama"); and Eine Mittheilung an meine Freunde ("A Communication to My Friends"). He also wrote most of the libretto of the four operas that are Der Ring des Nibelungen. These were published privately in 1853.
In Zürich, Wagner composed the music to Das Rheingold and Die Walküre, and sketches for Siegfried and Parsifal. This is remarkable given the size and scope of these operas, not to mention the fact that he was writing essays, librettos, and was deeply engaged in correspondence that is now part of the reason we know so much about the details of his life. In addition to all of this, Wagner wrote the libretto and some of the music for Tristan und Isolde.
"A Communication to My Friends" deserves to be read to get some sense of his wide-ranging mind and self-aggrandizing penchant for constructing and polishing the myth that he wanted to be perceived as. Wagner, who was so steeped in the study of Greek, Germanic and Norse mythology, surely came to believe that a big part of his currency as an artist was not only his ideas and music but the fashioning of himself as a mythical figure.
This long essay is fascinating for its wide-ranging brilliance, odious for its clear disdain of Jews, and notable for his insistence that he not be thought of as a genius—even as he puts that premise before his readers so that they could emphatically disagree. Wagner's refusal to be called a genius is about as persuasive as a Kennedy, Bush or Clinton saying that they will not run for office.
It was in Zürich, a city that attracted free thinkers of all kinds, that Wagner first encountered Buddhism among a circle of acquaintances interested in the works of Schopenhauer. In 1855, Wagner wrote a draft for an opera called Die Sieger (The Victors) inspired by this study. He did not develop it further but Buddhism's ideas remained a current in his thought for the rest of his life. Similarly, it was likely that Wagner's first encounter with vegetarianism, a practice he engaged in for a while, came in Zürich, which has always been Europe's foremost city for people who choose not to eat animal products.
Between 1850 and 1855, the composer raised money — he was always short of funds because he spent outrageous amounts on luxury items for himself — in a series of now-legendary concerts of music from his operas as well as of Beethoven and Mozart. This made him a prominent figure in the city and brought him patrons and devoted followers. It was the beginning of the mythification of Richard Wagner.
He also led full opera performances of Don Giovanni, Die Zauberflöte, Fidelio, Dame Blanche, Der Freischütz and Norma. He led the first Zürich performances of Der fliegende Holländer and Tannhäuser. In so doing, he made the city a place that would claim Wagnerian primacy long after he was gone.
The concerts he did in May 1853 were famous because they were organized as Wagner Festivals. As such, they implanted in his head the idea of a permanent Wagner festival with — why not? — its own theater and shrine to the composer. This, of course, would become, in 1876, the Festspielhaus in Bayreuth, Germany. They also were the beginnings of the Zürich Festival, a major series of performances of old and new works held in the city from late June to mid-July each year.
Wagner became famous in Zürich not only for his conducting but for speaking. He organized readings, usually done by him, of libretti such as Tannhäuser, Der fliegende Holländer, Lohengrin and the first public hearing of the text of the four Ring operas. He also read Oper und Drama aloud and promoted discussion of his ideas.
Wagner's Stomping Grounds
In my recent stay in Zürich I had two wonderful opportunities to learn about Wagner in the city. One was to walk around the town center, looking at buildings where Wagner lived and worked, with Eva Martina Hanke. She is the local authority on Wagner in Zürich and has co-written the guidebook on the subject. It will receive an English language edition in September with the title Richard Wagner's Zürich.  The publisher is Stroemfeld. Her website is a valuable resource for further exploration.
If you visit Zürich, you can stop briefly at the Weinplatz 10, site of the Hotel Schwert until 1918. It was Zürich's best hotel and Wagner's first address in town. Then he rented rooms at Oetenbachgasse 7 before occupying three flats (at Steinwiesstrasse 3, Zeltweg 11 and Zeltweg 13) at what are known as the Escher Houses. Much of the Ring Cycle was written there.
Down the street from the Escher Houses, and not to miss, is a stupendous exhibition at the Kunsthaus, the city's main art museum, called "Valkyries Over Zürich: 150 Years of Wagner Performances in Zürich." It is on view until August 18 and is worth the detour if you are anywhere in central Europe. One can see photographs, drawings and models of costumes and scenery that fire the imagination. The styles range from romantic realism to stark modernism, but all offer persuasive ideas for how Wagner's operas can be staged.
Along with the remarkably fertile creativity of his Zürich years, Wagner had numerous tempestuous relationships. His marriage to Minna foundered and he became, in different ways, deeply involved with Otto and Mathilde Wesendonck. The former was Wagner's most generous patron. The latter was his most passionate muse. More on Wagner and the Wesendoncks in an upcoming article.