An Analysis of the Metropolitan Opera's 2017-2018 Season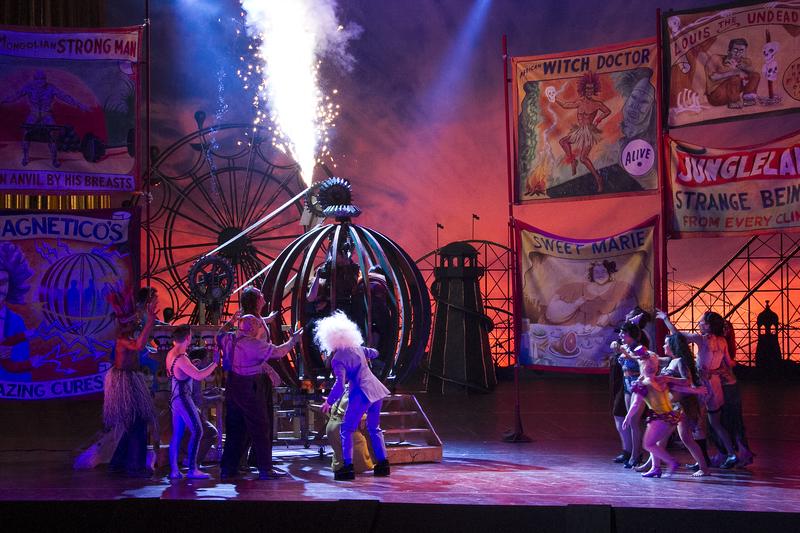 The Metropolitan Opera has announced the details of its 2017-2018 season and it is full of enticing repertory, wonderful singers, a few controversial choices (which is fine!), some puzzling gaps and plenty of reasons to be happy and hopeful. I plan to go often and hope you will too. Ticket prices have not been increased for the third season in a row and subscribers will have a 15% discount when they buy a series.
Let me just say that any season that includes the seldom-revived, wonderfully cast Semiramide by Rossini (following his Guillaume Tell this season); a new opera by Thomas Adès (The Exterminating Angel); the Met premiere of Massenet's Cendrillon with a terrific cast and that composer's Thaïs with Ailyn Pérez and Gerald Finley); Christine Goerke as Elektra with Elza van den Heever as Chrysothemis; superb casts in Parsifal, Hansel and Gretel, Le Nozze di Figaro, Luisa Miller and Norma (the season's opening night), has a lot to be thrilled about. Oh, and Jonas Kaufmann and Bryn Terfel are finally returning to the Met in the male leads of a new production of Tosca by David McVicar starring Kristine Opolais with her husband Andris Nelsons conducting.
There will be 26 works and, on close examination, certain trends emerge. There will be only four operatic languages. Fourteen will be in Italian (La Bohème, Cavalleria Rusticana, Così fan tutte, L'Elisir d'Amore, Lucia di Lammermoor, Luisa Miller, Madama Butterfly, Norma, Le Nozze di Figaro, Pagliacci, Semiramide, Tosca, Il Trovatore, Turandot). There will be four in French (Cendrillon, Les Contes d'Hoffmann, Roméo et Juliette, Thaïs), three in German (Elektra, Parsifal, Die Zauberflöte) and one composed in English (The Exterminating Angel). Three operas will be sung in English translation from the original German (Hansel and Gretel, The Merry Widow, The Magic Flute). Verdi's Requiem will be sung in Latin. No operas are being done in Russian or Czech.
Last year I wrote, "The Met has projected titles in English, German, Spanish and, when the opera is in that language, Italian. Given the high number of French operas next season, it might be time for the Met to seek a donation from a luxury brand such as LVMH or a foundation interested in French culture to fund the creation of French-language titles." I still think that the proper development pitch to a French corporation, wine importer or patron who promotes French culture could result in such underwriting.
The oldest opera next season is Le Nozze di Figaro (1786) while the newest is The Exterminating Angel (2016). While the Met had made some gestures toward works by Handel, it has hardly been a full embrace. There are so many talented singers available in this repertory and we are not hearing them at the Met. 2017 is the 450th anniversary of the birth of Claudio Monteverdi, the first important opera composer, and it would have been the right time to do one of his works that are an integral part of the offerings in many European theaters.
The two titans of nineteenth-century opera, Verdi (Luisa Miller, Il Trovatore, Requiem) and Wagner (Parsifal), are not present much next season. Their fortunes seem to wax and wane at the Met. In 2012-2013 the Met had seven Verdis and five Wagners in the year marking the bicentennial of their births. The following season, 2013-2014, only had two works by Verdi and none by Wagner. 2014-2015 had six Verdis and one Wagner. 2015-2016 had four Verdis and one Wagner. In the current season there are four Verdis and two Wagners.
I find it interesting that, in the period from Thanksgiving to early January, there will be 21 performances in English of Hansel and Gretel, The Merry Widow and The Magic Flute. The Exterminating Angel will have eight performances just before Thanksgiving. I cannot recall the Met ever having had such a large amount of English in one part of a season.
Another trend is that the Met seems to be moving its artistic emphasis to a new generation of younger female singers, mostly sopranos. It is always important to bring along the next generation and give them a place, but this year the artistic nucleus seems focused on a talented young group who promise a bright future for opera. There is the Y Factor, with Sonya Yoncheva (La Bohème, Luisa Miller, the Countess in Le Nozze di Figaro) and Pretty Yende (L'Elisir d'Amore, Lucia di Lammermoor) shining brightly. But Angela Meade also gets two big assignments (Norma, Semiramide). Maria Agresta (Liù in Turandot, Leonora in Il Trovatore) Ailyn Pérez (Thaïs, Juliette) and Anita Hartig (La Bohème, Les Contes d'Hoffmann) all have gained prominence, as have Nadine Sierra (Susanna in Le Nozze di Figaro), Marina Rebeka (Norma) and Kristine Opolais (Tosca).
Two of our best sopranos are being underused next season: Eva-Maria Westbroek is Santuzza (in the terrible production of Cavalleria Rusticana) and Anna Netrebko will only be singing six Toscas in the second cast.
There will be five new productions. Two are by David McVicar, whose Met productions of Il Trovatore and the "Three Queens" operas by Donizetti (Anna Bolena, Maria Stuarda, Roberto Devereux) were largely deemed successful. He will do the opening night of Norma (Carlo Rizzi leading Sondra Radvanovsky, Joyce DiDonato and Joseph Calleja) and the hugely anticipated Tosca on New Years Eve. McVicar has hired Leah Hausman as movement director for Norma and choreographer for Tosca. Who will get to dance in that opera? 
The Exterminating Angel (based on a classic film by Luis Buñuel) arrives from the Salzburg Festival with Thomas Adès conducting his score (libretto by Tom Cairns, who also directs). Cendrillon, starring Joyce DiDonato and a delicious cast including Alice Coote and Stephanie Blythe, will be conducted by Bertrand de Billy and the production is by Laurent Pelly. The Requiem (Nov. 24, 27, 29; Dec 2) will fill some of the dates vacated by the cancellation of Calixto Bieto's planned production of La Forza del Destino. The Reqiuem will be conducted by James Levine and star Krassimira Stoyanova, Ekaterina Semenchuk, Aleksandrs Antonenko and the splendid Ferruccio Furlanetto. These last two were supposed to be in Forza.
The production I am most interested in is Così fan tutte, which opens on Mar. 15, 2018. The Met announcement says it has been set in Brooklyn's Coney Island in the 1950s. Normally, such a notion would give me pause because the particular values and social strictures of Così are not necessarily translatable to other times and places. But the producer (director) is Phelim McDermott, whose work I greatly admire.  His productions of Satyagraha and The Enchanted Island at the Met, as well as a gala in 2009 that conjured up highlights from the Met's first 125 years, were all brilliantly creative but served the material rather than overwhelming it.
I see a particular challenge here for McDermott. There is the highly able conductor David Robertson. The cast is gifted: Amanda Majeski (Fiordiligi), Serena Malfi (Dorabella), Ben Bliss (Ferrando), Adam Plachetka (Guglielmo), Christopher Maltman (Don Alfonso) and the unusual but plausible choice of Broadway star Kelli O'Hara as Despina. On paper, though, I don't see much chemistry among these singers in an opera that screams out for it. If anyone has the gifts to bring this cast together and to life, it is McDermott. I would be very happy to be proved wrong.
Next season's offerings in The Met: Live in HD series begin on Oct. 7 with Norma. Then come  Die Zauberflöte (Oct. 14), The Exterminating Angel (Nov. 18), Tosca (Jan. 27), L'Elisir d'Amore (Feb. 10), La Bohème (Feb. 24), Semiramide (Mar. 10), Così fan tutte (Mar. 31), Luisa Miller (Apr. 14), and Cendrillon (Apr. 28). Therefore, there will be all five new productions and some appealing revivals. One might wonder if we really need another La Bohème. By now, most of the works have already had at least one HD transmission so some repetition is inevitable. That said, I might have preferred Lucia di Lammermoor with Pretty Yende.
More than in most Met seasons, in which I see a strong roster of American and international artists with just a handful of top singers missing, the upcoming season seems to lack quite a few artists whose presence would make for a richer, more diverse experience. I drew up a list of names that immediately came to mind and was shocked how long it is. Most of them have appeared at the Met, a few have not. They include sopranos Anna Caterina Antonacci, Janai Brugger, Eleonora Buratto, Leah Crocetto, Diana Damrau, Barbara Frittoli, Ana Maria Martinez, Karita Mattila, Adrianne Pieczonka, Patricia Racette, Dorothea Röschmann, Anne Schwanewilms, Nina Stemme; mezzos Daniela Barcellona, Olga Borodina, Sarah Connolly, Elīna Garanča, Marianna Pizzolato, Violeta Urmana; tenors Paul Appleby, Fabio Armiliato, René Barbera, Lawrence Brownlee, Juan Diego Flórez, Brandon Jovanovich and John Osborn; baritones and basses Thomas Hampson, Ambrogio Maestri and Eric Owens.
I did not see the superb mezzo Tamara Mumford on the list of names. If she is in a minor role, it was not listed. She deserves a higher profile. The absence of works from the first 150 years of opera means that most of the world's top countertenors are absent from the Met stage. Only the excellent Iestyn Davies will be heard in The Exterminating Angel.
That said, most of the casts are appealing, even if there is some degree of sameness. What is alarming is the paucity of top-flight conductors. When Yannick Nézet-Séguin was chosen last year as the Met's music director designate (moving James Levine to music director emeritus status), it was revealed that the Canadian would not become music director until the 2020-2021 season. I wrote an article in which I expressed great concern that there would be a maestro vacuum in the intervening years. If the 2017-2018 season is any indicator, my worries were justified. If the Met Orchestra is to retain its pre-eminence, it needs to work with the world's top maestros.
Among those who should be there but are not: Daniel Barenboim, Paolo Carignani, Riccardo Chailly, James Conlon, Daniele Gatti, Valery Gergiev, Alan Gilbert, Philippe Jordan, Vladimir Jurowski, Fabio Luisi, Susanna Mälkki, Michele Mariotti, Gianandrea Noseda (who will conduct one concert), Simon Rattle, Esa-Pekka Salonen and Franz Welser-Möst. Antonio Pappano has not conducted at the Met since 1997. He has been doing outstanding work at the Royal Opera in London and the Accademia Nazionale di Santa Cecilia in Rome. For the first time in a long time he will have a significant visit in New York next season, appearing at Carnegie Hall and with the New York Philharmonic. A shame he will not be at the Met.
There are, of course, excellent conductors including James Levine (leading Luisa Miller, Il Trovatore, the Verdi Requiem and Die Zauberflöte), Nézet-Séguin (Elektra, Parsifal), Andris Nelsons (Tosca), David Robertson (Così fan tutte), Harry Bicket (Le Nozze di Figaro), Donald Runnicles (Hansel and Gretel), Emmanuel Villaume (Thaïs) and the ever-reliable Marco Armiliato, who shares duties on La Bohème, Madama Butterfly and Turandot but should have been given a production of his own.
In writing about Nézet-Séguin last season, I said, "I think it would be wise to bring in as many great conductors as possible so that the orchestra, the company as a whole and, especially, audiences will have the benefit of superb musical leadership. This, more than anything else in the next few years, will make attending a live performance at the Metropolitan Opera house with its wonderful acoustics worth the time spent and the price of a ticket." We shall see.