Did Arnold Schoenberg Paint by Numbers?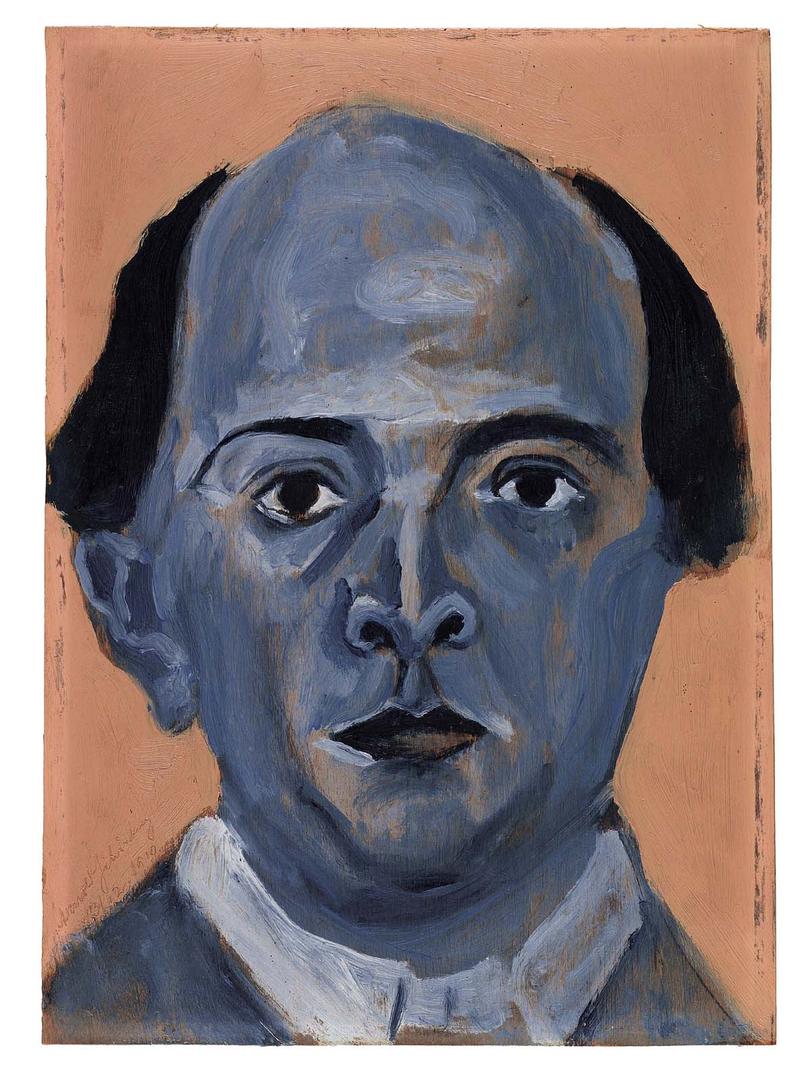 LONDON—As  I made my way through the superb exhibition, Facing the Modern: The Portrait in Vienna 1900 at the National Gallery, I was taken aback to discover that Arnold Schoenberg (1874-1951) was not only one of the most radical and influential composers of the 20th century but a visual artist of enough skill that his paintings are considered worthy to hang alongside masterpieces by Gustav Klimt, Oskar Kokoschka and Egon Schiele.
Schoenberg wrote works for the stage such as Pierrot Lunaire, Moses und Aron, Erwartung, Die glückliche Hand, and many groundbreaking instrumental pieces. He is the composer most associated with the 12-tone scale, also known as dodecaphony or the chromatic scale. This method is still divisive among music lovers, some of whom hear its compositions as indecipherable gibberish while others consider it a groundbreaking means of expression whose possibilities still have not been fully explored. 
In describing dodecaphony, I don't necessarily care for the term atonal, which sounds like the antithesis of tonality. That is not the case. It is a different approach to tonality. Listen, with an open mind, to a performance of Erwartung (1909). It predates by 12 years the first description of the 12-tone scale, but gives a sense of where Schoenberg was heading. The performance is from 1951, the year of the composer's death, sung by Dorothy Dow, with Dimitri Mitropoulos leading the New York Philharmonic. To paraphrase a comment that Mark Twain may or may not have said about the music of Wagner, "it's better than it sounds."
Two years before Erwartung was composed, Schoenberg began painting. As he was not a professional artist, but showed aptitude, he thought he could make needed money by doing portraits. Most of his initial subjects came from his circle of musicians and his family; he hoped to build a portfolio with which to solicit paying customers.
There are four paintings by the composer in this show, all from 1910 and all of which belong to the Arnold Schoenberg Center in Vienna. His blue self-portrait is remarkable both for what it lacks (a sophisticated use of light) as for the candor of his expression. The portrait is revealing without employing a specificity that would reduce its impact. I noted that his right ear is prominent and his left ear is missing. Some critics of his music might quip that this explains a lot, but I see it as a reference to Vincent van Gogh, with whom Schoenberg identified as an unappreciated outcast from the artistic establishment.
There is a very tender portrait of his son Georg Schoenberg (right), who seems fretful, perhaps with good reason. Just prior, the composer's wife Mathilde was engaged in a passionate affair with the painter Richard Gerstl (1883-1908), who entered the Schoenberg circle in 1906. When Mathilde returned to her husband and family, Gerstl painted a tormented but masterful nude self-portrait holding a palette. After completing this painting, Gerstl committed suicide. This painting is in the show, as is a fascinating portrait Gerstl did of Alexander Zemlinsky, the composer, mentor and brother-in-law of Schoenberg. In it, Zemlinsky is dressed in white and seems to be vanishing into a lake behind him (below, left).
The other two portraits by Schoenberg in the exhibition are of Hugo Botstiber, the secretary-general of the Vienna Concert House (below, right), and of Marietta Werndorff, who performed the premiere of the composer's Three Pieces for Piano, Opus 11 (1908), thought to be his first fully atonal work.
While looking at Schoenberg's paintings, I thought of the context of the term "chromatic scale." Chromatic comes from the Greek chroma, meaning color. I am not sure that the composer/painter necessarily equated specific colors with moods, emotions or concepts. And yet the colors he used are chosen with great care and sensitivity, even if his self-portrait is the only one that dares to use an "unrealistic" shade of blue for skin color.
Color as used by Schiele and, especially, Klimt was more bold than what previous Viennese painters were using. This is the environment in which Schoenberg was painting. I would venture to say that one could find brilliant musical coloration (if not the chromatic scale) in works by Bruckner, Richard Strauss and Mahler, all of which were in the air at that time. I am told that Schoenberg did a portrait of Mahler, but I have never seen it. The exhibition does have a death mask of Mahler by Carl Moll (1861-1945).
One of the many strengths of this exhibition is that there are works dating back to the 1830s, allowing the visitor to see more traditionally constructed and colored portraits and contrast them with the vivid paintings that came after the year 1900. It occurred to me that Sigmund Freud (1856-1939) and his ideas changed the way the human mind, and its emotional components, were understood. The painters of the Vienna 1900 School were directly influenced by Freudian thought, as were Hugo von Hofmannsthal (1874-1929) and Richard Strauss. However, my sense of Freud is that he was more interested in art of the past than of the present.
His grandson, Lucian Freud (1922-2011), was a German-born British painter who was one of the most outstanding portrait painters of the 20th Century. There is an important exhibition of his paintings this year at the Kunsthistorisches Museum in Vienna through January 6, 2014. I would love, at some point, to see an exhibition of Freudian art in the broadest sense, including works he studied (Michelangelo's sculpture of Moses, for example), as well as paintings by his contemporaries and those of Lucian.
"Facing the Modern: The Portrait in Vienna 1900" is at London's National Gallery through January 12, 2014
Credits: 1) Schoenberg Portrait of Georg Schoenberg (Arnold Schönberg Center Vienna) 2) Gerstl Portrait of Zemlinsky (Wikipedia Commons/Stiftung Sammlung Kamm – Kunsthaus Zug.) 3) Schoenberg portrait of Hugo Botstiber (Arnold Schönberg Center Vienna)