Catching Up with June LeBell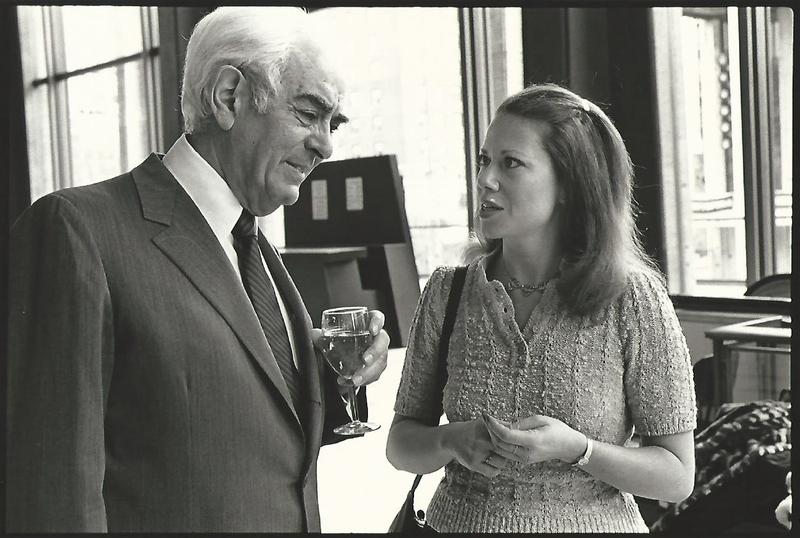 When I meet or hear from long-time listeners of WQXR, more than a few of them ask me about some of the people who used to appear on air. One of the people I am asked about most is June LeBell, whose warm voice and informed commentary were heard on the station from 1972 to 2002. June was equally at home presenting famous masterpieces and little-known gems and was a natural at engaging in conversations with musicians.
Recently I was in Sarasota, Florida to join her in a conversation in front of an audience and to attend a performance at Sarasota Opera, about which I will write in an upcoming article. 
June is a native New Yorker who went to Music and Art High School (now called LaGuardia High School). In 2001, she lived three blocks south of the World Trade Center, and she said, "I was knocked out of bed by the planes and the explosions and was evacuated for three months. So, I took early retirement and left."
She chose to move to Sarasota because she was already quite at home there and liked that city's rich offerings in the performing arts, including symphony, ballet, opera and theater. June's parents first went there in 1957 and moved there a decade later. June had her career in New York, but Sarasota was a home away from home.
Her broadcasting and interviewing skills serve her well in Florida. "I'm hosting and, with my husband, Edward Alley, producing my public radio series, June LeBell's Musical Conversations, a one-hour series of programs similar to some of my shows on WQXR (think 'Salute to the Arts'). I interview well-known international musical personalities and intersperse the conversations with applicable music."
Her guests have included Marilyn Horne, Sherrill Milnes, Jamie Bernstein, Olga Kern and Kent Tritle. They are streamed live on the local classical music station, WSMR, (and can be heard at either www.WSMR.org or www.WUSF.org) and are podcast on iTunes, where they can be found under her name.
She is the host and producer of Music Mondays, presented by a local organization called SILL (Sarasota Institute of Lifetime Learning). These take place every Monday morning from January through March and have audiences of as many as 975 people. These programs are not broadcast. June said, "They are similar to what I've done on air, and I also call on my on-air friends from my WQXR days." Among the many guests June has had are Jacques d'Amboise, Libby Larsen, Warren Jones, Ricky Ian Gordon, Lauren Flanigan, Marni Nixon, Martina Arroyo, Robert White, William Bolcom and Joan Morris, Martin Bookspan, Robert Ward, Carol Wincenc, Paul Plishka, Fred Sherry and members of the Canadian Brass. I was June's guest on Feb. 8. 
June is the music critic for the Observer Group newspapers, circulated throughout Sarasota and surrounding areas. "With this job (can you call something you love doing and get paid for doing a job?), I have at least one weekly column reviewing one or more of the myriad performances in the Sarasota area."
When she lived in New York, June was single. "I got married to Edward Alley and went on Medicare, both for the first time, in 2009, and I've never been this happy in my life. Ed is a conductor. He was music director of the legendary Seventh Army Symphony Orchestra and conductor and GM of the Goldovsky Opera. He was a manager of the New York Philharmonic, associate director of the Juilliard Opera Center, executive director of the Martha Baird Rockefeller Fund for Music and vice president of programs for Affiliate Artists. In other words, we have a few things in common and know most of the same people. Most of all, Ed is easily the most wonderful man in the world and he was worth the wait.
"In our spare time, Ed and I attend almost all the HD performances from the Metropolitan Opera, attend just about every play presented by our local (and excellent) Equity and community theaters and go to the great Sarasota Ballet, which has recently been at Jacob's Pillow and has garnered rave reviews in The New York Times and Washington Post. We also travel and, on many of those trips, I get to lecture and do my musical conversations around the country. And we get to meet up with old friends from WQXR."
There have been challenges too. "Life has its ups and downs: I was diagnosed with ovarian cancer almost four years ago. I'm feeling fine, have been in and out of recurrence, but am happy to say I have had no difficulties or major side-effects from my rounds of chemo and am very grateful that, if I've had to have this, I have it now. I'm currently in a study (a very good thing to be in) and am told this is now considered a chronic condition. So I plan to be around, with continued good health and vitality, for a long time to come. I'd like another 71 years but I'll settle for 20 or 30."
I have known June LeBell for many years and can report that she is as vibrant and engaged as ever. She told me, "I must say, with all the great things going on here in Sarasota, I rarely have time to miss New York City. But I do miss the WQXR audience. You made my 30 years on the air my home-away-from-home and, being a home body, that's saying something. You made me feel welcome, and I always felt I was sharing the wonderful music we were playing with dear friends. Sitting alone in a studio with only a microphone can be lonely, but I always knew you were on the other side of the radio and we were enjoying great music and conversation, together. Most important: I send thanks and love."