Finding Truth at the Opera in Washington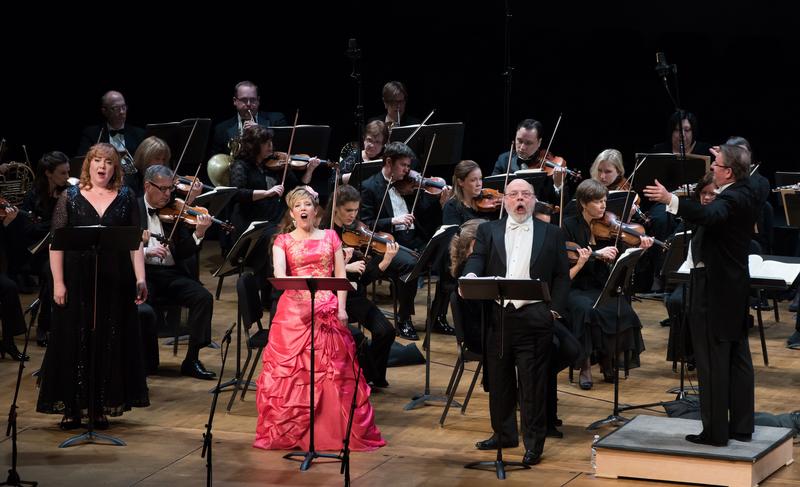 WASHINGTON, D.C.—This past weekend, the nation's capital experienced unrelenting drama that compelled people to explore some of the most crucial issues of human existence. Should the government determine how we live or die? Can we feel free to love the person we want to? Do women have the power and will to resist cruelty inflicted on them by heartless men? Should religious beliefs be allowed to influence laws? Do people of different races enjoy the same status and protection under the law? Should immigrants be allowed to perform any job they are qualified for? Is it permissible to imprison a man who non-violently exercises his right to free speech?
Lest you think I am referring to issues transpiring in the White House, Congress and the Supreme Court, think again. All of these consequential issues riveted audiences at the Washington National Opera and Washington Concert Opera this past weekend. When opera is firing on all burners, as it did in Washington, it can be powerfully engaging, even life-changing. "Art is not a form of propaganda," said President John F. Kennedy. "It is a form of truth."
On March 4, I attended the East Coast premiere of Champion, with music by Terence Blanchard and a libretto by Michael Cristofer, which had its world premiere at Opera Theatre of Saint Louis in 2013. It received a superb production at the Washington National Opera, with a marvelous cast of singers directed by James Robinson. Conductor George Manahan and the WNO orchestra and chorus were all outstanding.
Champion is based on the life of boxer Emile Griffith (1938-2013), who died one month after the opera's world premiere. In his illustrious career, he was a world champion in three weight categories, winning 85 fights, losing 24 and having two end in a draw. The drama of Griffith's life happened both in an out of the ring. One opponent, Benny Paret, died after a fight with Griffith. It is not clear whether his death was a result of a barrage of blows inflicted on him or perhaps he was not fit to fight.
Paret suspected something about Griffith that was not widely known when they fought in 1962: that he was gay. Griffith never forgave himself for any role he might have had in Paret's death, though he ultimately was absolved of any culpability. But the boxer suffered for his sexuality. In the most affecting moment in the opera, Griffith says, "I killed a man once and the world forgives me. I love a man and the world wants to kill me."
The cast of Champion was led by Arthur Woodley and Aubrey Allicock as the older and younger Griffith and Denyce Graves as Griffith's mother, a role with some extraordinary music. One of the many gratifying things about Champion is that it provided several fully developed roles to singers of color. Blanchard's music has jazz influences but is not, per se, a jazz opera. Orchestral passages were achingly emotional and arias soared.
Love in all of its permutations is at the core Dead Man Walking, which I consider the finest new opera of the 21st century. Since its San Francisco premiere in 2000, it has had some 50 productions worldwide. The opera, and a famous Oscar-winning film of the same name, are based on a book by Sister Helen Prejean (Kate Lindsey), who became the spiritual adviser to Joseph De Rocher (Michael Mayes), a Louisiana man who raped and murdered a young woman.
With music by Jake Heggie and a libretto by Terrence McNally, this opera refuses to preach to audiences. We come to know the two unusual lead characters—a devout nun who clings to her belief that love can heal and a man who has known little love and much misery—as they struggle toward truthfulness. Sister Helen learns the hard way that her feelings of love toward the unlovable can seem like a lack of compassion toward the parents whose son and daughter were killed. Also part of the equation is the mother of De Rocher (Susan Graham, who played Sister Helen at the world premiere). She is a person with few resources, financially and otherwise, who loves her son and cannot believe he would willfully commit such a crime.
Wonderfully conducted by Michael Christie and staged by Francesca Zambello, Dead Man Walking is a sort of mirror in which Americans can look at themselves in all of their contradictions. Ours is the only major Western nation that still puts its citizens to death for crimes they have committed. I could not help but notice the resonance of this opera with real-world news. Right now, the state of Arkansas is rushing to put eight men to death before the date in April when it will no longer be legal to use a particular drug for lethal injections. The creators of this opera, like those of Champion, make no attempt to dictate to us what we feel. Rather, we meet characters whose music, language and dilemmas inspire us to discover in them all of their contradictions yet who have so much to tell us about human nature.
Then there was Leonore at Washington Concert Opera. This was Beethoven's first attempt, in 1805, to compose the opera that eventually became Fidelio in 1814. Leonore has three acts, while Fidelio has two. For anyone who knows Fidelio, Leonore gives us much to ponder. Its music is wonderful, but Beethoven made it even better in the revision. His unwillingness to accept what he considered inadequate forced him to struggle against his encroaching deafness and frustration in a time of war to promote noble ideals of peace. It too calls for love in the face of adversity, in this case a willful and irrational dictator who wants to stifle freedom of speech and all dissent. Antony Walker conducted a world-class cast, led by Marjorie Owens, Simon O'Neill, Eric Halfvarson and Alan Held.
If you are in Washington on March 9, go hear Supreme Court Justice Ruth Bader Ginsburg converse with Francesca Zambello about how legal issues are presented in certain operas.