In the Footsteps of Richard Wagner: Bayreuth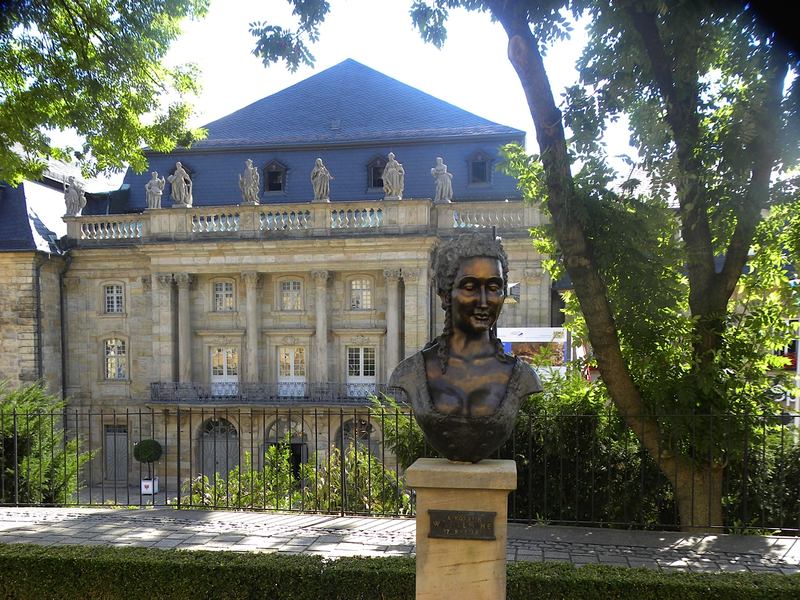 BAYREUTH, Germany—Just because the bicentennial of Richard Wagner's 1813 birth has come and gone, I have not stopped walking in the footsteps of this artist who blazed so many trails. My earlier stops, including Leipzig; Zurich; and Lucerne, seemed to be about places that influenced Wagner. Bayreuth, where he lived for the final twelve years of his life, would seem to be a place that he influenced. 
The received wisdom about Bayreuth is that Wagner went to a remote city with a small population and put it on the map by building a stupendous theater that would change the way his operas would be experienced and, in so doing, change the way all opera is seen and heard. Attending a performance at the Festspielhaus can always be a glorious experience in musical terms (if no other), as I described in my previous article. 
People from abroad seem to have no idea about this city that must have inspired Wagner more than is acknowledged. When I speak to Germans about Bayreuth, they dismiss it as the city of 72,000 people with, yes, a fine university but mostly as home to the nation's largest cigarette factory. And then there is the Wagner Festival that takes over for several weeks in the summer. But, as I have discovered, Bayreuth has deep and subtle elements of culture and sophistication that surely influenced Wagner and are worth knowing today.
Bayreuth is in Franconia, which had an illustrious history going back at least to Charlemagne, who was born ca. 742 and died in 814. His expanded realm, including parts of Italy, France and Germany, was known as the Carolingian Empire and the Franconia was a key part of it. Franconia (as distinct from Bavaria to which it administratively now belongs), is densely forested even today and its trees, fields and lakes provide superb ingredients for cookery.
While I have never subscribed to the cliché that there is no good food to be had in Germany—there are delicacies to be found throughout the country—the subtlety of Franconian cooking took me by pleasant surprise for its sophistication and what it says about the general sense of refinement in a place we think of as provincial. I mention this in the context of Wagner because he knew and appreciated good food (especially when someone else was paying for it) and it seems that Bayreuth had a lot of it.
I visited the Hotel Fantaisie, a bit out of town, because Wagner and family resided there from April to August 1872 while his Festspielhaus theater and Wahnfried home were being built. It is at the edge of a royal park full of fountains, sculptures and lakes where he would walk each day. Wagner lived in room 2 of the hotel, up two flights of stairs, and his original bed, chairs, desk and armoire are still there. Here he completed sketches for Act III of Götterdämmerung and worked on his autobiography. 
The Fantaisie restaurant and menu, ostensibly simple, present exquisite food. Everything I tasted was deliciously savory, with just the correct balance of salt, spice, sweetness and acidity. All ingredients were at their peak and cooked perfectly. I ate in five different restaurants in Bayreuth and all of them had cooking at almost the same level of refinement. And at very modest prices. Bayreuth is the first place I have been to in Germany where I would consider making a special trip for the food.
In town, Eule (The Owl), was one of the composer's favorite restaurants. Some of the dishes, though classic, have been given kitschy names relating to Wagner characters. I tasted his preferred dish, Blaue Zipfel, which is its original name. Two minced pork sausages are cooked with finely cut carrots and onions in water and vinegar made of local Silvaner wine. Rustic and subtle all at the same time.  How special to eat food Wagner ate in the place where he did! Even Bayreuth's simple Capri Eissalon has world-class ice cream—at 1 Euro ($1.35) per scoop—using local flavors such as poppy seed, sour cherry, blackberry and apricot.
I could not help but think that all of this was an attraction for Wagner: gorgeous nature, delicious food and drink (local beer and Franconia's famous wines), and a population that was more sophisticated and less bumpkinish than one would have expected. But there was more.
Much of Bayreuth as Wagner discovered it and as we see it today is because of the efforts of Margravine Wilhelmine (1709-1758), the sister of Frederick the Great of Prussia and wife of Margrave Friedrich (1711-1763), the ruler of Bayreuth. Wilhelmine wanted to make Bayreuth a refined jewel. She commissioned many parks, gardens, villas and fountains that give the area a gracious serenity. Not to miss is the Eremitage, where Wagner and Liszt would walk and dine at its restaurant, which is worth discovering now.
Wilhelmine's greatest legacy is the Margravial Opera House, which opened on September 23, 1748 with Il Ritorno di Ezio by Johann Adolf Hasse with a libretto by Metastasio. It had the largest opera stage in Europe in the 1700s and the largest in Germany for most of the 1800s. This stage gave Wagner ideas about how to make his even bigger as he helped plan the Festspielhaus. Wagner conducted there once, on May 22, 1872.
This theater is said to be the last surviving baroque opera house in Europe and, in 2012, it was designated a UNESCO world heritage site. As a result, it received funding to undergo extensive restoration, now in progress. The building is made of wood rather than marble for two reasons. The first was to favor acoustics. The second was that Wilhelmine was a perfectionist and said patterns on slabs of marble could not be perfectly matched.
The Margravial Opera House survived all the wars and tribulations that have occurred on German soil because of quirk of geography. Bayreuth has the oldest functioning synagogue in Germany, right behind the opera house. In fact, it was an opera house until 1760, when the wonderful new one was right next door was preferred. Nazis never destroyed the synagogue for fear of damaging the adjacent theater. Allied bombers never attacked the opera house for fear of destroying the synagogue. How eloquent and tragic that this is why buildings are saved.
Wagner and his wife Cosima are buried in a relatively simple grave on the property called Villa Wahnfried, where he and his extended family lived for the last nine years of his life. The proper translation of Wahnfried is a bit elusive, but suggests freedom from the pressure and struggle that Wagner saw as a constant in his life. Wahnfried and the nearby buildings were associated with Wagner and his heirs, up to his daughter-in-law Winifred and grandson Wieland and his family. who lived on the property until 1972. Everything is currently under restoration and will reopen as a museum and archive.
Wahnfried was home to Wagner, Cosima, their five children and her father Franz Liszt. It saw a continuous parade of visitors, including musicians, writers, painters and potential patrons. Cosima's diaries record very frequent lunches with guests. There was a very busy cook in residence and the composer delightedly wrote, "A fat capon soon lifts the spirits." 
A Wagnerian bestiary rose up at Wahnfried, which must have been a lively place for a composer who relished silence. He loved dogs and all five of his—Marke, Brange, Faff(ner), Molly and his favorite, a Newfoundland named Russ—are buried in the garden not far from Wagner and Cosima. Also on the property were hens, ducks, pigeons, pheasants, parrots, and two peacocks named Wotan and Fricka. One can only imagine the arguments they had!
Franz Liszt lived in a home nearby, just far enough away to have refuge from all the activity at Wahnfried. Since 1993 it has been a museum that is worth visiting. Liszt had an unusual request in his will that he be buried in the town where he died. It happened to be Bayreuth, so his tomb can be found in the city cemetery on Erlangerstraße. It is near the family vault where most of the Wagner descendants are interred. It is a peaceful spot but hardly Valhalla.