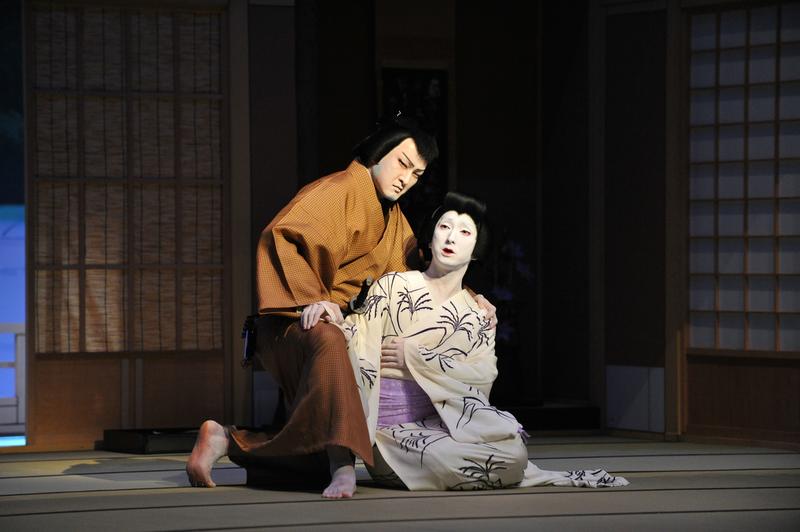 One of the most enjoyable arts events I have attended recently was the Heisei Nakamura-Za Kabuki company's presentation of a play called (in English) The Ghost Tale of the Wet Nurse Tree at this year's Lincoln Center Festival. It was a marvel of storytelling and stagecraft, with superbly expressive actors, especially Nakamura Kankuro, who made 55 lightning-fast costume changes as he played three different roles.
Kabuki relies on very talented performers who can adjust their voices and gestures to instantly become other characters. It is dance and drama (and some singing) performed to musical accompaniment. The costumes are often beautiful and the traditional striped curtain is elegant in its simplicity. The first Kabuki play was performed in Kyoto (then Japan's capital) in 1603, just six years after the first opera was given in Florence.
Heisei Nakamura-Za's production combined comedy, tragedy and melodrama, just as opera does. As I watched, I thought about how the austere but very specific Kabuki production style could work with so many operas. Here are some I thought of: Così fan tutte (with costumes and makeup perfectly abetting the mistaken identities); Jenufa; Lohengrin; Otello; Rusalka; and Tosca.
My first experience with Kabuki came when another company, the Grand Kabuki, visited the Met in 1982 and again in 1985. I worked for the Met then and had a great deal of interaction with the superbly disciplined but highly expressive performers.  A couple of them wanted to learn about Western opera and I took it upon myself to be their teacher. There had not been too much chance to discover it at home.
Japan's oldest professional opera company is Tokyo's Fujiwara Opera, founded in 1934 by tenor Yoshie Fujiwara (1898-1976), whose mother was a geisha and biological father (who did not raise him) Scottish. The Fujiwara Opera enjoyed its greatest success in the 1950s when it had European conductors and singers who brought their tradition to Japan. In addition to performing, they also taught young Japanese musicians. Fujiwara remained head of the company until 1972, after which it declined for a few years. In 1981, it merged with Japan Opera Association to form the Japan Opera Foundation, now the leading opera company in the country for the presentation of Western opera. The J.O.F. performs at the New National Theatre, which opened on October 10, 1997. The theater actually has three performance spaces. The one where opera is given is known to most people as the Opera Palace Tokyo.
Japan's capital has various venues where opera is given, even if there is not a resident company. Most productions are done by visiting companies from Europe and North America. The theaters include the Bunka-Keikan, NHK Hall and Suntory Hall. Near Suntory is the American Embassy and the Okura Hotel, a real gem that is threatened with destruction as Japan lurches forward with a construction boom, fueled in part by the 2020 summer Olympics to be held in Tokyo. Tyler Brûlé, a columnist for the Financial Times and a Tokyo connoisseur, has launched a campaign to save this hotel. I support this effort, in part because it is a pleasure to stay at the Okura or go there for a repast when attending a performance at Suntory Hall.
Madama Butterfly is, obviously, the first opera we associate with Japan but is not the only Western opera set there. Pietro Mascagni wrote Iris, which premiered at Rome's Teatro Costanzi in 1898 (five and one-half years before Butterfly). The plot is not the most compelling, and it is pure verismo rather than particularly evocative of the real Japan, but there is a lot of good music and I think it deserves to be heard more often. 
It is interesting to note that Madama Butterfly and Iris came to the Metropolitan Opera almost simultaneously. Puccini's opera had its Met premiere on February 11, 1907, with Geraldine Farrar as Butterfly, Enrico Caruso as Pinkerton, Antonio Scotti as Sharpless and Louise Homer as Suzuki. Although Arturo Vigna conducted, Puccini was present for rehearsals, carefully supervising everything onstage and in the orchestra pit.
Iris arrived on December 6 of the same year, with Emma Eames in the title role. The two male leads were named for Japanese cities: Caruso was Osaka and Scotti was Kyoto. There is a character who is a geisha and others named Beauty, Vampire, and Death. The most popular music in the opera was and is the chorus's Hymn to the Sun, often performed in concerts that include choral music. Listen to it:
In the 1960s, the Metropolitan Opera began forming important bonds with Japan in an arrangement that was mutually beneficial. In November 1968, a telecast of Il Barbiere di Siviglia with Richard Bonynge leading Teresa Berganza, Luigi Alva, Mario Sereni, Fernando Corena and Giorgio Tozzi, was recorded by NHK, Japan's most important broadcaster, and shown in January 1969.
In 1975, the Met made a historic tour to Japan, using big stars to establish a relationship that helped foster a knowledgable and passionate audience there. The first performance had Bonynge conducting his wife, Joan Sutherland, in La Traviata in Tokyo. Also in the repertory were La Bohéme (Dorothy Kirsten; Luciano Pavarotti) and Carmen (Marilyn Horne; James McCracken).  The company performed in Tokyo, Osaka and Nagoya.
When the Met gave its last U.S. tour in 1986, an opening was created for more travel abroad. Since then, the Met has performed in 1988, 1993, 1997, 2001, 2006 and 2011 in Kobe, Nagoya, Osaka, Tokyo and Yokohama. The last tour was controversial because many members of the company were leery about traveling to Japan so soon after the earthquake, tsunami and disaster at the Fukushima nuclear reactor. But the Met made the trip and many big stars went along. These tours have made the Met a popular brand in Japan and has impelled many Japanese to travel to New York for opera at Lincoln Center.
Yoko Watanabe (1953-2004) was probably the most famous Japanese opera singer. Because she was Japanese, she was almost always cast as Cio-Cio-San in Madama Butterfly. It was seeing this opera performed in Japan at the age of sixteen that prompted her to become a singer. I can think of few opera singers who have been so completely identified with one role. After training in Japan and Italy, where I met her in 1978, she sang lyric roles before taking on Butterfly. She sang it at La Scala, Covent Garden, Berlin, Chicago, the Met and just about every major theater. In her New York Times obituary, she was quoted describing the differences between Japanese theatrical conventions and those in the West, especially in opera:
"I am Japanese, and my figure is Japanese, but the music is Italian, so I try not to do too much of what we would think of as Japanese theatrical movement. In Japanese theater, our movements are very small. We walk in small steps, we make small gestures. I don't believe those would really convey the character of Butterfly fully to the public. After all, this is a very dramatic opera."
Japan's most famous conductor is surely Seiji Ozawa, who has worked in the great concert halls and opera houses of the world. Although illness has made him curtail some of his activities, he remains involved with the Saito Kinen Festival, now in its 30th year. The program includes a production of Falstaff opening on August 29.
Frequent earthquakes and natural disasters seem not to deter the Japanese from staging and attending cultural performances. As I wrote in my second article on this page, in Japan the show does go on.