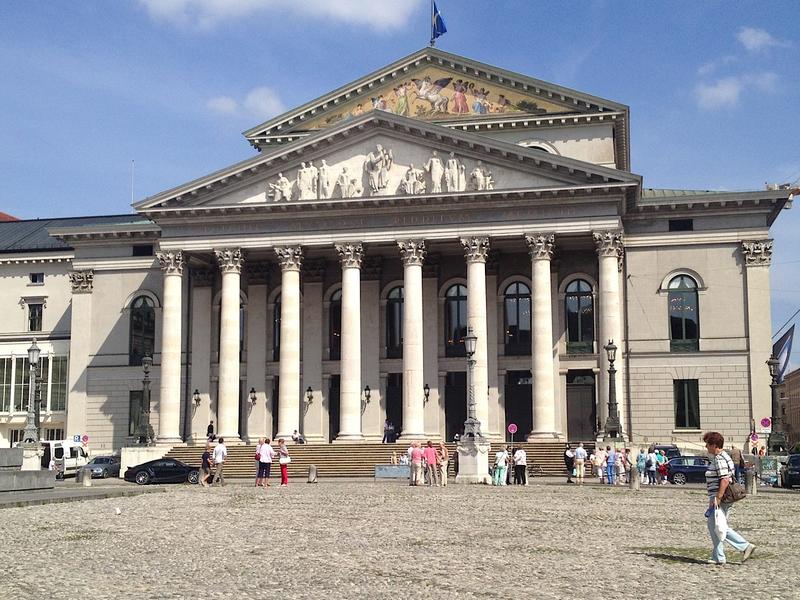 I am asked, all too often, to name the "best" in all things operatic. "Who was the best of the Three Tenors?" "What is the best opera performance you have ever been to?" "Who is the best conductor?"  You get the idea. I don't want to have to answer such questions because they tend to exclude rather than embrace wonderful talents. And, also, people tend to quote me and then I am expected to defend my opinion when my goal is to get people to love opera wherever and however they connect to it.

And yet, alert readers will have noticed that I have said on several occasions that I think the best opera festival in the world is at the Bavarian State Opera in Munich that has taken place every July since 1875. Certainly Salzburg presents great opera every summer, but it is in the context of a multi-arts festival. There are other special all-opera festivals in Glyndebourne (England); Wexford (Ireland); Savonlinna (Finland); Italian cities such as Verona, Pesaro, Macerata and Martina Franca; and Santa Fe and Glimmerglass in the U.S.

Part of why hearing opera in Munich is such a joy, whether during the annual festival or at any time of the year, is because the Bavarian State Opera attracts the world's top singers and has audiences who know the difference between a singer who is a real artist with something to say and one who might have a pretty face or a fit body. The July festival is extra special because so many top singers make a point of coming to Munich for a performance or two.

In most years, the festival has about a dozen operas, each seen two or three times. In 2005, there were an extraordinary 18 operas. There used to be a tradition of presenting Die Meistersinger von Nürnberg on July 31 but it has been abandoned recently. I know many Americans who fly over for a week in Munich before heading to Bayreuth, Salzburg or Verona. The fact that some productions in Munich can be somewhat "Euro" is countervailed by the superb level of musical performance.

Munich has one of the oldest opera traditions of any city. The art form was born in Florence in the 1590s and took root in Venice in 1607. Operas were performed at Munich's royal court as early as 1653. The ruling families supported opera generously, attracting composers, instrumentalists and singers from Italy, the German-speaking world and Eastern Europe. The National Theater, near the complex of royal buildings, opened in 1818. Heavily damaged in World War Two, it reopened in 1963 and is the chief venue for opera in the city.

Many outstanding operas had their premieres in Munich, including Mozart's Idomeneo; Wagner's Tristan und Isolde, Die Meistersinger von Nürnberg; Das Rheingold and Die Walküre; and Strauss's Friedenstag and Capriccio.

There have been superb music directors at the Opera for two centuries. To name just the most famous, there were Hans von Bülow (intricately connected with the works of Wagner); Richard Strauss; Bruno Walter; Hans Knappertsbusch; Clemens Krauss; Zubin Mehta; Kent Nagano; and, since 2013, Kirill Petrenko.

Two conductors deserve special mention. Georg Solti, who was Jewish, was General Music Director from 1946-1952. Though the city was in ruins after the war, Solti helped restore the high level of music-making and to bring opera back to a city that adored it. Wolfgang Sawallisch was in charge from 1971 to 1992, a period of remarkable growth in which the Bavarian State Opera achieved world-class status, giving more than 350 performances a year of at least 50 operas, mostly with excellent casts.

On October 3, 1976, I went to an unforgettable performance of Strauss's Die Frau ohne Schatten as I detailed in an article that got more response from readers than almost any other. That night forever changed my perception of how thrilling opera could be. It was my first encounter with this theater, its public and the way singers give their all when they understand how much the audience is with them.

Mindful of this relationship, I decided to make my musical summer vacation in Munich (adding Bayreuth) because the beloved singer Edita Gruberova had announced she would retire after the performance of Lucrezia Borgia on July 27. In the German-speaking world, and especially Munich, this coloratura soprano is legendary and is referred to as "Die Gruberova," which is much more flattering than the way a certain Mr. Trump is called "The Donald."

Gruberova, age 67, is past her peak—her contemporary Mariella Devia is in better shape. On July 27, some non-German audience members expressed disappointment with Gruberova's performance. I heard Angela Meade sing the role at Caramoor on July 18. The American soprano had infinitely more assurance and tonal color as Lucrezia. But Gruberova in Munich was extraordinarily effective and deeply moving. The local audience went wild. This is not a lack of discernment but, rather, a sense of devotion to an artist who had given them so much.

As it happened, after I booked my trip, Gruberova announced a couple of appearances in 2015. So July 27 became an occasion to celebrate her 40 years of singing in Munich. Following the performance there were speeches by the head of the opera company, the Bavarian cultural minister, and the diva herself. She said, "This is not the end. I will stop singing when God wants me to." This led to pandemonium in the theater. It also reminded me that we have not seen such demonstrations of audience passion at the Met for singers since the retirements of Leonie Rysanek and Luciano Pavarotti.
 
Real vocal fireworks came the next evening with La Forza del Destino, conducted by Asher Fisch and starring the most thrilling musical pair in opera: Anja Harteros and Jonas Kaufmann. These two, along with Christine Goerke, Karita Mattila and Bryn Terfel, are really the only artists I would travel to hear nowadays because we scarcely get them in New York. Kaufmann was his excellent self and Harteros was stupendous. Most of her engagements in the coming year are in her native Germany, and in Munich more than anywhere else. In the 2014-2015 season, she will sing there in Tosca, Il Trovatore, Forza, Arabella and Don Carlos!

The dining experience at the National Theater is among the most pleasurable anywhere. People actually talk about the opera while enjoying delicious food and drink that cost a fraction of what the mediocre offerings at the Met. In Munich, many audience members come early to have a small bite or a substantial repast and are already in a good mood when they attend the performance. Intermissions are fun as people eat, drink and toast their good fortune at hearing such high-quality musical performances.