Planet Opera: Verona, Con Brio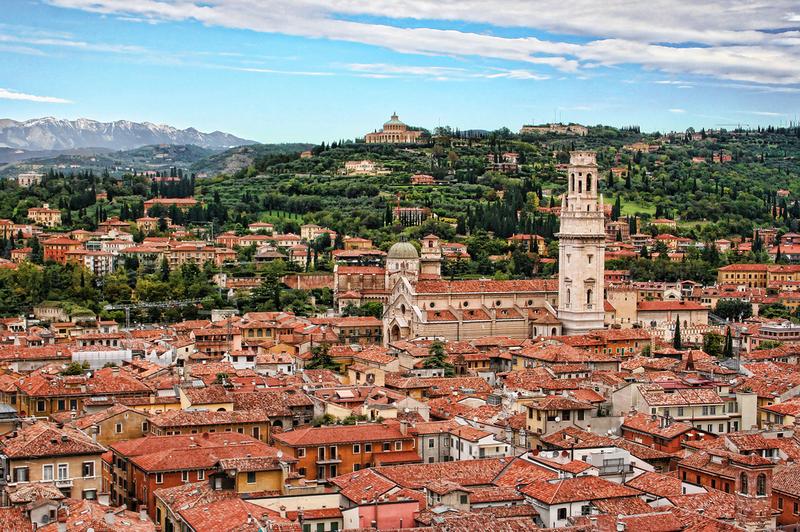 VERONA, ITALY—Most people, when asked what comes to their minds first when they hear the name of this beautiful city, immediately reply, "Romeo and Juliet!" Shakespeare's star-crossed lovers are said to have lived in Verona. Whether or not this is true, and whether they were in fact real characters, matters little to visitors here who stand under what is commonly referred to as Juliet's Balcony. 
I think this is the Bard's most beautiful play in terms of language even though I am more engaged by the plots of others. It has provided inspiration to many composers of operas, classical music, ballets and Broadway musicals. These include Bellini, Berlioz, Bernstein, Gounod, Prokofiev and Tchaikovsky.
Others, when Verona is mentioned, think of wine because this is the home of Vinitaly, one of the most important wine fairs in the world, as well as the capital of one of the most important wine provinces in Italy. Here are produced Amarone, Bardolino, Soave and Valpolicella. This is also one of the most fertile fruit-growing areas of the nation, with superb apples, cherries, pears and table grapes. Because part of the province of Verona borders on Lake Garda, where olives grow in a particular microclimate, this northern place at the foot of the alps has olive oil as part of its local diet.
I, of course, connote Verona with opera but that is my default position for just about everything you read in this space. Yet Verona makes a full and justifiable claim to being an opera capital. It has a traditional theater, the Teatro Filarmonico, a stately edifice that most visitors here never notice. That is because they flock to Verona by the thousands every summer to attend performances in the outdoor Roman arena that has stood since the First Century A.D. and has, for the past century, been the setting for spectacular productions that begin in dusk and are soon bathed in moonlight. That is, of course, unless it rains, which does happen more often than one expects.
Opera at the Arena di Verona began on August 10, 1913 with Aïda as part of the centennial celebrations of Verdi's birth. This summer, two stagings of the opera were done. One was a recreation of the original 1913 staging while the other was of more recent vintage. Ninety seasons of opera have taken place at the Arena. Only world wars got in the way when the Arena was used as a bomb shelter.

Arena di Verona (foto Ennevi)
Schedule and ticket information for the Teatro Filarmonico and the Arena can be found on the same website. And there is quite a bit to see. At the Teatro Filarmonico there is a very commendable season which includes, in addition to three ballet programs, six opera productions in the next year. They are Bellini's I Capuleti e i Montecchi (Nov. 3-12); Don Pasquale (Dec. 13-22); L'Italiana in Algeri (Feb. 2-9, 2014); La Vedova Allegra (The Merry Widow, in Italian: Mar. 2-9); Maria Stuarda (Apr. 6-13) and La Bohème (Nov. 9-16, 2014). To me the highlight is the Maria Stuarda, which will star Mariella Devia and Sonia Ganassi, conducted by Sebastiano Rolli.
At the Arena in the summer of 2014 will be Aïda, Un Ballo in Maschera, Carmen, Madama Butterfly, Gounod's Roméo et Juliette and Turandot as well as a gala with Plácido Domingo on July 18 and some evenings of dance.
This means that, in Verona's two venues, there will be 12 operas in the next calendar year. Not bad for a city of 265,000 people, even one that receives many visitors. These dozen productions compare very favorably to major opera capitals with much larger populations, including Milan, Turin, Rome, Barcelona, Chicago and San Francisco.
The reason for my current visit to Verona as part of my walk in Verdi's footsteps in Italy is that there is an important opera museum that opened in April 2012 that I had been keen to visit. I was not disappointed. The permanent collection has much to offer visitors who are passionate about opera as well as those who don't have a clue what it is.
The museum's official name is ArenaMuseOpera, which is a bit ungainly until you realize that it forms the acronym AMO ("I love"). You go from one grand room to the next in the imposing Palazzo Forti. In each is an exhibition of a different component of opera (libretto, music, singers, costumes, sets, and so forth). While newcomers will learn about these components, experienced opera lovers will admire the collections of documentation of opera by the people who created it. One thing that caught my attention was a series of librettos by Piave for La Traviata. It had come under heavy censorship and, in one version, was renamed Violetta. Large rooms contain massive pieces of scenery from different Arena productions of Aïda while another space has gorgeous costumes from Turandot.
ArenaMuseOpera
In addition to the permanent exhibition, there are three separate spaces for special exhibitions. At the moment, and until December 8, there is a wonderful installation about the life and work of Luciano Pavarotti. It evokes both his voice with its gorgeous timbre as well as his larger-than-life personality that was occasionally spiky but usually warm and generous.  
There are his datebooks with notes in his own hand, his spectacles, playing cards and numerous recordings of his singing and speaking. I loved the private videos he had made of rehearsals with Met assistant conductor Gildo diNunzio as he struggled to return to the form of his prime as Calaf in Turandot at the Met. This show is certainly reverent, but also acknowledges his frailties. I found it very moving and made me miss him even more.
The other special exhibitions right now are two retrospectives of the first century of productions at the Arena di Verona, one in vintage photographs and the other in terms of Verdi at the Arena on the occasion of his bicentennial. From now on, when I return to Verona for an opera, winter or summer, I will find my way to this museum for what I am sure will continue to be meaningful and beautifully mounted exhibitions.