Review: Met's Revival of Janáček's 'Jenůfa' Highlights Karita Mattila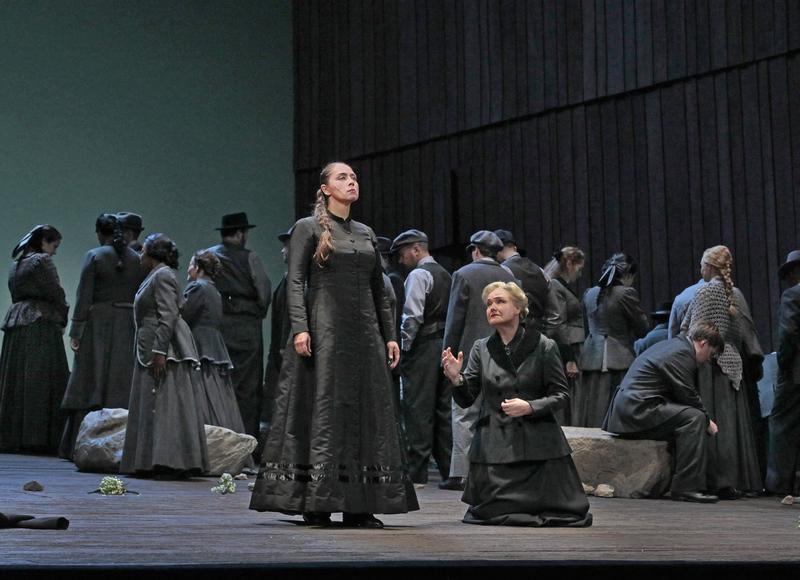 There is an old saying in Hollywood that there are three stages in an actress's career — beautiful babe, corporate lawyer and Miss Daisy. The saying, while perhaps unfair, has parallels in opera. With plenty of voice and career mileage ahead, 56-year-old Karita Mattila jumped from babe to Daisy in Leoš Janáček's Jenůfa, with maybe a year between the two. This was accomplished not out of default, but out of interest.
Her characterization of Jenůfa's tormented stepmother Kostelnicka is the talk of Metropolitan Opera circles, and could well become a signature role for her. The Met's revival of Jenůfa runs through Nov. 17, and one would like to report that it is a bit sturdier than it is. But even with the Act III illness of Daniel Brenna in the role of Laca on Monday (replaced very capably by Garrett Sorenson), Mattila wasn't the only selling point. She had good dramatic counterpoint from the 73-year-old Wagner veteran Hanna Schwarz, who has gone beyond the Miss Daisy stage in the role of the grandmother.
Kostelnicka's main dilemma is how to deal with her stepdaughter Jenůfa having a child out of wedlock in their Moravian village where people tend to get drunk and do the wrong things. The plot mechanism is such that Kostelnicka is partly responsible, having scotched a marriage that would've saved the situation. Yet for all of her religious severity, she decides that a life of disgrace can be avoided by leaving Jenůfa's baby out in the winter cold, with her angst amplified by moments of sympathetic pain when she feels the child dying.

Having tried out the role in two other cities, Mattila brings vocal details to the character's declamatory moments that are rarely heard. High notes are nailed rather than fudged. And the more notes that are heard, the more Janáček's character comes into sharper focus. Though the Mattila voice has often described as having a Nordic cool, she can use it with great warmth, bursts of which are heard here and there, reminding you that Kostelnicka was once young and vulnerable — and still is underneath her untreated PTSD. That perspective is one of the more distinctive elements Mattila brings to the part, showing not just what she is, but what she was. Both with her physical stance and ability to shade her vocal lines with the colorful range available to a singer still in her prime, Mattila charts how her character is crumbling from within. 

How iffy is the rest? The accepting wisdom projected by Schwarz creates a telling contrast to Kostelnicka contemplating the wreckage of her future. Schwarz sounds her age, but she is supposed to. At the opposite end of the scale is the Jenůfaof Oksana Dyka, who shows what lust lurks behind her good-girl persona. In more lyrical passages, she seems like a different, vocally lush singer — the lack of integration suggesting that she is still finding her way into her role. Among the men, Joseph Kaiser is a vocally excellent Steva (the drunk who abandons Jenůfa).

The orchestra is almost as important here as in Wagner, and was in good hands with conductor David Robertson, who finds a more firm through line amid the score's cinematic shifts in color and manner — suggesting the music looks backward to Smetana more than forward to the composer's later From the House of the Dead. The symbolism of the Olivier Tambosi production, with its clean lines and huge Act II center-stage rock representing how the characters are caught between that and a hard place, hasn't aged so well Perhaps the biggest theatrical problem is the staging, which isn't specifically credited in the program and is clumsy in all the key places. Such impediments weren't serious, but couldn't be ignored.