Singular Voices: Leontyne Price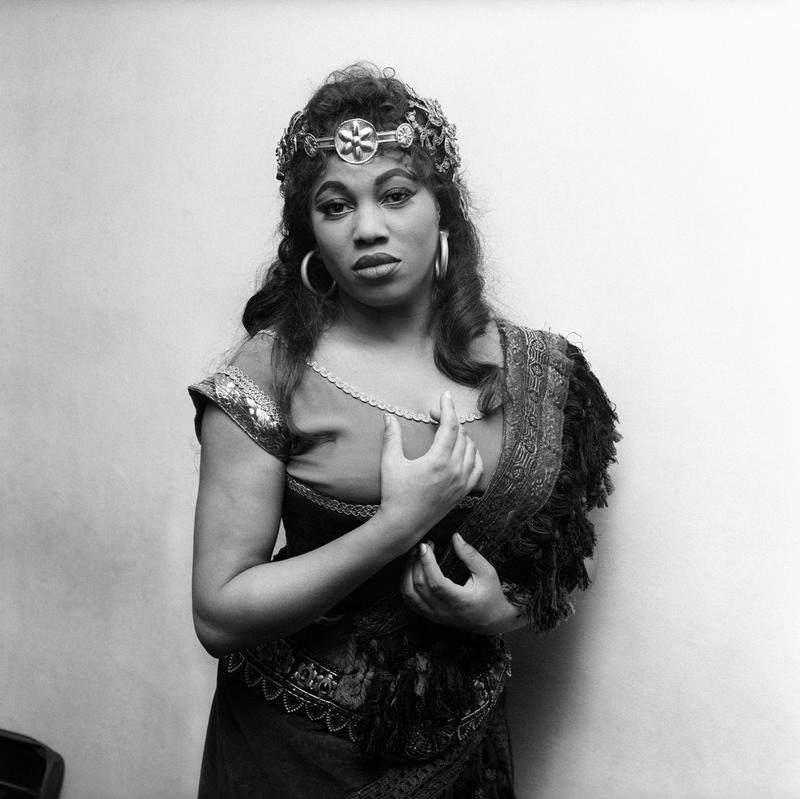 When I inaugurated a series called Singular Voices to examine truly rare voices and singers, I began with Barbra Streisand and since then, I have written about Charles Aznavour and George Michael. Alert readers will have noticed that I tipped my hand in the Streisand article when I wrote "The voice, being innate, is a unique expression of the person who possesses it. Leontyne Price, who has a singular voice if ever there was one, refers to hers as 'the voice,' not in a grandiose way, but rather as a gift that she feels responsible for using as God would want her to. Such a voice, in a singer, actor or orator, is not just a thing of beauty but a vehicle with which its owner can add words, sounds, poetry and emotions that make a song or text more powerful and moving — or just different — than when the same music or words are borne on other voices."
As an example of Price's singular voice, I included in the Streisand article her singing Schubert's "Ave Maria," which is ravishing in its simplicity. Close your eyes and listen:
Friday, Feb. 10, is Leontyne Price's 90th birthday and it is an honor to be able to recognize this most singular voice possessed by this most extraordinary singer. I use the word honor advisedly. I spent a fair amount of time in her presence, onstage and off, and found her impressive in innumerable ways. She understood her role as a symbol to African-Americans and all lovers of what she (and I) perceive as American values.
Price never accentuated her fame, preferring to give everyone she encountered a sense of inclusion. Young people would meet her and she would immediately tell them, "it is an honor to meet you," drawing out that word to several syllables with her luscious Mississippi vowels. She never played the grand dame, though she has innate grandeur. She would respond to a compliment saying, "you are more than kind," again giving those vowels a sumptuousness that literally was music to the ears. I remember the day I met her and so does Renée Fleming, who was a young girl.
I had the honor of being in Price's presence in the final part of her opera career when I worked at the Metropolitan Opera as she did her last performances of La Forza del Destino and Aïda, with which she retired from opera (though not from singing) on Jan. 3, 1985. Her final Met appearance was a recital on March 24, 1985, with James Levine at the piano.
Among all the people I have met in my life, few have had a better memory than she. Her recall of events, faces and names was astounding and served to make others feel valued and respected. She has a lively sense of humor but can also be quite reserved. In fact, her sense of privacy is a key aspect of who she is and, in that spirit, I intend to respect that even though I was privy to some extraordinarily moving and emotional events. What she has given us with her voice and artistry is imbued with her innermost self, and that is where I invite you to encounter her.
To learn more about her, watch a wonderful interview done by the National Endowment for the Arts. Then enjoy a 1966 appearance on "What's My Line" in which she camouflaged that remarkable voice. Panelist Bennett Cerf thought she was a man while none other than Woody Allen figured out that she was an opera singer.
Hearing Price sing live was to bathe in incomparable beauty that swelled the heart and made it skip a few beats. To revel in the beauty of Price's voice, listen to the "Song to the Moon" from Dvorak's Rusalka and then "Depuis le Jour" from Charpentier's Louise in a live performance from 1958. The photo includes the trailblazing artists Marian Anderson and William Warfield, the bass-baritone to whom Price was married in the 1960s. These performances are all transfixing gorgeousness.
Price's singing was never just about beauty, although that was something she could summon more than most anyone else. In her best operatic interpretations, she understood her character's dilemmas and made them very real for the audience in theatrical terms. Listen here to "La Mamma Morta" from Andrea Chénier, sung at the same 1958 concert. She was still early in her career, with her Met debut still three years away, but already gives a strong sense of the character of Maddalena.
If you listen carefully, you will notice that she extended certain phrases to what we would describe, with a lesser singer, as a "breaking point." But Price could elect to extend the phrase and then quickly cut it off, not because she was running out of resources but because she knew it would take the listener by surprise and bring him even closer to the edge of his seat than he already was.
Now consider "Pace, pace mio Dio" sung in a gala concert at the Met in 1982. It was a pairing with Marilyn Horne, really the only American opera singer who had it all the way Price did. I was seated in the Family Circle, with my binoculars trained on these great singers. Price sang this aria late in the concert. The last note, on "maledizione," seemed to carry on to the very last possible moment. A split second after it finished the audience absolutely exploded with applause and cheers. As one, we were all propelled out of our seats. The sound in this video is muffled but one does want to watch it. For good measure, then listen to it from the recording made that evening. The sound is much better but the album does not contain much of the applause that followed.
I stood in the wings for much of her final Aïda, which aired live on public broadcasting. At that time, television directors were not obsessed with fast-changing shots. How fortunate we are that the director wisely kept the camera fixed on Price's face so we could see some of what she was experiencing during the endless ovation after "O Patria Mia."