Winter Wonders in Opera and Vocal Music for the New Year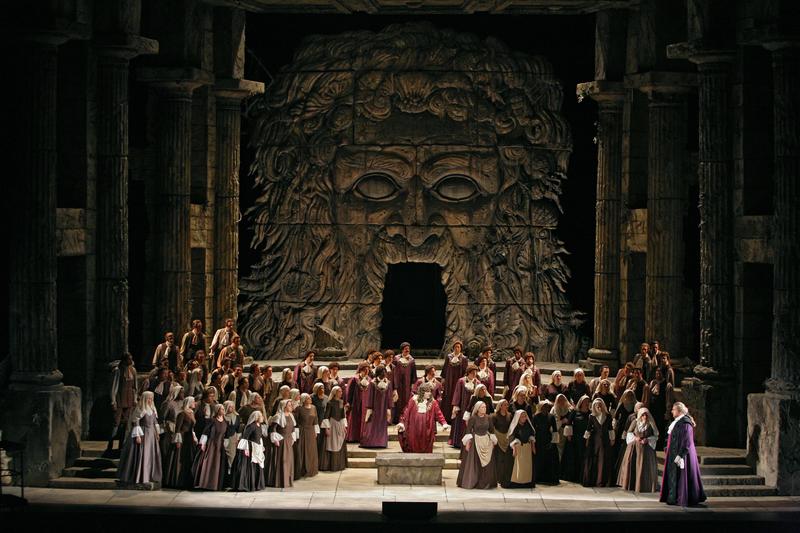 This winter, New York and cities reachable by train or bus offer splendid and diverse options for lovers of the human voice. Here are some of my picks that are worth your while.
Jan. 5-15: The Prototype Festival, now in its fifth year, is a not-to-miss event for those who want to discover the next big thing in contemporary opera.  Breaking the Waves by Missy Mazzoli and Royce Vavrek was an instant masterpiece at its Philadelphia premiere and its star, Kiera Duffy, won the 2016 "Freddie" award for female performance of the year. It will be performed at NYU's Skirball Center on Jan. 6, 7, 9. You will also want to see Mata Hari by Matt Marks and Paul Peers, being performed Jan. 5-8 and Jan. 11-14. For that matter, I would recommend seeing anything you can get a ticket to.
Jan. 6-8 and Jan. 11-15: New York City Opera performs Bernstein's Candide in a much-anticipated new production directed by Harold Prince and an exciting cast. Additional performances have been added due to popular demand.
Jan. 13: Coloratura soprano Brenda Rae is a marvelous singer who deserves to be better known in New York. She gives a recital in Weill Hall. In February, Rae appears in Rossini's Tancredi in Philadelphia (see below).
Jan. 14-15 (Lovinger Theater at Lehman College in the Bronx) and Jan 21-22 (Kaye Playhouse at Hunter College in Manhattan): The Bronx Opera, founded in 1967, is a New York treasure. They start their 50th year performing Ralph Vaughan Williams's Sir John in Love about the lovable character Falstaff. The first two performances are in the Bronx; the last two are in Manhattan. They will perform Verdi's Falstaff in late April and early May.
Feb. 4: Alice Coote gave a recital at Zankel Hall in 2014 that earned her a "Freddie" award and that I called "the best recital I have heard in years." She returns, with pianist Julius Drake, for Schubert's Winterreise, a performance it would be imprudent to miss.
Feb. 7: As part of La Serenissima, Carnegie Hall's retrospective of the music and art of Venice, the Venice Baroque Orchestra and Andrea Marcon perform Vivaldi's seldom-heard oratorio, Juditha Triumphans. I will give the pre-performance lecture at 6 pm, free for ticketholders.
Feb. 10, 12, 15, 17, 19: Rossini's wonderful Tancredi gets a rare full staging from Opera Philadelphia. Two of the five performances are Sunday matinees. Corrado Rovaris conducts an excellent cast, including Stephanie Blythe in the title role, Brenda Rae, Michele Angelini and Daniel Mobbs.
Feb. 10, 14, 18, 22, 25, 28: Diana Damrau, Javier Camarena, Alexey Markov and Luca Pisaroni appear at the Metropolitan Opera in what should be a musically scintillating revival of Bellini's I Puritani under the baton of Maurizio Benini.
Feb. 21: Monteverdi's brilliant L'Incoronazione di Poppea, with Miah Persson in the title role, the wonderful Sara Mingardo as Ottone and Concerto Italiano conducted by Rinaldo Alessandrini, will be a highlight of Carnegie Hall's La Serenissima festival.
Feb. 23, 24, 25, 26: The Little Opera Theatre of New York presents the New York premiere of Carlisle Floyd's Prince of Players at the Kaye Playhouse of Hunter College. It was commissioned by the Houston Grand Opera studio, where it premiered in 2016. It is the story of Edward Kynaston, an actor admired for his performances of the female roles in Shakespeare plays. Floyd, a prolific opera composer most famous for Susannah and Of Mice and Men, turned 90 in 2016.
Feb. 23, 24, 25, 26: Emmeline, Tobias Picker's tragedy (with a libretto by J.D. McClatchey), is an American retelling of the Oedipus myth, set in Massachusetts in the 1840s.  It will be presented by the Boston University Opera Institute.
Feb. 25, 27; March 3, 5, 8, 11: Jake Heggie and Terrence McNally's magnificent Dead Man Walking is at the Washington National Opera in a production directed by Francesca Zambello, conducted by Michael Christie and starring Kate Lindsey as Sister Helen Prejean. The outstanding baritone Michael Mayes in the crucial role of Joseph De Rocher and the luxury casting of Susan Graham as his mother (Graham sang Sister Helen in the opera's world premiere in San Francisco).
March 4, 6, 10, 12, 15, 18: Terence Blanchard and Michael Cristofer's Champion, an "opera in jazz," is at the Washington National Opera. It's about the life of closeted gay boxer Emile Griffith. Arthur Woodley and Aubrey Allicock play the older and younger Griffith. The excellent cast also includes Denyce Graves and Meredith Arwady. George Manahan conducts, James Robinson directs.
March 6, 10, 13, 17, 21, 25: James Levine leads an outstanding cast at the Met in Mozart's first masterpiece, Idomeneo. The stars are Alice Coote, Alan Opie, Matthew Polenzani, Nadine Sierra and Elza van den Heever. Not to miss.
March 10: Pianist Jonathan Biss and tenor Mark Padmore, both superb musicians, present an all-Schubert program at Zankel Hall.
March 11: The Masterwork Festival Chorus performs Gounod's rarely heard St. Cecilia Mass and Mozart's Requiem at Carnegie Hall.
March 12, 15, 17, 19: Boston Lyric Opera presents Stravinsky's The Rake's Progress, with a libretto by W.H Auden and Chester Kallman. The cast includes Ben Bliss, Kevin Burdette and a rare appearance by soprano Jane Eaglen as Mother Goose.
March 16, 18, 20, 23, 25: The always innovative LoftOpera gives Rossini's Otello a rare full staging of this excellent opera.
March 16, 20, 24, 28; April 1, 5, 8: Just before the vernal equinox comes Beethoven's stirring Fidelio at the Met, with a strong cast led by Adrianne Pieczonka, Klaus Florian Vogt, Falk Struckmann and Greer Grimsley, conducted by Sebastian Weigle.
March 19: Mezzo-soprano Elīna Garanča and pianist Kevin Murphy offer a program of Brahms, Duparc and Rachmaninoff at 2 pm at Carnegie Hall while, at 3 pm, some of the opera stars of tomorrow compete in the Metropolitan Opera grand finals concert conducted by Nicola Luisotti, hosted by Renée Fleming, with guest artists Amber Wagner, Jamie Barton and Michael Fabiano.