Explore Beethoven's String Quartets with Bill McGlaughlin
Saturday, November 3, 2012
10:00 AM
Bill McGlaughlin – renowned composer, conductor, musician, music educator, and Peabody Award-winning classical music radio broadcaster - kicks off WQXR's Beethoven Appreciation Month with a special in-depth discussion of Beethoven's string quartets at WQXR's Jerome L. Greene Performance Space.
Join Bill for a day-long conversation tracing the artistic journey of the composer's string quartets -- from the Age of Enlightenment, celebrating clarity, reason and proportion, to the dramatic, tempestuous and passionate Age of Romanticism and revolution. Live performances by the Attacca Quartet will make Beethoven's works come alive.
Seating is limited. A light breakfast and box lunch are included.
Event Time: 10am - 3:30pm
Tickets: $200
$80 of your ticket purchase is a donation to WQXR FM and is tax deductible to the extent allowed by law.
For more information about the event or ticket purchase, contact Patricia Margulies at pmargulies@nypublicradio.org or 646-829-4383.
About Bill McGlaughlin
While Bill McGlaughlin is most widely known for his work in broadcasting (host of Peabody Award winning St. Paul Sunday and Exploring Music (both heard on WQXR) as well as programs from Wolf Trap and the Library of Congress, he is proud to have begun his professional life as an honest musician, playing trombone with the Philadelphia Orchestra and Pittsburgh Symphony. In addition he spent twenty five years as an orchestral conductor with posts ranging from the St. Paul Chamber Orchestra to twelve seasons as Music Director of the Kansas City Symphony. Over that period McGlaughlin received numerous awards for adventurous contemporary programming from ASCAP and has the symphony-board-inflicted scars to show for it.
The Attacca Quartet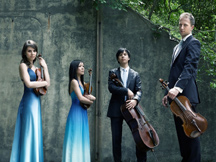 First Prize winners of the 7th Osaka International Chamber Music Competition in 2011, top prizewinners and Listeners' Choice Award recipients in the 2011 Melbourne International Chamber Music Competition, and winners of the Alice Coleman Grand Prize at the 60th annual Coleman Chamber Ensemble Competition in 2006, the internationally acclaimed Attacca Quartet has become one of America's premier young performing ensembles. Comprised of violinists Amy Schroeder and Keiko Tokunaga, violist Luke Fleming and cellist Andrew Yee, the Attacca Quartet was formed at The Juilliard School in 2003. They made their professional debut in 2007 as part of the Artists International Winners Series in Carnegie Hall's Weill Recital Hall and have appeared there on numerous occasions since. The Attacca Quartet gave the Alice Tully Hall premiere of John Adams' recently composed String Quartet in December 2009; having worked closely on the quartet with Mr. Adams, he has enthusiastically supported their performances of it. They have subsequently recorded the complete string quartet works of John Adams for Azica Records, which will be released in January 2013. 2010 marked the beginning of "The 68," an ambitious project in which the Attacca Quartet will perform all sixty-eight Haydn string quartets on a special series they created in New York. The Attacca Quartet currently serves as the Juilliard Graduate Resident String Quartet, and is represented by Columbia Artists Management, Inc.