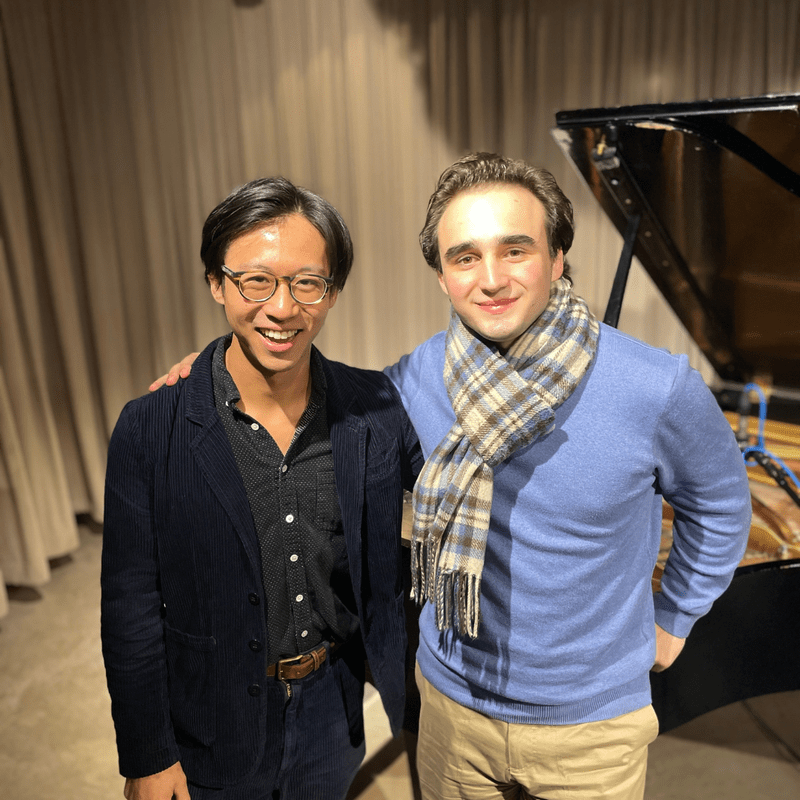 Transcript
[music]
Derek Wang: Hello, I'm Derek Wang. Tonight pianist Illia Ovcharenko joins us in the studio. He's fresh from Carnegie Hall, and from his win at one of the marquee piano competitions, the 2022 Honens Competition, all on tonight's edition of the Young Artists Showcase. Welcome to the Young Artists Showcase. We've been generously underwritten for 45 years and counting by the Harold W. McGraw, Jr. Family Foundation.
So tonight, Illia Ovcharenko, 21-year-old Ukrainian pianist and winner of the 2022 Honens Piano Competition in Calgary. In winning the Honens prize, Illia has won for himself, not just a big check, although it is $100,000, but also a big tagline, The Complete Artist. It's what Honen says they're looking for. And after hearing him myself at Carnegie, I can report, that big tagline, The Complete Artist, isn't a size too big on Illia. Stay with us tonight and you'll hear it too.
It's his total command as a performer, both his daring and his subtlety at the piano, as well as what I've known in Illia for years, his character and energy, the sheer exuberance with which he meets all the challenges life throws at him. It was back in February when Illia came down to our studios, just two nights after that big recital at Carnegie Hall. We're listening in now to that conversation.
Illia, it's great to see you. Welcome to New York and welcome to the show.
Illia Ovcharenko: Great to see you too, Derek, and, uh, it's-it's my pleasure to come to New York every time.
Derek Wang: We love you here too. Oh, yeah. I wanna start with that recital. I mean, first of all, bravo. Uh, so many unforgettable moments. Just what were your emotions like on stage?
Illia Ovcharenko: Thank you so much, Derek. And, uh, I must say that, first of all, performing at Carnegie is always unforgettable. And, uh, those memories will probably forever stay with me. First of all, I love the stage at Carnegie and the acoustics, the piano, everything is just perfect. So the only thing you think once on stage, uh, is just making music and sharing with the audience. So-- and I-I can say that I truly enjoyed every second and every moment of that recital and I really tried to make that night special. Um, and I really hope I, uh, I achieved that.
Derek Wang: I can tell you, that was definitely the case with me. You think you accessed something really principle there.
Illia Ovcharenko: Thank you.
Derek Wang: Um, so at Carnegie, Illia obliged us with two encores. Personally, I could have had 10 more, I just didn't want him to stop, but luckily he's at the piano with us right now and about to play three sonatas by Domenico Scarlatti.
[MUSIC - Scarlatti: Sonatas in B minor, K. 87, in E major, K. 20, and in B minor, K. 27]
Derek Wang: Gems of the baroque Scarlatti sonatas. Those were two in B minor, framing one in the middle in E major, and it's so great to hear them with such feeling and finesse. For our listeners, uh, Illia has prizes that bear names of some of the greatest pianists of the past, including first prize at the Horowitz Competition in Kyiv, and also the Michelangeli Prize, uh, given by the Piano Academy Eppan in Italy.
So, um, along those lines, Illia, how is it that you manage, on one hand, channeling the energy of that tradition, those pianists you've listened to since childhood, and bringing something new as a pianist, uh, of today?
Illia Ovcharenko: Uh, those, uh, performers of-of previous generation, like Horowitz, like Michelangeli, I believe they brought so much of, uh, new things to classical music, and they influenced our generation so much that we just have to study from them and to learn the best from the best.
Derek Wang: Yeah. We're gonna have some music now that's profound, colorful, and more than a little demonic, Sergei Prokofiev, specifically the third and fourth movements of his Sonata Number 6, which he composed during World War II.
[MUSIC - Prokofiev: Piano Sonata no. 6 in A major, op. 82, III. Tempo di valzer lentissimo and IV. Vivace]
Derek Wang: The sixth Sonata of Sergei Prokofiev, we heard the third and fourth movements. Illia, wow, I'm going to let you catch your breath, and we're going to take a short break. You are listening to the McGraw Family's Young Artists Showcase on WQXR.
Welcome back. It's the Young Artists Showcase on WQXR, underwritten by the McGraw Family Foundation. I'm Derek Wang, here tonight with Ukrainian pianist Illia Ovcharenko, the most recent winner of the Honens Piano Competition in Calgary. The music we're hearing tonight comes from a recital Illia played at Carnegie Hall, close to the one-year anniversary of Russia's invasion of Ukraine. Before the break, we heard the final two movements of the sixth Sonata of Sergei Prokofiev which was premiered in Moscow in 1940. Illia, what does it mean to you to be playing this sonata right now? I mean, it's such brilliant music but also, I think, marked by the experience of war.
Illia Ovcharenko: Uh, I completely agree with you, Derek, and, um, that's why playing this music now, I guess, is kind of, uh, very dear to me. Uh, also knowing that Prokofiev was actually born in Ukraine, and, uh, I still remember going to the museum, uh, in the east region of Ukraine, to his museum called after his name. So I just- I just consider him Ukrainian and, uh, that's why it's very special to me to perform his music, especially written during the Second World War, at the time where the situation was really awful. And, um, I guess, he was also affected by that. I mean, everyone was. Um, that's why, uh, nowadays to perform such music is-is very important to me.
Derek Wang: Uh, one of the unforgettable things about your recital was the way, uh, that you held a spellbound in-in a very inner and very, uh, deeply intimate world with, uh, the music of Valentin Silvestrov. Illia, I'm wondering, what is your personal relationship with playing Silvestrov's music?
Illia Ovcharenko: First of all, Silvestrov for me is a very intimate composer. Specifically those bagatelles, I think in my imagination, it's-it's basically the world after apocalypse where nothing left, but it's the the Earth is trying to-to live again, and, uh, the grass is becoming green again. And, uh, the people are coming back to the world. I guess it's a very, very sophisticated music. And, in-in my opinion, um, it's-- it-it- it's not that simple. And, uh, I mean, it's written in kind of minimalistic way, but, um, there is so much inside and, uh, it's-it's a very, very personal music for me. And, as-as I said, I mean, anyone can get a different picture of those pieces, uh, but that's what I imagine while playing them.
Derek Wang: Has the way you hear this-this music or access those images, has it changed in the last- in the last year?
Illia Ovcharenko: Uh, definitely, um, I have heard those bagatelles, um, uh, before the war started, uh, but I've never played them. And for me it was always, uh, just beautiful music, beautiful melody, and I-I just, um-- I mean, the experience of life, I guess, it changes the perspective of, uh, perceiving music. It just, uh, changed, uh, completely during the last year.
Derek Wang: Have there been moments in the past year where it's been difficult to-to be playing the piano?
Illia Ovcharenko: Uh, it was just the beginning of the invasion. Uh, the first weeks of it, and the first day specifically, I-I haven't touched the piano. I was always on the phone with my family. Uh, and, uh, the first three days I barely slept. I was just not preparing. I was not, uh, practicing and my thoughts were not there.
And, uh, first of all, my family supported me very much and I-I-I guess I supported them too as much as I could at that moment. Uh, but they told me to go, and, uh, I started practicing again, playing the piano, and that actually helped me so much. I-I was just trying, uh, to create new pictures of that music which kind of helped me. And, um, I guess, music is our way out of all of this madness, and I truly believe that.
Derek Wang: We're gonna get back to your hometowns and to, uh, your life now. But you have, uh, music by one other Ukrainian composer for us, right?
Illia Ovcharenko: Absolutely. And his name is, uh, Levko Revutsky, and he's really dear composer to me. And, um, I'm glad to share it with, uh, with you and with the audience.
Derek Wang: We can't wait to hear it. Here are three preludes by Levko Revutsky.
[MUSIC - Revutsky: Prelude op. 4 no. 1 in D-flat major and no. 3 in C-sharp minor, and Prelude op. 7 no. 2 in B-flat minor]
Derek Wang: Three preludes composed between 1913 and 1921 by Levko Revutsky, who was born in 1889 in Chernihiv, Ukraine, and died in Kyiv in 1977. Illia, those are two cities you consider hometowns, right, so the Chernihiv region and Kyiv?
Illia Ovcharenko: Yes, absolutely. Um, my family's in Chernihiv. It's a northern part of Ukraine. It's in between, uh, Belarus and Russia border. It's like-- it- it's really very close to the border. It's like 40 miles to the border. So it was just-- first days were just really, really scary. Yeah.
Derek Wang: Yeah. And, um, I'm sure they- I'm sure they've been following you and listening to-to-to you play on the internet.
Illia Ovcharenko: Yes, uh, they-they tried. I guess they, uh, finally listened to my playing already after the competition because they didn't have any connection. Uh, I was really talking to them. Every-every moment I could call them it was like, uh, heaven because I-I-I just could contact them for a few minutes a day when they finally got some network, I mean, service. They are my pride and they are so supportive at all times. So they really bring me, uh, joy and love. And I was- I was really grateful for them because I have to dedicate everything that was happened to them and, uh, because it's-it's fully and completely an accomplishment of theirs.
Derek Wang: It's just great for-for-for me to be here with you in this moment knowing what a- what a difficult point that was for you as an artist and personally. And, uh, that here you are having found, um, an even deeper source, uh, of-of motivation.
Illia Ovcharenko: In the beginning, I couldn't believe that, uh, music could, I mean, help me and, uh, I mean, the music could save the world, et cetera. But with time going on and on, for me personally and since I started learning a lot of Ukrainian pieces and, uh, the repertoire I feel connected right now with, it really does help me. I-I must admit that my opinion on that topic has changed drastically. And, uh, that's-that's very interesting.
Derek Wang: Illia is going to close us on a reflective note. Quite literally, Reflets dans l'eau, Reflections in the Water, by Debussy.
[MUSIC - Debussy: Reflets dans l'eau (Reflections in the Water) from Images, Book I, L. 110]
Derek Wang: From Claude Debussy's Images, Book 1, Reflections in the Water, Reflets dans l'eau. Illia, thank you for your exquisite playing, and thank you so much for being with us here tonight at the WQXR studios.
Illia Ovcharenko: Thank you so much. It was really my pleasure and I really enjoyed the conversation with you, Derek.
Derek Wang: Thanks are also due to the Harold W. McGraw, Jr. Family Foundation, which generously underwrites the Young Artists Showcase here at WQXR. Here's Terry McGraw with more.
Terry McGraw: Good evening, everyone. It's great to be with you. And it's always great being with the Young Artists Showcase and to hear these really wonderful and inspiring musicians as they continue to share their incredible gifts with us every week. I can't wait to hear the fabulous talent coming up on the showcase and I am so pleased to be able to support the series all through its well over four decades on WQXR. And there's so much more to come.
Derek Wang: My thanks to our program producers here on WQXR, Eileen Delahunty, Max Fine, and Laura Boyman, with production assistance from Maya Cassady, our session engineer, Irene Trudel, and of course our generous program underwriter, the Harold W. McGraw, Jr. Family Foundation. This is Derek Wang. It's been a pleasure being with you tonight.
Copyright © 2023 New York Public Radio. All rights reserved. Visit our website terms of use at www.wnyc.org for further information.
New York Public Radio transcripts are created on a rush deadline, often by contractors. This text may not be in its final form and may be updated or revised in the future. Accuracy and availability may vary. The authoritative record of New York Public Radio's programming is the audio record.