Mad About Music
Kennedy Center's Michael Kaiser Talks Tchaikovsky, Sondheim and the Art of the Turnaround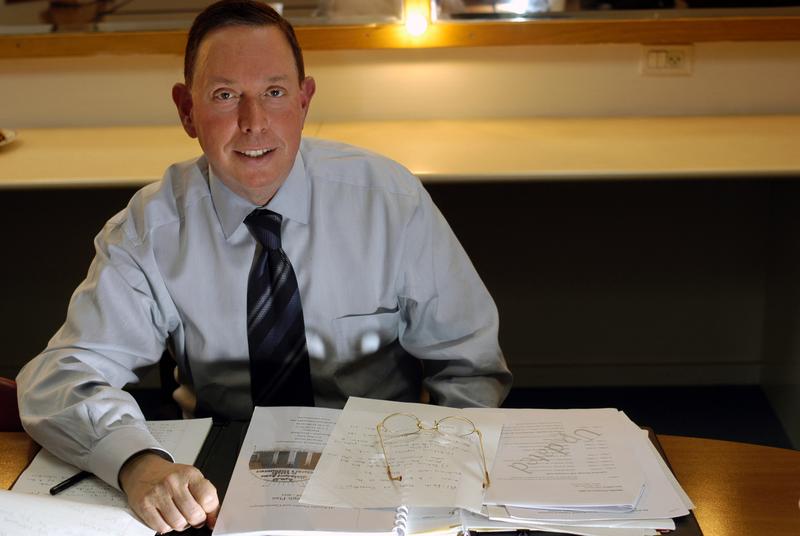 Transcript
Johann Sebastian Bach Violin Concerto in E major. First movement (excerpt). English Chamber Orchestra. Daniel Barenboim. Itzhak Perlman, violin. EMI 72435 74720.
Wolfgang Amadeus Mozart Don Giovanni "Deh, vieni alla finestra." Vienna Philharmonic. Josef Krips. Cesare Siepi, bass. Decca 5365948.
Peter Tchaikovsky Serenade for Strings. Final movement (excerpt). Vienna Chamber Orchestra. Philippe Entremont. Naxos 8.550404.
Maurice Ravel Piano Concerto in G. Second movement (excerpt). Berlin Philharmonic. Claudio Abbado. Martha Argerich, piano. Deutsche Grammophon 447 438.
Stephen Sondheim Follies "Losing My Mind." New York Philharmonic. Paul Gemignani. Barbara Cook. RCA Victor 09026-63805.
Richard Strauss Der Rosenkavalier. Act III, Final Trio. Philharmonia Orchestra. Herbert von Karajan. Teresa Stich-Randall, Christa Ludwig, Elisabeth Schwarzkopf. EMI Classics 5 67609 2.
************************************************************************
GILBERT KAPLAN: Welcome back to "Mad About Music" with my guest, the President of the Kennedy Center in Washington D.C., Michael Kaiser.
[Theme music]
He desperately wanted to be a singer, but after making an attempt he concluded he just wasn't going to be good enough so he turned to arts management and has had a spectacular career leading such institutions as the American Ballet Theatre, Alvin Ailey American Dance Theater, the Royal Opera in London and now as President of the Kennedy Center in Washington. His signature contribution has been wiping out deficits that had lingered for years and embarking on bold fundraising initiatives, so much so, he has been dubbed the "arts turnaround king," and now spends a substantial part of his time as a free consultant to arts organizations around the world, all sponsored by the Kennedy Center. Michael Kaiser, welcome to "Mad About Music."
MICHAEL KAISER: Thank you so very much. It's great to be here.
KAPLAN: Now, I'd like to start – I think it's appropriate with a reference to John Kennedy, after whom your Kennedy Center is of course named, because when he announced the National Endowment of the Arts, to help support art in America, there were allot of questions about whether the government should be giving money for the elite interests. And John Kennedy said that this was not elite at all that in fact more people attended symphonic concerts in America than baseball games – and he said that he didn't think this was so bad for the country. But attracting the audience to Kennedy Center in Washington, I always understood was a challenge, partly as, Jim Wolfensohn who was once Chairman of Kennedy Center was on the show and he said that when you go to Vienna you go to the Musikverein, hear the Vienna Philharmonic; in New York you go to the Met or Carnegie Hall but in Washington, the ultimate networking city, people go to dinner - very hard to attract them. What is it like to attract an audience to the Kennedy Center?
KAISER: I think things have changed in Washington since Jim was Chairman. I think one of the main elements of that change has been a growth in the number of arts organizations of all kinds, we now have over 60 professional theaters in Washington D.C., and also, frankly, the Kennedy Center has expanded its offerings considerably including doing a free performance every day –
KAPLAN: Every day?
KAISER: For the last 14 years.
KAPLAN: What music do you present when you do that?
KAISER: The entire range from classical to popular, gospel, Broadway, we have dance, we have theater, we have magicians, we have many different kinds of performing art forms usually tied to the work we're doing on our main stages and because of these performances we bring in now between 500 and 1,000 people a night who are trying out the arts for the first time. And so I think over these last 14 years we've built a new audience for the arts in Washington.
KAPLAN: I see. Now I know that many of the justices on the Supreme Court come to the opera. Some have even been extras or supers in I think Ariadne – who else comes to the Kennedy Center who would be well-known political names?
KAISER: Virtually every major member of the administration will come to the Kennedy Center at least once or twice a year, members of Congress, the leading members of Congress, Nancy Pelosi, Harry Reid come to the Kennedy Center. It's a place that's become a gathering place for Washington, both those in power, but also every day people as well, and I always like to refer to myself as the court jester of Washington.
KAPLAN: Well, the court jester I understand was invited to have lunch with the entire Supreme Court once to discuss the opera and music. Tell us about that.
KAISER: That's true. That was about seven years ago. I was invited to have lunch with the Supreme Court – all nine justices and myself. I was very daunted to go there and it was a very lively session about fund-raising, about the arts, about the differences of the arts in the U.S. verses the arts in Europe for instance and there was a great deal of interest particularly in fund-raising because the Supreme Court Justices themselves raised money for the renovation of the Supreme Court building.
KAPLAN: Now, President Obama – does he ever come?
KAISER: Absolutely. He comes; members of his family come, as has every President since the Kennedy Center was founded 40 years ago.
KAPLAN: But I assume he comes for the grand occasions. I mean, he doesn't have time just to come to say a concert of the National Symphony Orchestra, does he?
KAISER: We get both official visits and unofficial visits, so yes; many times members of the first family will come to performances that are not big, grand occasions.
KAPLAN: OK. Well, I think we should start with your music list and I see your first selection is Bach.
KAISER: Absolutely. I picked this piece because – I started my interest in music because grandfather, my father's step-father, was a violinist in the New York Philharmonic orchestra.
KAPLAN: I see.
KAISER: And I was lucky enough to go to dress rehearsals very often with my grandmother to watch the orchestra rehearse and my grandfather when we were in their home would often play this concerto for us with a record playing with just the orchestral part – it was a series called "Music Minus One" – that some people may remember, and so the record played and he would play the solo part so my entire family sings this entire concerto from beginning to end because we heard it so often. And sitting at my grandfather's feet actually was the first time I heard Bach's Violin Concerto in E major.
[Music]
KAPLAN: An excerpt from the first movement of Bach's Violin Concerto in E, the English Chamber Orchestra with soloist Itzhak Perlman with Daniel Barenboim on the podium, the first selection of my guest today on "Mad About Music," the President of the Kennedy Center, Michael Kaiser. Now, in my introduction I mentioned your remarkable track record in financial management of the organizations you've led and we'll soon get to talking about that, but what about artistic leadership. What do you regard as your most significant achievements in artistic initiatives at the Kennedy Center?
KAISER: I think two things. One, we really were successful at reinstituting self-production of theater. When I got to the Kennedy Center we did not produce any of our own theater for 14 years, we only brought things on tour. And I felt that it was appropriate for the national cultural center to do work of its own. So I started with a very large project that related to the works of Stephen Sondheim. We produced six of his musicals at the same time and ran them in rep as if we were an opera company and that put us back on the map as a theater producer. And we have since gone on to produce all ten works of August Wilson and three great works of Tennessee Williams and a host of other productions so I think that was very important. And then secondly, we really reinvigorated and built up our international programming. The Kennedy Center did some international festivals before I arrived but I was very, very concerned that these festivals were not as important and as lush as they needed to be so we have now done very substantial festivals of the arts of China, of arts from the Arab world, arts of Japan. This year we had a major festival of India, next year we'll do a big project that relates to the music of Budapest, Prague and Vienna, so we really built our international profile substantially and I think that again is appropriate for a national cultural institution.
KAPLAN: Now, in an interview you have given that I've seen you stress that it is crucial for an arts center like the Kennedy Center to take risks, to be prepared to have some failures, in fact, failures are sort of part of the judgment in a way that you have been taking risks. Newsweek magazine has just instituted a new column I find quite interesting called "My Favorite Mistake." What is your "favorite mistake" in this risk-taking department?
KAISER: Oh there are so many. I think my favorite mistake goes actually back to my very first job in the arts which was running the Kansas City Ballet, a wonderful ballet company in Kansas City, and I was seduced by a marketing consultant who came up with this wonderful idea for a campaign to get people interested in the ballet and it was a complete fiasco and resulted in the lowest ticket sales for any performance ever in the history of the Kansas City Ballet, before or since, and I learned a great deal about arts marketing.
KAPLAN: How about at the Kennedy Center itself – idea for a new opera or a new composer or a new series or something ambitious that didn't quite hit it?
KAISER: Oh there's, there's many things. I – what comes to mind is a wonderful concept which was for a festival of the 1940's in America, the arts from the 1940's. It was a very potent time for the creation of art in America. We all got a bit carried away with this topic and we ended up with so many performances and so many concepts and ideas for this festival that no one knew it was happening. The press wrote nothing about it and not enough people came, and again I learned how to focus a festival if you're going to make it successful.
KAPLAN: I see. All right, let's come back to your music list then and I see the next candidate is Mozart's Don Giovanni.
KAISER: Yes, I really wanted to be an opera singer for much of my young years. I loved singing. I started singing in third grade when I was the Captain of the Pinafore in our production of HMS Pinafore and I continued to sing and I was accepted to music schools; I studied at Manhattan Music's prep division and I really throughout my college years I still thought I was going to be an opera singer. I just simply wasn't good enough. But I really did love singing and I particularly loved Don Giovanni. I sang the entire score, from first note to last, but "Deh, vieni alla finestre" was the aria that I focused on. In retrospect I wish I had studied conducting because I think I have some musical ability - I just can't sing.
[Music]
KAPLAN: An aria from Mozart's Don Giovanni, the Vienna Philharmonic and Cesare Siepi, soloist, with Josef Krips on the podium. A musical selection of my guest today on "Mad About Music," the President of the Kennedy Center, Michael Kaiser. When we return we'll talk about Michael Kaiser's extraordinary track record from a financial point of view.
[Station break]
This is Gilbert Kaplan with my guest today on "Mad About Music," the President of the Kennedy Center, Michael Kaiser. All right, let's turn to the financial side of arts management and especially fundraising and here I take the liberty of telling a personal story because you and I met in London when you had just taken the job to run the Royal Opera House in Covent Garden and – well, in telling this story I first have to let you tell the story of how you got that job because as I understand it there was a search going on and you simply wrote a cold letter saying "I'm available and interested." Is that right?
KAISER: That's exactly true. I wrote to the chairman, Sir Colin Southgate saying "I do turn-arounds, you need a turn-around – hire me."
KAPLAN: Wonderful. And they did and they did. All right, but when we met, you had just taken the job and I said "this going to be difficult?" and you said "It's quite amazing how far behind Britain is in fundraising." As I recall Covent Garden had a group of "friends" like most organizations do and they had a fee for being a friend, of some 50 some odd pounds, but they didn't have the basic idea that every American institution has of for 50 pounds you become a friend, and for a 100 pounds you get a dinner, and 200 pounds you meet the conductor, and you instituted that instantly and what was the difference in the funding results because of that?
KAISER: We raised about $100 million dollars in 18 months.
KAPLAN: Well that wasn't from this step ladder of –
KAISER: Not from the step ladder – but it was from all parts of our fundraising activity and we paid off their deficit which was at that point about 30 million dollars and finished paying for their new building and created an endowment fund. So it was a very potent example that you can institute fundraising in countries apart from the U.S. It just takes some knowledge of how you do that.
KAPLAN: Now, in your other job which I described in my introduction where you serve as an adviser to many other organizations on financial matters, on fundraising, what would you regard as the biggest mistakes that organizations – arts organizations make when it comes to fundraising? And I'm not talking about the little small ones but major organizations who just don't seem to get it right.
KAISER: I think arts organizations, many of them, think of fundraising as something on the side that you do well, if you have charming people who give nice lunches whereas fundraising really comes from really exciting, important art supported by very dynamic and aggressive marketing. When you have great art and strong marketing you build what I call your family, those are the people outside the organization who care about you, and when they're engaged and enthusiastic they produce money through fundraising and through ticket sales. So one has to get the art and the marketing right before one attempts fundraising and so many organizations attempt what I call "brute force fundraising" which is not to build a family, just to go out to people and say "you have to give – you have to give" and that rarely works for very long.
KAPLAN: Now, in building the family, what do you do that make them feel like a family?
KAISER: You share with them allot of information, you give them access to experiences that really rivet them, you bring them to rehearsals, you let them meet the artists, you let them feel part of the organization – not to run the organization but to feel part of it and so they want the organization to be successful otherwise they can't be happy themselves.
KAPLAN: I see. Now, at the Kennedy Center what portion of your budget comes from the government?
KAISER: The federal government gives us the money to run the building, because we are the official memorial to President Kennedy, we get the funding to run the building, for art we don't get any funding whatsoever except for a normal grant from the NEA which might be $150,000 a year. I think it really goes back to the founding of America. We were founded by the Puritans who thought that music and dance were evil and we had a separation of art and state for 200 years and arts organizations are expected to find private funds to support their work as we are at the Kennedy Center. I have to raise about 75 million dollars a year of private money, each year, to do the work we want to do.
KAPLAN: All right, well, then let's come back to music and I see next is going to be Tchaikovsky.
KAISER: I picked the Serenade for Strings because of its relationship to another art form that I love deeply which is ballet. I've been very involved with the ballet world for my entire arts management career, of 26 years, starting with the Kansas City Ballet and then going to Alvin Ailey and then to American Ballet Theatre and then to the Royal Ballet. And now we have a great presenting program at the Kennedy Center and to my mind, the great work created of the last 100 years was Balanchine's Serenade which it uses the Tchaikovsky music and which I think makes the Tchaikovsky music sing and dance.
[Music]
KAPLAN: An excerpt from Tchaikovsky's Serenade for Strings, the Vienna Chamber Orchestra led by Philippe Entremont, music chosen by my guest today on "Mad About Music," the President of the Kennedy Center in Washington D.C., Michael Kaiser. I'd like now to turn to your job as President of the Kennedy Center and Washington being the center of power in this country let's talk a little bit about the power of this job because both the Washington Opera and the National Symphony Orchestra have their own boards and their own executives. How much influence do you have on artistic matters?
KAISER: The Opera has just now become part of the Kennedy Center, so my influence is only beginning and I will work, hopefully carefully with their executives to develop a program for the future, but because of this new affiliation we have the ability, I think, to put more resources to the art, so I think we can be more expansive in the programming. And with respect to the symphony, I'm very deferential to our Music Director. We have a wonderful new Music Director of the NSO, Christoph Eschenbach. I work with Christoph, I make suggestions, I have ideas, particularly as they relate to the larger Kennedy Center projects, for example the coming festival of music of Budapest, Prague and Vienna, we work very closely to coordinate the work the NSO will do and the work that other music organizations will do, so I do have a role. I am the Artistic Director of the Kennedy Center in addition to being its President.
KAPLAN: Well, what about when it comes then to say, personnel? Now the National Symphony just did a search and it turned out they engaged Christoph Eschenbach, as you just mentioned. I assume you approve of that decision.
KAISER: Absolutely. I was a part of the search committee. I was at every search committee meeting, at every discussion.
KAPLAN: Now, is it fair to say that they could not have made that appointment if you were against it.
KAISER: I think it would have been uncomfortable for there to an appointment of a Music Director who, who I didn't think was the appropriate person for the job. But we work in a collaborative way. It doesn't come to that. There's allot of discussion, allot of angsting over who that appointment should be and as a committee we made an appointment. I don't think I played a dominant role in the process at all.
KAPLAN: Do you think your colleagues that are running these organizations would agree with that statement?
KAISER: I hope they would. I think they would but you'd have to ask them.
KAPLAN: OK. Let's talk a little further about financial problems of presenting organizations. I think it's often written that with so many orchestras and opera houses in financial trouble, it's an anomaly that say conductors are paid such extraordinary amounts of money and Zubin Mehta was once asked whether he thought this may be true and he said it probably is true and he would be prepared to accept less provided nobody else got more. What do you think about this anomaly?
KAISER: I think it arises both from traditional supply and demand concerns but also from two other factors that we have to think about. Number one, in Europe where traditionally governments gave high subsidies to arts organizations, they had an ability to offer a large, large scale payments to important artists, both conductors and soloists and opera singers, and we in this country had to compete in order to get their services if we wanted the best musicians. But also, there used to be another organization – set of organizations bargaining for the work of these great artists which was the recording industry. And recording companies could pay large fees to these artists and so the artists were making trade offs between performing live or doing recordings. Now that the recording industry is so ill and doing much, much less large-scale production that competition is gone and I do think that over time we are going to see some settling of the wages of major artists as a result.
KAPLAN: Now the Metropolitan Opera in New York has solved this problem to some extent, not to a great extent, but to some extent by setting a ceiling above which they will not pay any singer for example, so even when you are Pavarotti you got the same high fee that a number of other people have. Do you have this at the Kennedy Center also? A top fee you won't go beyond?
KAISER: It's not as big an issue for us and so I don't think we have an official top fee – no I wouldn't say that – but we earn a surplus every year so we will not pay that which we can not afford.
KAPLAN: All right then, we're going to come back to music and next on your list I see is Ravel.
KAISER: Absolutely, again, this gets back to the ballet world. Ravel's Piano Concerto in G major to me is one of the most beautiful pieces in music. Its second movement particularly is meaningful to me as a piece of music. Jerome Robbins also set the entire work to what I think is his greatest work called In G Major and that second movement is one of the most beautiful pas de deuxs ever created in ballet. This is why I love the work so much.
[Music]
KAPLAN: An excerpt from Ravel's Piano Concerto in G, the Berlin Philharmonic and soloist Martha Argerich, with Claudio Abbado on the podium, music selected by my guest today on "Mad About Music," the President of the Kennedy Center in Washington D.C., Michael Kaiser. When we return we'll hear Michael Kaiser's "wildcard" selection; music that cannot be either classical or opera.
[Station break]
This is Gilbert Kaplan with my guest today on "Mad About Music," the President of the Kennedy Center in Washington D.C., Michael Kaiser. All right, now we come to that part of the program we call the "wildcard" where you have a chance – it's a requirement to select music that's not classical, not an opera. We've had a remarkable series of selections in this area ranging from Elvis Presley to the Beatles to Ella Fitzgerald to World Music. What did you pick today?
KAISER: I picked Stephen Sondheim. I picked "Losing My Mind" from his musical Follies – it's one of the great musicals ever written. I've produced or presented nine Sondheim musicals at the Kennedy Center in the last ten years, and this past season did a production of Follies that will be in New York on Broadway at the Marriott Marquis Theatre by the time this radio show airs, and I think it's one of the great scores ever written for Broadway.
[Music]
KAPLAN: "Losing My Mind" from Sondheim's, Follies, sung by Barbara Cook with the New York Philharmonic, and conductor Paul Gemignani on the podium, the "wildcard" selection of my guest today on "Mad About Music," the President of the Kennedy Center in Washington D.C., Michael Kaiser. All right, let's turn now to today's music and I start with an observation that there is no contemporary music on your list today.
KAISER: Well Stephen Sondheim is contemporary and is still writing music but there's no contemporary classical music on my list. That doesn't mean I don't love the work, just - there are fewer personal anecdotes that relate to that work I mean.
KAPLAN: Well which composers do you think who are writing today will endure?
KAISER: Well, I was very fortunate to commission a new opera by Thomas Adès, when I was at the Royal Opera House, The Tempest, which is a beautiful, beautiful work. I think Thomas Adès is definitely going to be around for a long time. Nico Muhly is obviously very popular composer today. Golijov is creating beautiful, beautiful important music today. I think there are many important composers today who are working in a variety of art forms.
KAPLAN: Do you have a theory why there has not been a successful opera written in the last 25 years - and by successful I mean popular with audiences?
KAISER: I think there are operas that have been popular with audiences that have been written in my lifetime, certainly. And Moby Dick is an opera that was done in Houston, it has a long life after that; the John Adams operas are enjoying great success so I wouldn't say that none of them have been successful. I don't think they've entered the consciousness the way that some of the Verdi operas or Puccini operas have and I think many of them don't have identifiable arias the way the 19th century operas do but that doesn't mean that they're not selling tickets or that people aren't anxious to see them. In fact there's a whole new renaissance really of opera companies producing new works and I think it's fantastic that it's true.
KAPLAN: I thought they were having trouble with audiences for most of them and I think that the reason is partially what you gave that there seems to be a law that's been written that it's no longer acceptable to write beautiful melodies, beautiful arias within the music, and I wonder why that has come about.
KAISER: I think maybe more what's happening is that we're seeing a shift in audience and that the audience that traditionally went to opera is more used to hearing Verdi, Wagner, Puccini, etc. whereas a younger audience is much more open to more rhythmic maybe less melodic form of writing. I don't think every composer is not writing melody but many are not and I think that opera companies are slow to keep up with the building of the new audience and until they do there's a mismatch between the older audience and the newer music.
KAPLAN: All right, well, your final selection today certainly touches the heart and I should mention that we're talking about the final Trio from Rosenkavalier and I - this has been a popular selection on "Mad About Music." Hollywood director, Mike Nichols picked it he said because in his youth it was just the music that helped "get the girls," he said. Another guest was Cardinal Egan, the Archbishop of New York. He had a different reason. He found that this was the music that converted another priest, a friend of his, to loving opera. So, lots of people draw on this, why did you pick it?
KAISER: Well, in a sense, it helped me get the girls as well. It helped me get Renée Fleming, Susan Graham and Christine Schäfer singing at the Royal Opera House which was probably the greatest opera production that I've been involved with in my career, with Christian Thielemann conducting, and I will never forget that entire production, and certainly not the final Trio.
[Music]
KAPLAN: The dreamy final Trio from Strauss's Der Rosenkavalier, the Philharmonia Orchestra with soloists Teresa Stich-Randall, Christa Ludwig and Elisabeth Schwarzkopf, under the baton of Herbert von Karajan, and the final selection of my guest today on "Mad About Music," the President of Kennedy Center in Washington D.C., Michael Kaiser. We were talking before about the emotional response to music. Now, all of the selections you've picked today, and partly at my encouragement, relate to experiences of yours, and things that have happened along in your life with this music intersected but what music do you turn to just to listen to over and over again? Do you have any real favorites in symphonies for example that might have been on the list if you were looking for that as the sort of criteria?
KAISER: I listen to a very wide range of music. I listen to some unusual selections like the Hovhaness Magnificat by Alan Hovhaness, a work that was only recorded, I believe, by the Louisville Symphony and is a very astonishing work that I was lucky enough to sing when I was younger. I listen to allot of opera. When I'm alone, if I'm cheerful, I listen to Lucia or Semiramide and if I'm depressed I listen to Tristan or Walküre. I listen to allot of Broadway music which I love very much as well, a very full spectrum from the 1930s up until today. I really have a very mixed set of tastes. I also listen to some popular music, although it's certainly not what I know best, but I do go back to the early 60s and the Beatles and the Supremes and that form of popular music as well.
KAPLAN: What about your emotional response to music. You say that if you're feeling down you might listen to Tristan or to Walküre. I mean my impression of you over the years, and sitting here today, you confirm you're still very buttoned up, a somewhat formal person. I mean, is there lurking beneath the surface another Michael Kaiser who has a tremendous emotional response to music.
KAISER: Oh absolutely. To me music is – is really just tied to my psyche. It's not about an – it's not about an intellectual experience, it's about an emotional experience. I think it's one of the reasons why I like Wagner so much. I didn't pick Wagner today but I love the Wagner operas and I think they require a certain "letting go" to really enjoy a Wagner opera and for me, music – and in fact all art is really about allowing your emotions and your intellect to mingle and to really get sustenance from the art itself.
KAPLAN: Does music ever or often bring you to tears?
KAISER: Absolutely. A beautiful performance brings me to tears - not a bad performance and that's true for a beautiful ballet performance or a modern dance work or great jazz performer or amazing chamber music. I can be really, very emotional about a beautiful performance. And I'm lucky enough to see so much that I really do get to see so many beautiful performances every season.
KAPLAN: Now, when you're sitting at the Kennedy Center watching opera, and some extraordinary baritone holds forth, do you ever sit there and say "that might have been me if I just had been a bit better"?
KAISER: I – no, I think about what it must feel like to be able to sing and to really enjoy that feeling of the singing. For me it was always a struggle and when I hear a free beautiful baritone singing, and I think "that must be the most wonderful feeling in the world."
KAPLAN: Before we come to my final question, by the way which deal with fantasies, I'd like to ask you – even though you're so young – it's a question I always ask guests on this show: have you thought at all about what music you might want played at your funeral?
KAISER: Well, my mother would like them to play The Mikado at her funeral, but I would love to hear Schubert's song, "Du Bist die Ruh," which I think is just one of the most gorgeous pieces of music ever written.
KAPLAN: Of course, you probably won't hear it.
KAISER: I'll hear it.
KAPLAN: Well, this brings us – and you may have answered it at two different times during this show – the final question I always ask guests, and it has to do with musical fantasies and the question would go: if you could be a superstar in music what would you like to be? Well you've said you might have liked to be a singer, you thought that you maybe would like to be a conductor, but I'd set that aside for a moment and ask you to think again. If you could be a real star, what would it be? A singer, conductor, composer, pianist, violinist, what would it be?
KAISER: Well, I feel that I have the best job in the world because I get to participate in the art making of every art form of the Kennedy Center but if I had to answer your question specifically I think I would like to be a conductor and I think having the ability to shape a performance and to collaborate with the musicians, to create the music would be absolutely astonishing.
KAPLAN: Michael Kaiser, thank you for appearing today. You've been a fascinating guest. The Kennedy Center is clearly in good hands. This is Gilbert Kaplan for "Mad About Music."
*********
"Mad About Music"
Gilbert Kaplan, Executive Producer
Heidi Bryson, Producer
Marcela Silva, Associate Producer
Leszek Wojcik, Recording Engineer