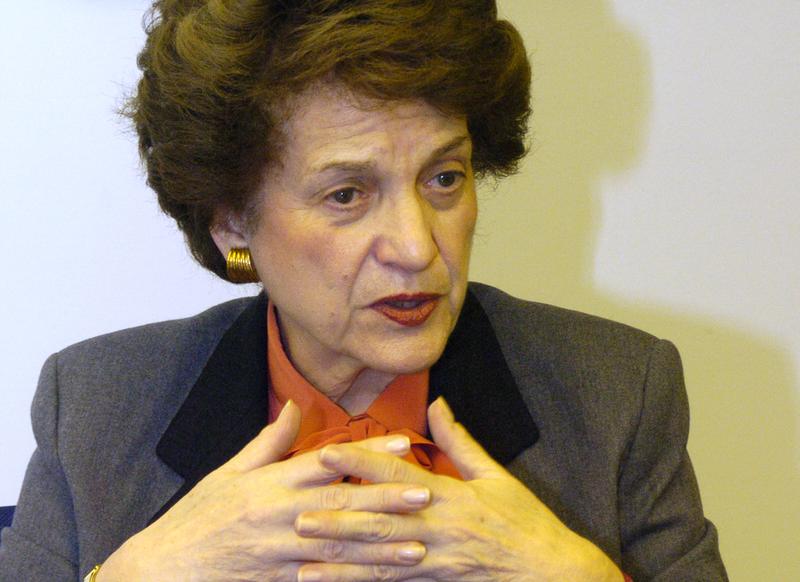 Transcript
Giacomo Puccini: Turandot "Signore, Ascolta!" [excerpt]. Orchestra dell'Accademia di Santa Cecilia. Alberto Erede. Renata Tebaldi, soprano. Decca 452 964-2.
Giacomo Puccini: Tosca. Conclusion. Orchestra e Coro del Teatro alla Scala. Victor de Sabata. Maria Callas, soprano. EMI Classics 56304.
Richard Wagner: Die Walküre "Wotan's Farewell" [excerpt]. Vienna Philharmonic. Sir Georg Solti. Hans Hotter, baritone. London 414 105-2.
Charles Gounod: Roméo et Juliette "Ah! Tu dis vrai". Orchestra & Chorus du Capitole de Toulouse. Michel Plasson. Roberto Alagna, tenor. Angela Gheorghiu, soprano. EMI Classics 7243 5 56123 2 8.
Andrew Lloyd Weber: Aspects of Love "Love Changes Everything". Michael Ball. Polydor 31453 3064 2.
Charles Gounod: Faust "Marguerite's Spinning Song." Symphonie-Orchester & Chor des Bayerischen Rundfunks. Sir Colin Davis. Kiri Te Kanawa, soprano. Philips 475 7769.
*********************************************************************************************
GILBERT KAPLAN: Welcome back to "Mad About Music" with my guest, the former Chief Judge of New York, Judith Kaye.
[Theme music]
Fresh out of law school, she was soon on the fast track as a corporate litigator for a major law firm and broke new ground as the first woman to become a partner in the firm. Later she became a judge and in 1983 she was tapped by Governor Mario Cuomo to sit on the Court of Appeals – New York's highest court. Ten years later, she was elevated to become the Chief Judge for the State of New York where she gained a national reputation for groundbreaking decisions. Over the years, she has received numerous awards and honors. And finally, a few years ago, she stepped down from the bench to return to private practice. But the most fascinating and compelling assignment in her new life she says clearly is joining the Board of Lincoln Center and the opportunity to be enmeshed in the world of opera, one of her lifelong passions. Judith Kaye, welcome to "Mad About Music."
JUDITH KAYE: Thank you. It's my pleasure to be here.
KAPLAN: Well, looking at your list of musical selections today, all operas, it seems to me we have a clear theme for the show, and it's passion. Now, beyond a fondness for passionate operas do you regard yourself in general as a passionate person?
KAYE: I do. I do. Of course it comes out most in the music; maybe in the law it's a bit more restrained. I'm passionate about everything I do. I think a huge project I've been engaged in in my Chief Judge afterlife is keeping kids in school and out of courts. I'm very passionate about that. So yes, I would say I am a passionate person.
KAPLAN: Now does that mean in terms of the opera that you're always a weepy person, sitting there with tears coming down at these operas?
KAYE: What I put on my list I pretty much feel weepy about, yes, I'm very moved very, very, very often.
KAPLAN: All right, well then, let's start at the beginning. How did you first discover opera?
KAYE: I first discovered opera in September of 1962, having grown up in a small town, a rural community. I came to Barnard College; I got through college without having discovered opera. I got through law school without having discovered opera. I was at the firm of Sullivan & Cromwell, brand new, and it was pretty startling to be a woman back then in a big law firm. But a date, a date, took me to the opera one night and it was Turandot. That was a – such a memorable evening. I remember staying out of work, surely one day, maybe two. I bought the record. I listened to the opera again, and again, and again and again. I'm sure I could sing it. But as I think about it and particularly, I think about the theme passion, I think of Liu's "Signore, Ascolta!" in the first act; such a passionate plea that she makes to the Prince who puts his head on the chopping block in pursuit of Turandot. And that just reminds me that I had one of the great experiences of my life, I'm not overstating it. I knew that a hair-dresser I went to a million years ago also was the hair-dresser for Renata Tebaldi. His name was Enzo de Perusia. This is a long, long, long time ago. But one day - and Mignon Dunn went there - I think there were several other singers there. One day, of all things, one memorable, incredible, fantastic day, I found myself in the changing room, removing my clothes and Renata Tebaldi was there too. Oh my goodness. Unbelievable. I was really dumbstruck and beside myself to be in the changing room with Renata Tebaldi, removing clothes. And I did tell her of my, just my enormous gratitude to her and she asked me what my favorite role is – and I'm apologetic – all these decades in retrospect because she's sung so many great and wonderful things and I blurted out "it's Liu singing 'Signore Ascolta!'" That was on my record, so I don't know whether that flattered her or dis-flattered her, but that is, those are the words I spoke to the great Renata Tebaldi.
[Music]
KAPLAN: The famous aria "Signore, Ascolta!" from Puccini's Turandot sung by Renata Tebaldi, the singer my guest today, Judge Judith Kaye encountered in the dressing room at a hairdressers. Here she is singing with the Orchestra of Santa Cecilia, with Alberto Erede on the podium, the first selection of my guest today, which is the former Chief Judge of New York, Judith Kaye. Now Turandot, in fact all of your selections are complicated moralistic stories; I would say good verses evil. Can you, given your legal background and your sensitivity, can you enjoy the performance of a villain at the opera?
KAYE: I am completely transported. Sometimes, in love and great sympathy, and other times in a desire for revenge. I think of Rigoletto, I think of so many operas and I just want to get out there - and Scarpia - I want to get out there and right the wrong, correct the injustice.
KAPLAN: Good. Now, as a judge, would you have enforced as consistent with public policy the contract between Turandot and Calef, which provides that if he doesn't answer her three riddles, he agrees to be beheaded. Is that an enforceable contract?
KAYE: I'm glad that didn't come up on our docket.
KAPLAN: All right. Turandot is of course fiction, but let me put you as a judge in the midst of a real life struggle that may have taken place between Mozart and Salieri. I assume you've seen the movie Amadeus and it suggests Salieri killed Mozart. What's your sense of that, Judge?
KAYE: I am familiar with that and this was one person's view. I accept it as that.
KAPLAN: OK, now politics does show up in opera. We have Nixon in China for example. Are there any court cases that could make a great opera?
KAYE: Oh, I think so many, and indeed, just a year or two ago I was so privileged to see An American Tragedy. And An American Tragedy, though we think of it as Dreiser's novel, actually was a case that was argued in the court I left two years ago. People stood right in that very court room and argued that case that became the subject of Dreiser's theater - Dreiser's great novel which then led to the opera. So, oh goodness, I think we have passionate opera every day of the week at the courts.
KAPLAN: Now do you think if the Obama health plan reaches the Supreme Court that will be a good opera?
KAYE: Well, let's hope it's not a tragedy.
KAPLAN: All right, now, I guess I'll ask you one more of these type of questions. Bush v. Gore was one of the most famous cases recently at the Supreme Court. Everybody knows about counting the votes in Florida. If you had to pick an opera composer, who would be the right one to compose the music for that - the soundtrack for that? What would it be?
KAYE: Oh goodness. Well, I just saw Nixon in China, enjoyed it immensely, so I'll take John Adams.
KAPLAN: John Adams.
KAYE: He's got a great – such a great name in American history, and certainly Bush v. Gore is part of American history.
KAPLAN: I should mention we've had several other distinguished justices on the show and I've asked the same question. You might be interested that Ruth Bader-Ginsburg picked Verdi; I believe that Antonin Scalia picked Mozart and Diane Wood picked Bizet. So now we have John Adams as a fourth. All right, well then, let's return to your music list and return to another villain and more passion, another Puccini opera, Tosca.
KAYE: Yes, well, I'm sorry to have picked two Puccini's but, I mean, this was very, very difficult. So, I think of the words "Mario! Mario!" and I think of – I know they're in Act I, when Tosca enters the church, they're in Act II when she's in Scarpia's study, and poor Mario Cavaradossi is being tortured, and they're in Act III when he has been the subject of the firing squad and she runs up to him at the end, hoping to rouse him from his – from the floor and leave with him. And so for me, the words "Mario, Mario!", they really resonate and the reason I put this on – this has very, very special significance to me. I go with Act III because the music is so spectacular. But the reason I put this on my list is that there is a Mario who is enormously important in my life and that's Mario Cuomo. Mario Cuomo appointed me in 1983 to the States highest court. It was a very bold act on his part and I am enormously grateful to him. And wouldn't you know, in March of 1993, he made me the Chief Judge of the State of New York again, a bold and wonderful act for which I am endlessly and boundlessly grateful to him. Whenever I see him all I want to say is "Mario, Mario!"
[Music]
KAPLAN: "Mario, Mario!" an excerpt from the conclusion of Puccini's Tosca, sung by the legendary Maria Callas, with the Orchestra of La Scala led by Victor de Sabata, a selection of my guest today on "Mad About Music," former Chief Judge of New York, Judith Kaye - music that continues the theme of passion in an aria selected as homage to Judge Kaye's own Mario – the former governor of New York, Mario Cuomo, who appointed her to the court and then later as the Chief Judge. When we return we'll talk about Judith Kaye's favorite singers.
[Station break]
KAPLAN: This is Gilbert Kaplan with my guest today on "Mad About Music," the former Chief Judge of New York, Judith Kaye. Now, just before the break you very cleverly connected your Mario, Mario Cuomo, the former Governor of New York, who appointed you to the Court of Appeals and then, as the Chief Judge, and the Mario in Tosca. Is the former Governor Cuomo an opera fan?
KAYE: I have not asked him that question and our conversations have not focused on opera, but my guess – my certainty – it's not a guess, is that Mario Cuomo is an opera fan. I see that same passion in Mario Cuomo. Yes. I say unequivocally, yes.
KAPLAN: You know when Justice Scalia was on the show I asked him if he thought that Justice Alito liked opera because he was a new justice then. He said, "He's Italian – he must." OK. Now since retiring from the Court you've taken on a number of new assignments including joining the board of Lincoln Center. What issues that that board faces – that Lincoln Center faces – interest you the most?
KAYE: Oh my goodness. How many days do we have to do this?
KAPLAN: You have to pick the highlights.
KAYE: Well, I'll start with the fact that I have lived in the neighborhood of Lincoln Center for many years. My children grew up playing in the plaza at Lincoln Center. My late husband got his opera subscription in the year 1954. We probably at one point had three subscriptions. Loved the ballet; loved the symphony. So to be invited to join the board of Lincoln Center, was for me just the ultimate, the ultimate compliment. Since I've been there, what interests me the most as a board member? I've been there at a spectacular time in the life of Lincoln Center. We have so many profound Lincoln Center-wide discussions, for example, digital media and the impact on Lincoln Center over the next years. It's a very visionary, far-seeing leadership at Lincoln Center as you can tell just from the tangible things you see around you.
KAPLAN: Well, let me ask you a more specific question that's been in the news. I mean, how bad a blow was it for Lincoln Center that City Opera felt that they had to leave because they couldn't afford to pay the rent anymore?
KAYE: Well, I feel I'm a good friend of Julius Rudel. We live in the same building. I know how broken-hearted he is so I share that view. But we have been advised that that just was their decision and that was not something we expressed a second opinion about but I surely feel for, I call him Maestro Rudel, I call him Maestro. And I think it's a tremendous loss. I'm broken-hearted about it.
KAPLAN: All right, well let's turn away then from intrigue at Lincoln Center for intrigue in the opera. And we'll turn to Wagner's Ring which I see is your next selection.
KAYE: Absolutely. And I have almost as many stories about the Ring as I have about my passion for Lincoln Center itself. I mentioned that my late husband got his first opera subscription in 1954, I believe he was on furlough during the Korean conflict and showed up in uniform and got a subscription. He died in the year 2006. We had certainly, one, two, or three subscriptions in those years since the opera was our life. But we studiously avoided – I listened to him, foolishly in retrospect, he and then I studiously avoided all Wagnerian operas. We thought that they were off-putting and boring and we didn't go to them and whenever we had tickets on our subscriptions for Wagner operas, we simply turned them back or gave them to friends. One night however, we attended a lecture at the Fordham Law School. We were leaving the Fordham Law School and low and behold, crossing the plaza – the Fordham Law School is right next door to Lincoln Center – we were crossing the plaza, Stephen reached into his pocket to get a handkerchief or something and oh my goodness, he was carrying the tickets to Walküre. He had neglected to turn back those tickets and the plaza was filled with the people at the break between the second and third act and we thought "Oh, why not?" and so we wandered in and took our seats, and by the way, we settled in row N which we kept those seats and I still have those seats. We thought the perfect distance for both sight and sound. We wandered in for the third act – you asked me before if I get teary – I don't know how on earth I was taken out of my seat that night, after I heard Wotan bid farewell to his beloved daughter, Brünhilde, and I watched the Ring go up in smoke. But to see Wotan, to see Wotan have to banish his daughter from the land of the gods, to kiss her eyelids, to, for her to lay down beside her beloved horse and be separated from her father and her family, that to me was utterly heartbreaking. And talk about passion, that was the start of our own passion for Wagnerian operas.
KAPLAN: Now before we went on the air, you mentioned you once went to the Bayreuth Festival, the temple of Wagner without any tickets. This is to a place where people can wait up to ten years to get tickets. Why don't you tell that story.
KAYE: Stephen and I actually went to Bayreuth – we had no tickets and we had no place to stay and we just drove up to Festspielhaus in Bayreuth, showed up there, the height of – what would you call it? Chutzpah - I think that's the right word for it. Tickets to the Bayreuth Festival are not regularly scalped throughout Europe. It's something you make plans for and you do that very, very well in advance. And here we are, in front of the Festspielhaus, looking for tickets. We met a very nice Englishman and h said, "You'll have to show up early tomorrow morning, 7:00 o'clock, 6:00 o'clock, and he said "do you see that little door down at the end of the building? That door opens really early in the morning and there's a woman there who may have one or two or three tickets that have been turned back. And there will be a crowd there, the like of which you have never seen to try to get those tickets." And we showed up at the crack of dawn the next morning and indeed that gentleman the day before didn't exaggerate one tiny bit. And the door opened, we were shoved into this little room. Fortunately, we each had some money and we were separated immediately and shoved into different parts of the room and there were a couple of tickets available. But guess what? Stephen and I each emerged with one ticket. I had no idea where they were and they bore no relation to each other, but we spent the entire day doing what all those other people were doing in front of the theater: trading tickets. And we wound up with some pretty nice seats for Rheingold.
KAPLAN: What a wonderful story. But you know, when one talks about Wagner's Ring, there always seem to be great stories.
KAYE: Well, when we talk about the Ring you remind me of a story about Stephanie Blythe – the great Stephanie Blythe. I discovered Stephanie Blythe was raised in Mongaup Valley, New York. I was raised in Maplewood, New York. How do you get from Mongaup Valley, New York to the stage of the Metropolitan Opera? I asked her that. She explained to me that she had been sent to Potsdam, spotted by the music teacher at the Monticello High school, sent to Potsdam, was a contestant in the opera contest and one thing led to the other and she ended her note to me by saying "How do you get from Maplewood to be the Chief Judge at the State of New York?" Now, that was the start of a wonderful relationship. I love going backstage to see Stephanie Blythe as invariably I do. The last time I went backstage to see her we sang the Monticello High School anthem together, backstage at the Metropolitan Opera. And let me tell you, that was fun. The Monticello High School music teacher comes to see her too. Is this not a story of America? I think it is. As I watched her up on the stage, being so outrageous as Fricke, I couldn't help just thinking of her own back-story of growing up not as Fricke, but as just an all-around wonderful, loving person, who enjoys the rural life, shooting squirrels I think, like people do in Mongaup Valley.
KAPLAN: All right, well, it was Fricke that caused all the problems for Brunhilde, so perhaps we'll now listen to a little bit of the Ring and hearing Wotan say goodbye to his daughter.
[Music]
KAPLAN: An excerpt from "Wotan's farewell to Brunhilde" from Wagner's Die Walküre, part of The Ring Cycle and sung by Hans Hotter with the Vienna Philharmonic under the baton of Sir Georg Solti, music chosen by my guest today on "Mad About Music," the former Chief Judge of New York, Judith Kaye – all part of the theme of passion and the opera. All right, let's go back to opera and your life. How often now do you go to the opera say in a month?
KAYE: A couple of times a month. I hang around Lincoln Center so I go – like the other day I passed there and stopped to get a salad. The lady next to me asked if "Are you going to the ballet tonight?" I said, "what time does the ballet start?" She said, "In 15 minutes." I said, "Yeah, I'm going." And so I hang around Lincoln Center allot.
KAPLAN: All right, now I would ask you a question on the other side of passion. Namely, are there any well-known operas you don't particularly connect to?
KAYE: The answer to that question is yes and I know you're going to ask me what they are and I – goodness, I saw Le Comte Ory, this time. I don't know that I would go back to that again. But when I see something new and I have that feeling especially – and I did last year with Armida, I saw it and I thought I hated it so I forced myself to go see it again and liked it much more. I think you have to be careful about turning off opera. You have to give it a real chance.
KAPLAN: All right now, I think I know the answer to my next question because of your focus on passion, something usually lacking in most contemporary music; do you listen to contemporary music?
KAYE: Not as much as I should is the truth.
KAPLAN: I did have the impression you might be going there because I read a wonderful quote that you often give apparently, quoting Wayne Gretzky, the famous ice-hockey player, who said, "I want to skate where the puck is going to be."
KAYE: Absolutely. That's one of my life principles.
KAPLAN: And so therefore, contemporary music I suppose is where the future is.
KAYE: Yes. And what I've just said to you I would apply more generally. I don't like to turn off things easily. New ideas, new thinking, new music – you have to be careful not to shut things out precipitously.
KAPLAN: All right then.
KAYE: You have to be open.
KAPLAN: All right then, let's leave contemporary music and dive back into villains and passion and this time it's Gounod's Romeo et Juliette.
KAYE: Ah, Romeo et Juliette – I love the play; Shakespeare. I love the ballet; Prokofiev. I love the opera; Gounod. I remember seeing Romeo et Juliette, utterly transported by this magnificent Gounod opera and this beautiful Shakespeare story. My granddaughter calls me when I was walking down Central Park West, I was five blocks down Central Park West telling her the story of Romeo et Juliette about how awful it is to hate people and how villainous and horrible it is, and I had playing in my mind that beautiful scene when they're afloat, Romeo and Juliette, when they're, just after their marriage. But I was so passionate telling my granddaughter about this story and the life lessons of Romeo et Juliette while the magnificent music played in my mind.
[Music]
KAPLAN: A duet from Gounod's Romeo et Juliette, sung by Roberto Alagna and Angela Gheorghiu, with the Orchestra of Toulouse led by conductor Michel Plasson, another selection, highlighting passion, the theme chosen by my guest today on "Mad About Music," former Chief Judge of New York, Judith Kaye. When we return we'll hear Judith Kaye's "wildcard," music that can be neither classical nor opera.
[Station break]
KAPLAN: This is Gilbert Kaplan with my guest today on "Mad About Music," the former Chief Judge of New York, Judith Kaye. Let's talk about performance from a different angle and compare the performance of a conductor and a judge. Now you were once the maestro of the Court. How much power did you have over fellow judges or was it like an orchestra or more like chamber music where everyone's an equal?
KAYE: How wonderful. Can I just tell you one little story? That I never – I hardly ever sit in the front row at the Met but one night I did. Many, many, many years ago, I sat behind Giuseppe Patanè. I don't think I watched the opera at all, I just watched him. He sang the entire opera. I guess many conductors do that but to watch him was a treat beyond description. So was I anything like James Levine, Giuseppe Patanè, Julius Rudel to name any number of wonderful conductors? In a sense, I was bringing a group, I regarded myself as bringing a group together, around the law, to make something beautiful, and just, and fair, and I guess I did in many senses. I never allowed myself to think of myself that way but now that you mention it, the Chief Judge is in a sense like many conductors.
KAPLAN: Now, in the movies and often in some real life situations, some judges, by the way they behave and the way they deliver their comments, their questions, even wisecracks, are often described as performers in the same way that there are opera performers. Would you agree that there are people like that?
KAYE: Well I will take one example. I used to describe myself as "the other Judge Judy." We of course are all well familiar with Judith Scheindlin, the great "Judge Judy." My colleagues once asked me to stop doing that and I understand why they did that and I did stop describing myself as "the other Judge Judy." She is a consummate entertainer. Now, she teaches allot of people about the law and justice and she is just fabulous at what she does, but that's not a judge in a courtroom. And I think judges in courtrooms, dealing with life's most difficult problems, people beset with woe, I think, I think there is a demeanor and an attitude that is not – is distinctly different than that of an entertainer.
KAPLAN: OK. Let's come back to your music and we now come to that part of the show we call the "wildcard," where you have a chance, it's an obligation to select a work that is neither classical nor opera. We've had some fascinating selections in this area and you're allowed to stay within your theme of passion, so long as it's not classical or opera. So, what did you bring us today?
KAYE: Well, this was a very easy choice for me because I went right to Andrew Lloyd Weber. And by the way, I can never forget being on a New York City bus one day and hearing two people talk about him as Frank Lloyd Weber. Now, he is indeed an architect, but not in the same sense of Frank Lloyd Wright. So, I can't remember what the first show was of Andrew Lloyd Weber that I saw, and I've seen every one of them many, many times. I am enthused with the music of Andrew Lloyd Weber. But one of them in particular just popped to the top of my list, especially since my list is labeled passion and that's a show called Aspects of Love. I'm so sad that Aspects of Love did not have a long run on Broadway. I don't know. I can't speculate on what it was but the show opens with a beautiful, young man singing "Love Changes Everything," and indeed it does, doesn't it? Nothing lifts me from my seat like "Love Changes Everything."
[Music]
KAPLAN: "Love Changes Everything," from Andrew Lloyd Weber's play, Aspects of Love, sung by Michael Ball, the "wildcard" selection of my guest today on "Mad About Music," the former Chief Judge of New York, Judith Kaye. Let's talk about music and your work. When you were writing decisions on the Court did you have music on in the background?
KAYE: No. I am a quiet worker. I am a writer person; in fact I aspired in life to be a journalist. Law was a mere pathway to becoming a better journalist. And for me a pad and pen, even to this day, I just have to start that way and a quiet place. I had three young children when I was practicing law. I used to set up things in the dining room at 5:00 o'clock in the morning -- that was work time. And 5:00 o'clock in the morning with a pad and a pen and a stack of briefs, boy that got to be my life forever.
KAPLAN: All right, now in my continuing attempt to compare a judge and the music field – I'm now going to compare a judge and an opera director – and as you know there's always a big debate among judges about how to interpret the Constitution; some people are very strict, others are more liberal. I'm wondering how you feel about directors of opera who intentionally disregard what the composer has asked for and changed the setting, changed the pace, changed just about everything to suit their own idea about what it might be. Do you approve of that?
KAYE: I think we are supposed to give contemporary meaning to the Constitution. Should opera directors do that? Now, I've seen Francesco Zambello's Ring. I love it. But I love the original Ring. I say I am open to experimentation. Not so with the Constitution. I think I am looking to the intent of the framers and I am bringing modern day significance to how the framers of the Constitution intended that that document be read. I'll apply that same theory to directors.
KAPLAN: All right, now I'm sure by now our listeners have noted that all of the selections we've heard today so far focus on death, and in fact your final selection does also. We'll come to that in a minute but first I'd like to ask you a question on a topic I pose to all guests. You're not special about this. And the reason I pose it, I've found it remarkable how many of my guests have a view of this and it's whether you've decided whether, and if so, what music you want played at your funeral.
KAYE: I have not thought about my funeral.
KAPLAN: So you certainly haven't thought about music then. I mean, I -
KAYE: No.
KAPLAN: I used to feel very self-conscious about asking such a question but then the first ten people I asked it to all had plans, all had a list so I pass it on.
KAYE: Well, I think I have a lesson from my late husband, who called us together just before his death and told us exactly how he wanted his funeral to go. And I just dread the day I have to meet him in the after-life because we did none of the above. So, I'm not - I have too much to do in life. I'm not going to speculate on what happens when it all finishes.
KAPLAN: All right, well, then let's come to an opera where it almost all finished for someone who found salvation, and its Gounod's Faust.
KAYE: And, by the way, I, I think I would pick a bone with you about death in all my choices. I was thinking about passion in all of my choices and you're right, there's some death, not in Aspects of Love, but yeah – sure there's some death all around the place but I -
KAPLAN: No, I know you didn't –
KAYE: Until you mentioned it, it didn't occur to me. Yes, Gounod, the Faust is a little bleaker, is it not than the others? And I had some fun getting ready to come down here. I rifled through a closet and found a couple of things. I found an old program. I love the story. I love the music and I – maybe I picked it out of perverseness, almost. It – I know it's controversial the quality of it and all and I, I found an old libretto that had some pretty spicy things to say about Faust. But I, first of all, love the story. It is a story of passion. I love the fact that good triumphs over evil and I think the music is absolutely beautiful. But I say, for example, in what I brought down with me, this old program, September 25, 1964. It's true that "readers of Opera magazine polls ten years ago put Faust second in list of five operas they most urgently didn't wish to see revived at Covent Garden." So I know it's controversial and the quality of it. I love it. I think it's beautiful and especially Marguerite's "Spinning Song." I so feel for her. When I thought of passion, I had to put Marguerite on my list.
[Music]
KAPLAN: "Marguerite's Spinning Song" from Gounod's Faust, sung by Kiri Te Kanawa, with the Bavarian Radio Orchestra led by Sir Colin Davis, the final selection of my guest today on "Mad About Music," the former Chief Judge of New York, Judith Kaye. As we come to the end of the show we reach a section called "fantasyland" where all guests are required to reveal their fantasies – their musical fantasies. So here's the question. If you could be a superstar in music, would you want to be a conductor, an opera singer, play the violin, composer, play the French horn, the piano; what would you like to be?
KAYE: Easy. I want to be the diva.
KAPLAN: You want to be the diva.
KAYE: Yes.
KAPLAN: And do you have any idea what would be the ideal role for you?
KAYE: Well, it would be Puccini or Verdi. This is the hardest question you've asked me.
KAPLAN: Well, you didn't take too long to find an answer.
KAYE: No, no – I want to be the diva. You know, I had such a privilege about a year or so ago, I was in a master class with Renée Fleming. I want to be Renée Fleming.
KAPLAN: I bet you would have been a real diva too. All right, Judith Kaye, all of my guests are passionate about music, but you are testimony to the power of music in our lives. This is Gilbert Kaplan for "Mad About Music."
*********
"Mad About Music"
Gilbert Kaplan, Executive Producer
Heidi Bryson, Producer
Marcela Silva, Associate Producer
Leszek Wojcik, Recording Engineer