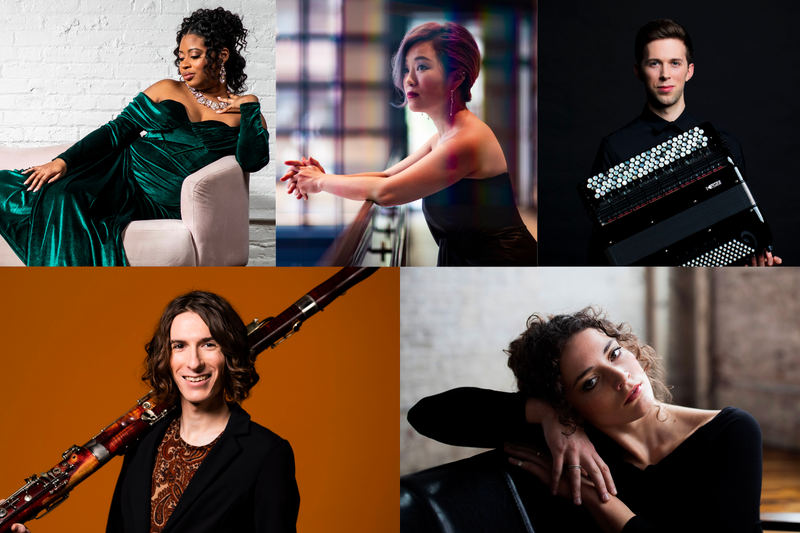 Transcript
Simone Dinnerstein: Hello, I'm Simone Dinnerstein sitting in for Bob Sherman. Tonight, we are featuring Astral Artists National Competition winners. We will hear five wonderful artists in concert at Philadelphia's Stotesbury Mansion on this edition of the McGraw Family's Young Artists Showcase.
I feel particularly excited to host this edition of the McGraw Family's Young Artists Showcase as around 20 years ago I was lucky enough to be an Astral Artist myself. Since 1978, The Young Artists Showcase has been generously underwritten by the Harold W McGraw Jr. Family Foundation. 14 years later in 1992, Vera Wilson founded Astral Artists in Philadelphia.
Vera is a visionary woman who understood that young artists not only needed stellar performance opportunities, but also mentorship for all of the many skills involved in making a career as a performer. One of the skills these young performers learn is the art of speaking articulately to an audience about the works on the program.
We are going to begin the concert with a remarkable bassoonist, Andy Sledge, who beautifully describes the first work they will perform. Here's Andy introducing Alexis Lambs' In Memoriam for Bassoon and Pre-Recorded Bassoons.
Andy Sledge: The piece is a giant sigh of exhaustion and frustration. You'll hear these pre-recorded bassoons doing these sigh figures, these timbral trill oscillations on a sometimes beautiful, sometimes gratding note. And then the solo bassoonist I guess that'll be me this time, the solo bassoonist sometimes just playing these cries for help, but the result is mournful yet beautiful and cathartic.
Simone Dinnerstein: And now let's listen to Andy Sledge performing this striking work for multiple bassoons.
MUSIC - Alexis Lamb: In Memoriam
That was Andy Sledge performing Alexis Lamb's In Memoriam, a haunting work for live and pre-recorded bassoon. Now Astral pianist Byeol Kim will join Andy Sledge in a performance of H. Leslie Adams' gorgeous duet, Poem of Love. African American composer H. Leslie Adams was born in Cleveland in 1932. The very modestly worded biography on his website states that he attended Cleveland Public Schools and then was a student at the Oberlin Conservatory of Music, after which he studied privately with Robert Starer in New York.
All music students listening will surely be familiar with Starer's seminal textbook Rhythmic Training. I have vivid memories of ta-ing those rhythms all through my youth. I must admit that I was unfamiliar with Mr. Adam's work, and I'm delighted to find that he has written 26 Etudes for piano, which I will definitely be listening to. Here are bassoonist Andy Sledge and pianist Byeol Kim playing his Poem of Love.
MUSIC - H. Leslie Adams: Poem of Love
You just heard H. Leslie Adams's Poem of Love performed by bassoonist, Andy Sledge and pianist Byeol Kim. We will continue with more music of love, this time from Mozart's opera, Il Re Pastore. The young soprano, Kayla Harriott will be joined by violinist Eunice Kim and pianist Byeol Kim to perform the aria, L'amero saro costante.
MUSIC - Mozart: "L'amero, saro constante" from Il Re Pastore
That was soprano Kayla Harriott, pianist Byeol Kim and violinist Eunice Kim performing Mozart's L'amero, saro constante from Il Re Pastore. One of the lovely aspects of Astral Artists is how relationships are formed between the laureates by their numerous collaborations in concert. I know that the musicians that I met through my own time at Astral have remained colleagues and friends ever since. So, let's hear another collaboration between Kayla Harriott and Byeol Kim with a second song about love from Gounod's opera Romeo et Juliette.
MUSIC - Gounod: "Ah, Je Veux Vivre" from Romeo et Juliette
That was the ebullient soprano Kayla Harriott with pianist Byeol Kim performing Gounod's "Ah, je veux vivre," from his opera Romeo et Juliette. Kayla is originally from Queens, New York and is a graduate of New York City's LaGuardia High School. I'm always excited to see LaGuardia alumni since my son is a recent alum. Kayla currently lives in Atlanta, Georgia and has participated in various artist development programs, including the American Spiritual Intensive Young Artist Program in Bayview, Michigan, and the FLIP Young Artist Program with Georgia State University.
It's time for a quick break now, then I'll be back with more performances by the vibrant musicians from Philadelphia's Astral Artists here on the McGraw Family's Young Artists Showcase.
Welcome back. Today we are listening to the wonderful musicians from Astral Artists, a Philadelphia based nonprofit that helps foster the early careers of young artists.
Next up, we will hear Manuel Ponce's evocative Intermezzo, played by pianist Byeol Kim. Ponce was a Mexican composer who lived from 1882 to 1948. He studied in Italy and Germany, but then settled back in Mexico City where he sought to bring Mexican popular music into the concert hall. Following the Intermezzo Byeol will perform Creole composer Louis Moreau Gottschalk's Souvenir de Puerto Rico, yet another example of the meeting of art music with popular song, which Gottschalk wrote in 1857 during a trip to Puerto Rico.
MUSIC - Manuel Ponce: Intermezzo No. 1
MUSIC - Moreau Gottschalk: Souvenir de Porto Rico
We just heard pianist Byeol Kim performing Manuel Ponce's Intermezzo followed by Louis Moreau Gottschalk's Souvenir de Porto Rico. Moving on in this interestingly varied program, we are going to continue with Kurt Weill's A Stranger to Myself from his musical, One Touch of Venus, performed by soprano Sage DeAgro-Ruopp and pianist Byeol Kim.
MUSIC - Kurt Weill: "Stranger Here Myself" from One Touch of Venus
Kurt Weill's A Stranger to Myself performed by soprano Sage DeAgro-Ruopp and pianist Byeol Kim. Sage is not only a singer but is also a composer. While taking dance classes, she became interested in writing music for dance. The next piece that we will hear was written for Koresh Dance Company and uses pre-recorded strings with live soprano and accordion. Accordionist Iwo Jedynecki will join Sage for this performance of her composition.
MUSIC - DeAgro-Ruopp: Sie
That was soprano Sage DeAgro-Ruopp's composition Sie performed by her, as well as accordionist Iwo Jedynecki and pre-recorded strings. The classical accordion isn't the most familiar instrument in the concert. The closest that we usually get to one in the classical world is hearing Astor Piazzolla's bandoneon music, which has become a part of the canon and is often transcribed for more traditionally classical instruments such as the cello or the piano trio.
Our next performer Polish classical accordionist Iwo Jedynecki is approaching the canon from the opposite perspective. He is taking music written for other instruments and re-imagining it for accordion. The accordion is a unique marriage between a reed instrument with air pushed through its bellows and a keyboard instrument played by both hands, operating keys and buttons, which creates a truly unique timbre. We will begin by hearing Iwo play Bach's Allemande and Courante from the Partita No 5 in G Major for keyboard, BWV 829.
MUSIC - Bach: Partita No. 5 in G Major II. Allemande, III. Courante
How wonderful to hear Bach on the accordion. I was very struck by how Iwo Jedynecki uses the bellows of the instrument to feel the breathing and the phrasing. We just heard him playing his own transcription of the Allemande and Courante from Bach's Partita No. 5 and G Major for keyboard. We will conclude tonight's concert from Astral Artists with a virtuosic transcription of Alberto Ginastera's Dance of the Outlaw Cowboy for piano, played on the accordion by Iwo Jedynecki.
This comes from a set of three Argentinian dances that Ginastera composed in 1937. Harking back to the music we heard earlier by Mexican composer Manuel Ponce and Creole composer, Louis Moreau Gottschalk, Ginastera incorporated themes and rhythms from popular music within his classically trained style. Let's hear how Iwo will make this crazy piano piece work on his accordion!
MUSIC - Ginastera: Argentine Dances Op. 2, No. 3
Wow. What a fantastic finale to Astral Artist's mosaic of a program. We just heard classical accordionist Iwo Jedynecki performing his own transcription of Alberto's Dance of the Outlaw Cowboy from his Three Argentinian Dances for Piano. That completes this week's edition of the McGraw Family's Young Artists Showcase, which is generously underwritten on WQXR by the Harold W McGraw Jr. Family Foundation. Here is Terry McGraw with more.
Terry McGraw: Good evening, everyone. It's great to be with you and it's always great being with the Young Artists Showcase and to hear these really wonderful and inspiring musicians as they continue to share their incredible gifts with us every week. I can't wait to hear the fabulous talent coming up on The Showcase, and I am so pleased to be able to support the series all through its well over four decades on WQXR. And there's so much more to come.
Simone Dinnerstein: Thank you, Terry. Please join us next time to hear the winner's recital of the 2022 International Bach Competition in Leipzig. Many thanks to WQXR program producers Eileen Delahunty, Max Fine, and Laura Boyman with additional production assistance by Maya Cassady. Our generous program underwriter is the Harold W McGraw Jr. Family Foundation. I'm Simone Dinnerstein sitting in for Bob Sherman. Goodnight.
Copyright © 2023 New York Public Radio. All rights reserved. Visit our website terms of use at www.wnyc.org for further information.  
New York Public Radio transcripts are created on a rush deadline, often by contractors. This text may not be in its final form and may be updated or revised in the future. Accuracy and availability may vary. The authoritative record of New York Public Radio's programming is the audio record.