Aida: 100% Egyptian Cotton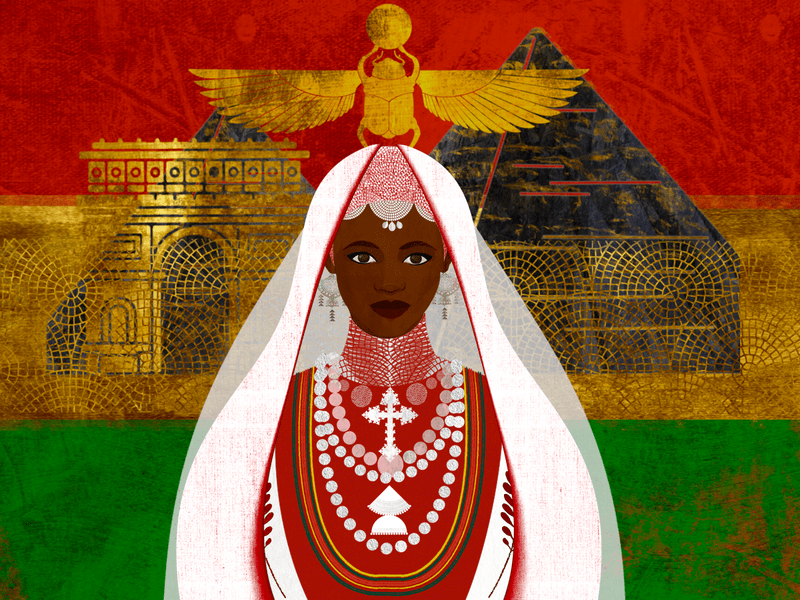 Transcript
Terrance McKnight: This is Every Voice with Terrance McKnight. It's still a new podcast from WQXR that interrogates the culture of our classical music scene and we look at ways to make it beautiful for all of us. In this series we're talking about representations of blackness in opera. Today we're talking about Giuseppe Verdi's Aida.
Aida Flurry
Kevin Maynor: We were doing a production of Aida in North Carolina,
Terrance McKnight: Bass Kevin Maynor.
Kevin Maynor: I got a telephone call one night from Priscilla Baskerville.
Terrance McKnight: Priscilla Baskerville, is a soprano who has sung the role of Aida.
Kevin Maynor: And she said to me, Kevin, did you not see it? And she said they had all of those kids in chains when they did the capturing scene, she said, that is unacceptable.
Terrance McKnight: Aida is one of the most widely accepted operas in the world.
Pranathi Diwaker: You know, it makes you think that the opera has always been not just adjacent to colonial conquest, but perhaps even quite a large part of it because it, it creates like a curiosity…
Terrance McKnight: Pranathi Diwaker is from our production team.
Pranathi Diwaker: But it also allows western audiences to disassociate from the abuse of power because it just gets relegated to entertainment.
SHOUT:
Terrance McKnight: This is Every Voice with Terrance McKnight. Many cultures, many voices. One people.
MUSIC
Terrance McKnight: Verdi's opera Aida has been entertaining audiences since 1871. The first performance in New York was in 1873 and since then it's been staged more than 1100 times in the city. That's like a week of performances every year for the past 150 years. Aida is so popular in New York, she has a statue. You can find her in Verdi Square on Broadway at 73rd street, standing right next to Otello. He hasn't smothered her yet. They've been there together since 1906. Who said she wouldn't last too long on Broadway.
All hit songs aside, Otello and Aida represent two operas whose title characters are African. Both, composed in the latter half of the 19th century, at the tail end of American slavery and at the onset of what is known as the "scramble for Africa." That's during a time when equality was not the order of the day. Even Abraham Lincoln, the great emancipator, didn't believe in Equality of the races. In September 1858 Abe Lincoln said this. September 1858:
Terrance McKnight as Abe Lincoln: I am not, nor ever have been, in favor of bringing about in any way the social and political equality of the white and Black races. I am not nor ever have been in favor of making voters or jurors of negroes, nor of qualifying them to hold office, nor to intermarry with white people; and I will say in addition to this that there is a physical difference between the white and Black races which I believe will forever forbid the two races living together on terms of social and political equality. And in as much as they cannot so live, while they do remain together there must be the position of superior and inferior, and I as much as any other man am in favor of having the superior position assigned to the white race. I say upon this occasion I do not perceive that because the white man is to have the superior position, the negro should be denied everything. I do not understand that because I do not want a negro woman for a slave I must necessarily want her for a wife. I will add to this that I have never seen, to my knowledge, a man, woman or child who was in favor of producing a perfect equality, social and political, between negroes and white men.
Terrance McKnight: Did you hear what Lincoln said, old honest abe? He said I have never seen to my knowledge a man woman or child who was in favor of producing a perfect equality, social and political, between Negroes and white men. Apparently, Lincoln's thinking around equality and superior and inferior races is still rampant in our society on and off the stage. Thousands of productions into Aida, and it's rare to see an African American in the role of Radamès, the Egyptian. Limmie Pulliam is the first man of African descent to sing the role of Radamès at the Met Opera.
Limmie Pulliam: I was honored to have the opportunity to go on to sing this role and uh, you know, and to later find out that I was the first, first black tenor to have that opportunity on the Metropolitan stage, um, it was both an honor and pretty shocking that, uh, you know, thinking of all the greats who have come before me, that none of them were given the opportunity to do this role. It… in a way it saddens me.
Angela Brown / Aida: When I saw Radamès, it was something about him that was so sweet and I couldn't resist him
Terrance McKnight: Angela Brown as Aida.
<MUSIC: Jeromy's intimacy>
Angela Brown / Aida: I'm talking about just being in the rarefied air of one another. We just clicked. It was something about him and it was something about me that was just different.
Terrance McKnight: Aida has been played by 9 women of african descent at the metropolitan opera, Angela Brown being one of them. So what do you think? Does it strengthen the drama or believability of Aida to have the racial dynamic between a white Radamès and a brown Aida? And is that drama worth the price we pay when we have to face and accept one another as equals in real life. I mean, do we have to see inequality onstage in addition to real life? It plays out in the news headlines, plays out in the wealth gap, plays out in education, plays out in healthcare. Do we need it on stage as well?
Peter Sellars: Aida, it's the other weird Verdi opera.
Terrance McKnight: That's Peter Sellars, the opera and theater director .
Peter Sellars: He wrote it for the opening of the Suez Canal. So it's like the opening of a department store. It's a giant event in the history of colonialism, empire and capitalism. And so it has to put forward all these images that are standard, that we stand for freedom and we stand for blah, blah, blah. But of course that music touches you, I mean, certain performers, of course have made incredible, incredible, powerful portrayals of Aida, I mean, beautiful. But the piece itself is hard.
Terrance McKnight: We'll take a short break and when we come back we're gunna talk about the America's Civil War had an impact on Verdi's opera and Egyptian life in the 1860's. This is Every Voice with Terrance McKnight.
BREAK
Terrance McKnight: You're listening to Every Voice with Terrance McKnight. You know, three years after Abraham Lincoln gave that speech, the Civil war began and so did the cotton famine in England caused by a blockade on American exports which impacted industries around the world. Slave labor produced two billion pounds of cotton per year, and Mississippi was the number one producer of cotton. That's where my parents were born. That's where my grandfather's grandparents were freed - Mississippi, back in 1863. So I imagine the majority of their free labor went to England. That operated 2,650 factories and employed 440,000 people. Most of the employees were women and all of them were wage earners. In the early 1860's, half of England's foreign trade involved cotton, and 80% of that cotton came from the American south. So the disruption in England's economy caused by the American blockade had huge consequences, but it also presented irresistible opportunities in Egypt. Ismail Pasha, Egypt's, Khedive, took full advantage of the cotton famine.
BASS LINE PLUCKS WITH MENACING AMBITION
Terrance McKnight: As early as the 1820's Egypt's leadership began looking into the cotton industry by bringing in machinery and experts from England and the American south to advise them in cotton agricultural practices. And by the 1860's Egyptian farmers had turned their backs on local food agriculture and turned all of their attention to cotton production with slave labor. And by 1861, cotton production increased 500% from the previous decades in Egypt, and England became its number one consumer. So this huge increase in cotton production in Egypt was only made possible by the Khedive's use of slave labor from East Africa. Ismail Pasha, he was the Khedive, the man who commissioned Verdi's opera, he collected the tax revenues and built roads, schools, did a lot of good! Constructed museums, libraries, he opened the Suez Canal, which exponentially opened the trade route between East and West. He also built a lavish opera house.
Nimet Habachy: This is important: During the American Civil War, during the blockade, Lancashire and the gins in England had to look for cotton from elsewhere, they turned to Egypt's long staple cotton, which to this day is the best cotton you can find.
Terrance McKnight: And my sheets right now. I had no idea…
Nimet Habachy: LAUGHS. Made in Egypt, you bet, it's still the best
Terrance McKnight: That's right.
Terrance McKnight: This is Nimet Habachy, a WQXR Host and native Egyptian.
Nimet Habachy: So you have all of these people floating around Cairo, which is a place you can make an awful lot of money. I mean, if you've got the imagination and you've got the will, you could do very well in Egypt. It was a gold, it was a gold rush country. If you came in with an idea, you could do well. So there was this nucleus of Europeans, Levitans who were all making money handover fist in Egypt, and they went to Aida, most of them hailed from Europe.
Terrance McKnight: Ismail Pasha was hopeful that Aida would be the opening act for Cairo's opera house in 1869 and so his guest list included European dignitaries and royalty. Austrian emperor Francis Joseph, the Empress Eugenie, the wife of Napoleon Bonaparte III, they showed up for the celebration.
Voice reading a historic excerpt: The motive of Ismael Pasha Viceroy of Egypt in making such tremendous efforts to attract Europeans to Cairo is simply his desire to sell his vacant lots in that City of which he owns nearly every vacant foot of ground at as high rates as possible for the same reason he built the splendid Cairo Opera House. He owns all Lots surrounding the theater, but for the existence of the latter they would be entirely worthless. The American Israelite, August 1869
Terrance McKnight: For those who returned to Cairo in 1871 for Aida, the opera represented familiar and convenient tropes for those who would invest in imperialism throughout Africa and the East: Autocratic rule, lavish lifestyles, an a society based on master-slave relationships and racial superiority, inferiority and racial purity.
DRUMROLL and dramatic strings
Sir Willard White: There came this chance that we were being threatened by war and a messenger brought news that the Ethiopians were rising up against our territories.
Terrance McKnight: Sir Willard White as the King of Egypt in Verdi's Aida.
Sir Willard White: So we go to arms, go to battle, amass your forces and go forth. You need a good leader. And the gods had indicated that good old Radamès was a man of great valor and he would lead us to success. And he did. Mm-hmm. And there was great celebration.
WAR CRY IN THE DISTANCE
Sir Willard White: To make the peace, the conqueror and my daughter Amneris, a wonderful highly spirited woman whom I love so much, should be joined together to assure the continuation of a powerful reign in the near future. And so that wasn't based on love, but based on political value, how to make your country stronger. Marrying the adjoining of the right forces.
Terrance McKnight: To Ismail Pasha and his guests the idea of lineage was essential to governance. Aida, the Ethiopian slave, the Ethiopian princess represented a threat to the bloodline and to their idea of power. As stated by Abraham Lincoln, in the previous decade, just because she isn't my slave doesn't mean I want to be my wife. So the racial dynamics seen in Aida were squarely in keeping with the social agenda of that day. Angela Brown as Aida…
Angela Brown / Aida: So I go to the temple where Amneris, my rival, is preparing for her wedding to my man.
Terrance McKnight: Come on, you show up at the woman's wedding….
Angela Brown / Aida: Well she hadn't gotten married at that time. I'm, you know, I'm just there because I was asked by Radamés to meet him there, Okay? Under the cover of night. Now you know, nothing good happen after midnight. I know that much, but I go and meet him anyway.
Peter Sellers: Verdi is of course, responding to the Africa that was colonized and was cut into pieces and, and so on. But again, tell me what changed about that history. Nothing.
Terrance McKnight: Theater and opera director Peter Sellars.
Peter Sellers: We're still in a situation where, you know, 18 million people can die of AIDS in Africa, and nobody bats an eyelash, you know, hello. I mean, we're living in a period right now where we're worried about our economy and, excuse me, has anyone been to the Congo recently? I mean, hello. We're all those prevailing conditions that Verdi was writing in are alive today and every single way. So I just want to emphasize that we are hardly in a world that has shifted. The economic power centers are the same. And the broad outline of who has enough to eat tonight and who does not are the same. And weirdly a certain population is defined as permanently without enough to eat and that's too bad, but we're not gonna do anything about it. Are you kidding? You know the colonialism in Verdi's lifetime was positively benign compared to what's going on now and the absolute systematic economic rape, we have in place and we're holding in place a series of unspeakable, unspeakable catastrophes.
Tito's wisdom: That's why it's important for us, as a people, to come together, right? Talk about who we are, learn from each other.
Terrance McKnight: In this show we bring the past into the present and the stage to the streets where we all live, love, work together trying to make it more beautiful for all of us.
SHOUT
Next week we'll wrap up our interrogation of Verdi's opera Aida and we'll return with all of our wonderful guests: Peter Sellars, Angela Brown, Limmie Pulliam, Raehann Bryce Davis, Sir Willard White, and Nimet Habachy. This is Every Voice with Terrance McKnight, see you next time.
Every Voice with Terrance McKnight was written and produced by Terrance McKnight, David Norville, and Tony Phillips. Our research team includes Ariel Elizabeth Davis, Pranathi Diwakar, Ian George, Jas Ogiste. This episode's sound design and engineering was by Alan Goffinski. And our original music was composed by Brother Jermey Thomas and Dr. Ashley Jackson on harp, and brother Titos Sompa on percussion and vocals.
Our Project Manager is Natalia Ramirez, and our Executive Producer is Tony Phillips. The Executive Producer for WQXR Podcast is Elizabeth Nonemaker, and Ed Yim is the Chief Content Officer at WQXR.
This project is supported in part by the National Endowment for the Arts. You can find more information on the web at arts.gov.
Special thanks to The Met archives for invaluable research data. And thanks to all the wonderful guests in this episode
If you enjoyed this episode, please take time to rate it, rate us, review up on Apple Podcasts, or wherever you listen. Thanks for listening. Tune in next week. We'll see you next time.
Voice: You're listening to every Voice with Terrance McKnight
Copyright © 2023 New York Public Radio. All rights reserved. Visit our website terms of use at www.wnyc.org for further information.
New York Public Radio transcripts are created on a rush deadline, often by contractors. This text may not be in its final form and may be updated or revised in the future. Accuracy and availability may vary. The authoritative record of New York Public Radio's programming is the audio record.