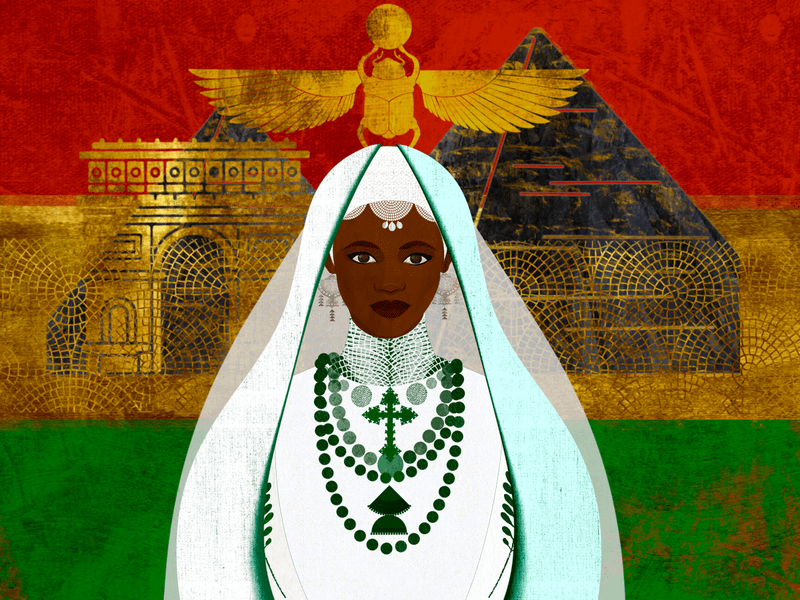 Transcript
Terrance McKnight: This is Every Voice with Terrance McKnight. It's still a new podcast from WQXR, we've done ten episodes where we interrogate the culture of our classical music scene and we look at ways to make it beautiful for all of us. In this series we're talking about representations of blackness in opera. Today we're talking about Giuseppe Verdi's Aida.
Aida Flurry
Kevin Maynor: Aida is interesting
Terrance McKnight: Bass Kevin Maynor.
Kevin Maynor: Because we see an Ethiopian and an Egyptian falling in love.
Nimet Habachy: Aida is in no way representational of that part of the world.
Terrance McKnight: Radio host Nimet Habachy
Nimet Habachy: I don't know if Terrance mentioned, but I'm Egyptian born and bred. I would just point out the heroine is Aida. I mean, the villains of the piece are the Egyptians.
Angela Brown: Hey everybody, this is Angela Brown, and I'll be in the role of Aida on Every Voice with Terrance McKnight.
SHOUT:
Terrance McKnight: Many Cultures, Many Voices, One people
Verdi's opera Aida tells the story of an Ethiopian princess who is enslaved in Egypt. Radamès, an Egyptian general, falls in love with her despite the fact that she represents the enemy. The King of Egypt, sends his army to fend off Ethiopian aggression and led by Radamès they return victorious. And to show his gratitude, the King offer's Radamès, his daughter's hand in marriage. But Radamès had his heart set on Aida. It's an African love story that premiered in Cairo in 1871 but not many Africans went to see it.
Nimet Habachy: There was this nucleus of Europeans, Levitines who were all making money handover fist in Egypt, and they went to Aida, most of them hailed from Europe.
Terrance McKnight: Nimet Habachy is a radio host at WQXR, she grew up in Egypt, and had a western education, and I asked her how this opera resonates with the people back home.
Nimet Habachy: Egypt is a nation of a hundred million people and climbing and of that a hundred million, I would say 2% might even know what Aida is about or ever even existed. And that 2% diligently, you know, whereas it's pretty close and goes to the one opera house in the entire country, in Cairo, which was built by the Japanese by the way. Gets to see and hear Aida, periodically, done by usually a European company with perhaps a Radamès or a priest because there's one good baritone that went through a European music school that was perhaps set up by the Germans. That's called colonialism, but it's also called abject poverty, which afflicts my country to this day. I hope that would not be the case now that I'm the venerable age I am, but things haven't changed.
Terrance McKnight: When Nimet grew up in Cairo the Khedive Opera house that was built in 1869 and debuted Verdi's Aida was still thriving…but in 1971 the Opera House was burnt to the ground and where it once stood is now home to a multi level parking garage. So any opportunity to hear Verdi's operas and arias and grand overtures in Opera square is a bygone, but Verdi passed up opportunities to hear his own music in Cairo back when it was bringing down the house. Here's Pranathi from our production team, telling us why Verdi said he didn't show up in Cairo.
Pranathi Diwakar:ttt Oof. I shall not go to stage it because I would be afraid of being mummified. And so in this way he's talking about these sort of racialized stereotypes, the sort of exotic stereotype of mummies in Egypt.
He wrote If anyone had told me two years ago, you'll write for Cairo, I would've considered him a fool. But now I see that I am the fool.
Nimet: Aida is in no way representational of that part of the world. It's a pure, quite marvelous, really, plot line that was fathom DuLoc and brought to Verdi in order to interest Verdi. I mean, there's very little Egyptian about it when all is said and done. It's a great piece. I mean, I hate to use the word kitsch but it does come to mind. I mean, it's Europe's idea of that which is eastern.
Terrance McKnight: This entire series looks at representations of blackness in opera. So far we've covered Mozart's magic flute, with Monostatos as the Moor in that opera. Othello, the Moor in Verdi's opera and now Aida, the captured Ethiopian princess. There's a thru line here. In the opera we don't really get to experience her as a princess, because she's been captured and we see her in the service of the Egyptian Pharaoh's daughter. But she's royalty in this podcast. Soprano Angela Brown made her Metropolitan Opera debut as Aida back in 2004-05 - that season. In this episode we get some green room insight into how she interprets the character. We'll break and be back with Angela Brown. I mean Aida. This is Every Voice with Terrance McKnight.
BREAK
Sir Willard White: I am Williad White in the role of the Egyptian King. "To make the peace the conqueror and my daughter…"
Terrance McKnight: He's talking about Radamès and Amneris
Sir Willard White: should be joined together to assure the continuation of a powerful reign in the near future." And so that wasn't based on love, but based on political correctness, how to make your country strong. Marrying, the adjoining of the right forces. But Radamès had his eyes somewhere else unbeknownst to me.
Raehann Bryce Davis: And he just keeps staring at Aida,
Terrance McKnight: This is Raehann Bryce Davis as Amneris
Raehann Bryce Davis: And every time she pours out her heart to him, he won't stop talking about her. "Of her no more" like, just stop it. Stop it with. Talking about her, like, this is our moment, we're here. I have the power, I have, you know, I have everything.
Angela Brown: She didn't hold a candle to me. She was common to him.
Terrance McKnight: This is soprano Angela Brown as Aida.
Angela Brown: And even though I was the enemy, quote unquote, there was something about the heat between the two of us that made being enemies sweet.
A piano and trumpet intertwine in melody
Angela Brown: It was something about him and it was something about me that was just different. I'm talking about just being in the rarefied air of one another. I was meant to be wed to royalty within my country. But I have to say, when I saw Radamès, it was something about him that was so sweet and I just couldn't resist him. Even though I tried. I tried and I tried because he was actually one of the young men that captured me. He didn't handle me as roughly as some of the others did. He was very gentle with me, so that was the first thing that got my attention. So yeah, we did start to have a little thing for one another.
Terrance McKnight: Now you're a Princess, but when the opera opens, Amneris, the Pharaoh's daughter, calls you a slave. How'd you go from a Habish Princess to a slave girl in Egypt?
Angela Brown: I don't like to say that I was a slave. Well, I have to say that I was being a little rebellious, uh, a little hard headed. You see, my daddy had told me and all of the other girls in the court to stay close to the palace gates. Well I wanted to be a little adventurous, and I ventured out a little further than the rest of the group, and I just got caught up in looking at the wild flowers and, and I was chasing a butterfly, and I got a little too far away from the palace gates, and I didn't hear my friends yelling and screaming, watch out, Aida. The guards from Egypt are coming near you. Come back. Come back. And before I knew it, I was captured and taken away to the courts of the Pharaoh and that's where everything began to happen. I wasn't doing anything bad. Actually, I wasn't even doing anything that dangerous. But I should have known better because this wasn't the first time that the Egyptians and the Ethiopians had been in a fight because I actually lost my mother in one of those wars and my father became very, very, protective of me. I remembered that my father said "If ever something like this happens, you have to protect not only yourself, but your homeland, your people, and your father. So you can't tell anybody who you are, girl. So gonna have to suck it up buttercup and do what you have to do until I can come and get you." But I was being rebellious and I just wanted to have the opportunity just to breathe because it was heavy. To put that kind of responsibility on my shoulders at such a young age. But in being captured and having to pretend I was a regular lay person, all of that training came back to what my father had told me. And, um, I became the handmaiden to Amneris.
Terrance Mcknight: Aida was born an Ethiopian princess, turned a handmaiden, a servant to Amneris. We all need help sometimes, but the issue…in so many productions, simply put, Amneris is white and Aida is brown, or at least, at made to be brown. There's color coding in the mistress/servant relationship, not just in this opera, and others.
It's what disturbed my Somalian friend and me, many years ago when we saw Aida in Atlanta many years ago.
Bass Kevin Maynor and soprano Priscilla Baskerville had a similar issue when they were in a production of Aida.
Kevin Maynor: SIGNS. I got a telephone call one night from Priscilla Baskerville, we were doing production of Aida in North Carolina. And she said to me "Kevin, did you not see it? They had all those kinds in chains when they did the capturing scene." She said "that is unacceptable." And i thought to myself "Uh oh, did I miss something?" Well, I knew I had missed something, but did I not see what was going on? Well, she saw it. This is a problem that we run in to and that we must move past. And, uh, we must become aware of. And if we the telephone call that brings to our attention that there must be change, then we must involve ourselves in the conversation, indeed.
Terrance Mcknight: The hierarchy of privilege and beauty being associated with race or completion is problematic. It shows up in the headlines. We gotta keep working to break those bad habits in real life and in the opera house. Perhaps it's classical music that can lead the way, and we can all pitch in.
Sylvia McNair: These are big issues in the opera business.
Terrance Mcknight: Soprano Sylvia McNair.
Sylvia McNair: Can we just get lots of different colors on the stage and cast with great diversity and stop trying to put each race in its silo.
Raehann Bryce Davis: So many songs that are just talking about
beautiful, fair, beautiful." You know, it's, it's the battle that we're trying to fight so hard as a society is to have dark-skinned, beautiful representation. everywhere in the world, in black people, in the Asian culture, in like in the Latinx community, everywhere. We're fighting for like black to be beautiful and dark-skinned, to be beautiful.
Terrance Mcknight: Raehann Bryce Davis will be back with us in the next episode as Amneris, Angela Brown as Aida, Raehann Brice Davis as Amneris, Sir Williard White as the King of Egypt and Limmie Pulliam talks about being Radamès. This is Every Voice with Terrance McKnight, see you next time.
Terrance Mcknight: Many cultures, Many voices, One people.
Terrance Mcknight: Every Voice with Terrance McKnight was written and produced by Terrance McKnight, David Norville, and Tony Phillips. Our research team includes Ariel Elizabeth Davis, Pranathi Diwakar, Ian George, Jasmine Ogiste. This episode's sound design and engineering is by Alan Goffinski. Our original music was composed by Brother Jermey Thomas and Dr. Ashley Jackson on harp, and brother Titos Sompa on percussion and vocals.
Our Project Manager is Natalia Ramirez, and our Executive Producer is Tony Phillips. Executive Producer for WQXR Podcast is Elizabeth Nonemaker, and Ed Yim is the Chief Content Officer at WQXR.
This project is supported in part by the National Endowment for the Arts. You can find more information on the web at arts.gov.
Special thanks to The Met archives for invaluable research data. And thanks to the wonderful guests in this episode
If you enjoyed this episode, please take time to rate it, rate us, review up on Apple Podcasts, or wherever you listen. Thanks for listening. Tune in next week. We'll see you next time.
Voice: You're listening to every Voice with Terrance McKnight
Copyright © 2023 New York Public Radio. All rights reserved. Visit our website terms of use at www.wnyc.org for further information.
New York Public Radio transcripts are created on a rush deadline, often by contractors. This text may not be in its final form and may be updated or revised in the future. Accuracy and availability may vary. The authoritative record of New York Public Radio's programming is the audio record.