Every Voice with Terrance McKnight: Aida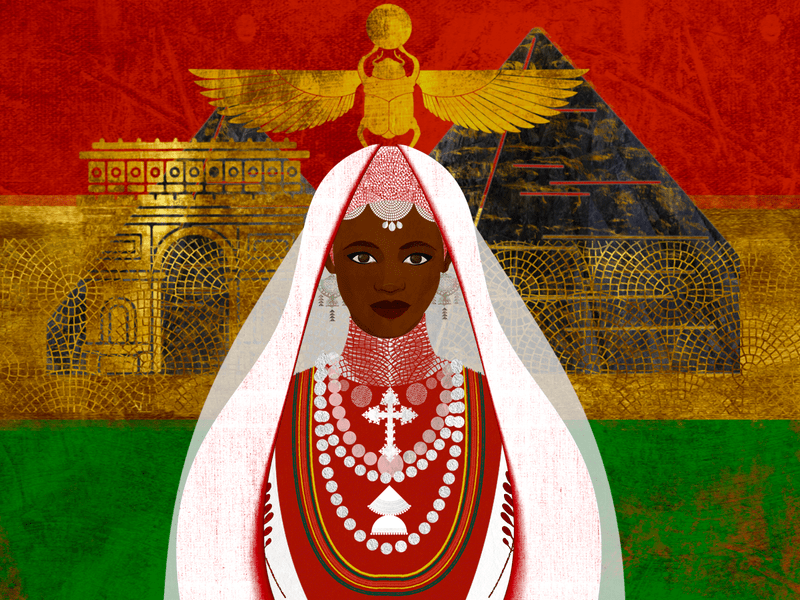 Transcript
Terrance McKnight: This is Every Voice with Terrance McKnight on WQXR. It's a radio special that looks at the representations of blackness in Verdi's opera Aida. Growing up I played two instruments, trumpet and piano, and eventually both instruments led me towards the experience of classical music, going to the concert hall, the place where the symphony orchestra performed. But the opera stage felt out of my comfort zone until I got to college and enrolled in music.
At Morehouse College we were taught that education was an uncomfortable experience; ain't that the truth, because when I went to see Aida, not only was I uncomfortable but I was upset. What happened was, I took a friend whom I assumed would be heartened to see this opera, my friend was East African, and I thought the opera would provide a sense of home. Well before too long she leaned over and said, "T … why are the Ethiopians Black, and Egyptians white, and why are the Ethiopians chained as slaves?" I didn't know what to say, but I know what to say now, and that's what we're talking about in the radio special from the podcast Every Voice with Terrance McKnight.
Aida flurry
[MUSIC: Alta cagion v'aduna]
Terrance McKnight: Verdi's opera Aida has been entertaining audiences since 1871. The first performance in New York was in 1873 and since then it's been staged more than 1100 times in the city. That's like a week of performances every year for the past 150 years. Aida is so popular in New York, she has a statue. You can find her in Verdi Square on Broadway at 73rd street, standing right next to Otello.They've been there together since 1906. And he hasn't smothered her yet. Who said she wouldn't last too long on Broadway. Hit songs aside, Verdi's opera Aida tells the story of Aida, an Ethiopian princess who is captured and enslaved in Egypt. Her father is the King of Ethiopia and early into the opera he and his army are marching north towards Egypt. The Egyptian Pharaoh dispatches his army led by Radamès to fend off the Ethiopian offensive. During the battle, Radamès, who is in love with Aida, defeats the Ethiopian army and captures Aida's father, bringing him back to Egypt. Aida is now torn between her father, her country and her captor Radamès who loves her and whom she loves in return. It's a powerful love story. It's an African love story, but as my friend duly noted, and is often the case in productions of Aida, the enslaved people are brown. Does it make it more realistic, is that racializing that important to the fiction? It's most often staged that way.
Terrance McKnight: In 2022, an African American soprano withdrew from a performance of Aida in Verona, Italy because a Russian soprano enhanced her skin tone to sing the role of Aida. Back in 2016 this happened in Bristol, England:
Archival read: National Review December 1st 2016 "Bristol's Aida never got off the ground, because of student protests. The protesters figured that white students would be cast in the musical. And that would be an injustice to Egyptians and Ethiopians. It would be "whitewashing." So, the musical-theater society canceled the show. "We would not want to cause offense in any way," they said."One of the protesting students said, "Whitewashing still exists. It's been done enough in Hollywood. Look at Liz Taylor in Cleopatra. It is indeed a clash of art and identity politics."
Maleasha Taylor: So I was in an Aida, I was in the chorus at the time. I sang in the chorus for three years. I think I'm the only Black chorister in this company, right? So when Aida comes into the season, "Maleasha, Maleasha, we just wanna tell you in advance as we give you your score, that you are not automatically a slave."
Terrance McKnight: This is soprano and arts activist Maleasha Taylor.
Maleasha Taylor: "So everywhere that you see in the score that it says slave, we don't want you to feel obligated to play that role." LAUGHS And I was like, okay. So then when we come to rehearsal, they hired an extra chorus. The extra chorus ended up being the slaves, the Ethiopians. So they airbrushed them all to try to have some equity or something. Because they weren't Black, they were just supplementary choristers. They airbrushed them all with bronze skin, and they bought them all dreadlock wigs. This was not long ago. This was in California, this is a liberal area, right? And then they were like, Maleasha, we don't want you to feel like you have to be this. So you're gonna be an Egyptian. Right. And I was like, okay. Like I don't get it. But yeah, everybody was airbrushed in that entire cast.
Terrance McKnight: So you were a browner Egyptian than the rest of the Egyptians?
Maleasha Taylor: What they tried to say is, we'll just airbrush everybody so that there's no issue of what's color. Because some of the black people were also airbrushed.
Terrance McKnight: So both the Egyptians and the Ethiopians were the same complexion?
Maleasha Taylor: Yes but the Ethiopians had the cool dreadlock wigs and that helped everything feel better. And then, you know what I'm saying? And then that's where you just say, I don't know. I'm not sure that we feel any better.
Kevin Maynor: We were doing a production of Aida in North Carolina,
Terrance McKnight: Bass Kevin Maynor.
[MUSIC: Overture]
Kevin Maynor: I got a telephone call one night from Priscilla Baskerville.
Terrance McKnight: Priscilla Baskerville, is a soprano who has sung the role of Aida.
Kevin Maynor: And she said to me, Kevin, did you not see it? they had all of those kids in chains when they did the capturing scene. She said, that is unacceptable.
MUSIC
Terrance McKnight: Aida was commissioned by Ismail Pasha, an Albanian man who was born in Egypt. He wanted the opera's premiere to celebrate the opening of the Suez Canal. Now one of my colleagues at WQXR, Nimet Habachy, she grew up in Egypt. And for this radio special she's gonna provide us with some background and some insight.
Nimet Habachy: Hi everybody. Nice to meet you. I don't know if Terrance mentioned the basics, but I happen to be Egyptian, born and bred. Egypt is a nation of a hundred million people and climbing. And of that hundred million, I would say 2% might even know what Aida is about or ever even existed.
And that 2% diligently, you know, whereas it's pretty close and goes to the one opera house in the entire country in Cairo, which was built by the Japanese by the way, gets to see and hear Aida periodically done by usually a European company with perhaps a Radamès or a priest because there's one good baritone that went through a European music school that was perhaps set up by the Germans.
[CUE:MUSIC: Overture cont.]
It's called colonialism, but it's also called abject poverty, which afflicts my country to this day. I'd hoped that would be not the case now that I'm the venerable age I am, but things haven't changed.
Anyway, I was telling Terence I did have occasion to talk about this at the Met Opera a few times and other venues, but it's, uh, it's, it's still a great evening in the theater, but it is polarizing.
Terrance McKnight: Why, why is it polarizing?
Nimet Habachy: Because when all is said and done, you've got a European take on what is the East, and I would bring up Orientalism, which is a book by Edward Said, which famously tells of what it has been like for those of us from the Middle East to look upon the West using our patrimony as sort of exotica for all things Western.
And it is Europe's perception of what is Oriental or Eastern. It's not the real thing. And that's the point of his book. I mean, it is Europe's idea of that which is eastern. Just as Aida is in no way representational of that part of the world. It's a pure, quite marvelous, really plot line, it's a great piece, that was fathomed by DuLoc and brought to Verdi in order to interest Verdi. I mean, there's very little Egyptian about it when all is said and done. I mean, I hate to use the word kitsch but it does come to mind. I mean, it's Europe's idea of that which is eastern.
[CUE:MUSIC: Ma tu, Re, tu signore possente]
Pranathi Diwakar: Yeah, it seems as though Egypt is at once, at the mercy of this orientalizing impulse from Europe,
Terrance McKnight: This is Pranathi. She's on our production team.
Pranathi Diwakar: but also is trying to assert a national identity that is drawing from the success of the building of the Suez Canal and the defeat of the Sudanese insurgency and is trying to assert that it is the Paris of the East in some ways. And so there's this sort of double move that's happening. Um, and in some ways, Ismail Pasha himself becomes the object of that orientalizing gaze.
Nimet Habachy: He famously said, somewhere during the Suez Canal festivities, "I have made Egypt a part of Europe." I mean it is a tragedy of Egypt's history, you know from the days of Ancient Egyptians all the way down to all the different conquests, down to the French and the British. I grew up under a colonial yoke, no question. I went to an English school and wished I came from Surrey, which I didn't. I have mended my ways, but so much for Egypt's history. Anyway, she's a great subject, this Aida. And I would just point out that there's, the heroin is Aida. I mean, the villains of the Peace are the Egyptians. Radamès betrays his country. Amneris is the bad guy, so to speak. Um, so Aida is indeed the heroine in the piece, the Ethiopian princess.
[CUE:MUSIC: Titos' Wisdom]
Terrance McKnight: In 1873, when Aida came to America, white actors in black face was the norm in American entertainment. And when Aida came to the Metropolitan Opera House in New York in 1886, it was the norm for white singers to sing all of the roles. More like the rule. Aida is the second most performed opera at the Met in its history. The first Aida of African descent at the Met was Gloria Davy. She sang the role in 1958. And since then there's been Leontyne Price, Martina Arroyo, Leona Mitchell, Priscilla Baskerville, Michelle Bradley, Latonia Moore, Michele Crider and Angela Brown (Angela, naturally brown).
But here's what's also interesting, and to my friend's point. Radamès, the Egyptian that Aida falls in love with, has only been sung at the Met by one man of African descent, and that was in 2022! In fact, his debut at the Met was singing Radamès.
Limmie Pulliam: I was actually here to be a cover for the role of Radamès and was fortunate enough to be able to go on for a performance, which ended up being my house and role debut at the Metropolitan. Um, and it was an experience that I will, that I will never, never forget.
Terrence McKnight: This is tenor Limmie Pulliam.
Limmie Pulliam: I was honored to have the opportunity to go on to sing this role and uh, you know, and to later find out that I was the first, first black tenor to have that opportunity on the Metropolitan stage, um, it was both an honor and pretty shocking that, uh, you know, thinking of all the greats who have come before me, that none of them were given the opportunity to do this role. It… in a way it saddens me.
MUSIC: Limmie Pulliam Singing a cappella
MUSIC: Qui Radamès verrà!...O Patria mia
Terrance McKnight: One Radamès of African descent in more than 100 years of this opera being performed at the Metropolitan Opera House. That's more than 1000 performances. You can mull over that during this music. And we'll talk more about the backdrop of Aida in Egypt, the un-American intervention in Africa and we'll hear from Angela Brown in character as Aida.
MUSIC: Sunrise
Angela Brown: When I saw Radamès, it was something about him that was so sweet. And I just couldn't resist him. I'm talking about just being in the rarified air of one another. We just clicked. It was something about him and it was something about me that was just different.
MUSIC: Alta cagion v'aduna
Terrance McKnight: This is Every Voice with Terrance McKnight, a radio special from WQXR. we're talking about the representation of blackness in Verdi's Aida.
BREAK
Terrance McKnight: This is Every Voice with Terrance McKnight, a radio special from WQXR. we're talking about the representation of blackness in Verdi's Aida.
[CUE:MUSIC: Alta cagion v'aduna]
As early as the 1820's, under the leadership of Muhammed Ali Pasha, Ismail Pasha's grandfather, Egyptian leadership began looking into the cotton industry by bringing in machinery and experts from England and the American south to advise them in cotton agricultural practices. And by the 1860's, Egyptian farmers had turned their backs on local food agriculture and turned all of their attention to cotton production with slave labor. And by 1861, cotton production increased 500% from the previous decades in Egypt, and England became its number one consumer.
So this huge increase in cotton production in Egypt was made possible by the Khedive's use of slave labor from East Africa. Ismail Pasha, the Khedive, the man who commissioned Verdi's opera. He collected tax revenues and built roads, schools. He did a lot of good for the country! Constructed museums, libraries, and he opened the Suez Canal, which exponentially opened the trade route between East and West. He also built a lavish opera house in Cairo.
MUSIC
This Khedive and other Egyptians found wealth in the booming cotton industry that was made possible by the civil war in America. America's Civil war was disastrous for England's economy in particular. Half of its foreign trade involved cotton. There were 2,650 factories that employed 440,000 people in England, and most of them were women and 80% of that cotton came from the American south.
Slave labor in America produced two billion pounds of cotton per year, and Mississippi was the number one producer of cotton. That's where it's personal for me. Because that's where my parents were born. That's where my grandfather's grandparents were freed in 1863. So it appears the majority of their free labor went to England. And the disruption in England's economy caused by the American blockade had huge economic consequences, and it created irresistible opportunities in Egypt and Ismail Pasha and other Egyptians took full advantage of the opportunity.
Nimet Habachy: During the American Civil War, during the blockade, Lancashire and the gins in England had to look for cotton from elsewhere, they turned to Egypt's long staple cotton, which to this day is the best cotton you can find.
Terrance McKnight: And my sheets right now. I had no idea…
Nimet Habachy: LAUGHS. Made in Egypt, you bet, it's still the best.
Terrance McKnight: That's right.
Terrance McKnight: This is Nimet Habachy, a WQXR Host and native Egyptian.
Nimet Habachy: So you have all of these people floating around Cairo, which is a place you can make an awful lot of money. I mean, if you've got the imagination and you've got the will, you could do very well in Egypt. It was a gold rush country. If you came in with an idea, you could do well. So there was this nucleus of Europeans, Levantines who were all making money hand over fist in Egypt, and they went to Aida, most of them hailed from Europe.
Terrance McKnight: Ismail Pasha was hopeful that Aida would be the opening act for Cairo's opera house in 1869 and so his guest list included European dignitaries and royalty. Austrian emperor Francis Joseph, the Empress Eugenie, who was the wife of Napoleon Bonaparte III, they all showed up for the celebration in hopes of seeing Aida, but that opera didn't premiere for another two years, instead they saw Verdi's Rigoletto.
[MUSIC: Overture cont.]
Terrance McKnight: For those who returned to Cairo in 1871 for Aida, the opera represented familiar and convenient tropes for those who would invest in imperialism throughout Africa and the East: Autocratic rule, lavish lifestyle, and a society based on master-slave relationships and racial superiority, inferiority and racial purity. As Aida was being rehearsed and performed, plans were being made for Egypt's invasion of Ethiopia. And at least thirty of the men involved in the planning were Americans. Americans who had fought on the side of the confederacy during America's Civil War. Losers. Such as Major General Thaddeus Mott, Charles Pomeroy Stone, Henry Hopkins Sibley and William Wing Loring just to name a few. And by hiring these men, Ismail Pasha gave them a second chance to subjugate Africans. Not in an opera but in real life. So Aida was more than mere entertainment, it was more like a dress rehearsal for the war and looting that Ismail Pasha had in mind.
MUSIC: Alta cagion v'aduna
Angela Brown: The Egyptians come into the Egyptian courts and they have brought back all of the bounty of my homeland.
Terrance McKnight: Soprano Angela Brown as Aida
Angela Brown: I see all the gold and the ivory and the furs, uh, of, of the skins of the animals that they killed.
MUSIC: Gloria all'Egitto, ad Iside
Terrance McKnight: Within two years of the premier of Aida, life imitates art. Ismail Pasha's army, bolstered by former American confederate soldiers, was on the move invading nearby Ethiopia. Johannes IV, the King of Ethiopia, sent this letter to Queen Victoria in the summer of 1873.
May the message of the elect of God, Johannes, King of Kings of Ethiopia, and all its territories reach the honored, the respected English Queen Victoria. Please accept my truly heartfelt greetings of friendship. I received the letter you sent me from the hands of General Kirkham. I was very pleased when I read and understood it, may God reward you on my behalf. In your letter I found the statement that you worked hard and tired yourself on my behalf by writing to Ishmael Pasha, however the reply that Ismail Pasha sent to your letter is not true, he is still in occupation of the surroundings of Ethiopia, of my country, he has not withdrawn. Day after day he has not refrained from occupying what belongs to me. His army is where it has been. It has not withdrawn. I have not strong and truthful friend whom I trust other than you and I am saying all this because I know you are the Protector of Christians and now look at all the deeds of the Muslims, it is to convert Ethiopia, the land of Christians, to the Muslim religion and to introduce slavery. All this is not my wish. By the power of god all Ethiopia is in my hands ever since I became King. Until now, Ismail Pasha wants me to fight with him to shed my blood in vain. And now, observe the injustice I am suffering. The intrigues of Ishmail Pasha are many. In order that I not be on friendly terms with you, he has prevented me from getting an outlet on the shores of the Red Sea. But trusting on the Christ in you I maintain peace while I, by the power of my lord, consolidate my kingdom.
Harp music
Terrance McKnight: Queen Victoria gave Ethiopia zero assistance. Instead, Britain began an occupation of Egypt in 1882. Johannes defeated Ismail Pasha's army on multiple occasions and Ethiopians later turned back the Italians who attempted to colonize the country after the Berlin conference of 1884. Therefore, enslaved Ethiopians as depicted in Verdis's opera Aida, was a dream unrealized by Ismail Pasha and those who colluded with him. But the image of those East Africans in chains. That's what so upset my friend and me, and Kevin Maynor, and Priscilla Baskerville, and perhaps you and many others over the years.
Pranathi Diwaker: You know, it makes you think that the opera has always been not just adjacent to colonial conquest, but perhaps even quite a large part of it because it, it creates like a curiosity…
Terrance McKnight: Pranathi Diwaker from our production team.
Pranathi Diwaker: But it also allows western audiences to disassociate from the abuse of power, that kind of exploitation, because it just gets relegated to entertainment.
Peter Sellars: He wrote it for the opening of the Suez Canal. So it's like the opening of a department store.
Terrance McKnight: Opera and theater director Peter Sellars.
Peter Sellars: It's some giant event in the history of colonialism, empire and capitalism. And so it has to put forward all these images that are standard, that we stand for freedom and we stand for blah, blah, blah. But of course it's a little weird, uh, as that. Of course that music touches you, and certain performers, of course have made incredible, incredible, powerful portrayals of Aida, I mean, beautiful. But the piece itself is hard.
Terrance McKnight: So the character Aida was a threat to the future that Ismail Pasha had in mind for his country. Aida represented a disruption to imperialism, power and land grabbing that was in the works. The character Radamès choosing Aida over Amneris, the Egyptian princess, oh, that was not an option. That represented racial mixing, which in real life in many places in the 1870s was illicit and punishable by law. Even Abe Lincoln, the great emancipator, didn't believe in racial mixing or racial equality. In 1858 "honest Abe" said this:
MUSIC: Titos' Wisdom
I am not, nor ever have been, in favor of bringing about in any way the social and political equality of the white and Black races. I am not nor ever have been in favor of making voters or jurors of negroes, nor of qualifying them to hold office, nor to intermarry with white people; and I will say in addition to this that there is a physical difference between the white and Black races which I believe will forever forbid the two races living together on terms of social and political equality. And in as much as they can not so live, while they do remain together there must be the position of superior and inferior, and I as much as any other man am in favor of having the superior position assigned to the white race. I say upon this occasion I do not perceive that because the white man is to have the superior position, the negro should be denied everything. I do not understand that because I do not want a negro woman for a slave I must necessarily want her for a wife. I will add to this that I have never seen, to my knowledge, a man, woman or child who was in favor of producing a perfect equality, social and political, between negroes and white men.
Terrance McKnight: That's Abraham Lincoln from 1858. Five years later he helped move the moral arc of our universe towards equality and justice. A lot has happened since then, but there's still much work to be done. And moving that needle is why we produce this podcast. Through the process of producing it, through conversations with Angela Brown, Limmie Pulliam, Kevin Maynor, Peter Sellers, Pranathi, Maleasha Taylor, Nimet Habachy, Sylvia McNair, and our production team… I now have a deeper understanding of the historical and political context of Verdi's opera. A history that wasn't discussed in the playbill, and regardless of what choices directors of the opera make, I'll see this opera as a dress rehearsal that fortunately never made it to the real life stage because that would have had dire consequences for so many of our Ethiopian friends and neighbors.
Sylvia McNair: We're pulling these issues out from the shadows. We're taking them out from underneath the rug where they've kind of been buried, hidden. We need to bring this out into the light. Look at it. Talk about it. Which is what you're doing.
Terrance McKnight: This is Every Voice with Terrance McKnight, a radio special from WQXR. we're talking about the representation of blackness in Verdi's Aida.
Every Voice with Terrance McKnight was written and produced by Terrance McKnight, David Norville, and Tony Phillips. Our research team includes Ariel Elizabeth Davis, Pranathi Diwakar, Ian George, and Jas Ogiste. This episode's sound design and engineering was by Alan Goffinski. And our original music was composed by Brother Jermey Thomas and Dr. Ashley Jackson on harp, and brother Titos Sompa on percussion and vocals.
Our Project Manager is Natalia Ramirez, and our Executive Producer is Tony Phillips. The Executive Producer for WQXR Podcasts is Elizabeth Nonemaker, and Ed Yim is the Chief Content Officer at WQXR.
This project is supported in part by the National Endowment for the Arts. You can find more information on the web at arts.gov.
Thanks to the Met archives for the invaluable research data.
If you enjoyed this episode, please take time to rate it, rate us, review up on Apple Podcasts, or wherever you listen. I'm Terrance McKnight.
Copyright © 2023 New York Public Radio. All rights reserved. Visit our website terms of use at www.wnyc.org for further information.