Aida: Red Heart, White Eyes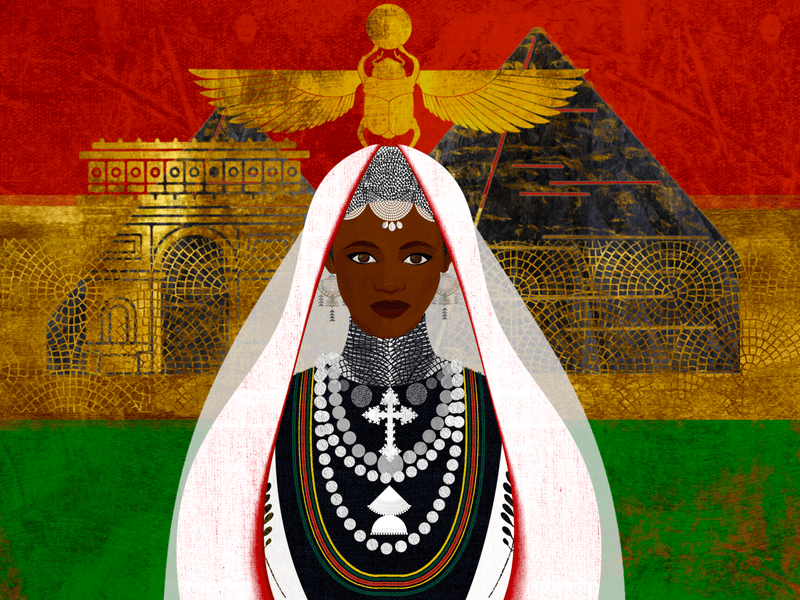 Transcript
Terrance McKnight: This is Every Voice with Terrance McKnight. It's a new podcast from WQXR that interrogates the culture of our classical music scene and we look at ways to make it beautiful for all of us. In this series we're talking about representations of blackness in opera. Today we're talking about Giuseppe Verdi's Aida.
Aida Flurry: (maleasha, kevin, limmie)
Terrance McKnight: She was tall, dark, and East African. No not Aida, the date I took to see Aida. Neither of us had seen the opera before but I knew something about it. I knew it was set in Egypt and that an Ethiopian princess was the central character so I figured my date would feel a piece of home and all the pride and warm feelings that go with that.
Kevin Maynor: Aida is interesting because it deals with Ethiopians and Egyptians and we see an Ethiopian and an Egyptian falling in love.
Terrance McKnight: This is bass Kevin Maynor.
Kevin Maynor: But this is a magnificent piece with all of the triumph and the pageantry of what we expect and what would be called a grand opera.
Terrance McKnight: You hear that, this is why I took my friend to see it. But what happened on stage, I wasn't exactly prepared for. Ten minutes into the opera she leaned over towards me, (which was nice), and said "T, why are the Ethiopians black and the Egyptians white, and why are these black people slaves…" This was supposed to be a good time and I found myself sliding down in my seat..
SHOUT:
Terrance McKnight: This is Every Voice with Terrance McKnight. Many Cultures, Many Voices, One people
Terrance McKnight: Verdi's opera Aida tells the story of an Ethiopian princess who is enslaved in Egypt. Naturally, it's her father who is the King of Ethiopia. So when the Opera opens he and his army are marching towards Egypt.
So then, the Egyptian Pharaoh dispatches his army to defend their country. The army is led by Radamès, who by the way is in love with Aida. While in battle, the Egyptians capture the Ethiopian King, and they bring him and other Ethiopians back to Egypt. Aida is now torn between the father and country she loves and her captor Radamès who loves her and whom she loves in return. It's a powerful love story. It's an African love story, it's Black love, so I'll ask you? Is it more powerful, more realistic or is it more idealistic to portray the Ethiopians Black slaves and the Egyptians as white?
MUSIC: TITOS WISDOM
Terrance McKnight: In 2022, an African American soprano withdrew from a performance in Verona, Italy because a Russian soprano enhanced her skin tone to sing the role of Aida Back in 2016 this happened in Bristol, England:
Archial read: National Review December 1st 2016 "Bristol's Aida never got off the ground, because of student protests. The protesters figured that white students would be cast in the musical. And that would be an injustice to Egyptians and Ethiopians. It would be "whitewashing." So, the musical-theater society canceled the show. "We would not want to cause offense in any way," they said."One of the protesting students said, "Whitewashing still exists. It's been done enough in Hollywood. Look at Liz Taylor in Cleopatra. It is a clash of art and identity politics."
Terrance McKnight: That was 2016, now here's something that happened more recently.
Maleasha Taylor: So I was in an Aida, I was in the chorus at the time. I sang in the chorus for three years. I think I'm the only Black chorus person in this company, right? So when Aida comes into the season, "Maleasha, Maleasha, we just wanna tell you in advance as we give you your score, that you are not automatically a slave."
Terrance McKnight: This is soprano and arts activist Maleasha Taylor.
Maleasha Taylor: "So everywhere that you see in the score that it says slave, we don't want you to feel obligated to play that role." LAUGHS And I was like, okay. So then when we come to rehearsal, they hired an extra chorus. The extra chorus ended up being the slaves, the Ethiopians. So they airbrushed them all to try to have some equity or something. Because they weren't Black, they were just a supplementary Chorus. They airbrushed them all with bronze skin, and they bought them all dreadlock wigs. This was not long ago. This was in California, this is a liberal area, right? LAUGHS And then they were like, Maleasha, we don't want you to feel like you have to be this LAUGHS so you're gonna be an Egyptian. Right. And I was like, okay. Like I don't get it. But yeah, everybody was airbrushed in that entire cast.
Terrence McKnight: So you were a browner Egyptian then the rest of the Egyptians?
Maleasha Taylor: Well, what they tried to say is, we'll just airbrush everybody so that there's no issue of what's color. Because some of the black people were also airbrushed.
Terrence McKnight: So both the Egyptians and the Ethiopians were the same complexion?
Maleasha Taylor: Yes.
Terrence McKnight: I see.
Maleasha Taylor: But the, the Ethiopians had the cool dreadlock wigs and that helped everything feel better. And then, you know what I'm saying? And then that's where you just say, I don't know. I'm not sure that we feel any better.
Terrence McKnight: We may not always get it right, myself included. But you know the deal, in order to get different results we have to do things differently. Or else those news headlines remain the same. That's why we do this podcast and I'm so glad you're listening to it.
In 1871, white actors in black face was the norm in American entertainment. And when Aida came to the Metropolitan Opera House in New York in 1886, it was the norm for white singers to sing all of the roles. And Aida is the second most performed opera at the Met in its history. The first Aida of African descent at the Met was in 1958, Gloria Davy. And since then there's been Leontyne Price, Martina Arroyo, Leona Mitchell, Priscilla Baskerville, Michelle Bradley, Latonia Moore, Michele Crider and Angela Brown (naturally brown.)
But here's what's also interesting, and to my friend's point. Radamès, the Egyptian that Aida falls in love with, has only been sung at the Met by one man of African descent, that was in 2022! In fact, his debut at the Met was singing Radamès.
Limmie Pulliam: I was actually here to be a cover for the role of Radamès and was fortunate enough to be able to go on for a performance, which ended up being my metropolitan opera house role debut at the Metropolitan. Um, and it was an experience that I will, that I will never, never forget.
Terrence McKnight: You recognize the voice? This is Limmie Pulliam.
Limmie Pulliam: To receive the reception I received for, in such a, such an iconic role. Is, is something that will always be very special to me.
Terrance McKnight: One Radamès of African descent in more than 100 years of this opera being preformed at the Met, that's more than 1000 performances. So we're gunna bring Limmie Pulliam will definitely be back in the next episode in the role of Radamès and one of those sopranos I mentioned, will be with us in this episode giving us a taste of Aida.
Tadias… that's what they say in Ethiopia, This is Every Voice with Terrance McKnight.
BREAK
Terrance McKnight: In the last episode of this podcast series I mentioned that Verdi was paid the equivalent of 1.2 million dollars to write Aida. What I didn't mention was the name of the man who paid Verdi. Well, his name was Ismail Pasha, he was the Khedive of Egypt, sort of like the general manager. He wasn't the King. So he paid this decadent fee before the opera premiered in 1871 but three years later Pasha was in serious debt, unable to get a bank loan. Right now we're gonna do something different, I'm gonna take you behind the scenes into our production meeting to hear more about Ismail Pasha, so we can get a sense of how we put this show together because during this particular meeting someone happened that I didn't anticipate. Someone walked by the studio and I just had to invite in to hear what we were talking about and I'm glad you'll get a chance to me her, because when she joined us, this discussion it just went to a whole new level. So here it is, this is a recording of me with my production team planning for these episodes on Aida. Everybody's here, Dave, Pranathi, Ariel, Ian, Tony, Jas, we're all here. We do this for every meeting and it was Pranathi's turn to tell us about her research on Aida. Here's exactly how it went down.
Terrance McKnight: Pranathi tell us what you've been doing.
Pranathi Diwakar: Sure.Yeah, I was just looking at when was AIDA commissioned and who did it. And so Ismail Pasha is the Viceroy of Egypt at this time. It's like 1871. And he led this army of 14,000 people to suppress an insurgent, um, a resistance of slaves in Sudan. So, um, there's a lot of theories that the reason that there's this sort of recurring theme of the dark-skinned Ethiopians is because of the sort of racial superiority that Egypt and like the Viceroy of Egypt held at this time. And also what's interesting is that the story of Aida actually comes to the Khedive or the Viceroy from a French Egyptologist. So he discovers the story and there's like a multiple sort of frameworks that are intersecting at this point. There's this sort of, um, we are, you know, interested in Egypt because of the sort of Oriental move in scholars.
Terrance McKnight: Whoa, whoa, whoa, whoa, whoa. Wait a minute, wait a minute. Hold on. I just saw somebody walk past the door. Hold on, hold on. Y'all just keep talking. I'll be right back.
PRANATHI speaking underneath Terrance …
Terrance McKnight: So what happened, I just saw Nimet Habachy going past our studio, She's a host here at WQXR and she knows a lot about opera, in particular Aida. But even more than that, she grew up in Egypt. Talk about perfect timing. So I went out to see if she could come in and join us to listen in on this conversation, i know she's got a lot to say about Aida and what it means to Egyptians.
Terrance McKnight: Let me introduce you to my podcast team. Hey everyone, this is just crazy, I just found someone um to join us in on this conversation Nimet Habashi, she's one of my colleagues at WQXR and she's from Cairo. And she knows a lot about Opera. Nimet, I just wanted here what we're talking about
Nimet Habachy: I'd love to!
Terrance McKnight:We're talking about Aida, we're talking about home
Nimet Habachy: LAUGHS
Terrance McKnight: And we're talking about sort of the social context in which Verdi composed Aida back in 1870, so Pran can you back up just a little bit and share with Nimet what you were saying to me?
Pranathi Diwakar: Sure, so the story of Aida was brought to the Khedive by Auguste Mariette, who is a French Egyptologist. So there's this growing field of Egyptology at the time, and they're curious about like, you know, what is this part of the world we don't know much about? And so even in producing this national piece for Egypt, they're using Orientalizing frameworks from the West in order to, uh, produce this framework.
Nimet Habachy: Can I speak?
Terrance McKnight: Yes, this is, so this is my, our podcast team.
Nimet Habachy: Hi everybody. Nice to meet you. How do you do? I don't know if Terrance mentioned the basics, but I happen to be Egyptian, born and bred. Anyway, I was telling Terence I did have occasion to talk about this at the Met Opera a few times and other venues, but it's, uh, it's, it's still a great evening in the theater, but it is polarizing.
Terrance McKnight: Why, why is it polarizing?
Nimet Habachy: Because when all is said and done, you've got a European take on what is the East, and I would bring up Orientalism, which is a book by Edward Said, which famously tells of what it has been like for those of us from the Middle East to look upon the West using our patrimony as sort of exotica for all things Western. And it is Europe's perception of what is Oriental or Eastern. It's not the real thing. And that's the point of his book. I mean, it is Europe's idea of that which is eastern, which you've basically covered.
Pranathi Diwakar: Yeah, it seems as though Egypt is at once, at the mercy of this orientalizing impulse from Europe, but also is trying to assert a national identity that is drawing from the success of the building of the Suez Canal and is trying to assert that it is the, the Paris of the East in some ways. And so there's this double move that's happening. Um, and in some ways, Ismail Pasha himself becomes the object of that orientalizing gaze.
Nimet Habachy: He famously said, somewhere during the Suez Canal festivities "I have made Egypt a part of Europe." I mean it is a tragedy of Egypt's history, you know from the days of Ancient Egyptians all the way down to all the different conquests, down to the French and the British. I grew up under a colonial yoke, no question. I went to an English school and wished I came from Surrey, which I didn't. I have mended my ways, but so much for Egypt's history. anyway, she's a great subject, this Aida. And I would just point out that there's, the heroin is Aida.
I mean, the villains of the Peace are the Egyptians. Radamès betrays his country. Amneres is the bad guy, so to speak. Um, so Aida is indeed the heroine and in the piece, the Ethiopian princess.
Angela Brown: Hey everybody, this is Angela Brown, and I will be the voice of Aida on every voice with Terrence McKnight.
HARP MUSIC
Terrance McKnight: So, Aida, nice to meet you.
Angela Brown: Hey, shug, how you doing?
Terrance McKnight: Oh it's about to be on now! In the next episode of Every Voice with Terrance McKnight, you'll hear directly from Aida as interpreted by soprano Angela Brown. Limmie Pulliam is back with us as Radamès, will meet Amneris, the Egyptian Pharaoh's daughter and Nimet Habashi will be back to talk about what Aida means to regular Egyptians like you and me.
Many culture, many voices, One people. This is Every Voice with Terrance McKnight.
This episode of Every Voice with Terrance McKnight was produced by David Norville. Our research team includes Ariel Elizabeth Davis, Pranathi Diwakar, Ian George, Jasmine Ogiste. This episode's sound design and engineering is by Alan Goffinski. Our original music was composed by Brother Jermey Thomas and featured harpist, Dr. Ashley Jackson.
Our Project Manager is Natalia Ramirez, and our Executive Producer is Tony Phillips. Elizabeth Nonemaker is the Executive Producer for WQXR Podcast, and Ed Yim is the Chief Content Officer at WQXR.
This project is supported in part by the National Endowment for the Arts. You can find more information on the web @arts.gov. If you enjoyed this episode, please take the time to rate it and review it, and review us on
Special thanks to The Met archives for invaluable research data. And thanks to the wonderful guests in this episode: Maleasha Taylor, Kevin Maynor, Nimet Habachy, Angela Brown, Limmie Pulliam. And I call this episode Red Heart, White Eyes. It's something we all have in common.
If you enjoyed this episode, please take time to rate it, rate us on Apple Podcasts, or wherever you listen. Thanks for listening. Tune in next week. We'll see you next time.
Voice: You're listening to every Voice with Terrance McKnight
Copyright © 2023 New York Public Radio. All rights reserved. Visit our website terms of use at www.wnyc.org for further information.
New York Public Radio transcripts are created on a rush deadline, often by contractors. This text may not be in its final form and may be updated or revised in the future. Accuracy and availability may vary. The authoritative record of New York Public Radio's programming is the audio record.