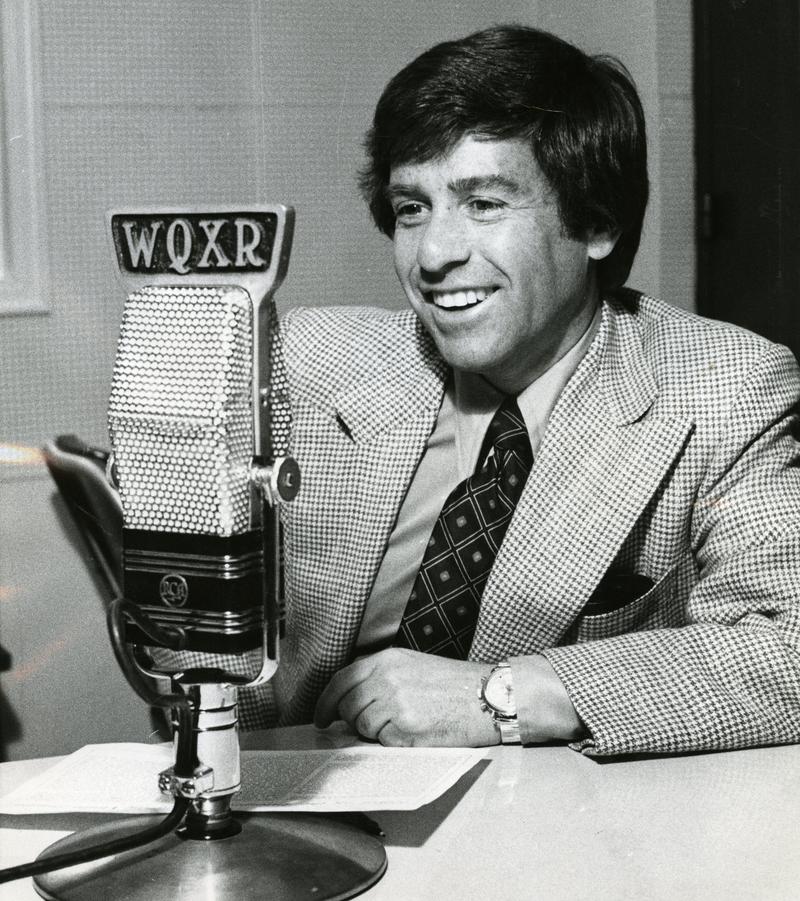 Transcript
Bob Sherman: Hello everybody. I'm Bob Sherman, and for the very last time, after well over 2,100 consecutive weeks on WQXR, I have the honor of welcoming you to the McGraw Family's Young Artists Showcase.
It was back in 1977 that the idea was hatched largely between WQXR as President Walter Nyman and Harold W. McGraw Jr. the CEO then of McGraw Hill. The idea being to create an opportunity for bright young talents to take their broadcast place amongst the supreme artists whose recordings encompassed the station's basic playlist.
Harold equated the high standards of WQXR and its then owner, the New York Times, with those of McGraw Hill itself, and indeed said as much as a guest when the series went on the air January 18th, 1978. The show was very local at first, our performers were all studying in the New York area, but as word of the program spread, our horizons broadened until, to misquote Shakespeare, the world became our musical oyster. All of us, I'm sure are warmly grateful to teachers and friends, family members who helped us move along the life path we'd chosen. So I feel blessed to have been able to help so many young musicians along the difficult road to important careers. Not that they wouldn't have reached their goal without a leg up from the showcase, but how gratifying to know that I introduce Ken Noda, Yo-Yo Ma, Gil and Orli Shaham, Joshua Bell, and so many other now major artists when they were teenagers. It's not gladly that I give up the showcase reigns, in other words, but I do like to think that, again, to poorly paraphrase the bard, I have done young artists some service, all that said, come stay with me this little while and take a nostalgic trip with me through the decades. In fact, I have a real rarity to lead us off the opening of our very first showcase hour.
Peter Allen: The McGraw Hill Young Artist Showcase.
This is Peter Allen welcoming you to a distinguished new series designed to showcase the cream of our young artist crop, and presented by the McGraw Hill Company, a leader in the field of communications, your host for the broadcast, who will tell you more about them right now, is WQXR's program director Robert Sherman.
Bob Sherman (1978): Thank you Peter, and good evening everybody. It is with tremendous pride and pleasure that I greet you on this very happy occasion, the first program in a new series designed to acquaint the members of our WQXR listening family with some of the extraordinary talents now emerging in the world of music.
It is an enormously exciting prospect for us to meet these performers that's so pivotal at turning point in their lives. This is after all the transition stage between student and mature artist and how happy we are to salute their accomplishments and give them this showcase and this welcome.
Bob Sherman: The sound isn't so hot because the rather battered cassette is all I could find of our very first Young Artists Showcase January 18th, 1978, and, uh, to clear up any possible confusion, WQXR was then at 96.3 on the FM dial, our theme was taken from the Rodrigo Harp Concerto rather than the great fanfare composed especially for us by Eric Ewazen, and our sponsor we didn't know from underwriting back then was McGraw Hill. How wonderful though to hear again, the cultured voice of Peter Allen, one of WQXR's most loved announcers. Later, of course, longtime host of the Met Opera broadcast.
One of the young players on that showcase premiere was Yin Ling Chen, then heading for his doctorate at Mannes, happily joined at the piano by his sister, Jo Phien Chen.
MUSIC - Kreisler: Rondino on a Theme by Beethoven
Bob Sherman: As I said earlier, the sound is pretty poor on this ancient cassette. So I chose the shortest piece on our inaugural Young Artists Showcase, Fritz Kreisler's Rodino after Beethoven, played in our WQXR studios. By then, 24 year old violinist Yin Ling Chen. Later distinguished professor at the Music Conservatory of Taiwan. The pianist, Lin Yang's sister, Jo Phien Chen.
As the early years went by and word of the showcase spread, the broadcast expanded to include musicians studying all around the country along with winners of increasingly important competitions. We had a studio session with Nadja Salerno-Sonnenberg just a few days after the then 20 year old violinist won the Naumburg and when cellist Matt Haimovitz, at 15 became the youngest recipient of an Avery Fisher Career Grant. The announcement of the award and Matt's follow up performance of Chopin's Rondo Brilliante with pianist Noreen Cassidy Polera went out live on the Young Artists Showcase.
MUSIC - Chopin: Introduction and Polonaise Brillante, Op. 3
Bob Sherman: 15 year old Matt Haimovitz making his Young Artists Showcase debut in 1986. And to that point, he was the youngest artist on any instrument to be awarded an Avery Fisher Career Grant. Played Chopin's Rondo Brilliante most brilliantly, we might say, with the fine pianist, Noreen Cassidy Polera.
I was enormously proud that Avery himself, asked me to host the very first Career Grant Award ceremony, an assignment I was thrilled to fulfill for the next 30 years. What an incredible joy to meet and bring to our listeners, literally dozens of truly extraordinarily gifted young musicians. So many other treasured memories come flooding in on me as I reach the end of the Young Artists Showcase road, our wonderful season opening concerts. Broadcast from Julliard by the winners of the schools Gina Bachauer competition. I'll miss introducing the latest additions to the rosters of young concert artists and the Concert Artist Guild, our annual Hanukkah party with string players at the Keshet Eilon master course in Israel.
Perhaps my most vivid recollection, though is of the party marking our 1000th broadcast. For one thing, we left our studios then in the New York Times building and took our showcase microphones over to the McGraw Hill Auditorium in Rockefeller Center. Mayor Giuliani stopped by to give us a proclamation from the city.
Terry McGraw was there, of course, and so was his dad. McGraw Hill, CEO, Harold W. McGraw, Jr., whose passion for educational excellence had prompted him to give the go ahead for the showcase series in the first place. It is, of course, the family foundation named in Harold's memory that continued to provide our underwriting support and doing so right up to the end. This final complication today.
Anyway, back in 1997, I invited three top-notch players we had met on earlier showcase occasions, violinist Chee-yun, cellist Allison Eldredge, both of whom had gone on to receive Avery Fisher Career Grants in the interim, and pianist Akiro Eguchi, a Julliard student when he first played here. By then, a member of the Juilliard faculty. Best of all the noted composer, Seymour Barab, converted some doggerel verses I sent him into a celebratory piece titled Simply But Accurately, Gala 1000.
MUSIC - Barab: Gala 1000 (poem by Warren Bodow)
Young people they say,
Should be seen and not heard.
An idea we radio folk think is absurd.
In fact, each Wednesday evening at nine,
We give our young artists their big chance to shine,
The airwaves resound with their high virtuosity,
In scherzo, and presti of high virtuosity.
You see at the showcase we're tied into Haydn.
And we're smitten with Britten.
We say hi-yah! To
And we do pretty well by Ravel.
And we are in league with Greig.
By now you have the gist, but we still have a little Liszt.
Young pianists and cellists, and fiddlers too
Are playing their hearts out and all just for you,
Trios and string quartets fully rehearsed.
But remember you heard them here first.
For 20 years now, the sonatas and rhapsodies
have been sponsored with pride by the McGraw Hill Company.
Hey, as you know, keep the world up to speed.
We'd be lost without them. It's all been agreed,
And what's more every show we stop the applause,
To hear some wise comments of Harold McGraw's.
And now before this gala ends,
We want to thank you, dear listener, friends.
Without your support and encouragement, we
Would be playing out of luck at 96.3.
So goodbye. Until next week. When, like the Arabian Knights,
We'll be back with a thousand and first tale of broadcast delight,
Bob Sherman: I certainly couldn't ask for a better birthday present than that. The world premiere of Seymour Barab's Gala 1000. Performed on the occasion of our 1000th young artist broadcast in March of 1997 by returning Showcase alumni violinist Chee-yun, cellist Allison Eldredge and Pianist Akiro Eguchi. Now of course, we have well surpassed Sharza having law long synced, passed our 2001 nights of weekly broadcasts, uh, WQXR.
At this point, for the last 40 whatever years, we'd stopped for a brief intermission, but since this is the very last time I'll be welcoming you to the McGraw Family's Young Artists showcase, I figured we can just lunge ahead. There was a major seat change though when WQXR. Became a public rather than a commercial station.
And for the Young Artists Showcase, it meant a great expansion of the program. We enjoyed sessions in The Green Space. I left New York to bring back recorded performances from festivals in Florida and North Carolina, and most excitingly, went to Beijing, returning with live performances by the top winners of the inaugural China International Piano Competition.
Since WQXR could not have sponsorship as a public station, the showcase began flourishing with generous underwriting from the Harold W. McGraw Jr. Family Foundation, though still with weekly greetings from Harold's son, terry McGraw. I continued to seek out exciting young talents, of course, but I also began celebrating some major broadcast milestones by inviting back now distinguished artists we had introduced as exciting young up and comers way back when. On that illustrious roster, New York Philharmonic principal cellist Carter Brey, the wonderful sister violinists, Ani and Ida Kavafian, pianist Conrad Tao, composer John Corigliano. I really felt like a, a kind of a proud papa welcoming my musical children back to the fold. Matter of fact, let me recall with you our 38th anniversary party.
This was January 20th, 2016, when our alumni guests were the brother sister team of Gil and Orli Shaham. I had introduced them separately, I think, when they were both teenagers. So what a joy to bring them back to The Green Space as a duo, especially with the Dvořák sonatina which they told me was one of the first pieces they had played together at home.
Orli Shaham: Yeah. You know, I think Dvořák wrote this for his own son and daughter to play together and, uh, we, we, when we were teenagers, we thought how appropriate this was actually written for a brother, sister duo.
Bob Sherman: Now tell us—
Gil Shaham: We would like, read it kind of spontaneously, like when we were supposed to be doing something else.
Bob Sherman: Ah, yeah. Well, sure.
Gil Shaham: We would go and we would read, uh, this piece that we, we loved.
MUSIC - Dvořák: Sonatina, Op. 100, III. Scherzo and IV. Finale
Bob Sherman: And an anniversary delight back in January of 2016. Gil and Orli Shaham playing the last two movements of the Dvořák Sonatina for violin and piano. An even more spectacular event came to The Green Space when our Young Artists Showcase was ready to celebrate its 40th birthday, and this was January of 2018. Our debut ensemble was the Gaudete Brass Quintet out of Chicago.
But our honorary young artists were singer Joan Morris and composer pianist William Bolcom who had given us, both of whom actually, who had given us so many unforgettable hours on WQXR through the years. And the special thrill of the evening came when Joan and I introduced the world Premier of Bill's brand new rag, written especially for the Young Atists Showcase.
Phil, let's go.
The stars will Awaken, said the poet Percy Shelley. Whilst the dues of your melody scattered delight.
Joan Morris: Sing again with a dream of some world far from ours where music and moonlight and feeling are one.
Bob Sherman: 40 plus years later, Edward Bellamy left out the moonlight, but expanded on a would be world of music and feeling.
Joan Morris: If we could devise an arrangement for providing everybody with music in their homes, he said, perfect in quality, unlimited in quantity, suited to every mood, beginning and ceasing at will, we should have considered the limit of human felicity already attained.
Bob Sherman: It took another 40 plus years for that utopian dream to become reality, but that it did with the birth of WQXR in 1936, followed by the rapidly rising star of classical music radio.
Joan Morris: Temperamental, oriental, gentleman, are we. Misha Yasha, Tasha, Sasha, fiddle-dee, fiddle-dee dee! We're not high brows. We're not low brows. Anyone can see. You don't have to have a chart to see where he browsed from the start. Just Misha Yasha, Tasha, Sasha, fiddle-dee, fiddle-dee dee!
Bob Sherman: Two score and two years later, as Lincoln might have said if I remembered to invite him, Harold W McGraw Jr. Brought forth upon this station, the new program conceived in imagination and dedicated to the proposition that all young artists need help building their careers.
Joan Morris: It was in January of 1978 that my friend Bob here hosted the Young Artists Showcase on WQXR and not a week has gone by since then without its ongoing parade of remarkable talents.
Bob Sherman: Yes, I am proud to say that Bella Hristova, Nadja Salerno-Sonnenberg, Joshua Bell and Yuja Wang are among the many now world famous artists who made their 'QXR debuts. Right here on the showcase.
Joan Morris: Temperamental, sentimental, fiddlers are we? Bella, Nadja, Joshua, Yuja, fiddle-dee, fiddle-dee, dee! Shakespeare says what's in a name with him we disagree. Names like Sammy Max or, Mo. Never bring the heavy dough just Bella, Nadja Joshua, Yuja fiddle-dee, fiddle-dee, dee!
Bob Sherman: And as Christopher Robin might have said, had he waited a little longer now we are 40.
Joan Morris: Robert Benchley said that, you know, when you've hit 40, when there's a trembling of the kidneys to whatever tune the piano is playing.
Bob Sherman: Bob Hope said it's when candles cost more than the cake.
Joan Morris: But Helen Hayes really nailed it. Age is not important, she said, unless you're in cheese.
Bob Sherman: Well, I have been called a ham, but, uh, being around all these wonderful players, it does keep me feeling young, so I guess I'll hang in there a little while longer. Meanwhile, I had the brass to ask William Bolcom to write us a brand new birthday piece. So Joan Morris lets you and I and Bill eventually sit back and relax while they Gaudete Quintet lifts our spirits with the world premier of Bill's brand new anniversary rag.
MUSIC - Bolcom: Anniversary Rag
And with silliness and beauty swirling together within the lead up two and the world premiere of William Bolcom's Showcase anniversary rag and some nostalgia too, WQXR's old time theme motif popping up at various points along the way. We pop the cork. On our 40th birthday party celebration in 2018, Bill himself was at the piano, Joan Morris, reading and singing and completing the debut appearance on the young artist Showcase the Gaudete Brass.
And with that, we'll pause for our usual words from our number one supporting angel, Mr. Terry McGraw.
Terry McGraw: Well, good evening everyone. I've got a long history as well as my father in working with Bob Sherman. I mean, it goes back over time. We're talking about 45 seasons of doing this. You're talking about over 3000 musicians that have been highlighted by Young Artists Showcase, and at the heart of all of this is a centerpiece, and that's Bob Sherman.
He's such an extraordinary man, individual, historian, you name it. But Bob has always been a very special person that has brought so much light into my involvement with Young Artists Showcase. You know, Bob is one of those individuals that you think of the field, think of the industry, think of whatever.
He would light it up and he's an extraordinary person to be around, and I learned a lot from him. But most of all, I enjoyed every minute being with him. We had a wonderful relationship as he did with my father and with so many others, but you know, it was very special being with Bob.
Bob Sherman: Okay, I can't put it off any longer. Time has come for the finale of my final hour at the helm of McGraw family's Young Artist Showcase. So much music remains unplayed. So many artists and colleagues are yet to be thanked. Couldn't figure out what to do, what last piece to share with you? Well, after some serious pondering, I decided on something a little different, and it comes with deep respect, appreciation, and love from my mother, who happened to be the renowned pianist and frequent artist on WQXR in the old days, Nadia Reisenberg. It's her passion for music that still pulses through me, and when Mother was herself an emerging young artist, just a few years after she came here from Russia, Alexander Lambert, her first American teacher, asked her to join him in a forehand piano roll recording. Of the popular, lethal, scared soul.
So yes, had the showcase been on the air in 1924, Nadia Reisenberg would indeed have been welcomed with open arms.
MUSIC - Litolff: Concerto Symphonique no. 4: Scherzo
I know it is a bit odd to close out this final edition of the McGraw Family's Young Artist Showcase with music recorded on a Duo Art Piano roll around 1924, meaning a dozen years before WQXR itself was born, but how better to include my mother amongst the many thousands of performers I've presented through the years on WQXR. The piece: the scherzo of Charles Henry Litolff, and the pianist: my mom, Nadia Reisenberg and her first American teacher, Alexander Lambert. Alas I can no longer delay lowering my final showcase curtain. The broadcast, well over 2100 of them, along with many more proceeding on my old Listening Room series have centered my life and enriched it beyond measure. I'll be forever grateful to Terry McGraw and before I miss father Harold W. McGraw Jr. for the vision, cultural concern, and financial generosity that collectively kept us going through these four plus decades. And to you members of our wonderful listening family, for your generous comments and encouragements along the way. Never stop supporting the wonderful young talents who will continue to blossom among us.
But now with a full measure of the bard's promised sweet sorrow, I'll say goodnight everybody. I'm Bob Sherman.
Copyright © 2023 New York Public Radio. All rights reserved. Visit our website terms of use at www.wnyc.org for further information. 
New York Public Radio transcripts are created on a rush deadline, often by contractors. This text may not be in its final form and may be updated or revised in the future. Accuracy and availability may vary. The authoritative record of New York Public Radio's programming is the audio record.