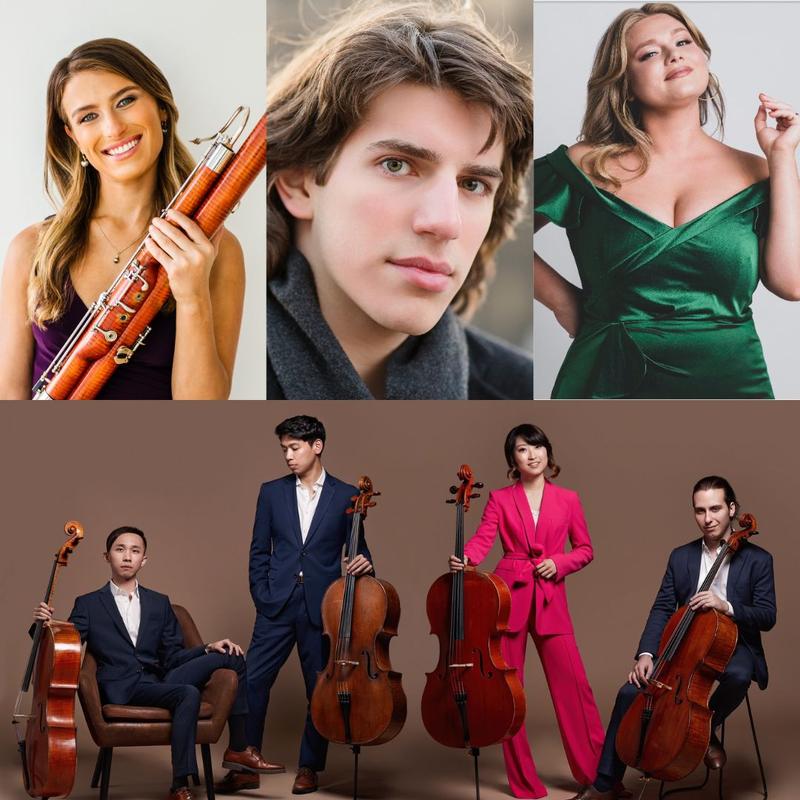 Transcript
[music]
Chee-Yun: Hello. I'm Chee-Yun. Tonight we are featuring the 2022 winners of the Concert Artists Guild virtual competition here on The Young Artists Showcase.
[music]
Chee-Yun: On tonight's episode of Young Artists Showcase which has been generously underwritten by the Harold W. McGraw Jr. Family Foundation since 1978, we will be featuring the 2022 Concert Artists Guild competition winners bassoonist Eleni Katz, Galvin Cello Quartet, pianist Llewellyn Sanchez-Werner and soprano Magdalena Kuźma. First up we have bassoonist Eleni Katz. Eleni is only the second bassoonist to win the Concert Artists Guild competition in its history. Eleni recently had her Carnegie Hall debut through Young Performers Career Advancement. She was also a Phoenix Chamber Music Society fellow. Let's hear her perform the Andante & Hungarian Rondo by Weber.
[MUSIC - Weber: Andante & Hungarian Rondo]
Chee-Yun: That was Bassoon Eleni Katz performing the Andante & Hungarian Rondo by Carl Maria von Weber. I sat down with Eleni and asked her about her vision for the bassoon as a collaborative and solo instrument.
Eleni Katz: I think one of my main visions being a bassoonist is to really have innovative projects in solo chamber music. And I think one of my main things is really trying to make the bassoon emulate the human voice. And that is something that I'm really curious about further exploring is combining the two passions of bassoon and voice and how you can do commissions of new works with that. And then also just to make the bassoon itself sing as much as possible.
Chee-Yun: When it comes to bassoon repertoire, there are the big three concertos. By Weber, Mozart, and Hummel. Eleni told me one of her favorite concertos for the bassoon that you don't often get to hear.
Eleni Katz: I also really like the Rossini bassoon concerto. It's very operatic and a charming work and not as much performed. But I think the thing I really like about Weber, in particular, is the fact that I think you can hear the audience laugh when you perform it. 'Cause there's a lot-- there's-- it's very characterful and it has very many operatic shiny moments. And then also it just has a good balance of the technical finesse and then also the singing quality that I really like to highlight to the bassoon with.
Chee-Yun: Thank you, Eleni. Up next is soprano Magdalena Kuźma. She's a member of the Lindemann Young Artist Program with the Metropolitan Opera, and she recently performed Juliet in Gino's, Romeo and Juliet at the Glimmerglass Festival. For the 150th anniversary of Rachmaninoff's birth, Magdalena chose to share some of his music with us. She'll be performing his 6 Romances, Opus 38. I asked her what attracted her to this set of songs.
Magdalena Kuźma: I've always been drawn to, like, very Eastern European and Slavic works. I don't know if that's because I grew up listening to a lot of Chopin and a lot of romantic music, but Rachmaninoff for sure has a special place in my heart. And, um, the, I-I believe it's the fifth song, son, which translates to dream, is the most famous from the cycle. And e-even if you don't know what the poetry is or the translation, it's just written in such a way that I think any human that listens to it just falls in love with it. And so I heard it from another colleague when I was younger and I was like, "I have to get my hands on this somehow." And what I love specifically about this cycle is that all the poems have very different themes. And yet, of course, like most art song, nature and love [laughs] are kind of at the forefront of it.
Chee-Yun: She also shares the early moments she knew she wanted to become a singer.
Magdalena Kuźma: I am one of those rare, rare people-- I've known what I wanted to do since I was four. My-my grandma came from Poland when I was four. It was her first time in America, and Cats on Broadway was closing. It was at that point in 2000 or 2001, the longest-running show. And my mom wanted to do something special and she took me along and people were like, "You are so stupid. Like, she's four, she's not gonna remember it. You're spending so much money and she's gonna cry. You're gonna have to leave." And famously I was like, shushing my mom when she was trying to translate to my grandma what's happening. And I left singing the melody to memory, and my mom and grandma were like, that's unusual that she can remember, um, the tune like that, that well.
And again, I didn't speak English at that point. Like, I just loved that you could-- you could understand what the person's emotions are, even if you don't understand the words. And that kind of brings me to opera. So I knew that day I wanted to be a singer and I wanted to be a performer.
Chee-Yun: Let's hear 6 Romances by Rachmaninoff performed by soprano Magdalena Kuźma.
[MUSIC - Rachmaninoff: 6 Romances, Op. 38]
Chee-Yun: That was Rachmaninoff's 6 Romances performed by soprano Magdalena Kuźma. It's time for a short break, then I will be back to introduce the remaining two winners of the 2022 Concert Artists Guild here on the McGraw Family's Young Artists Showcase. Welcome back. I am Chee-Yun. On tonight's Young Artists Showcase, we are featuring the 2022 winners of the Concert Artists Guild competition. The next artist is no stranger to our program. In fact, pianist Llewellyn Sanchez Werner is our Young Artists Showcase alumnus. We will hear from him the first movement of Beethoven's very last piano Sonata #32 in C minor, Opus 111.
[MUSIC - Beethoven: Sonata #32 in C minor Op. 111 mvmt 1]
Chee-Yun: That was the first movement of Beethoven's Sonata #32 in C minor, performed by Llewellyn Sanchez Werner. Llewellyn is here with us today in the studio. Welcome, Llewellyn. So wonderful having you in the studio. You received the Atlantic Council Young Global Citizen Award at just 17 years old. What motivates your dedication to social action and what led you down this path?
Llewellyn Sanchez Werner: Oh, well, first of all, thank you so much for having me. And yes, I think that I have been inspired by figures in past classical music history, and in the history of-of other types of music, um, who have chosen to use their platform to promote healing and understanding through the power of the arts. And I think of-of Leonard Bernstein conducting Beethoven 9 on both sides of the Berlin Wall before it came down.
I think about Shostakovich, uh, and, uh, you know, his-his-his use of-of a kind of mockery of-of Soviet military themes in the first piano concerto. I think of-of Gustavo Dudamel, of course. The-the work that he did with the Simón Bolívar Youth Orchestra and in Los Angeles. So, you know, in my own humble way, I have tried to do work, uh, off of the stage to use music in-in-in that way in-in Iraq, in Rwanda, in France, in Canada and in the United States.
And so it was very exciting to then see that, that some of that work was being honored by-by the award you were just talking about. And-and I think that when you have an opportunity to-to meet people who share that kind of vision to-to use the arts as a means of public service, um, it can be a very enlivening and, uh, and emboldening thing.
Chee-Yun: Oh, very impressive and very inspiring. [chuckles] But when I read that you started playing the piano at age two, I mean, many pianists and violinists do indeed start playing their instruments at a very young age. But, um, do you actually have any memories from those early days of playing the piano?
Llewellyn Sanchez Werner: I remember that music was always a fascination for me, of coming from a very raw and honest place.
Chee-Yun: Mm-Hmm.
Llewellyn Sanchez Werner: I think that my mom wasn't a musician herself, although she did play violin for just about a year. But there was a piano in the living room.
Chee-Yun: Mm-Hmm.
Llewellyn Sanchez Werner: And of course I was fascinated with it. I think, um, at first there was the raw love of the instrument.
Chee-Yun: Mm-Hmm.
Llewellyn Sanchez Werner: But then of course, a few years later, there was the realization that this is really how I, uh-- That music is how I want to contribute to the world. And so I-I think there was a-- There was a two step process. [chuckles]
Chee-Yun: That's amazing. Very impressive.
Llewellyn Sanchez Werner: Oh. Thank you.
Chee-Yun: Thank you so much for sharing that.
Llewellyn Sanchez Werner: Thank you so much.
Chee-Yun: Next step is the Galvin Cello Quartet. The quartet is composed of members from China, Brazil, South Korea, and the United States. In addition to joining the Concert Artist Guild roster, they won the silver medal at the 2021 Fischoff Competition. And First Prize at the 2022 Victor Elmaleh competition. I spoke with two members of the Quartet, Sydney Lee and Luiz Fernando Venturelli. They told me a bit of their origin story.
Sydney Lee: Well, we've all been friends prior to even starting to play together. Um, I personally met Luiz and Sihao at the Meadowmount School of Music, I think maybe when I was 13 years old. And I was starting my master's, uh, during COVID but I moved here, uh, in January, 2021. And at the time that I had moved, um, I had to get involved in a chamber group, but I only knew the cello studio. And so I thought, well, it would be really fun since the cello studio is hanging out so much together anyways, and we're kind of in our own bubble, um, why not start a cello quartet?
And so, uh, during the days when everything was still online, um, I decided to start this group. And, uh, the four of us-- Actually, all four of us weren't even in Evanston, because Luiz was still in Brazil. And, um, Fischoff's deadline was pretty soon. So by the time Luiz came to Evanston after finishing all of his quarantine, we had 11 days to put together 40 minutes of music. And our group had never even played together. And I think that's when we really bonded and we got very close, um, because we were really intensely working for such a short period of time. And the actual recording session was super intense too because, you know, with all the restrictions with COVID, we had one session to record everything.
Chee-Yun: I also asked them how they find and choose their repertoire.
Luiz Fernando Venturelli: That's actually one of the most fun parts of playing a cello quartet. There's not a lot of original repertoire. And even in terms of transcriptions and arrangements, there isn't too much out there. So we're actually getting to the point where we've played most of what we've been able to find, and we've just been investing a lot of time in doing our own arrangements and commissioning new works actually.
But that's part of our mission actually to explore the possibilities of the cello quartet and create a standard repertoire. So we're really interested in commissioning works. We have a few works already being done for us. So yes, there's not too much written for us, but that's part of what's exciting because we get to make our own arrangements, commission our own works, and then everything just feels very fresh.
Chee-Yun: Let's hear them play. Here are Por Una Cabeza by Carlos Gardel, and La Muerte del Angel by Astor Piazolla.
[MUSIC - Carlos Gardel: Por Un a Cabeza]
[MUSIC - Astor Piazolla: La Muerte del Angel]
Chee-Yun: We heard a passionate performance from The Galvin Cello Quartet two pieces by Carlos Gardel and Astor Piazolla. That rounds out this week's edition of the McGraw Family's Young Artists Showcase. Here at our WQXR home, it's always a pleasure to greet our great friend and generous underwriter, Terry McGraw.
Terry McGraw: Good evening, everyone. It's great to be with you and it's always great being with the Young Artists Showcase and to hear these really wonderful and inspiring musicians as they continue to share their incredible gifts with us every week. I can't wait to hear the fabulous talent coming up on the showcase, and I am so pleased to be able to support the series all through its well over four decades on WQXR, and there's so much more to come.
Chee-Yun: Thank you, Terry. Many thanks to WQXR program producers, Laura Boyman and Max Fine. Our generous program underwriter is The Harold W. McGraw, Jr. Family Foundation. I'm Chee-Yun. Goodnight.
[music]
Copyright © 2023 New York Public Radio. All rights reserved. Visit our website terms of use at www.wnyc.org for further information.
New York Public Radio transcripts are created on a rush deadline, often by contractors. This text may not be in its final form and may be updated or revised in the future. Accuracy and availability may vary. The authoritative record of New York Public Radio's programming is the audio record.