Young Artists Showcase
Encore: Tenors Brian Giebler and Joshua Blue, and Conductor Kent Tritle Preview Handel's Messiah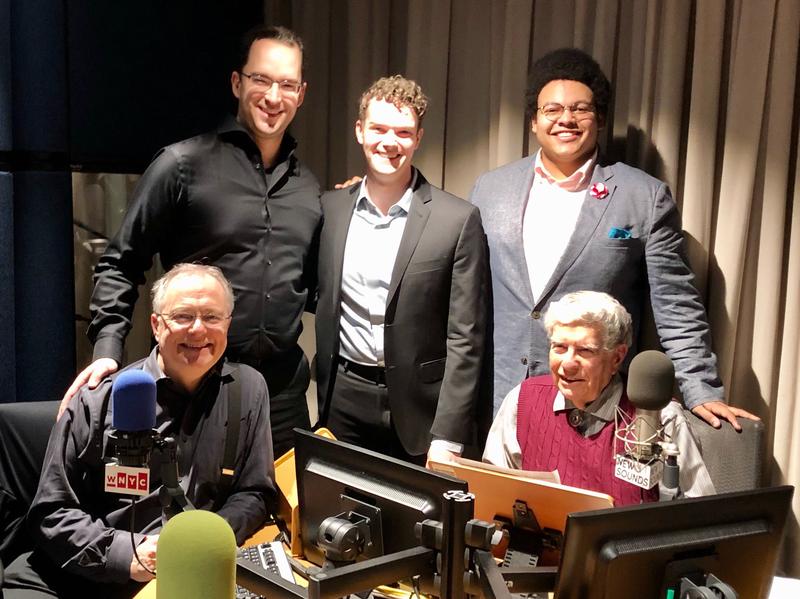 Transcript
Bob Sherman: Hello everybody. I'm Bob Sherman. Two performances of Handel's Messiah coming to Carnegie Hall, and I welcome the two tenors, Brian Giebler and Joshua Blue, along with our Maestro Kent Tritle all on this edition of The Young Artists Showcase.
Yes, I know Kent Tritle isn't quite as young as the guests we usually feature on the showcase, but he was wandering around without much to do, so he came to join us here along with pianist Michael Sheetz. Now, before we exalt any valleys, I do want to remind you that it is the generosity and cultural awareness of the Harold W McGraw Jr. Family Foundation that has kept our little program alive in what is so far our second, no, our 42nd consecutive year on WQXR.
Okay, let us greet our musical ringer here who does keep considerably busy as Music Director of the Oratorio Society Musica Sacra and the Cathedral of St. John The Divine. That is when he isn't running around giving organ recitals. Uh, Kent, when are you going to give other conductors a chance to do something in New York.
Kent Tritle: Well, I'm going to try to keep a little, a few days open. You know, we're only taking two days and the Philharmonic has five days, and Michael Sheetz, our pianist, has another day in December at Hunter College. So, I expect that there's still room for plenty of other Messiahs.
Bob Sherman: Well, you are conducting two. We presume that a conductor evolves his own ideas and his intention and the tempi and whatever. And yet you've got two different choruses and two different soloists, and you got to do everything the same?
Kent Tritle: No, never the same. In fact, it's just an amazing process. Uh, normally, in normal years, I actually play for the Philharmonic's Messiah, where I'm taking in some other conductor's interpretation, and then of course I get to my own. Working with the Oratorio Society, which is, uh, in the grand choral tradition, 200 voices, um, a tradition that goes way back to the 19th century, we have, uh, a particular way that we come to the work. And each year, as the chorus evolves, we recraft our relationship to the work. Musica Sacra, on the other hand, uh, a very elite 32 voice ensemble, uh, will come at the work and then approach it completely differently.
So, I liken it to doing two different productions of Hamlet, uh, at the same time because in a way. Or maybe Hamlet's not the right metaphor, but, but it's like being on stage in two different productions where you have two different sets of artists to work with, and it also applies to the soloists. So, I end up with two very distinct performances, although there are unifying factors, I'm sure, about the way I approach it.
Bob Sherman: We'll talk a little bit more about this, uh, as we go forward, but let's say a quick "hello" to our two tenors and let them go to work. Uh, Brian Giebler, greetings. You are from Long Island, I can tell.
Brian Giebler: I'm from Long Island City here, actually. Just outside of New York and the edge of Queens here.
Bob Sherman: And what's with you and Messiah? Where did that come together?
Brian Giebler: You know, I've been singing the Messiah for probably the last seven years, ever since I moved to New York with different ensembles. Um, and I started taking it around the country as well with, uh, different Philharmonics, like the Virginia Symphony. Uh, so it's just become one of those pieces that I've related to a lot in my career and pays the rent in December.
Bob Sherman: [laughs] uh, Joshua Blue, your rent is all taken care of, I trust. And, uh, where are you from originally?
Joshua Blue: Uh, I was actually born in the United Kingdom, but I grew up in the western suburbs of Chicago.
Bob Sherman: Ah-huh. And what does Messiah mean to you? Other than a meal ticket?
Joshua Blue: Uh, well it was actually my, my first Messiah's were thanks to Kent Tritle. Uh, I was in his oratorio class at Juilliard where I was studying for my masters. It was always a piece that every singer knows about. You hear about it, you always are told you're going to go and do the sing along at school, learn your local community center. Um, but it was my first time getting to sit down with a real, you know, masterwork of choral and instrumental ensembles. Um, and luckily, I had a great teacher that helped kind of guide me through the process.
Bob Sherman: Well, I am delighted that you all three are here and our orchestra is here too. Pianist, Michael Sheetz, and actually Michael has studied with Kent Tritle as well, so you can't get away from, everybody knows all your secrets here.
Kent Tritle: We're all connected.
Bob Sherman: But let's proceed to Messiah, shall we?
Brian Giebler: Great.
Bob Sherman: Alright. Where are, where are we starting?
Kent Tritle: Brian is doing "Comfort Ye," and Josh is going to sing "Ev'ry Valley." So, our dueling tenors begin.
Bob Sherman: All right if you will.
MUSIC - Handel: Messiah, "Comfort Ye"
MUSIC - Handel: Messiah, "Ev'ry Valley"
Great opening to Messiah and our local music critic here quite enthusiastic, Kent Tritle.
Kent Tritle: Absolutely exquisite gentlemen. Exquisite. Thank you.
Bob Sherman: And our gentlemen were, Brian Giebler and Joshua Blue. Now, guys come back because I want to ask you essentially backwards the question I put to, to Kent before: you have worked out your own ideas of the solo we just heard, and you're going to take it around as you told us to all kinds of other places. Can do your own thing when you get to somebody, a conductor? Like Kent is going to tell you, "Hey, I want it all differently." How much are you in control with a solo in an oratorio?
Joshua Blue: Uh, I think it's, it's definitely a lot of give and take. We have lots of different teachers, coaches, you know, acclaimed tenors that have done millions of Messiahs that we use to formulate our own kind of idea of, of how it should go. Uh, and then when we come to the first rehearsal with Kent, Kent has his own idea of, of how it goes and we kind of barter our way to a happy medium.
Um, so the end result is, is a really interesting mix of our own ideas and interpretations, the conductor's ideas and interpretations, and hundreds of years of storied history, of interpretations of the piece.
Bob Sherman: I see. And Brian. Same kind of idea, how much are you able to blend with what the conductor wants? Never mind Kent. I mean, you work with all these other guys. So, how many changes are you ready to make in your own way of thinking about the arias?
Brian Giebler: Of course. I think we've come in with our own idea of, much like Joshua said here, and then really, it's, it's a different location, a different place, a different orchestra. Some orchestras are more baroque styled when it comes to Handel's Messiah. Some are more full-bodied, as is the, you know, uh, late sixties, seventies, really in that area that made it so popular again. And so, I think you really just have to come in with an open heart and open mind to collaborating and making the best out of every situation and giving the audience the best that you can.
Bob Sherman: And again, Kent, how do you choose one kind of a tenor as opposed to another?
Kent Tritle: Well, I won't, you know, I want to back up and say that what I'm looking for as a conductor and these young artists have it, is the complete artistry. So, the people that thought through, artists have thought through what they would love to do on the one hand but on the other hand, it's not my way or the highway. They have the flexibility in their technical prowess to be able to change tempi, to be able to change diction concepts. So that what you really end up with is, um, not only a compromise, but a, a, a situation where the sum is greater than the total of the parts.
I'm always learning from my artists, and I love to work with artists who are bringing this kind of, uh, thinking through to the table. Uh, it makes it very exciting to put things together.
Bob Sherman: Alright, let's put together two more arias from Messiah if we can, and, uh, I think Joshua you're up.
MUSIC - Handel: Messiah, "Thou shalt break them"
Kent Tritle: Brian's going to sing "If God be for us,", which is normally sung by the soprano in Messiah. But beginning with Mozart, who started to have different soloists in his version of Messiah singing different arias, we now have a practice today where many people will interchange. Uh, you won't hear Brian sing this aria in our performance together, but it is a wonderful aria that sounds beautiful in the tenor voice.
MUSIC - Handel: Messiah, " "If God be for us"
Bob Sherman: Very beautiful indeed. We've heard Brian Giebler and pianist Michael Sheetz, "If God be for us." Kent, if I'm not mistaken, the soprano sits there for 25 minutes before getting to do anything. And if you're going to give away all our arias, uh, you might as well stay home altogether. So, what makes you decide one way or the other?
Kent Tritle: Oh, for me, I, I always look of course, at what has become the, the traditional assignment for the roles. And then sometimes I'll, I'll, I'll consider the voices that I have. And switch things around. I like to use Handel's own variants. Uh, when I conduct in Cincinnati, I'll be doing a lot of alternate versions of these arias. Uh, for the performances with Musica Sacra and with Oratorio Society, though, we're going with pretty much the traditional assignments. Now that one of the interesting ones is, "But who may abide?" which I grew up with as a bass aria. Well, that's really because Mozart himself, when he reworked Messiah, cast the bass to sing, "But who may abide." As, uh, whereas with Handel had really had a countertenor doing that. Mozart also had the tenor sing "Rejoice greatly," if you can imagine such a thing. So, um, I, I, I start with what is now pretty much accepted, Handel's, Handel's preferred practice, and then explore some of the alternate versions as possible.
Bob Sherman: All right. I'd like to call, uh, Joshua back. Oh, there you are already. There you are. Ready to go. Because we're going to turn now to opera, and you've been involved, uh, considerably in Washington, I understand.
Joshua Blue: Uh, yes. I'm in my second year as a young artist with Washington National Opera in DC.
Bob Sherman: And what does that mean, young artists? You only get to sing young roles?
Joshua Blue: No. Uh, it's essentially like, Uh, um, an apprenticeship with the opera company. Many opera companies across the country, across the world have these programs where you spend a few years getting coaching and lessons with different teachers, both from schools and professionals that are still working. Uh, you also get language courses and training. Uh, we get movement and, you know, dance classes, things like that.
But also, you know, most importantly, we get on the stage training, uh, I actually just came from DC where one of the shows, every year they give our young artists a chance to take the principal roles, and we just did Maurice Sendak's version of Mozart's The Magic Flute. And just this past Friday, uh, I got to take the stage as Tamino for my, my role debut as Tamino. Uh, and it was wonderful. Uh, it's a great program with some great people.
Bob Sherman: Have you done, uh, Boheme yet? That's, uh, New Year's, uh,
Joshua Blue: uh, I haven't done the role, but I have done many of the scenes.
Bob Sherman: And you are going to do one of the arias for us?
Joshua Blue: Absolutely.
Bob Sherman: Yes. Tell us which you are up to at this point.
Joshua Blue: So, this is "Che gelida manina." It's towards the end or so of the first act of La Boheme, and this is when Rodolfo, the poet, has met Mimi, who, uh, is his downstairs neighbor. And she has come up kind of in a fluster to talk to him. Uh, you know, they've both kind of seen each other out of the corner of their eyes, but it's the first time they're really talking with one another. And in this process, she "loses" and you can't see my air quotes, her key, uh, and asks Rodolfo to help her find it.
And in searching for it, their hands touch for the first time. And he looks at her and he says, you know, "Che gelida manina," how cold your little hand is. Let me warm it up in mine.
Bob Sherman: Well, if you would warm up our studio, we'd be delighted to have it. And again, with pianist, Michael Sheetz
MUSIC - Puccini: La Boheme "Che gelida manina"
And I don't think we have to [applause] absolutely wonderful. Thank you. This is Joshua Blue again with pianist Michael Sheetz and Puccini. Yes. And boy, I don't know what they have for apprentices in Washington, but I can't imagine a more thrilling performance than you just gave us, so.
Joshua Blue: Thank you so much.
Bob Sherman: Alright. We're going to have a, uh, solo from our other tenor here, Brian Giebler. But I think it's about time we pause for a midpoint break. So, take a moment out and then return with us to the McGraw Family's Young Artists Showcase.
I'm Bob Sherman and we are having quite a day in The Young Artists Showcase here with our honorary young artist Kent Tritle, along with Brian Giebler and Joshua Blue.
Alright, we are going to turn next to Brian Giebler. And you have another great sacred work to share with us, yes?
Brian Giebler: Of course. That's, uh, what I've spent most of my career doing is oratorio and early opera actually. And so, this comes from Bach's, uh, great, uh, B Minor Mass. It's the Benedictus. And much like the soprano in the Messiah, the tenor has to sit out most of the show and then stand up at the end of the show and sing this lovely, floaty high thing at the end.
Bob Sherman: What do you do to accomplish that? I mean, do you sing under your breath? Do you. Do you warm up during the applause? What, what?
Brian Giebler: Well, I will say that, um, I've been blessed to have a lot of different choral opportunities in my life, uh, growing up and getting into this field now. And so, I actually have a lot of the B Minor Mass memorized. So, I'm typically sitting there humming along with the tenor section with the pieces right before, yes.
Bob Sherman: Well, we don't have the rest of the tenor section here, but we do have Brian Giebler. So, if you will, we are going to have the Benedictus from Bach's B Minor Mass. Again, our pianist is Michael Sheetz, and this time we have a distinguished page turner because, uh, Kent Tritle is knocking over the, uh, equipment there. All right let's go.
MUSIC - Bach: Benedictus from the B-Minor Mass
Again, very touching moment here in our studio, the Benedictus from the B minor Mass of Bach, and the beautiful singing by Brian Giebler. Now, Joshua Blue, am I right that you have one more Messiah aria?
Kent Tritle: We have an Elijah aria. Yes, we do.
Bob Sherman: Oh, is that a very different vocal style for you?
Joshua Blue: Not necessarily. I, I think though the, the Elijah is a much more stentorian, kind of declamatory, uh, uh, tenor part. But, but in the same vein, it carries that same, uh, weight as "Ev'ry Valley" does. It's very to the people telling, everyone, telling the story, but ultimately, I, I think it's similarly sung, I think is the easiest way to put it.
Bob Sherman: All right, if you'll similarly sing it for us,
Joshua Blue: gladly
Bob Sherman: we'll enjoy it here with, again, pianist, Michael Sheetz.
MUSIC - Mendelssohn: Elijah "Then shall the righteous"
Joshua Blue and, uh, the scene from Elijah. Well, uh, I was going to save this for our grand surprise, but Kent Tritle, you blew it and said, our, the Christmas, uh, group is coming next. So, I guess we got to admit it that. Uh, do you approach Christmas music differently from other pieces because, I mean, Mel Torme is different from Handel and what not, but still there is some kind of essence that, uh, remains connected, I think.
Kent Tritle: For me as a kid, I wanted to play all these Christmas songs, the Carols, the Mel Torme, all of it, and it's all, all of one for me. It's, it's in a strange way, it's one piece. It's just you have to be really broad in your stylistic differentiation. The difference between playing a carol, like "Joy to the World," or "Angels We've Heard on High," or playing "The Christmas Song," or any of these kinds of things, I've always just reveled in that great expanse of stylistic diversity, um, that somehow is all united by those songs of a season.
Bob Sherman: And you guys, tenors, you take the same approach? You, you really are serious about these songs.
Brian Giebler: Oh yes, absolutely. I mean, it's what I grew up with. Uh, my birthday's actually three days before Christmas, so December is my favorite time of the year anyway [laughter] regardless of snow, I actually kind of love snow. Um, but I will say that I also grew up in the church. I grew up listening to Christmas music. Uh, my dad used to have a radio station in college, so he was all about listening to all the different types of music. And my mom is a classical music teacher, so I got so much influence from them listening to all sorts of different things. So, for me, one is not different from the other, it's just how you approach it and send out the message.
Bob Sherman: Josh, is that kind of yours, how did you grow up with, uh, holidays?
Joshua Blue: Uh, very similar, uh, to both Brian and Kent. I, I grew up in the church with, with the Christmas carols and, you know, those classic songs. Um, but one thing I find really, uh, inviting about Christmas music over a lot of types of music is that it brings in lots of different musical styles. You can have 10 different songs about Christmas and not a single one will be sung the same way. You can have a jazz piece, it can be a gospel piece, it can be a grand choral piece. Um, and that's what's really exciting about it. It gives you a chance to kind stretch your musical li, you know, wings and, and get out there with something new. But I've al- I've always loved it. I've always.
Bob Sherman: Okay. I want one of you to get up because I'd like Michael Sheetz to come over for just a minute. And the reason for that is that most of you have studied with Kent one way or another. What kind of a teacher is he? I mean, is he one of these yell and scream and why don't you do it right kind of guys? Or is he a, you know, a sweet...
Michael Sheetz: Kent is the opposite. Kent is very, very warm and inviting, and I think the privilege of working with Kent is partly getting to learn his technique of conducting and musicianship, but also, he invites you to be a part of his world and to be invited to his performances and his concerts. And you learn from Kent and all the musicians around him, the professional chorus of Musica Sacra, of the cathedral, the orchestra players, and it really is one big family, and that's a beautiful thing in New York right now is to have a musical working family together. My conducting colleagues and I talk about each other like we're brothers, sisters, cousins, you know, related because we're all all related to the same cause of bringing great music, great oratorio, sacred music to New York City and to the world, um, as best as we possibly can. And that's a testament to what Kent has taught all of us and myself for sure, for certain.
Bob Sherman: Well, you were studying primarily as a conductor then?
Michael Sheetz: I was studying, I was Kent's conducting student at Manhattan School of Music that's right.
Bob Sherman: Oh, that's what you do in your spare time. I wondered. I see.
Kent Tritle: That's right.
Bob Sherman: You teach at Manhattan.
Kent Tritle: That's right. It's a wonderful program at Manhattan. We developed a master's in a doctoral, uh, program in, in conducting. Michael actually came in when he was doing his collaborative piano major and played for my rehearsal.
Michael Sheetz: That's right, right?
Kent Tritle: Oh, yes. That was, you know, I gave him the Tritle eye.
Joshua Blue: Oh, yeah. I learned a lot from that eye. That's right. That's right. Oh my gosh. Get it together.
Bob Sherman: So, the only thing we don't have is an organ student here, I guess, in the room.
Kent Tritle: That's right. Yeah.
Bob Sherman: But, uh, we'll talk about that on another occasion, but now we do have our holiday specials. Who's going to lead it off? Well, I think we'll just do all the songs together. So, whatever. Great. Whatever appeals to you, whatever order you'd like to do 'em in. We've got three of them here and we've got, uh, three artists. We have Tenors, Brian Giebler and Joshua Blue and Pianist, Michael Sheetz.
MUSIC - The Christmas Song
MUSIC - Have yourself a Merry Little Christmas
MUSIC - O Holy Night
Well, you guys have given us an absolutely fabulous holiday program. I'm so pleased and so delighted to gather you together here. We've been hearing just now Brian Giebler and Joshua Blue singing with pianist Michael Sheetz. And of course, our young at heart Maestro, uh, Kent Tritle has been an honored guest. So, keep up the good work guys and uh, we'll see you soon again, and we'll hear you lots and lots.
Kent Tritle: Thank you, Bob. It's been great to be here.
Bob Sherman: And for all of you, great good luck as you go forward. And now we are going to go forward to our holiday greeting from our friend Terry McGraw.
Terry McGraw: Well, Bob, it's always great being with you and to hear these really wonderful and inspiring musicians and you continue to share their incredible gifts with us every week. I can't wait to hear the fabulous talent you're going to bring us next time on The Young Artists Showcase and why I am so pleased to be able to support the series all through its well over four decades on WQXR and there's so much more to come.
Bob Sherman: Thank you, Terry. Making it all possible, of course, is the underwriting generosity of the Harold W McGraw Jr. Family Foundation, coupled to the engineering prowess tonight of George Wellington and the buried skills of my stalwart production partner Max Fine. I'm Bob Sherman. Goodnight, everybody.
Copyright © 2022 New York Public Radio. All rights reserved. Visit our website terms of use at www.wnyc.org for further information. 
New York Public Radio transcripts are created on a rush deadline, often by contractors. This text may not be in its final form and may be updated or revised in the future. Accuracy and availability may vary. The authoritative record of New York Public Radio's programming is the audio record.