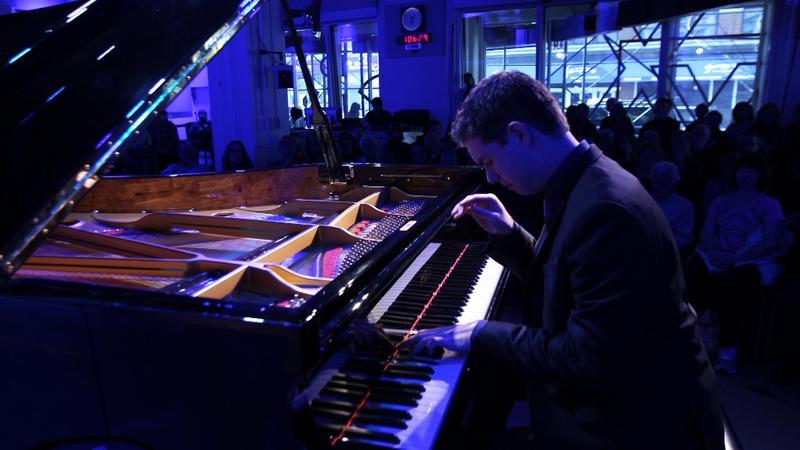 Transcript
Bob Sherman: Hello everybody. I'm Bob Sherman. Last fall, we sampled the superb playing of the five finalists in the American Pianist Association Competition. Tonight, the Grand Prize winner Drew Petersen returns to play for us on this edition of The Young Artist Showcase.
Not long ago at the Seder, we asked why is this night different from all other nights? The Young Artists Showcase by its very nature is different from all other programs at WQXR flourishing under the generous underwriting of the Harold W McGraw Jr. Family Foundation, and tonight, as we welcome back, Drew Petersen, it is as the top prize winner of a competition that is also different from all others.
APAs artistic director Joel Harrison is here. So, we'll get some explanations in due course. First though. Here is Drew, whom we introduced on the showcase in 2009. You remember that, Drew? You were a little kid. Uh, actually he was 15 and he was a soloist with the Manhattan school's Pre-College Philharmonic. All grown up now, here's Drew Petersen in our studio signing in with Bach.
MUSIC - Bach: Toccata in F-Sharp Minor
Great playing here in our studio. The Bach F-Sharp Minor Toccata and the first of several performances we'll be enjoying today by Drew Petersen. So, welcome. It's one of these, uh, strange situations where old friends hope, but we never quite met because we were always using pieces that were taken from various concert activities, as I said, starting way back when when you were at Manhattan School. Tell us a little about your background.
Drew Petersen: Well, first of all, it's such a pleasure to be on the show officially in person. It's so great to meet you and to...
Bob Sherman: Well, it has been official. It just wasn't in person.
Drew Petersen: Well, in person. Officially in person. Exactly. It's been official actually several times. The first time I performed on your, your show was when I was being conducted by Jonathan Strasser. Yes, great teacher, great conductor, who sadly recently passed away and he will be dearly missed. He was cherished by many, many people in the city, and I think really around the world.
Anyway, I have such fond memories of my collaborations with him. I actually performed with his orchestra twice. I'm on the Manhattan School of Music Pre-College Concerto Competition when I was 15 and then again when I was a senior in high school. I think I was 17 or 18 at the time.
Bob Sherman: But you obviously are an old hand at winning competitions. Uh, just before we go on to that particular subject, who did you study with primarily?
Drew Petersen: From early on I was with. The great pianist, Miyoko Lotto at Manhattan School pre-college. I was under her tutelage at that point. I then studied with Jerry Lowenthal at Juilliard for a few years, and now I'm currently with Robert McDonald, also at Julliard.
Bob Sherman: And again, top level artist all, all around. Now, the competition that you just recently won, I think earlier this month actually, no, it was last month. The American Pianist Association and the artistic director, CEO, and big boss of that, uh, organization is with us. And so, uh, Joel Harrison. Greetings, welcome.
Joel Harrison: Thank you so much, Bob. Fun to be here.
Bob Sherman: All other competitions managed to have a nice week or two weeks or a month that they set aside, and they do the thing and they announce the winner and they go home. Why are you different, as I said earlier, from all other competitions?
Joel Harrison: Well, we're different in a number of ways. One, we support only American pianist, uh, between the ages of 18 and 30. Two, it's nomination only. We like to think of ourselves as sort of the MacArthur Awards of, uh, piano. Um, and three, and most importantly is we like to focus on each artist as an individual, uh, musical personality. And so, we've set up, uh, a process that allows them to each come, uh, you know, we are based in Indianapolis, so they each come one at a time uh, throughout, uh, the concert season. And while they're there, they do a concerto with the, uh, chamber orchestra, a solo program, uh, some outreach, uh, events. They do a concerto in residency with a high school. And so, um, by the time we bring each one of these pianists in that takes up, uh, much of the concert season.
Bob Sherman: I see.
Joel Harrison: And then, For, uh, what we call the finals. It's called Discovery Week. They're all there for our chamber music. Uh, this time our resident quartet was a wonderful Pacifica Quartet. Um, they do some new music. We, uh, this time commissioned, um, Judith Zaimont, uh, to write a piece for, for our finalist. They do a song recital, uh, with professional singers, and then they do concert with the Indianapolis Symphony Orchestra.
Bob Sherman: Now, very few competitions, I suspect, have a outreach as part of the evaluation process. So, how important are these other areas as opposed to just playing your Liszt concerto.
Joel Harrison: Right. Well, we think, though of course they're very important on several levels. One, uh, we are taking music at an extremely high level out into the community and especially to schools that might not otherwise experience music at that level.
Uh, two, we are giving these finalists some pedagogical experiences by going into the schools that they might not have otherwise had. Three, um, most of our finalists tend to be in their early to mid-twenties. That's not that much older than say, a high school senior. So, it works great as a kind of a peer-to-peer type of thing, as an inspiration.
And then it does give, uh, the five finalists, you know, experience in playing in a variety of settings on a variety of pianos.
Bob Sherman: Drew Petersen, is this something that is likely to be part of your future? Do you think you see teaching and, and outreach in one way or another as part of your career?
Drew Petersen: Oh, absolutely. I think it's really important for us to bring music to everyone. Whether they, they themselves come, can get to the concert hall. I think it's important that we sometimes bring music to them and like I, as I said, these people will come to the concert hall if they are, kind of, and I, if we, if we're also willing to bring it to them. It, it motivates them and inspires them.
Bob Sherman: You know, that's a little bit the, uh, theory behind WQXR. We bring music to people that may not be able to get out to hear it, but we also encourage those that can do so later on.
Drew Petersen: Right, absolutely.
Bob Sherman: Okay. We have music here and you're going to play what for us next?
Drew Petersen: Next up, I'll be playing Beethoven. Smaller and maybe lesser performed, but very moving and beautiful. Opus 54, Sonata in F Major. It's the small sonata between the Waldstein and the Appassionata.
Bob Sherman: So, we'll have the whole piece then?
Drew Petersen: The whole piece. It's only two movements and it's all of 11 minutes. Can you believe it? Beethoven, 11 minutes.
Bob Sherman: Very good. Very good. And here for those 11 minutes in our studio is Drew Petersen.
MUSIC - Beethoven: Piano Sonata No. 22 in F Major
Drew Petersen, you referred to that as the little Beethoven Sonata. This, uh, F major Opus 54, and it's certainly packed with drama and intensity and everything else.
Drew Petersen: Definitely. It's short in stature, but certainly large in impact.
Bob Sherman: Let me just ask you, you've now played Bach and Beethoven for us. Ravel is coming. Um, how interested are you in newer music reading? We know you had to play the, uh, Zaimont piece that was required, but you had to. Uh, is this something you do because on the protest, because you're dragged in or is there some an area that you are fascinated by?
Drew Petersen: I'm always fascinated by, um, music written very, uh, very contemporary music as in music written yesterday, or in the case of Judith's piece, what was it? A couple months ago? Really. It was really, it was fun to learn the piece. A lot of what I find interesting about contemporary composers nowadays is that they like to mix styles and influences. So, in that sense, I really like playing new music because you really, there is a little bit of a blank slate, not only from our perspective, because we don't have performances to, say, refer back to. But also, the composers feel they don't need to necessarily refer entirely back to one style. And I find that really fascinating.
Bob Sherman: Joel Harrison, what is your raison d'etre for having a required piece and, and especially for pushing the folks to learn it in rather short order.
Joel Harrison: Right. Well, you know, I find it fascinating to, uh, see how does a young musician take a score and he, he referred to as sort of a blank page. Well, it's not a blank page. But, but there's no history with that score, you know? And as he said, you know, you can't go to the library or, or go to iTunes and, and pull up, you know, however many different interpretations that, that you want.
And so, it gives you a, um, an insight into the young pianist imagination and their ability to actually, uh, take the score and translate that into sound. Right. And that's the real test of a musician.
Drew Petersen: Well, obviously Drew Petersen, you passed the test, and, uh...
Joel Harrison: marvelously well, yes. And Judith was present, by the way.
Bob Sherman: Ah, she was? Well, on another occasion, maybe you'll play that piece for us, but meanwhile we have Ravel to come. And that shall follow very shortly after a short break here on the McGraw Family's Young Artists Showcase.
I'm Bob Sherman, and we are celebrating the arrival of Drew Petersen to the winner circle of the American Pianist Association Competition.
Joel Harrison, the administrative director of the organization, the competition is here. And just before we get back to the music, Joel, tell us what the winner really gets. I mean, what's, what's the prize?
Joel Harrison: Yeah. Well, it's, it's pretty extensive, Bob. Um, we value at it well over a hundred thousand dollars. It's a $50,000 cash award. Um, it's two years of career assistance and mentoring through APA. It's a recording contract on, um, Steinway records distributed, um, through Naxos. And then interestingly for this time, uh, and for the first time, the winner is being named Artist in Residence at the University of Indianapolis and will come to the university one week per semester for the next four semesters.
Bob Sherman: Oh wow. So, you really got to get your teaching, uh, stripes in order there. Here, we've had Bach and Beethoven so far, and now you're going to treat us to Maurice Ravel. Um, anything you want to say before we hear the Sonatine?
Drew Petersen: Well, I just like to say that I really love this piece. I think it's one of the most beautiful works in the piano repertoire and one of the lesser played beautiful works in the piano repertoire. I, I really like a kind of saying anecdote that my current teacher, Bob McDonald has about this piece. He calls it the smallest big piece in the repertoire. It's so diminutive in stature and in kind of subtlety and nuance, and yet it is so full of beauty and so full of incredible, incredible just detail and elegance and sparkle.
Bob Sherman: Sounds a little like the Beethoven Sonata you played
Drew Petersen: A little bit. I guess we're kind of on a theme today, aren't we?
Bob Sherman: Well, it's turning out that way. Alright. If you will, Drew, the, uh, Sonatine of Maurice Ravel here in the studio. This is Drew Petersen.
MUSIC - Ravel: Sonatine
And there was certainly plenty of sparkle in that performance of Maurice Ravel Sonatine played here in the studio by Drew Petersen. When you are at a competition, you mentioned the leads. We started off of course, with the Manhattan School and now the APA. Do you try to anticipate what the judges want or what they think might be right or do you go your own way in the heck with them?
Drew Petersen: Um, I think part of the process of learning any piece is knowing the style, knowing and style is a very vague and kind of, you know, a silly word to describe what we're doing as performers, knowing what I think makes logical sense. But at the end of the day, when I'm up there performing, I don't care who's listening because I feel like it, it makes me self-conscious to think that there are these, say five, 10, however many people who are furiously writing comments about what I'm doing every step of the way. And that's no way to perform anything. I feel like that then it's easy then to just lose sight of the whole point of performing, and even in competitions, I find that it's a performance.
In, in great competitions like APA, it really feels like a performance because you're up there under all different circumstances with all different audiences, and there's always a vibrant audience at APA. Regardless of the event, and I think that's what it's really all about. We're sharing great music, great art, and it doesn't matter if we're being evaluated there. In, in many ways I find that the lines between competition and performance for me are becoming increasingly blurred because at the end of the day, I have to please myself, of course, and it doesn't matter whether I'm playing for one other person who knows nothing about the music or you know, say Mrs. Zaimont, who knows everything about the music, or say a bunch of, you know, a bunch of great, great musicians who say have performed all of these pieces dozens, if not hundreds of times in their lives. It doesn't matter. It still has to be totally convincing to me.
Bob Sherman: Well, obviously it has been convincing to me as, uh, we've heard so far, and I'm sure our listeners, uh, who are not evaluating anything but just enjoying, uh, will look forward to the, you'll do the, uh, finale, the fugue of the, uh, Barber Sonata for us.
Drew Petersen: Yes. Yes.
Bob Sherman: Okay.
Drew Petersen: This is a fun piece.
Bob Sherman: Absolutely go. This is one more time for Drew Petersen here in our Young Artists Studio.
MUSIC - Barber: Piano Sonata, Op. 26, IV. Fuga
Well, what we need here is a large audience with a standing ovation, a thrilling performance. Drew Petersen here in the studio, the fugue, the finale of Samuel Barber's piano sonata. So great, thanks. Great. Congratulations to you for the, uh, American Pianist Association win, uh, and say you're going to the Czech Republic momentarily, so that'll be interesting as well.
You have to come back eventually and tell us about it.
Drew Petersen: That would be wonderful. Yes. It's going to be a fun trip.
Bob Sherman: I'm sure it will. And Joel Harrison, congratulations...
Joel Harrison: thank you so much, Bob...
Bob Sherman: to you for all you've accomplished, and it's just been a joy to have you guys here.
Joel Harrison: It's a joy to work with people like Drew.
Bob Sherman: Absolutely. Absolutely. Now, do you suppose in these last moments, we can prevail upon you for a little encore?
Drew Petersen: Sure. I would be happy to. I could play a Earl Wild transcription of a Gershwin song, the Man I Love. I think it's very beautiful. Would you like that?
Bob Sherman: Ah, we would love it indeed. So, uh, if you will, our piano awaits.
MUSIC - Gershwin-Wild: Etude No. 3, The Man I Love
A delicious bonus from Drew Petersen here in the studio. The Man I Love Earl Wild's transcription of Gershwin's song. So, one more thanks to Drew and to Joel Harrison.
Drew Petersen: It's been a wonderful pleasure to be on the show.
Bob Sherman: Thank you. Thank you. And for us as well, I assure you. And with that, our final few words from our great supporter for many years here in the Young Artists Showcase, Terry McGraw.
Terry McGraw: Well, Bob, it's always great being with you and to hear these really wonderful and inspiring musicians and you continue to share their incredible gifts with us every week. I can't wait to hear the fabulous talents you're going to bring us next time on the Young Artists Showcase. And why I'm so pleased to be able to support the series all through its over four decades on WQXR and there's so much more to come.
Bob Sherman: Thank you, Terry. It has been your extraordinary personal enthusiasm and the generous underwriting from the Family Foundation named for your dad, Harold W McGraw Jr. That has kept our young artist coming to WQXR for nearly 40 years. So, I'm both deeply grateful and able to say without fear of contradiction that we'll be back again next week with more great music and sterling performances right here on the Young Artists Showcase. Our engineer tonight was Irene Trudel. Merrin Lazyan is my program partner. I'm Bob Sherman. Goodnight, everybody.
Copyright © 2023 New York Public Radio. All rights reserved. Visit our website terms of use at www.wnyc.org for further information.
New York Public Radio transcripts are created on a rush deadline, often by contractors. This text may not be in its final form and may be updated or revised in the future. Accuracy and availability may vary. The authoritative record of New York Public Radio's programming is the audio record.