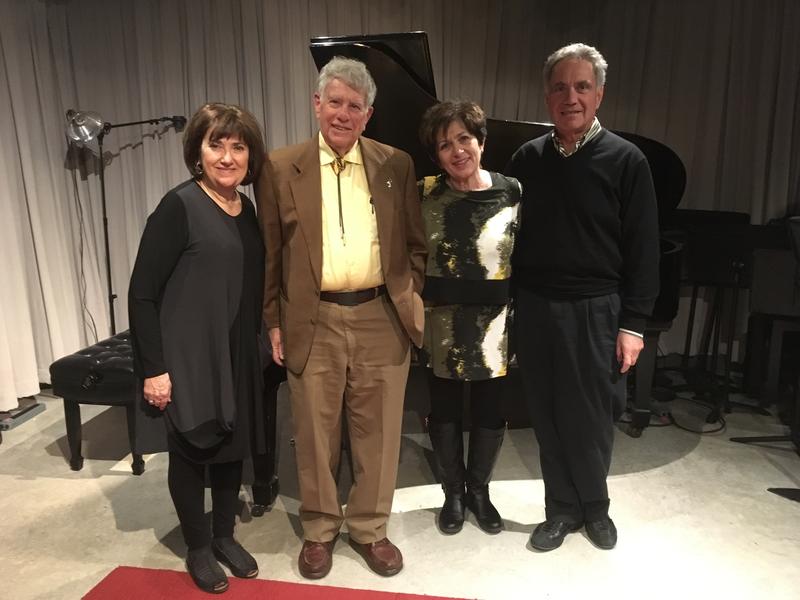 Transcript
Bob Sherman: Hello everybody. I'm Bob Sherman, and it's time to say Happy Birthday to us with a very special gift of music waiting in the broadcast wings on this edition of The Young Artists Showcase.
Yes, it was 39 years ago this week that Harold W McGraw Jr. then the visionary, CEO of McGraw Hill, personally helped launch the little radio experiment we dubbed The Young Artists Showcase. Remember, most of WQXR's programming back then, as basically it is today, involves recordings by the greatest artists in the world.
Would our listeners sit still for live performances by little known players? We weren't sure then, but the answer obviously has been yes, which is why The Showcase has evolved into the longest ongoing series in the history of the station. And that record most likely holds for classical radio all over the country.
And it continues under the ages of the Family Foundation named for Harold and administered by his son and my weekly on-air partner, Terry McGraw. Now my records are not necessarily in the best order, but so far as I can figure out, it was nearly 40 years ago that I first introduced Ani and Ida Kavafian to WQXR, and I am more thrilled than I can say that they have returned to bestow on all of us the best birthday I could imagine: performances right here in the studio.
So, welcome back. What were you doing in 1980 as far as you recall?
Ida Kavafian: You mean when I was six?
Bob Sherman: Yes, yes. When you were a loud child and, and the perfectly appropriate for the Young Artists Showcase.
Ani Kavafian: Wow. Uh, well first of all, congratulations to you, Bob, for this incredible,
Ida Kavafian: ...for sure...
Ani Kavafian: ...anniversary and your, your history and what you've done for classical music all these years in New York. You know, we've all grown up on it, although we were already grown up, but we're really grown up right now.
Bob Sherman: So, which of you is which, Ani? Who came first?
Ani Kavafian: I'm afraid I did, uh, four and a half years before Ida did.
Bob Sherman: Did you give her a hard time as an older sister?
Ida Kavafian: Yes, that was Ida speaking.
Ani Kavafian: No. And this is Ani speaking. No, for sure not. I was thrilled to have a little sister in the house. In fact, I couldn't wait to hold her in my lap. You know, she was born and I, I'm begging Mom that I could hold her. I was four and a half, and of course she started wriggling, you know, wiggling around and she fell on the floor.
Ida Kavafian: She threw me on the floor. Deliberately. And I, any problems I have now are because of that,
Ani Kavafian: my fault completely and anything good is also my doing.
Bob Sherman: Well, in that case you should be very grateful because all kinds of good things have been happening for you. How often do they happen as they are today on our anniversary special? That is together, working together at the same time.
Ani Kavafian: I mean, we play several times a year, uh, normally, mostly in recital, but um, sometimes with orchestra and then in the festivals and sometimes at Lincoln Center.
Ida Kavafian: Mm-hmm.
Bob Sherman: So, so it is not an unusual thing for you to be together, but it's certainly wonderful for us.
Ida Kavafian: We could say it's, it's not unusual, but it's rare enough that it's still great fun and, uh, a great pleasure.
Bob Sherman: Well, we'll talk more later, but you're gonna play for us. And basically, you guys are violinists. But, Ani, do you play viola as well?
Ani Kavafian: I, I play viola. Not as much as Ida does, but I do play viola once in a while. I, I have a little trio where I play viola. It's a clarinet trio so it's good to have that extra bit of different instrument, uh, and different timbres for that group.
Bob Sherman: Is it a big problem- well, I should ask Ida because you're going to have to do it -big problem to go back and forth from one to the other?
Ida Kavafian: It's not terribly difficult.
Bob Sherman: Okay, well then in the Mozart duo, this is the B Flat, Ani will be at the violin, Ida will be at the viola, and we will be the recipient of great joy here in The Young Artists Showcase. You, of course, honorary young artists in this one.
Ida Kavafian: [laughs] Don't look too bad.
Bob Sherman: Okay. Let's have the Mozart.
MUSIC - Mozart: Duo for Violin and Viola in B-flat Major
If we were in Alice Tully Hall or what? Well, one of those festivals. There'd be a roar of applause now, but just us chickens here in the, uh, studio. So, I'll just have to say thank you, thank you, thank you to Ani and Ida Kavafian for that delicious birthday present. We're marking the 39th anniversary of our Young Artists Showcase and boy did you give us a great present. So, many thanks. And there is more to come because, uh, Jonathan Feldman has been sitting patiently waiting to be exploited here. And we will do just that after we take a short intermission here on The Young Artists Showcase.
I'm Bob Sherman. This is the 39th anniversary of the Young Artists Showcase, and thus far we have been celebrating with Anni and Ida Kavafian. Now, we add to the musical mix Jonathan Feldman, our pianist of honor. Greetings, John.
Jonathan Feldman: Good to be there.
Bob Sherman: I, I will tell you something that I don't think any of you know. I had a request for this program today. I asked Ida and Ani for the Moszkowski Suite because they played it long ago and I, I flipped out. Matter of fact, I think one of the first times I heard it was in, uh, California. You were at some sort of a festival out there, and I specially asked for the piece, and they specially asked for you. And, when I went back to look at our records, I found that the first time you were on QXR that I could figure out was 1988 and the occasion was a program with the Kavafians. So, John, you've been hanging around with the sisters for quite a while.
Jonathan Feldman: Well, we went to school together, uh, in Julliard pre-college. So, we've known each other since the ... a long time.
Ida Kavafian: Yes. Right.
Jonathan Feldman: It's about that long. And interestingly enough, I have been on QXR even before that, Bob, in 1967.
Ani Kavafian: Wow. Oh my God.
Jonathan Feldman: You used to have a competition for pianists for high school, and, um, I was a sophomore in high school when I came here for the very first time.
Ida Kavafian: Did you win?
Jonathan Feldman: You know who won?
Ida Kavafian: Who?
Jonathan Feldman: Andre Schub.
Ida Kavafian: Oh, no way.
Ani Kavafian: Fantastic. You're in good company, right?
Jonathan Feldman: And I came in there with him
Ani Kavafian: oh, nice, nice.
Jonathan Feldman: I got the second prize.
Ani Kavafian: Good.
Jonathan Feldman: But, so I've, I've been involved with QXR, and I've heard all these wonderful voices for all these many years, and it's good to see you and hear you.
Bob Sherman: Yeah. It's so wonderful to have you back here. Now you've been, uh, teaching variously at Juilliard and NEC, yes?
Jonathan Feldman: Yes. I have been at Juilliard since 1989, and I've been at NEC now for, I think this is my sixth year.
Bob Sherman: Now, Ani and Ida, you teach also variously, Curtis, Yale, you all three seem to be enjoying life a lot as a performer and as a teacher. So, you guys are in a good spot.
Ani Kavafian: We got real lucky, real, real lucky.
Bob Sherman: Well, I feel exactly that way with all three of you being here. As I said earlier, I don't know if you heard Jonathan there, we are all now honorary young artists. And uh, I certainly am being a lot older than all three of you. I feel very lucky to be here and being able to do some little, some little service to the upcoming generation. So, I guess we're all in the same boat. Oh, that's, we're all having a great, good time while we're doing it.
Jonathan Feldman: That's great.
Bob Sherman: And now, we've got to put you to work. And I, uh, this is, I guess, a little even more demanding than the Mozart we heard earlier, the Moszkowski. I guess you've been playing...
Jonathan Feldman: ...Well, the Mozart was easy for me.
Bob Sherman: Yeah, yeah, yeah. I noticed you smiling a lot. So that was a,
Jonathan Feldman: it was incredible performance,
Bob Sherman: but the Moszkowski, as I recall it, has a lot more virtuosity to it.
Ida Kavafian: Very different piece.
Bob Sherman: And of course, it's two violins and piano.
Ida Kavafian: Mm-hmm. That's right. Uh, you know, but I find always, always, always, that when you try to play Mozart, it's the hardest thing to do because everything is very exposed. And, uh, every note counts. Um, the Moszkowski is a, a great deal of fun and there's a lot of virtuosity, but I, I find the Mozart harder for myself.
Ani Kavafian: Yes.
Ida Kavafian: I don't know about you.
Ani Kavafian: I would've to agree.
Bob Sherman: And with that, we'll send you over to our performing center, which is really the, just the middle of the same room here. But, uh, you know, we like to, like to build things up a little bit and we will hear the Moszkowski Suite played by Ani and Ida Kavafian, both at the violin now and pianist, Jonathan Feldman.
MUSIC - Moszkowski: Suite in G minor for Two Violins and Piano
Wow, what a performance here in the studio. Now you know why I asked for the Moszkowski Suite by Ani and Ida Kavafian and Jonathan Feldman. Just absolutely marvelous and, uh, incredible birthday present here on this 39th edition, 39th year, I should say, of The Young Artists Showcase. Now at the risk of being greedy, while all three of you here, I would love to have an encore. Ida, why don't you tell us about the Komitas piece that you have?
Ida Kavafian: Komitas Vardapet was an Armenian monk and sort of the father of Armenian music, and this piece that he wrote is called The Crane, Gurung, in Armenian. And it is said that it represents the flight of the Armenians from their homeland. So, it's a very dear piece to all Armenians, and especially to Ani and me.
Bob Sherman: And Ani, I believe you arranged, or you both arranged the Gershwin. How did that come through?
Ani Kavafian: Yeah, I, I started arranging the Gershwin and then Ida helped me with some parts of it for sure. But this is not just my arrangement. This is a Heifetz arrangement of "It Ain't Necessarily So", and I just did it for two violins, giving everybody something to play.
So, both of these pieces actually, uh, we arranged, um, there, the first one, the Gurung, is actually for voice and piano. And I changed it to two violins.
Bob Sherman: Well, of course. Alright, if we will, our encores here in the studio, Ida and Ani Kavafian, we will do it that way for once. And, uh, Jonathan Feldman returning to the piano.
MUSIC - Komitas: Gurung
MUSIC - Gershwin (arr. Heifetz and Kavafian): It Ain't Necessarily So from Porgy and Bess
A final bit of icing on our 39th birthday cake here at the Young Artists Showcase, and as, I guess I didn't really have to tell you, "It Ain't Necessarily So" from the Gershwin's Porgy and Bess arranged originally by Jascha Heifetz and then fixed up by Ida and Ani Kavafian for two violins and piano. The pianist, of course, Jonathan Feldman. And so, with great thanks all around, we proceed to our final words from Terry McGraw.
Terry McGraw: There's nothing more satisfying than seeing some of the wonderful young musicians we introduce on Young Artists Showcase. Go on to become part of our musical mainstream, and it happens all the time on this program.
Last March, for instance, four of the five superb artists who received Avery Fisher Career Grants had already been featured on the showcase. It shows we're not only on the right track but leading the way towards a great American future in the arts. I hope you'll all join us again next week.
Bob Sherman: Thank you, Terry. Back in the fall, we heard performances by the five finalists of the American Pianist Association National Competition, an extended season long event that culminated a few weeks ago with this selection of Drew Peterson as the grand prize winner. Next week, Drew will tell us all about it in person when he visits the studio and brings us music of Bach, Barber, Beethoven, and I guess just to break up the alliteration, Maurice Ravel. We'll also learn about these unique auditions from their director, Joel Harrison. So do try to come back with us. Then the Showcase is flourishing in this 39th year on WQXR through the personal enthusiasm of Terry McGraw and the generous underwriting of the Harold W McGraw Jr. Family Foundation. So deep thanks go out to them along with my production partner at the station, Merrin Lazyan. I'm Bob Sherman. Goodnight, everybody.
Copyright © 2023 New York Public Radio. All rights reserved. Visit our website terms of use at www.wnyc.org for further information.
New York Public Radio transcripts are created on a rush deadline, often by contractors. This text may not be in its final form and may be updated or revised in the future. Accuracy and availability may vary. The authoritative record of New York Public Radio's programming is the audio record.