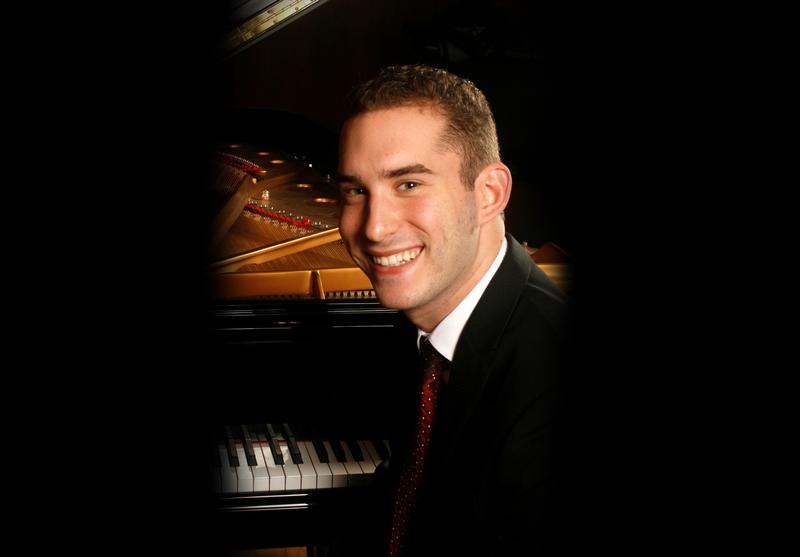 Transcript
Bob Sherman: Hello everybody. I'm Bob Sherman and we have a concerto night for a change with music of Mozart and Sibelius sharing the spotlight on this edition of The Young Artist Showcase.
Every week we break another longevity record on WQXR as we move ever closer to our 40th consecutive year of weekly broadcasts, celebrating outstanding emerging talents. For all of these nearly four decades, there has been a McGraw in our musical picture. Terry McGraw, of course, is my honor guest every week.
It was his father Harold W McGraw Jr., who introduced our very first showcase, and the series now flourishes through the generous underwriting of the McGraw Family Foundation. Now I have admired the warm and sensitive playing of Mackenzie Melemed since 2012, when he was a prize winner at the sixth New York International Piano Competition and made his debut here on the Young Artist Showcase.
Later I invited him to play at the Ossining Recital series in memory of my mother, pianist, Nadia Reisenberg, and just this past fall, Mackenzie played most beautifully at Julliard as winner of the school's 2016 Gina Bachauer competition. He's now working there, by the way, with Robert McDonald in an accelerated degree program.
So, he's both a senior and a first-year master's student at Julliard. Now the Ossining recital I mentioned, and the New York Piano Competition are both supported by the Stecher and Horowitz Foundation, and so was a concert last month at Grace Church in White Plains when Mackenzie Melemed played Mozart's Piano Concerto number 23 with the Downtown Sinfonietta, led by Vincent Lionti, the maestro whose day job, and I guess most evenings too, is playing with the metropolitan opera orchestra. Gave me a fascinating insight into the scoring of the performance, which uses an early 19th century chamber edition. It's for nine string players plus two small natural horns.
Corno da caccia, as they're known, these are the instruments that were used in Mozart's Day and they are notoriously difficult to play in tune. The daredevil natural horn players here, Douglas Meyers and Andrew Garcia with the string contingent using modern instruments conducted by Vincent Lionti. Soloist as noted Mackenzie Melemed.
MUSIC - Mozart: Piano Concert No. 23 in A Major, I. Allegro
Mozart's A Major Piano Concerto Number 23 Köchel 488, if you're counting, in an early 19th century chamber setting for nine strings and two natural horns. Played at Grace Church in White Plains last month by returning showcase alumnus Mackenzie Melemed with Vincent Lionti leading the Downtown Sinfonietta. It was a delight to welcome back Mackenzie to WQXR, and I'm equally pleased to present the showcase debut of Violinist Annelle Gregory, and that we shall after a short intermission on McGraw Family's Young Artist Showcase.
I'm Bob Sherman, and as you regular listeners know, I often feature musicians on the rosters of young concert artists and the Concert Artists' Guild. Two New York based organizations, devoted, as are we on the Showcase to the development of emerging talent, and that goes for Astral Artists of Philadelphia, with essentially the same mission. Now, there's another extraordinary organization with similar goals, but a more specific focus. It's centered in Detroit, and it's Sphinx whose stated purpose is to transform lives through the power of diversity in the arts.
It was founded by Aaron Dworkin, now Dean at the University of Michigan. But 20 years ago, a struggling young Black violinist acutely aware of the lack of concert hall diversity, both onstage and in the audience. Among many other activities designed to create positive change in communities across the country, Sphinx holds an annual competition for Black and Latino string players, and it is an Annelle Kazumi Gregory, the winner, both of the top prize and the audience award at the 2017 auditions, and it's she, I'm proud to induct into our Young Artist family. She lives out on the West Coast, but tonight we can eavesdrop on one of the performances that took Annelle to the winner's circle this past February, huh was on Lincoln's birthday aptly enough. The first movement of the Sibelius violin concerto with Thomas Wilkins conducting the Sphinx Symphony Orchestra.
MUSIC - Sibelius: Violin Concerto, I. Allegro
Annelle Kazumi Gregory in Detroit this past February 12th on route to the top prize at the 2017 Sphinx National Competition. And that Sterling performance was of the first movement of the Sibelius violin concerto. Thomas Wilkins conducting. Meanwhile, since we do have some time left over tonight at the Yamaha Artist Center in Moscow, she was joined by pianist Alexander Sinchuk, himself a native of that city and a graduate of the Moscow Conservatory, for the D Major Sonata of Prokofiev.
Again, this is the first movement.
MUSIC - Prokofiev: Piano Sonata No. 2 in D Major, I. Moderato
Very expressive playing this time in Moscow violinist Annelle Gregory. First moment of the Prokofiev D. Major Sonata. I understand that in addition to the fiddle, she plays piano, drum set, flamenco guitar, she composes rock songs. And is an excellent Russian cook. However, I digress, and we'll make amends by looking ahead to next week of the showcase after a few closing words from our benefactor in chief.
Terry McGraw: When my father Harold W. McGraw Jr. started the Young Artist Showcase in January of 1978, I might say also along with you, Bob, he hoped it would encourage young musicians and alert the rest of us to their remarkable accomplishment. What I don't think he foresaw is that our WQXR program would continue to flourish for nearly 40 years, becoming the longest such underwritten series in American radio history. I'm proud to be a part of this legacy. And I'm proud to be here with you, Bob.
Bob Sherman: Thank you, Terry. Next week we will anticipate the New York debut of the intriguingly named Impromptu String Quartet, winner of the 2017 competition of Florida's Lynn Conservatory. Not sure what the group will be playing at the Kosciuszko Foundation at its May 2nd recital for the Lyric Chamber Music Society of New York, but for us it'll be Mozart and Brahms.
Merrin Lazyan will be at the producer's desk. And as usual, I'll add personal thanks for the support of Terry McGraw and the generous underwriting from the Harold W McGraw Family Foundation that keeps our Young Artist Showcase alive and flourishing well along in this 39th year on WQXR. I'm Bob Sherman. Good night, everybody.
Copyright © 2022 New York Public Radio. All rights reserved. Visit our website terms of use at www.wnyc.org for further information. 
New York Public Radio transcripts are created on a rush deadline, often by contractors. This text may not be in its final form and may be updated or revised in the future. Accuracy and availability may vary. The authoritative record of New York Public Radio's programming is the audio record.