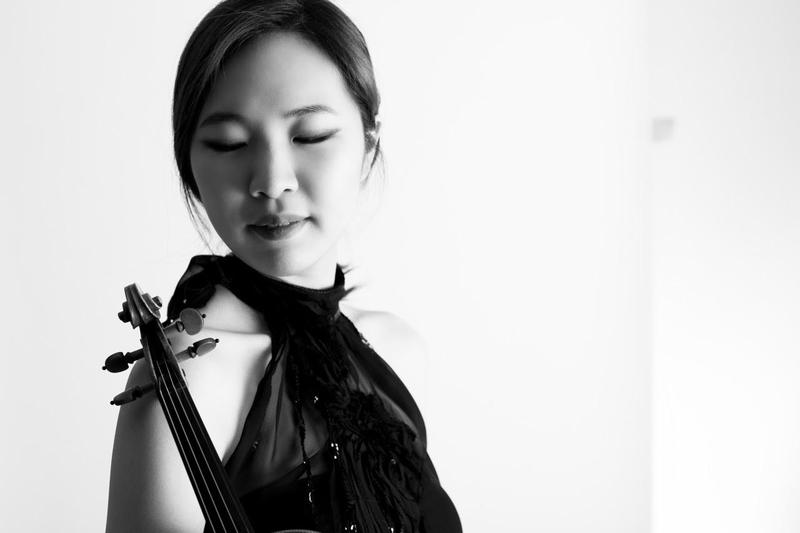 Transcript
Bob Sherman: Hello everybody. I'm Bob Sherman, and today we make a new friend and welcome back a prized alumnus as Danbi Um and Orion Weiss team up on this edition of the Young Artists Showcase.
Yes, we're at our 41st year of weekly broadcasts here on WQXR, for which high thanks are due to the Harold W McGraw Jr. Family Foundation. You'll often find Danbi Um and Orion Weiss playing for the Chamber Music Society of Lincoln Center. But tonight, they're here in the studio for our own private recital, which will begin with a piece by Joseph Achron. I know his Hebrew Melody, but not this miniature, intriguingly titled La Romanesca. Danbi and Orion, if you will.
MUSIC - Achron: Hebrew Melody
Bob Sherman: Very lovely piece that I'm hearing for the first time by Joseph Achron. Beautiful performance here too by Danbi Um and Orion Weiss. Come on over to the table folks. And Danbi you got here first. So, what do you know about La Romanesca? What does the title mean? Do you know?
Danbi Um: Um, it's actually a 16th century, um, Spanish galliard. And it's, um, it's actually unknown who wrote the piece, but Joseph Achron is the one who, um, arranged it. And so obviously the first intro where it's just the violin that is very much by Achron, so he added the Jewish, uh, flavor to the piece.
Bob Sherman: Fascinating. Now, we've known Orion Weiss I have-
Orion Weiss: For many years
Bob Sherman: -since he was a tiny child and won the uh, Gina Bachauer Award at Julliard. But you gotta tell us how you and Orion. Got together cause you've played frequently now.
Danbi Um: Yeah. We first played together about two years ago at a CMS patron house concert. Uh, and then we played last April at, at the recital at CMS
Bob Sherman: CMS but for listeners means chamber, the, it's such a long title.
Danbi Um: It's a long title, but it's the Chamber Music Society of Lincoln Center, um, which is where we both met, um, as we are both artists there.
Bob Sherman: Right. So, Orion chamber music is now a very important part of your life I take it.
Orion Weiss: Yes. You know. Yeah. Actually, the thinking back to 2003, which I think when we met, I didn't play as much chamber music, but now it's definitely part of the, the, the sort of complex tapestry of my career. I'm doing a lot of different things, but I always come back to chamber music and I love it, and so, and I've met so many great musicians and have been inspired by so many people because of that world.
Bob Sherman: And Danbi how about you? Are you content with chamber music, are you gonna go off and do, uh, Sibelius concertos and things too?
Danbi Um: I mean, I, I also really love playing chamber music because you actually get to play with many different people and oftentimes, they're a lot greater than I am. So it's, it's, it's. It's always a very much of a learning experience.
Bob Sherman: So, it's not intimidating to play with?
Danbi Um: I mean, it's intimidating if I'm not prepared.
Bob Sherman: Ah, I see.
Danbi Um: So, there's, I mean it's intimidating cause I'm, I would get insecure, but I mean, as long as that's not the case, then it's very inspiring because they're, you know, I mean every artist has so much to say
Bob Sherman: Indeed. So, what would you like to say next, musically?
Danbi Um: We will continue with the, uh, it's called Much Adu about Nothing by Erich Korngold. The title itself is a play by Shakespeare. So, he first wrote it as an orchestra version, and then he later, um, arranged it for violin and piano. And we'll play the first movement, which is called uh Maiden in the Bridal Chamber, and the third movement, which is called the Garden Scene, and the fourth movement, which is called Hornpipe.
Bob Sherman: Wonderful. Another performance coming up here in our studio, Danbi Um and Orion Weiss.
MUSIC - Korngold: Much Ado About Nothing Suite
Maiden in the Bridal Chamber, 2. Scene in the Garden, 3. Hornpipe
Bob Sherman: Delightful music and far cry from all those swashbuckling film themes that, uh, Korngold did. But this was his, or excerpts from his Much Ado About Nothing suite but we have had a wonderful performance here by Danbi Um and Orion Weiss.
You both spoke earlier about the love for chamber music and the fact that it allows you to interact with a lot of different artists and get inspired in a lot of different ways. But what about the two of you? What sparked when you played together and you said, oh, this is not just one nice time, but something we wanna do again.
Danbi Um: Actually, the first thing that I noticed that when we started to play together, I mean, which I liked the most, was that we didn't really have to talk too much about, oh, let's do this and that. I mean, if we just like play it again, like couple times that I could probably feel what, what he's doing and you know, he's so sensitive to what I'm doing and, and I see that he like sometimes, he doesn't even look at me, but it's so together and I don't even know how he, how he does it. Um, and the, the other thing is that with some other pianists, I really have to kind of like initiate and lead and, um, do all the, do all the music making. But oftentimes when I play with him, I just, I go with him because there's so much that he has. And that he, you know, he has to say. So, I don't always feel like I'm in charge of that.
Bob Sherman: Well, Danbi doesn't know how you do it.
Orion Weiss: Well, I don't know how she does it either. I've always, from our first meeting, I thought there was so much spontaneity and creativity and, and personality in her playing that it just, it makes the collaboration so exciting and sort of fresh. Even, even pieces that we worked on for a while, uh, we'll come back and it feels like both like we know it and we know how to play it together, but it's still, it's new, new again. So, we had that from the, from the first time we read together.
Bob Sherman: But when you have prepared a piece, we're gonna do the Strauss Sonata. When you have prepared that, you have probably played it with other violinists, just as you have undoubtedly played with other pianists. So, you. I don't wanna say you're set in your ways, but you have come to what you feel is the, is the right way to approach the piece, and then all of a sudden you come together with a different piano. So how do you switch gears that way?
Orion Weiss: Well, I sort of feel like. Even after having performed a piece numerous times, I never feel like, okay, that's how it goes. Let's, let's lock it down and make everybody else play it that way. It never sort of, it never gets to that point. It's, it's more like, well, that was one of infinite possibilities, and, and so with each new person you play with, you, you see different facets of the work, just maybe different ways the phrases could go, different articulations, different emotional ideas, different sort of psychology of the, of the piece. And, and so, so each time is, is like, it's like new is learning it again. And so it helps not to write thing, everything down. You have to have to be there.
Bob Sherman: What about when you are playing or recording solo works?
Orion Weiss: Yes. Even in, in those opportunities when I'm, when I'm spend time in a recording studio, I try to play every different way I could think of it within a coherent interpretation, but just so that there's some options when we edit. And so if I really hated one way, I have have some, I have some things I could choose from.
Bob Sherman: Danbi what about you? When you approach a solo piece do you feel a sense of freedom?
Danbi Um: I'm actually really, intimidated to play solo violin works cause I have nobody to count on or like, nothing to really inspire me. So, I mean, I, I've, I've, I find solo pieces the most difficult and not the most satisfying. So I really love playing with piano.
Bob Sherman: All right. I mentioned Strauss would you like to do that?
Danbi Um: Yeah. Yeah.
Bob Sherman: This will be the, uh, first movement of the Richard Strauss Sonata. And this is the E Flat major Op. 18. And this of course a further performance here in the studio by Danbi Um and Orion Weiss.
MUSIC - Strauss: Sonata in E-Flat Major, Op. 18
Allegro, ma non

troppo
Bob Sherman: And this time we've had high drama here in the studio. Thrilling performance, the first movement of the Richard Strauss sonata, really fine performance here in the studio by violinist Danbi Um, pianist Orion Weiss. And there's more to come. So do stay with us on the McGraw Family's Young Artist Showcase.
I'm Bob Sherman and we are having a wonderful session here in our Young Artist series with Danbi Um and Orion Weiss. And Orion I'd like to pick up on something you said earlier on when you were in a recording studio and you wanna do something that you hated a lot that you, you could edit and to a different version. How aware are you of how you are playing in that recording session when you did something and you hated it, were you aware while you were doing it that this isn't coming out right?
Orion Weiss: Yeah. That, that ability to project your own listening ear outside of yourself and and hear what you're actually doing, it is hard. And that's something that we always are all working on all the time. But in a way, you, you don't really hear yourself the way that other people hear you. Well, because you also are listening with all this whole set of baggage, all the practice sessions, all the time you put into, into working at all the things you, you expect from the passage. So it happens in concert all the time. You play a concert, you think, oh boy, that that couldn't have gone worse. And people who haven't heard. You know, they don't know what you could have played or how, how you wish it sound. They think it sounds, it sounded fine or it was great. Maybe even it was better than you think. So, you know, the answer is probably no. You don't really know how you sound when you're sounding, when you're, but you try to have as much awareness of it as possible and, and just try to not imagine you're doing something that you're not doing. You know, be aware of what you're doing is hard.
Bob Sherman: Danbi does that register with you? Do you feel a similar way that you try to sense what you have accomplished, but it's not necessarily what you hear back when you record?
Danbi Um: Yeah. And there's actually a big difference, um, when I listen to a playback of me playing, say from last night and then when I, when I listen to it in six months. So also my perceptions change, and as Orion was saying that sometimes you think it's, it just cannot be worse. And then people actually think, you know, it's, it's not as bad. And then there's the other way too, when you think, oh, that was a great concert. And then it's like, aw. And then when you come back to it in two or three months, it actually doesn't sound as good as you hope that it did.
Bob Sherman: Well, it's a very difficult life, I guess, being on stage all times and, and hoping for the best.
Orion Weiss: We think I, I don't know. I tend, I tend to think that the doubting and the constant self-criticism and the tearing down is actually a healthy part of what we do. Cause if we ever get to the point like, that's how we should play and that's perfect and I don't wanna change anything, then you maybe will stultify and, and, and not. Continue to grow like we hope we're doing all the time.
Bob Sherman: All right, we're going to move to a piece by Jenő Hubay and it's called Scènes de la Csárda. What can you tell us about the piece? Where'd you find it Danbi?
Danbi Um: So when I came across this piece a few years ago when I was looking for some show piece for violin, and you know, there are a couple of them and a lot of them I don't quite like. So I went to do some research and I actually really like the music of, uh, Hubay because when he writes very virtuosic pieces, it's not just about like arpeggios and octaves. I mean, he actually writes really beautiful melodies and he actually wrote about 20 of these. So this one is number three.
Bob Sherman: All right, if you'll begin our csárda, we will have another performance here in the studio by Danbi Um and Orion Weiss.
MUSIC - Hubay: Scènes de la Csárda No. 3, Op. 18
Bob Sherman: Yes, terrific. This was the Csárda No. 3 of Jenő Hubay. If you want the other 17, you'll have to come back on another occasion, but this one we enjoyed enormously in the performance here in the studio. Danbi Um and that may have been a virtuoso violin piece, but poor Orion Weiss kept pretty busy there too. Before I forget, I wanted to ask you about the Salon de Virtuosi grant that you're about to receive, except you won't be there.
Danbi Um: No, I, I'll be in Costa Mesa on the day that they award the awards and they have the gala.
Bob Sherman: And I'm sorry, the reason, part of the reason we set up this session, is that because you're not gonna be there. We regularly use the Salon de Virtuosi grant event as our New Year's special here on the showcase. But we're gonna miss you. So that's why we wanted to make sure you came in earlier. I also want to ask you guys about repertoire. Now, you've already brought us two pieces that, this one and the, uh, Achron earlier on, that I really had not heard before. How do you find your music? Do you specifically look for pieces that are neglected or forgotten, or just don't get around much?
Orion Weiss: Well, Danbi found all these things. She's, she's the sort of the, the repertoire sleuth who just, uh, sort of has been discovering wonderful things that people don't, people don't know. And for our concert last year, created this whole program, which had a, a clear theme, which is sort of like the expressive romantic Jewish Russian violinist. And she put together all these things that were so, so fun to, to learn, but that most of them I had never heard before.
Bob Sherman: Where did this interest in this kind of music come from?
Danbi Um: Well, I've, I mean, I've always really liked Jewish music and also, um, Jewish violinists, well, I guess all the old great artists were mostly Jewish violinists. Um, I also lived in Israel for two and a half years.
Bob Sherman: Oh, really? I didn't know that.
Danbi Um: I met a teacher there, um, Hagai Shaham with whom that I really wanted to work with, so I just went there.
Bob Sherman: Wow. Okay.
Danbi Um: But I, so I do love Jewish music. I also love Eastern European music like Hungarian and Romanian kind of music. You know, I also love like the Viennese kind of Hollywood, that kind of music too. So like Korngold and Kreisler.
Bob Sherman: Well, we'll get to Kreisler in a minute. You mentioned Orion when you came in that you have a new cd. What's on that?
Orion Weiss: Oh, you're so nice to ask. I, I recorded three pieces all from right before World War I, the complete Goyescas of Granados. So that's a six piece suite, about 50 minutes long. And, you know, he, he, he died in a submarine. Um, he died when he was attacked. Uh, anyway, it's all sort of World War I themed, um, program. So Goyescas of Granados. In the Mists of Janáček which is from 1912. And then the, the ninth Sonata of Scriabin, um, which is, which is from 1913. So I thought the, the, you know, you don't have to name an album. It could have just been called Orion Weiss number, number four. But, but, but I, I called it Presentment, so it's, you can, you can find it online.
Bob Sherman: Very good. All right. We are going to have a finale and it takes us to one of the composers you just mentioned. Don't go away Danbi, uh, you talked about Fritz Kreisler and there of course one of the great violinists of all time. So again, did you look at his rec or listen to his recordings as you were preparing this, or did you stay away from that?
Danbi Um: Well, I first went through all the lists of compositions that he wrote for violin and piano, and a lot of them I knew, but this one I really didn't know. I mean, first of all, the title is three times longer than other pieces, and also the duration. Um, but I, yeah, there is, there is a, a recording of him playing this. There's also a great recording of Oscar Shumsky playing this piece which is kind of where I first heard it and I thought, oh, I've never heard this piece before. But it's great.
Bob Sherman: But you're right, the short Kreisler pieces get played all the time as encores, but you can't have an eight, nine minute encore, I guess.
Danbi Um: I think, I think this is probably one of his only salon works for violin and piano. That's um, for about nine minutes cause all the other ones it's probably under four minutes.
Bob Sherman: Well the title you said there are three words and there are Viennese Rhapsodic Fantasietta. So that's a pretty daunting title. And uh, we'll see what the music sounds like. If you will, guys. Again, here in the studio, Danbi Um and Orion Weiss.
MUSIC - Kreisler: Viennese Rhapsodic Fantasietta
Bob Sherman: We have had some fabulous playing here in the studio today by Danbi Um and Orion Weiss, but also met a number of pieces that I don't recall having ever used on the Young Artists Showcase before. The Kreisler piece just now, I must have heard it. I think I heard that same Oscar Shumsky recording way back when but, uh, not lately. Viennese Rhapsodic Fantasietta of Fritz Kreisler. Just come over for one last thank you. And any, any plots and plans to record some duos?
Orion Weiss: Some of this stuff needs to be put down, you know?
Danbi Um: Yeah, yeah. I would love to.
Orion Weiss: Yeah, we should.
Bob Sherman: What sort of repertory would you go for, would you, this kind of pieces that we've heard today that are less, less familiar, or do you wanna go the route of the big ones.
Orion Weiss: Just do the Beethoven Sonatas.
Danbi Um: Oh no, that's too hard. I mean, we, we actually have a lot of other pieces also that we have, uh, played.
Bob Sherman: Alright, well it's been a joy to have you here. Thank you much. Great good luck to you guys. And with that we'll pause for our final greeting from. Terry McGraw.
Terry McGraw: Thanks Bob. And on the eve of our great national holiday, I'm enormously grateful that I've been in a position to support your splendid work on the Young Artist Showcase. There really is no greater satisfaction than knowing that we've been able to recognize and salute so many musical talents through the years. And we're continuing to do so through the Family Foundation named for my father. So here's wishing all of our listeners much family joy and a happy holiday tomorrow.
Bob Sherman: Next week pianist Matei Varga, violinist Cristian Fatu and Cellist Mihai Marica here in the studio, the better to anticipate Romania's National Holiday. Our engineer tonight was Irene Trudel, my production partner, as always, Merrin Lazyan and I'm usually Bob Sherman. Good night everybody.
Copyright © 2022 New York Public Radio. All rights reserved. Visit our website terms of use at www.wnyc.org for further information. 
New York Public Radio transcripts are created on a rush deadline, often by contractors. This text may not be in its final form and may be updated or revised in the future. Accuracy and availability may vary. The authoritative record of New York Public Radio's programming is the audio record.