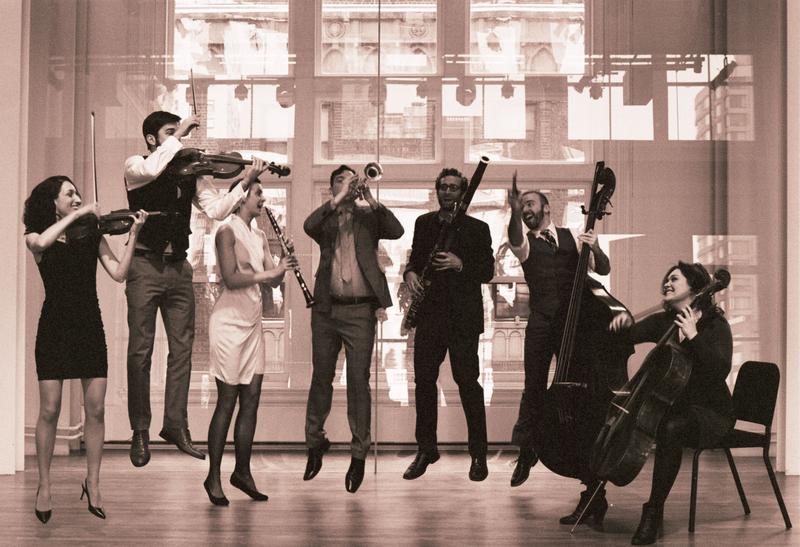 Transcript
Bob Sherman: Hello everybody. I'm Bob Sherman. Decoda, as most New Yorkers know, is a landmark building on West 72nd Street. Decoda, on the other hand, is a great musical collective we'll meet tonight on this edition of The Young Artists Showcase.
Welcome to another session of fine music performed in concert by top-notch young musicians. Our series underwritten with high community pride by the Harold W McGraw Jr Family Foundation. Today, as I just indicated, we'll be meeting a superb gaggle of young musicians who make up Decoda, which, just to be clear, is spelled D E C O D A. In a way, though, their story goes back 10 years when Carnegie Hall, Julliard, and the Weill Music Institute formed an academy to help jumpstart the careers of outstanding solo and chamber players.
Unfortunately, I think the group was saddled with the clumsy title of the ACJW ensemble. It now functions more agreeably as the collective ensemble, but that's a story for another day. This one is about Decoda, which was organized five years ago by a fairly large group of ACJW alumni and has its own agenda of serving many types of audiences with interactive concerts and enlightening musical discussions.
Decoda also has developed a number of its own educational projects, including the Skidmore Chamber Music Institute, a two-week intensive training session at the College in Saratoga. Among the participants will be several showcase alumni among them trumpeter Brandon Ridenour, cellist Claire Bryant, double bassist Kris Saebo, and pianist Michael Mizrahi, and me too since I'll be narrating Stravinsky's story of a soldier with Decoda. For this first performance, though, we will think back to a concert last spring at Indiana's University that included Bach's Brandenburg concerto number 2.
MUSIC - Bach: Brandenburg Concerto No. 2 in F major
Bach's 2nd Brandenburg Concerto performed at DePauw University by the musicians, collectively known as Decoda. One of the prime movers in the group is trumpeter Brandon Ridenour. You may recall he gave us a great studio session two and a half years ago, and interestingly, he opted for the mellower sound of the flugelhorn rather than the piccolo trumpet we normally hear in Bach.
Anyway, Brandon is an inveterate arranger as well as a virtuoso, and he sent me his transcriptions for Decoda of three solo piano excursions by Samuel Barber.
MUSIC - Barber: Excursions, Op. 20, Mvt. I, II, IV
The engineer cut the applause, but those were indeed live performances by Decoda at the ensemble's Skidmore College Institute. Three Samuel Barber piano excursions reworked into a quintet by Brandon Ridenour, who was on trumpet joined at flute clarinet, viola, and double bass by fellow Decoda players Katherine Gregory, Alicia Lee, Nathan Schramm, and Chris Sabo. Short break is at hand now, after which the aforementioned soldier will tell his tale here on the McGraw Family's Young Artists Showcase.
I'm Bob Sherman, and on the Young Artists Showcase, tonight, we have been enjoying performances by the superb musicians, collective known as Decoda, and now comes a preview of the concert at Skidmore College when one of the featured works will be Stravinsky's l'histoire du soldat. The group played excerpts at the same DePauw University concert that yielded the second Brandenburg, which opened our broadcast tonight. So with explanatory narration that I'll provide along the way. Here comes a somewhat abridged story of a soldier.
MUSIC - Stravinsky: L'Histoire du Soldat (narrated by Bob Sherman)
[Narration begins]
Down a hot and dusty road, tramps a soldier with his load. Just 10 days leave he has to spend. Will his journey never end? Marching, marching through the day. Soon, he will be home to stay.
He stops in a glen, just to rest his feet, pokes through his kit for a bite to eat. He brings up packages tied with strings: a mirror, cartridges, all sorts of things. Until right in the middle, he pulls out an old brown fiddle. It didn't cost much. The wood is all split, but playing it lifts his spirits quite a bit.
Enter the devil disguised as an old man, he goes to the soldier, holds out his hand, "Give me your fiddle."
"No."
"Sell it to me."
"No."
"I'll give you this book for it then."
"Can't read."
"Makes no difference with this book there's no need. It's more than just words. Open it. Low and behold, bank notes and stock. Silver and gold."
"If it's worth all you say your little book, this old fiddle of mine isn't worth a second look."
"So, you've got a bargain there for real."
"I guess so. Okay. It's a deal."
"Done. This is my fiddle here. That's your book there. Each to his own, and so it's all square."
It was more than a book, as the devil foretold. It meant jewels and diamonds and wealth untold. The soldier was rich, could indulge every whim. All the best things in life were waiting for him.
"It's mine. All mine," said the soldier so tall. "I have all I want, I I I have nothing at all. What am I saying? What's the matter with me? I have everything and yet, oh, now I can see. There's the answer to the riddle. My soul was resting in that fiddle. All I want, all wealth can provide; they don't mean a thing if you're empty inside. Oh, to have still what I had before: the true, the loving things that I have no more. Just to stretch out on the grass, so good to feel. Things that cost nothing but things that are real. Children playing hopscotch and ball. You smile as you pass them by the sun-baked wall. Simple things that are warm and caring. The only things really worth the sharing."
The soldier travels to another land, a kingdom on the frontier band. He sees an inn, orders a shot, drinks it down. Yes, but now what? Suddenly, a herald arrives at the inn.
"Here ye, hear ye this word from the king. His daughter, the princess, lies so deathly ill. She won't eat. She can't sleep. She has lost all her will. Whoever can raise the princess from her bed, that man the fair princess shall wed."
The soldier thinks, "Hey, I have nothing to lose, and doctoring is easy. It's whatever you choose. I'll go in, I'll say I'm an MD. She's cured. She's not. It's worth it to see."
So, he goes to the palace with book in hand. Its pages will serve as his magic wand. The guard at the gate answers his ring. "What do you want?"
"What do I want? To see the king."
"Well," says the soldier, "So far so good. Went off just as I thought it would. The king received me, the king no less. 'Am I a doctor?' He asks. Well, an army doctor, yes. So tomorrow I see the princess, a girl to call my own. It's only right after so many years alone."
The sorcery works. The princess awakes. She smiles. She sits up. Of food she partakes. Yes, the soldier indeed, was as good as his word. The princess is cured, feels light as a bird. He takes her hand. And having broken this spell, they dance this tango next the waltz and some rag time as well.
Their arms are entwined now, champagne on the table. Will love bring a happy end to their fable? No. The devil furious at losing his prey, schemes in the end to get his own way. They're safe in this kingdom he knows, but if the border is passed, he'll have them in his power that fast. "He who laughs last," he snarls, "he laughs the most as I shall do to watch them roast."
"I have everything now," the soldier cries, forgetting the danger that so closely lies.
And the princess says, "I know so little about you. Tell me about your home, your family. Please do."
"Well, it all started a long, long time ago. I lived with my mother. I was a soldier then, you know. Far, far away. I've almost forgotten where."
"Suppose we went back to see your mother there?"
"No, it is forbidden. I do not dare."
"Oh, come on. Why not? Let's go. Nobody would ever know."
And so, he thinks, why not indeed? Just to pay a short call, I'd be so happy I'd really have it all. They're on their way. They're nearly there. But a scent, he knows, hangs in the air. He goes on ahead to find the frontier. She's a little way behind waiting in fear. He wants her with him. He turns around to call, "Come on! In a moment we'll have it all." The soldier proceeds the border is crossed. The devil takes him. All is lost.
[Narration ends]
And there you have an abridged edition of Stravinsky's The Soldier's Tale. I can't recall the name of the narrator, but the immaculate playing was by violinist Anna Elashvili, Alicia Lee clarinetist, Shelley Monroe Huang at the bassoon, Brandon Ridenour on trumpet, the Trombones with Stephen Dunn, Evan Premo on bass, and Jared Soldiviero on percussion. I'll be right back.
Terry McGraw: There are many kinds of young artists on The Young Artists Showcase. This past year we had an amazing 10- year- old American pianist and an astonishing 16-year-old violinist from China while some major prize winners are emerging into greatness in their mid-twenties. The point is that whenever great talents arise, it's our responsibility to spread the word, and it's our joy to let you enjoy their music every week on WQXR.
Bob Sherman: Thank you, Terry. We seem to have a few moments left over tonight, so let's zip back to DePauw University because at the same concert with Stravinsky's L'histoire du soldat was a companion piece that Wynton Marsalis scored for the same seven instruments and titled The Fiddler's Tail. It's about the same length as the Stravinsky, so I can only give you a tiny taste. But here's the overture.
MUSIC - Marsalis: Overture to A Fiddler's Tale
And with that short but appetite wetting music from The Fiddler's Tale by Wynton Marsalis, we really do have to ring down the curtain on our visit with the Decoda Ensemble. Special thanks to Brandon Ridenour for making these in concert selections available for first WQXR hearings tonight. And deep appreciation as always for the personal enthusiasm of Terry McGraw, as well as the generous underwriting of the Family Foundation, named for his father, Harold W McGraw Jr. Merrin Lazyan is my showcase producing partner. I'm Bob Sherman. Good night, everybody.
Copyright © 2022 New York Public Radio. All rights reserved. Visit our website terms of use at www.wnyc.org for further information. 
New York Public Radio transcripts are created on a rush deadline, often by contractors. This text may not be in its final form and may be updated or revised in the future. Accuracy and availability may vary. The authoritative record of New York Public Radio's programming is the audio record.