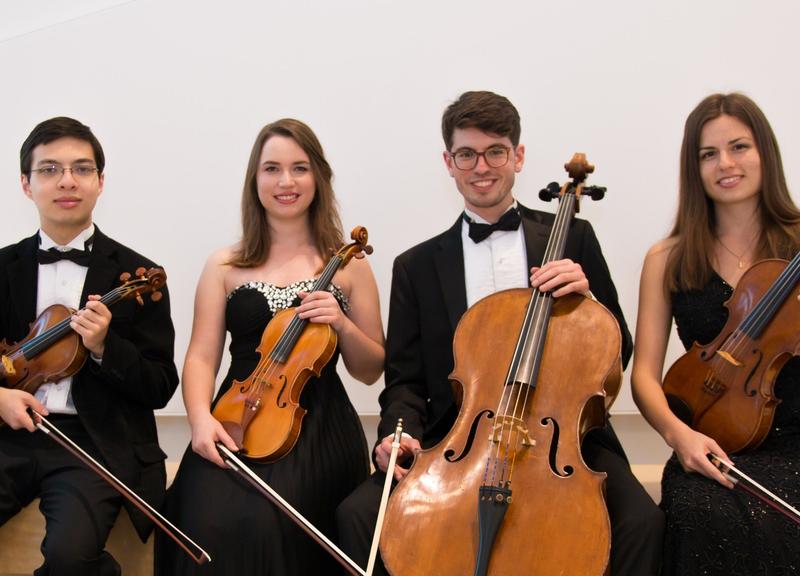 Transcript
Bob Sherman: Hello everybody. Today we make the acquaintance of the unusually titled Impromptu String Quartet, but then will bid farewell to Charlotte White, one of the best friends emerging musicians had in New York. I'm Bob Sherman, and this is McGraw Family's Young Artist Showcase.
We're fast closing in on our 40th anniversary. Thanks to the generous and ongoing underwriting of the Harold W McGraw Jr. Family Foundation. It was a mere 19 years ago that the Lyric Chamber Music Society of New York was born designed to present ensemble performances in intimate, salon settings as most of these pieces were intended to be heard.
Now, many of their presentations are by major artists, including members of the New York Philharmonic and other leading ensembles. But at least once a season, the society offers what it calls "up close exposure to rising stars." Such will be the case with the New York debut of the Impromptu String Quartet, winner of the Annual Chamber Music Competition at the Lynn Music Conservatory, that's in Boca Raton, Florida. The ensemble comprises violinist, Katherine Baloff and David Brill, violist Camille Ripple, and cellist Georgiy Khokhlov. I'll tell you a bit about them. After they launch our showcase, hour with Mozart.
MUSIC - Mozart: String Quartet No. 15 in D minor, K. 421, I. Allegro moderato and IV. Allegretto ma non troppo
The first movement and the finale of Mozart K. 421 Quartet. The second in the set dedicated to Haydn and sparkling performances at the auditions last December that brought the Impromptu String Quartet to the winner circle at the Lynn Music Conservatory in Florida.
An interesting insight to the foursome's unusual title. One meaning of impromptu is unplanned, and that really is how the group came together. Two of the members violinist Katherine Baloff and Georgiy Khokhlov were just 11 years old when they played in the Children's Quartet at the Settlement Music School in Philadelphia. They went their separate high school ways, but both enrolled at the Lynn Conservatory and found themselves performing together again with newly assigned partners. Despite this impromptu nature, the group clicked and, uh, that's exactly why they decided on the name impromptu. As you'll gather, there was nothing casual about their performance of the first movement of Brahms Opus 51, No 2 number two quartet, recorded at the same December final round auditions at the Lynn Conservatory.
MUSIC - Brahms: String Quartet No. 2 in A Minor, Op. 51, I. Allegro ma non troppo
The Impromptu String Quartet coached at Lynn Conservatory by faculty cellist and head of the string department there, David Cole. And a fine account of the first movement of Brahms A minor quartet, Opus 59 number two, the Impromptus, AKA Katherine Baloff, David Brill, Camille Ripple, and Georgiy Khokhlov. Brief timeout now, and then an affectionate remembrance of Charlotte White, founding Director of Salon de Virtuosi. I'm Bob Sherman. This is the McGraw Family's Young Artist Showcase.
For the past dozen years or so, the first Young Artist Showcase in each new year has been reserved for recipients of awards from Salon de Virtuosi. The organization was founded 28 years ago by pianist Charlotte White, who had returned from extended tours and living abroad to find that young musicians in the USA were struggling to find a foothold in a highly competitive field.
Now, most people at the age of 75 are thinking about retirement, not Charlotte White. So, to help these young artists, both by providing performance opportunities and giving $5,000 scholarship award grants to them, she founded Salon de Virtuosi kind of elite music club, and she directed it until her death.
Two years ago, still full of energy at the ripe young age of 101. Charlotte herself welcomed salon members to the award ceremony at the Kosciuszko Foundation.
Charlotte White: Thank you for coming tonight to help us celebrate our 27th year since we opened the salon. So, and all of you have meant a great deal to us. So, I greet my old friends, my new friends, our members, and our distinguished guests that we have tonight. We have the Consul General of the Czech Republic as a special, uh, guest and we have a cultural attaché of the Israeli consulate who is here as well. So, uh, we are very honored. Until this point, we have spent $500,000 in grants that we are given to young artists, so.
Bob Sherman: Charlotte White died on April 10th, just shy of her 103rd birthday, and I'd like to use the rest of our showcase time today to recall some of those Salon Grant recipients. The very first award went to Gil Shaham. Lang Lang was another early scholarship winner, and when we greet Drew Peterson as winner of the American Pianist Association's National Competition, we will again be talking to a salon alumnus. Many other awards, Salon Awards, preceded other prestigious citations. And another wonderful pianist was recognized by Salon de Virtuosi in 2007, two years before he received an Avery Fisher Grant. I'm talking about Alessio Bax. You may recall that Alessio returned to our studios with Violinist Chee-Yun to celebrate our 35th showcase anniversary. 10 years ag, the venue was the now departed Steinway Hall and for Salon de Virtuosi members and guests the then 20-year-old pianists played Busoni's transcription of Bach's Organ Toccata and Fugue in D Minor.
MUSIC - Bach-Busoni: Toccata and Fugue in D Minor
Bach's D Minor Toccata and Fugue transcribed for piano by Ferruccio Busoni and played by Alessio Bax for Charlotte White's Salon de Virtuosi in the Fall of 2007. Another superb artist introduced that same evening, not only ahead of her Avery Fisher career grant, but well before she won Young Concert Artist's International Auditions was the now esteemed violinist Bella Hristova. Bella was only 21, then, a student of Ida Kavafian at Curtis. And with pianist Nelson Padgett, she gave this twinkling account of Fritz Kreisler's Tambourin Chinois.
MUSIC - Kreisler: Tambourin Chinois
Fritz Kreisler's Tambourin Chinois was played in 2007 for Charlotte White's Salon de Virtuosi by 21-year-old Bella Hristova with pianist Nelson Padgett. Four years later, yet another future Avery Fisher career Grant winner received a $5,000 scholarship grant from the salon, and then 17-year-old Conrad Tao played his thanks with Debussy.
MUSIC - Debussy: What the West Wind Saw
What the West Wind Saw from Book 1 of the Debussy Preludes. And played by Conrad Tao, still a teenager with an Avery Fisher Career Grant and Gilmore Young Artist Awards yet to come, but already recognized as a major talent by Charlotte White and Salon de Virtuosi, all these splendid young musicians we heard tonight, Alessio Bax, Bella Hristova, and just now Conrad Tao, were selected by Charlotte to receive $5,000 Salon de Virtuosi scholarship grants, and we've recalled their performances tonight in grateful appreciation of Charlotte White who founded the Salon 28 years ago and continued as its director until her death at age 102.
As her daughter Erica White told me until the end, Charlotte continued to be actively involved in the Salon, seeking out new, outstanding young talents and planning for future events. She understood how vital it is to provide support and encouragement to emerging talents, and she delighted in discovering so many outstanding young musicians.
She had much the same energy and the enthusiasm as her young artists, and despite the age differences, this is marvelous, despite the age differences, Erica said, Charlotte viewed herself as their contemporary. A beautiful statement by Erica. And indeed, how lucky Charlotte White was to have had such an inspiring outlook, and how fortunate other many dozens of young artists whose careers gained traction thanks to her guiding support.
Salon de Virtuosi will continue on with its mission, but we who knew and loved Charlotte miss her greatly. And I'm pleased that we were able to have this short salute here on the Young Artist Showcase. And now a few closing words from our own supporting showcase angel, Mr. Terry McGraw.
Terry McGraw: Well, Bob, it's always great being with you and to hear these really wonderful and inspiring musicians. And you continue to share their incredible gift with us every week. I can't wait to hear the fabulous talent you're going to bring us next week on The Young Artist Showcase, and why I'm so please to be able to support the series in its well over four decades on WQXR, and there's so much more to come.
Bob Sherman: Thank you, Terry. Next week, we'll hear from Terry in person at Julliard featuring a recital by the two winners of the school's Gina Bachauer Piano competition, and I trust I'll make it too. I'm Bob Sherman. Good night, everybody.
Copyright © 2022 New York Public Radio. All rights reserved. Visit our website terms of use at www.wnyc.org for further information. 
New York Public Radio transcripts are created on a rush deadline, often by contractors. This text may not be in its final form and may be updated or revised in the future. Accuracy and availability may vary. The authoritative record of New York Public Radio's programming is the audio record.