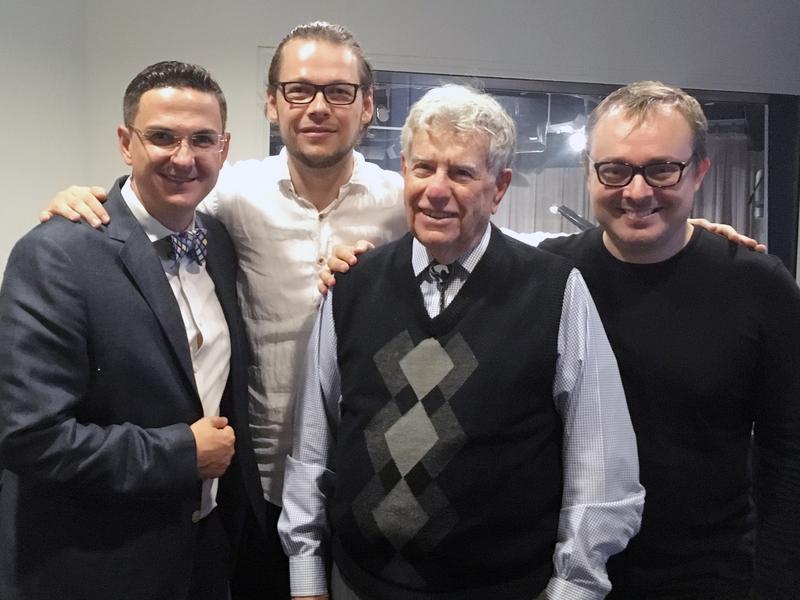 Transcript
Bob Sherman: Hello everybody. I'm Bob Sherman. Tonight, pianist Matei Varga, violinist Cristian Fatu, and cellist Mihai Marica are here in the studio. The better to anticipate Romania's National Holiday on this edition of the Young Artists Showcase.
Actually, every Wednesday is a kind of musical holiday here as we hear great pieces played by outstanding young talents for which we are duly grateful for the underwriting generosity of the Harold W McGraw Jr. Family Foundation. I guess everybody loves Enescu's Romanian Rhapsody, but it'll be a first hearing for me, and I suspect many of our listeners, when Cristian Fatu, Mihai Marica, and Matei Varga open our festivities in the distance, which I think is the translation of Enescu's Serenade Lointaine.
MUSIC - Enescu: Serenade Lointaine for violin, cello and piano
What an exquisite piece. Wow. And we're hearing it for the first time, at least I, on this all-Romanian edition of our Young Artists Showcase, Enescu's Serenade Lointaine. I want to greet our fine performers, two of whom are returning alumni of the Young Artists Showcase, pianist Matei Varga, who helped organize today's pre-holiday event and cellist Mihai Marica, whom we met in 2013 as the cellist of the Amphion String Quartet. That leaves the most welcome first timer here in the violinist, Cristian Fatu. And you're in a string quartet too, I understand.
Cristian Fatu: Yes, that is, uh, correct. Uh, I'm based in, uh, Charleston, West Virginia. And I'm first violin in the Montclaire String Quartet. And we are based with the West Virginia State University,
Bob Sherman: Uh huh and Matei Varga welcome back. And first of all, tell us what is this holiday? I look it up and I don't find anything clear cut. It doesn't seem to be Independence Day. I don't know what is it?
Matei Varga: Well, it is like Independence Day, except that Americans were very smart to put it in July where everyone can be outside and have a barbecue and Romanians perhaps because we are in the east and a little gloomier in spirit, we just have it on December 1st when it always rains or snows.
But it is essentially unification day, uh, which we will celebrate even more so in 2018 because it's a hundred years since that very historical event.
Bob Sherman: I see. And there's another hundred-year anniversary we'll talk about in, in a little while.
Matei Varga: Certainly.
Bob Sherman: But what is your experience with Hungarian music? How much of it do you know, and do you play?
Matei Varga: You mean Hungarian or Romanian?
Bob Sherman: I'm thinking I'm,
Matei Varga: I have experience with both.
Bob Sherman: Well, I'm thinking ahead to Bartók that you're going to do yet, and he's sort of a foreigner anyway, but
Matei Varga: Oh, he was born in Romania. He's a Romanian. You've been misinformed.
Bob Sherman: Oh yeah?
Cristian Fatu: Oh, you're opening a can of worms. Be careful.
Matei Varga: Well, he is an adopted Romanian and he loved Enescu, and he loved Romanian folk. And as you will see in the Romanian dances, there's a lot of that. And even in some of his, not necessarily named after Romanian, uh, folk pieces, but you can still hear some of the Romanian folk elements.
Bob Sherman: Which brings up another question. I say Enescu, you say in Enescu. Is that potato potato, is that that kind of thing?
Matei Varga: No, it's just because the ending of, uh, E-S-U did not sound good at all in French, and Enescu spent most of his life, maybe not most, but a large part of his life in France. So, all Romanians who actually immigrated to France changed their, the ending of their name. And Enescu is actually a very common, uh, ending of a Romanian family name.
Bob Sherman: Now, you grew up where? In in, in Bucharest.
Matei Varga: Bucharest. Yes. In Romania.
Bob Sherman: And Bartók was everywhere around. I mean, he was considered part of your national awareness.
Matei Varga: Well, he was everywhere around in terms of his, uh, his headshot and much of his music. I'm not quite as old as. As that. So, you Oh,
Bob Sherman: I didn't person, I didn't mean personally, but, well,
Matei Varga: yes, of course. I mean, we, we did grow up with, uh, the awareness of, of Bartók perhaps more so than in other places as well as an Enescu of course. And Lipatti, which we will get to.
Bob Sherman: And that's what we're ... that's the other centennial I've been, uh, hinting around to, we'll get to that, uh, shortly, but we are going to hear the, um, Bartók's Romanian Dances and it says here, arranged by Zoltán. And somebody pronounced it for me.
Matei Varga: Székely. Yes. Oh, well, Mihai is from Transylvania, so you should address that question to him because, you know, they are very multilingual there and, uh, I think also, uh, more likely to pronounce, well, Hungarian names.
Mihai Marica: Well, I can, I, I wish I spoke Hungarian. Unfortunately, I, I missed my opportunity to learn. Uh, but Székely, I think I'm comfortable pronouncing.
Matei Varga: Okay. Then you're right. I should know too because Varga is actually a Hungarian name, but shame on me. I don't speak Hungarian yet.
Bob Sherman: Now, what is the arran-, what's the original of this piece?
Cristian Fatu: Well, the, the piece was written in 1915 and uh, we have to keep in mind that Bartók was one of the first ethnomusicologists in the world. So basically, he traveled, uh, around the place where he lived in Romania, in Hungary, all over, uh, Eastern Europe. He went even as far as Africa to collect, uh, folk tunes. And there are even some reels on some, you know, very ancient type of, of recording that still exist from his trips. And, and there you have, you know, his great love for folk music and for Romanian folk music.
So, in 1915, he composed this, uh, Romanian Folk dances from Hungary. That was the original title of the piece. But then of course, in 1918, then, uh, Transylvania became part of Romania once the Habsburg's Empire dissolved after the First World War. So, he changed the title to just Romania Dances. And, uh, it was original written for piano. I think I already said that. And then, uh, Székely, uh, arranged it for violin and piano, which kind of creates a very nice dynamic, uh, language and, and, uh, dialogue between the two instruments.
Bob Sherman: All right. May we dialogue between your two instruments? We will! Cristian Fatu and Matei Varga and the music of Bartók.
MUSIC - Bartók: Romanian Dances, arr. for violin and piano by Zoltán Székely
That's exciting stuff here in our Young Artists studio. We heard the Romanian Dances of Béla Bartók and the performers here, Cristian Fatu and Matei Varga. Come on back to the table, Cristian, any, uh, fiddlers in your family because that rush of energy at the end there sounded, uh, like you might be pretty good with the Nightingale or one of those things,
Cristian Fatu: you know, uh, I, I get that, uh, question, uh, often. Uh, here in the States, um, because of, of this type of music or, or this type of energy that, you know, develops on the stage. But the answer is, I develop a liking for, for Romanian music, for folk music or traditional music after I came to the United States. I don't know why that is. It somehow makes me feel closer to home playing this music that it was when I was living in Romania.
Bob Sherman: And now we're going to hear a piece for cello and piano by Paul Constantinescu. And the… you at the end suggested he hasn't moved to Paris. Tell us about the composer. Mihai. I don't know him at all.
Mihai Marica: I actually don't know a whole lot about his background, but, uh, this piece we're about to play for you called Canten vechi, which translates to old song, uh, or, uh, song from the past is one that I grew up hearing a lot. It will be my first time playing it with Matei, so I'm very excited. But, um, the sounds that he creates is very evocative. I think Enescu also does this very, very wonderfully Bartók too, in the piece you just heard. The, um, passage with harmonics where he's imitating the sound of a flute is, um, one thing that I think comes from Romanian and Hungarian tradition that's very present in the musical language and I think it has something to do with Earth, basically where these people were from and what, how they're tied to uh, location, and I think maybe Cristian, you started, uh, enjoying the traditional music when you moved here because of this kind of longing, right? Maybe there's a special word in Romanian dor that's kind of, to translate,
Matei Varga: Actually, very hard to translate, but you could probably do best saying
Mihai Marica: longing and missing,
Matei Varga: missing,
Mihai Marica: mixed in with a little bit of pain, right?
Matei Varga: Yes. There's always pain there. Always, always. Yes. Historically and emotionally, definitely.
Bob Sherman: All right, I'm ready for all the pain you can inflict guys. Uh, so this is the music of Paul Constantinescu. It's for cello and piano. Our cellist is Mihai Marica, our pianist, Matei Varga.
MUSIC - Constantinescu: Canten vechi (Old Song) for cello and piano
Another very beautiful piece I'm encountering for the first time, the old song of Paul Constantinescu. And we've heard it played here by cellist Mihai Marica and pianist Matei Varga. All right. We're going to take a short time out and then music of Lipatti, Enescu, and even a little Dinicu eventually. So, stand by here in the McGraw Family's Young Artists Showcase.
I'm Bob Sherman, and we are looking ahead just a few days now to the Romanian National Holiday Unification Day, I think is sort of how you described it. And, uh, well, the "you" that I just referred to as Matei Varga. And one of the other elements that we've sort of touched on or just briefly mentioned and said we'll get back to it, is the centennial of the great Romanian pianist, Dinu Lipatti.
So, as I understand it, you not only admire, Lipatti as we all do, but have actually developed, kind of lecture recitals about him, is that right?
Matei Varga: Yes, and I'm delighted to do it here in the States where it must be said his name is not as well-known as, uh, it is in Romania and perhaps in in some other places in Europe, which is understandable. Of course, he lived long ago. He died so young at only 33. As a matter of fact, uh, December 1st is Unification Day and a Romanian holiday, and December 2nd is a, uh, commemoration because that's actually the day Lipatti party died in 1950 at the age of 33. I am delighted to be able to bring to you tonight and uh, to the audience who comes to my performances in New York some of his piano works. Few people know that he had a tremendous ambition to be a very good composer. Of course, he grew up with Enescu. He was baptized, uh, musically by George Enescu, and he had some wonderful teachers in Romania and some amazing teachers in Paris with whom he studied among them, Nadia Boulanger, Paul Dukas.
And he really, really had this great desire to become a much more prolific composer than he actually, uh, was because of course he died so young. But there's some wonderful attempts, one of which I will share with you tonight, the Romantic Sonata, which was, uh, supposed to be a large-scale piece, but unfortunately, he only completed the first movement.
So, it's a sonata in one movement. Of only six minutes, which was only, uh, published, um, at the end of 2016 in Romania. So, I'm bringing this to you as a very big premiere. I can safely say that WQXR has never broadcast the recording.
Bob Sherman: Where, where has the piece been in Romania? All this time?
Matei Varga: It has been in Romania. It has been in, uh, with the union of the musicologist and music critics, of course, because it's an unfinished piece, I'm assuming that it was given less attention that some of, than some of his finished and perhaps a little, uh, better known works.
Bob Sherman: I don't know, worked for Schubert. I don't see why it I shouldn't.
Matei Varga: It certainly did. I'm very fond of this piece and I wanted to, um, program it tonight for two reasons. One is, uh, because I think in under six minutes it really, uh, gives you a full picture of what Lipatti was as a composer and more so as a performer as well. He was famous for incredible virtuosity, which was always paired with amazing grace, talking about amazing grace and with, uh, with a certain fire always filled with elegance.
And I feel that this piece, uh, it's, it was written by him, and it really reflects his style and his beliefs as a musician. Also, I have included it in my upcoming recording, which will be released in April.
Bob Sherman: Oh really?
Matei Varga: 2018, which is a tribute not only to Lipatti, but to wonderful pianists, composers who died very young, of course, Lipatti being one of them. Uh, so this is a little preview of what you will be able to hear on the recording that.
Bob Sherman: Who's releasing the record?
Matei Varga: Sono Luminus
Bob Sherman: Uh huh. Very good. Well, Matei, if you will, thank you. We will have obviously a first hearing, probably a broadcast premiere of Dinu Lipatti's Sonata Romantica.
MUSIC - Lipatti: Sonata Romantica
A striking piece indeed, the Sonata Romantica, the first movement, which is unfortunately all that there is of Dinu Lipatti played here in the studio by Matei Varga. Well, our other two guests have been enjoying this with me and, uh, we're going to put Mihai Marica and Cristian Fatu back to work. And I guess first up is Mihai. Come tell us about the Enescu cello sonata. Another piece I, uh, regret to say I don't know very much about, and I don't think I've ever heard, actually.
Mihai Marica: Well, it's actually my first time performing this piece again with uh, and thanks to Matei who, um, who's recorded it before. Um, I understand it was written when he was just about 16 years old, so it's a very young piece.
Although he had been composing with works that, uh, were noted as early as the age of five.
Bob Sherman: Oh, really?
Mihai Marica: So, 11 years into his composing career, he came up with, uh, this cello sonata. Now there's another, uh, cello sonata that he wrote a few years later that is in four movements. This one only has one and also in F minor.
I've performed the second cello sonata. That's a piece that he wrote a lot, uh, later, quite a few times. Not the early works, but what it reminds me of, um, is one early work of his that you may have heard, which is the octet, the string octet, um, a piece that was written when he was 18, and it's a bit in, um, in mood.
It's larger than life, basically. In C major, very exuberant and kind of proud of its exuberance as well. And in this first cello Sonata, I see elements that kind of preface the kind of writing that he does a few years later. And also, I sense a great admiration for Brahms in his, uh, writing.
Bob Sherman: All right, well you can't go wrong with that combination, I would say. So, if we may, Matei, you're still at the piano, and, uh, if, uh, Mihai, you'll go back to the cello. We will enjoy another first here on our Young Artists Showcase, this, uh, studio performance of the Sonata in F Minor Number One of George Enescu.
MUSIC - Enescu: Sonata in F minor for cello and piano
We have certainly had some fascinating firsts here in our studio today. This the Sonata in F Minor, the music of George Enescu, and we've heard it here most wonderfully played by Mihai Marica and Matei Varga. I'm going to call back Cristian Fatu because, uh, you've been called the historian of the group here, and just as I said, I think at the very outset that we all know the Romanian Rhapsody of Enescu, but we don't of course know much of his other music. Well, we all know the Hora Staccato of Dinicu.
Cristian Fatu: Yes, we do.
Bob Sherman: But you a have brought us another piece and it says here that it's by two Dinicu's. So, what's all that about?
Cristian Fatu: Well, this Dinicu comes from a, from a musical family, and I believe his uncle, right? He was also a famous musician and, uh, and also, he wrote some, some music. So probably that's the reference you have there, but no, uh,
Bob Sherman: which, which one wrote the Hora Staccato?
Cristian Fatu: Grigoras Ionica did
Bob Sherman: okay. That's right.
Cristian Fatu: And then he came to, to the States and Jascha Heifetz heard him on the radio, and he thought he is the greatest violinist alive.
Bob Sherman: If Heifetz says it, that's pretty good going.
Cristian Fatu: Yes. Yeah, that he was the only one that Heifetz said that about. And no Romania celebration can exist without Skylark or Ciocarlia as its uh, called in Romanian. It's a, it's a very fun song. It's a dance. So, dear listeners if you feel like dancing, just let your body go. Your feet will know what to do. But don't do that if you're driving.
Bob Sherman: Yeah, that's true. That wouldn't, wouldn't work too well. All right, so we're going to do, uh, fly with the Skylark here.
Cristian Fatu: Yes yes, yes. And I do encourage you to pay attention. In the middle we have a, a little section, which, uh, we have some bird imitations. You know, there is a word saying that, uh, um, Romania frate cu codrul: the Romanian is brother of the forest. So, um, so we have a, a little, um, enactment going on there.
Bob Sherman: Indeed. Here we have The Skylark, Cristian Fatu the violinist, Matei Varga our pianist.
MUSIC - Anghelus Dinicu/Grigoras Dinicu: Ciocarlia (The Skylark), arr. for violin and piano
Well, I think, uh, earlier Cristian Fatu said that no Romanian celebration would be complete without Dinicu's Skylark, and it has certainly proved to be a marvelous topper to our visit today and our early celebration of Romania's independence or Unification Day.
So, great thanks to Cristian Fatu, to Mihai Marica, and of course to Matei Varga. Matei, is there enough other music of this delightful and unknown sort because I think you said that the next year, 2018, in, in November, December will be the centennial of the country itself? So, you got enough to bring us another, uh, round of things?
Matei Varga: We have barely scratched the surface. Imagine that. Enesco wrote two magnificent piano sonatas, extremely complex, extremely beautiful, one of which I have recorded for Naxos a few years ago. He also wrote two fantastic cello sonatas, the real cello sonatas because this one was an early piece and doesn't even have opus number.
And of course, he, he wrote violin, piano sonatas, which are of course very well known or as, as well known as Enescu goes. Yes, exactly. And. Certainly, uh, in incredible,
Bob Sherman: and there are other composers as well...
Matei Varga: And other composers naturally. I mean, there's a lot more of Lipatti, there's a lot more of Paul Constantinescu and there is Mihail Jora who was a good friend of Enescu and uh, mentor for young Dinu Lipatti, who was a tremendous composer, but a virtually unknown outside of Romania. Of course, there are some wonderful, um, more recent composers. Um, some of whom actually I think all three of us had the privilege of meeting and, uh, talking to and perhaps even playing for, you know, when we were still living in Romania. So, I would be delighted to bring a lot more to you in the future.
Bob Sherman: All right, sounds good. And again, many thanks to all of you. You've given us a very, very special hour indeed.
Matei Varga: Thank you for having us.
Bob Sherman: And I'll adjourn for our final words from our benefactor in chief. Here comes Terry McGraw.
Terry McGraw: There are many kinds of young artists on the Young Artists Showcase. This past year we had an amazing 10-year-old American pianist and an astonishing 16-year-old violinist from China. While some major prize winners are emerging into greatness in their mid-20s. The point is that whenever great talents arise, it's our responsibility to spread the word, and it's our joy to let you enjoy their music. Every week on WQXR.
Bob Sherman: Thank you, Terry. Next week I am thrilled to say we will have another studio session here on the Young Artists Showcase.
The numbered award-winning violinist, Tessa Lark should be another live music hour you will not want to miss. Meanwhile, I try never to miss an opportunity of expressing my deep appreciation for the personal support of Terry McGraw and the generous underwriting of the Family Foundation named for his dad, Harold W McGraw Jr., both of which have kept us moving a pace toward our 40th anniversary on WQXR.
Our engineer this week was Irene Trudell. Merrin Lazyan is our WQXR producer every week, and I'm Bob Sherman. Good night, everybody.
Copyright © 2022 New York Public Radio. All rights reserved. Visit our website terms of use at www.wnyc.org for further information. 
New York Public Radio transcripts are created on a rush deadline, often by contractors. This text may not be in its final form and may be updated or revised in the future. Accuracy and availability may vary. The authoritative record of New York Public Radio's programming is the audio record.