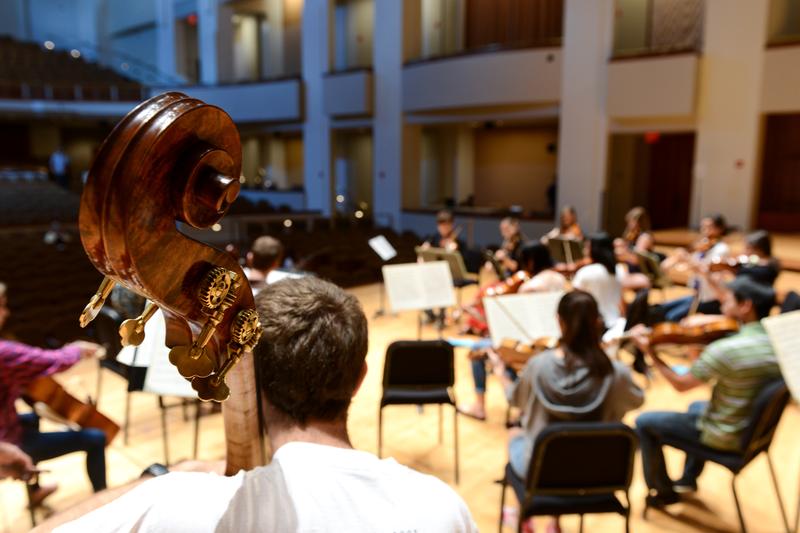 Transcript
Bob Sherman: Hello everybody. I'm Bob Sherman. And back in November, we heard ensembles from within the national festival orchestra today, the gang's all here on this edition of the Young Artist Showcase.
Actually, this will be a two-week adventure on the showcase, displaying a wide spectrum of music played during last June's 29th anniversary of the National Orchestral Institute. Our showcase programs underwritten as usual by the Harold W McGraw Jr. Family Foundation.
What happens every year is that about 100 exceptionally gifted young instrumentalists from all over the country, having passed rigorous auditions, assemble at the University of Maryland for seminars, master classes and rehearsals each week guided by a new group of eminent faculty artists, and conducted by a different maestro. As the National Festival Orchestra, these student players give a sizable number of outreach programs and public concerts.
This past June 25th, for instance, the world-renowned Osmo Vänskä, music director of the Minnesota Orchestra, began the evening leading the jubilant overture Maskarade by Denmarks Carl Nielsen.

MUSIC - Nielsen: Maskarade Overture

Bob Sherman: You'd hardly have pegged that zestful performances as coming from a student group, but Nielsen's Maskarade Overture was indeed played by the young members of the National Festival Orchestra under the obviously inspiring direction of Osmo Vänskä. The Young Artist Showcase tonight is recalling concerts by instrumentalists who gathered from schools and conservatories all over the country.
And as remarkable as the performances were under celebrated, maestros even more astonishing, at least to me, was the concert last June 4th. That's when, less than 10 days after their arrival at the University of Maryland campus, the players formed themselves into a conductorless ensemble and brilliantly surmounted the challenges of Alberto Ginastera Variaciones Concertantes with ensemble, precision, and high virtuosity from both the sections and principles of the National Festival Orchestra.

MUSIC - Ginastera: Variaciones Concertantes

Bob Sherman: Quite something! Ginastera's Variaciones Concertantes played without a conductor by the student musicians of the National Festival Orchestra. Well, I promise you a return of the ensemble with a conductor, namely the esteemed music director of the Minnesota orchestra, Osmo Vänskä, and that will follow a short break on McGraw Family's, Young Artist Showcase.
I'm Bob Sherman. On the same June 25th concert that yielded the Nielsen overture, which began our Young Artist Showcase tonight, came the expansive second symphony of Jean Sibelius. Clearly, it's far too long to fit into our remaining time. So with apologies to all concerned, we'll settle for the final two movements marked Vivacissimo and Allegro Moderato.
Once again, the National Festival Orchestra conducted by Osmo Vänskä.

MUSIC - Sibelius: Symphony No. 2 In D, Op. 43, III. Vivacissimo and IV. Finale (Allegro Moderato)

Bob Sherman: The last two movements of the D Major symphony number two of John Sibelius with Osmo Vänskä leading the student players of the National Festival Orchestra. A look ahead to next week, had a little musical bonus to wind up this one after our usual commentary from our great good friend, Terry McGraw.

Terry McGraw: When my father Harold w McGraw Jr. started The Young Artist Showcase in January of 1978, I might say also, along with you, Bob, he hoped it would encourage young musicians and alert the rest of us to their remarkable accomplishments. What I don't think he foresaw is that our WQXR program would continue to flourish for nearly 40 years, becoming the longest such underwritten series in American radio history. I'm proud to be a part of this legacy, and I'm proud to be here with you, Bob.

Bob Sherman: Thank you, Terry. The musical bonus, I promised you comes from the same conductorless concert that produced the Ginastera variations we heard earlier on the showcase. This time it's Haydn, the Minuet and Trio from his Symphony Number 82, sometimes dubbed The Bear.

MUSIC - Haydn: Symphony No. 82 in C Major, Hob. 1:82, III. Minuet - Trio

Bob Sherman: An empty podium and no applause because the finale of Haydn Symphony Number 82 was yet to come, but an impressive account of the preceding Minuet movement from the self-propelled students of the National Festival Orchestra. Next week, we will head back to the University of Maryland for more tonal delights, including music of W. C. Ravel, and Schubert's Unfinished Symphony. Tonight's Young Artist Showcase of course is finished except for expressing our deep appreciation to the Harold W McGraw Jr. Family Foundation for its underwriting generosity, to National Orchestral Institute Director, Richard Scerbo, for making possible these WQXR premieres, to Terry McGraw for his weekly insights and to Merrin Lazyan my intrepid producer here at the station. I'm Bob Sherman. Good night, everybody.
Copyright © 2022 New York Public Radio. All rights reserved. Visit our website terms of use at www.wnyc.org for further information.
New York Public Radio transcripts are created on a rush deadline, often by contractors. This text may not be in its final form and may be updated or revised in the future. Accuracy and availability may vary. The authoritative record of New York Public Radio's programming is the audio record.