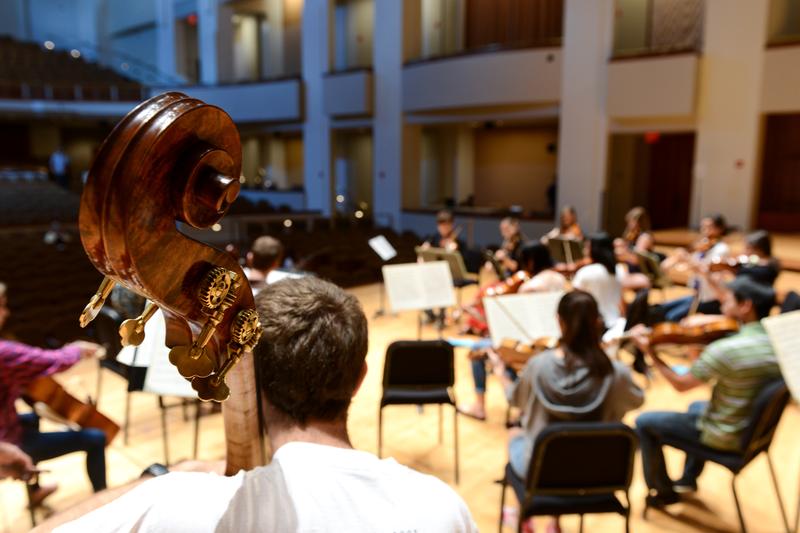 Transcript
Bob Sherman: Hello everybody. I'm Bob Sherman, and if you were listening last week, you have a pretty good idea of the delectable musical treats in store. Otherwise, you'll discover them tonight on this edition of The Young Artist Showcase.
The place, the College Park CAPAs of the University of Maryland, where every late spring for the last 29 years, outstanding young instrumentalists have been assembled by the National Orchestral Institute for Intensive Training sessions and then public performances as the National Festival Orchestra. As institute director Richard Scerbo put it at his program welcome, "Prepare to feel something different. Moments of discovery that break down barriers to reach you, the audience." Well, that's precisely what we try to do on the Young Artist Showcase, of course. And that is, thanks as always, to the underwriting generosity of the Harold W McGraw Jr. Family Foundation. Let's begin tonight with the opening work on the concert this past June 18th.
Well, the young players led by Teddy Abrams, he's music director of the Louisville Orchestra, wonderfully projected the shifting colors and impressionist moods of Debussy's Jeux. Officially, this is listed as a poème dansé, but it actually was born as music for a Diaghilev ballet about lovers searching for a lost tennis ball.
MUSIC - Claude Debussy: Jeux
Bob Sherman: When Franz Welser-Möst conducted Debussy's Jeux with the Cleveland Orchestra, he told an npr interviewer that, and this is a quote, "It is one of the most difficult pieces ever written for orchestra. To get it right is so hard and needs an enormous amount of rehearsal time." Well, maybe, but within a single week, when Teddy Abrams guests conducted Debussy's poème dansé with the student players of the National Festival Orchestra, the impressive results were as you just heard them. Later on that program, by the way, as it will be on ours, came Ravel's La valse, so don't go away. Meanwhile, let's stop now for a brief intermission.
When young artists from across the country come together to form the National Festival Orchestra, they work with different mentors and usually guest conductors each week of their month long stay at the University of Maryland campus. On the concert of this past June 4th, though, the players derived leadership from within their own ranks, and minus a conductor, framed performances of remarkable coherence and expressive finesse. Case in point, their account of a much beloved score. As I learned in public school music class quite a long time ago, this is the symphony that Schubert wrote and never finished.
MUSIC - Franz Schubert: Symphony No. 8, "Unfinished"
Bob Sherman: Schubert's Unfinished Symphony , but a deliciously finished performance without a conductor by the student players of the National Festival Orchestra. I'm Bob Sherman, and having begun our showcase evening with Debussy's poème dansé that was Jeux, we'll conclude it now with Ravel's poème chorégraphique, better and certainly more simply known as La valse.
Teddy Abrams returns to the podium to lead the student players of the National Festival Orchestra,
MUSIC - Maurice Ravel: La valse
Bob Sherman: A thrilling performance of Ravel's La valse, and all the more impressive when you realize that it came from the student players assembled at the University of Maryland last June as the National Festival Orchestra. The guest conductor moonlighting from his day job as music director of the Louisville Orchestra was Teddy Abrams, and so we wind up our two showcase weeks deriving from concerts, forming the National Orchestral Institute's 29th season. With special thanks to Director Richard Scerbo for allowing us these first broadcast hearings on WQXR. I'll be right back.
Terry McGraw: Well, Bob, it's always great being with you and to hear these really wonderful and inspiring musicians and you continue to share their incredible gift with us every week. I can't wait to hear the fabulous talents you're gonna bring us next time on The Young Artist Showcase, and why I'm so pleased to be able to support the series all through its well over four decades on WQXR. And there's so much more to come.
Bob Sherman: Thank you, Terry. For more than 39 years, one McGraw or another has been our musical benefactor. Starting in January of 1978 when Harold W McGraw Jr. launched the Young Artist Showcase as a radio extension of McGraw Hill's commitment to education and the arts. In due course Harold's son, Terry McGraw, became my weekly on-air partner establishing an annual education and outreach award in my name and joining us in person at our season openings in the fall.
And of course, the series continues a pace through the underwriting generosity of the McGraw Family Foundation. So it really is with deep gratitude that we continue our mission of presenting outstanding young artists to our WQXR family of listeners, Merrin Lazyan is my producing partner. I'm Bob Sherman. Goodnight everybody.
Copyright © 2022 New York Public Radio. All rights reserved. Visit our website terms of use at www.wnyc.org for further information.
New York Public Radio transcripts are created on a rush deadline, often by contractors. This text may not be in its final form and may be updated or revised in the future. Accuracy and availability may vary. The authoritative record of New York Public Radio's programming is the audio record.