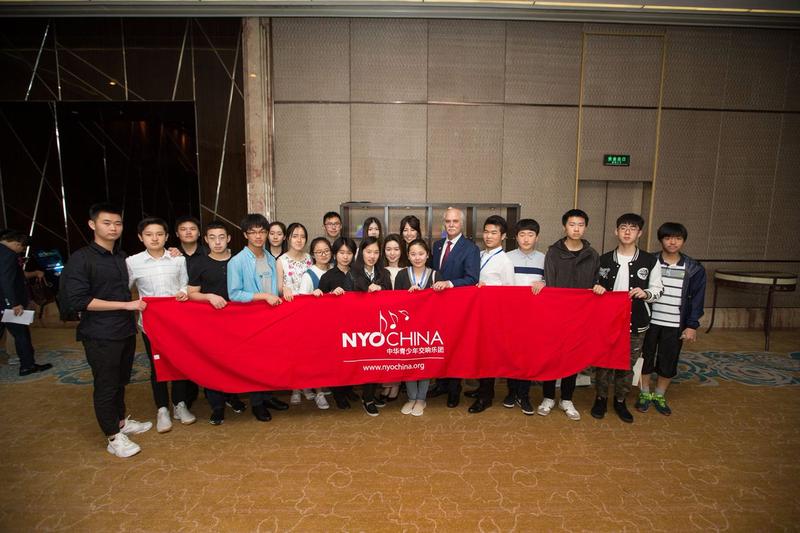 Transcript
YAS 1/3/23
Bob Sherman: Hello everybody. I'm Bob Sherman. It's not often that a brand-new orchestra is born and even more unusual for it to make its debut at Carnegie Hall, but that is the unique happening will be exploring today as members of the National Youth Orchestra of China come to call on this edition of The Young Artists Showcase.
Yes, we've had many exciting previews in the nearly 40 years that our showcase has been highlighting the WQXR schedule, but this one might rank up right near the top. Needless to say, I'm deeply grateful for the generous underwriting of the Harold W McGraw Jr. Family Foundation that makes tonight's program possible and indeed, those over the past four decades as well.
In due course, we will meet some of the Chinese teenagers in the orchestra. We will speak with artistic director, Jindong Cai. We're going to meet the two guys who started this whole thing, Yale grads. But to start, here comes Mozart as six members of the China National Youth Orchestra play music excerpts from the Divertimento K 334.
MUSIC - Mozart: Divertimento No.17 in D major, K 334, III. Minuetto
The Minuetto from Mozart's Divertimento K 334 for two horns and strings, and in the interest of Chinese American relations, I will not attempt to pronounce the names of the performers. But before we speak further with Jindong Cai, Artistic Director, to really find out what this orchestra is all about, two guys from Yale founded it, or at least came up with a brainstorm that resulted in the National Youth Orchestra of China. One of them is Vincent Accettola and the other is Nicholas Brown. And what was the idea, why, why were you so interested in this concept?
Nicholas Brown: Well, I, I think, uh, Vince can speak to the origins a little bit more, but for my part, you know, when Vince came to me with the idea, I was really drawn to it because I knew, you know, in China there's so much of a focus on solo performance and there's so many great, uh, solo performers in China.
But one thing that I think really there's a lot of work to be done and a lot of, um, incredible, um, opportunities is in orchestral training. So, we wanted to create a program that was really focused on playing together, not just playing as one soloist, but playing as an orchestra. And, uh, I thought that this was a chance and there are a lot of people that really wanted to make it happen, and that was too attractive to pass up.
Bob Sherman: And Vincent, this seems to come back in your lap. So, what was your brainstorm? What led you to think that there would be a concept here that could end up in Carnegie Hall?
Vincent Accettola: Yeah, I mean, this is a, a bit of an unorthodox college startup. It's, it's not an application on a phone. But really, I think we could pinpoint the origins of the National Youth Orchestra of China to, uh, the summer after our junior year, 2015 when we were, um, I was accompanying Ms. Linda He on the tour of the National Youth Orchestra of the United States of America, that's Carnegie Hall's NYO. And they were doing a tour of China at the time. And one of the remarkable things that we noticed was that the concert halls were filled with many young, uh, Chinese listeners.
And that's something that. We really took notice, the executive director of Carnegie Hall also took notice of, and we kept on talking about the possibilities of creating a National Youth Orchestra of China because despite the huge demand and love of classical music there, there was conspicuously, no National Youth Orchestra there. And there are NYO's from many other countries, but China was off the list.
Bob Sherman: Ah-huh. And that is where Jindong Cai comes in. Yes?
Jindong Cai: Yes.
Bob Sherman: So, tell us from your vantage point, where did the players come from? How did you find them? How did you pick them?
Jindong Cai: Well, the players come from all over China and also, uh, some from, uh, Chinese students who study overseas. So, when they start with, when we start audition, actually we get more than 500 people to apply for this wonderful program. So, we have to select, you know, 100 young musicians from 500 people.
Bob Sherman: Well, we will meet a few of the players who are actually studying here at Juilliard in a little while, but first we are going to meet a brass quintet and I think, if I'm not mistaken, of at least four of the five are from China itself. So, this is going to be the first movement of the Malcolm Arnold first brass quintet.
MUSIC - Arnold: Brass Quintet No. 1, Op. 73, I. Allegro vivace
And that's the first movement of Malcolm Arnold's quintet, Opus 73 played by a brass contingent who prepared this just for our program today, since otherwise they're busy rehearsing within the brass section of the National Youth Orchestra of China. Let me ask our Artistic Director Jindong Cai: uh, we haven't really talked about the orchestra itself, so we couldn't fit 'em all in here, obviously so we're getting chamber contingents.
Jindong Cai: Yes.
Bob Sherman: But what has it been like? You've been at the rehearsals now for a couple of days. What has been like to have these, these young folks playing together? What has it sounded like?
Jindong Cai: It's an incredible experience to me. And those, and we have about 105 students come from, mostly from China and from around the world where they're studying.
And they came together and in very short period, five days so far. And they achieved a great deal and especially under our, um, Teaching Artists, actually some of the most wonderful, uh, Chinese musicians in the United States, like the Concertmaster of New York Philharmonic, Frank Huang, or, uh, oboe principal Wang Liang. And many those artists donate their time and energy to help the youngsters to grow. And I just, uh, cannot say enough how they are so enthusiastic about learning.
Bob Sherman: Tell us about the Carnegie concert itself. Uh, there's a piece that I don't know, uh, The Rhyme of Taigu. I don't know who Taigu is either.
Jindong Cai: Well, Taigu is, uh, a Chinese drum simply to say,
Bob Sherman: Oh, I see. Yeah. All right.
Jindong Cai: So, the, the piece is about drum, the specific drum. It's, uh, a Chinese countryside festival. It's a really exciting sound.
Bob Sherman: Sounds good.
Jindong Cai: Very exciting.
Bob Sherman: Now we know the other pieces fairly well at Tchaikovsky's First Piano Concerto and the Dvorak New World.
Jindong Cai: Of course. Yeah.
Bob Sherman: And, uh, Yuja Wang will be the soloist.
Jindong Cai: Yes.
Bob Sherman: Is that right?
Jindong Cai: Yes, Yuja Wang will be in Carnegie for us.
Bob Sherman: And beyond Carnegie, there's, there's life afterwards. Yes?
Jindong Cai: Yes. That's the idea of this program. We start this orchestra after the model of the NYO-USA. NYO-USA collects all the talented kids from America to give them the best music training and also through the program they can learn, they can grow. So, and we have the same idea except the, the kids are all coming from China.
Bob Sherman: Exactly. Yeah. Exactly. Alright, now, um, Mr. Cai mentioned that a number of the members of the orchestra are Chinese but studying abroad. And, uh, we're going to meet two young folks who are studying right here at Juilliard. We are going to start with the first movement of Beethoven Sonata No. 4, Op 102, the cellist Shangwen Liao and our pianist Joanne Chang, who studies, uh, in the doctoral program at Indiana University.
MUSIC - Beethoven: Cello Sonata No. 4 in C major, Op. 102, I. Andante-Allegro vivace
The first movement of Beethoven's Op. 102, Shangwen Liao, the cellist, and Joanne Chang, pianist. And now a younger player studying at Juilliard, Yiding Chen. The flutist is only 17 and uh, she'll be joined by Carrie Chen pianist, heading for her masters at the University of Michigan and their choice Poulenc. This is the third movement of the flute and piano sonata.
MUSIC - Poulenc: Sonata for Flute and Piano, III. Presto giocoso
Yiding Chen and Carrie Chen, no relation I assume, and the third movement of the Poulenc Sonata for flute and piano. Bach is next, but we're going to take a short intermission first. You're listening to the McGraw Family's Young Artists Showcase.
I'm Bob Sherman and on the Young Artists Showcase tonight we are greeting members of the National Youth Orchestra of China, and now we're going to meet Molin Han, a 16-year-old student at the middle school of the Central Conservatory in Beijing. And the promised Bach is the, and Presto from the Violin Sonata No. 1.
MUSIC - Bach: Violin Sonata No. 1 in G minor, III. Siciliana and IV. Presto
Very impressive playing here in the studio by 16-year-old Molin Han, student at the middle school of the Beijing Central Conservatory. Let me just ask one more thing of Jindong Cai. The very beginning of the program, Vincent Accettola and Nicholas Brown, who kind of came up with the idea for the, for the whole National Youth Orchestra of China, spoke of the excitement in China that they felt for classical music, for Western classical music. Does that apply all over the country? Is that really a fact?
Jindong Cai: If, yeah, if you go to China, you'll feel this vibration. The classical music in China is really booming and you can see all the major cities also secondary, even, cities are building new concert halls, state of the art opera houses, and also music school is booming. And also, there's so many young kids are learning to play the instruments.
Bob Sherman: Well, it is, uh, very exciting and, and perhaps something we can learn from because we're having a bit of a struggle in this country getting audiences to get excited about classical music. So...
Jindong Cai: Definitely I think, uh, that's, we can learn, and they can learn from us from the tradition, right? But at the same time, we can learn from them, see how the music is important for especially young people's education.
Bob Sherman: Absolutely. Yeah. Well, we began this fascinating session with members of the National Youth Orchestra of China with the Minuet from Mozart's Divertimento for two horns and strings, and let's end up that way with the Rondo finale.
MUSIC - Mozart: Divertimento No.17 in D major, K 334, VI. Rondo
The finale of Mozart's Divertimento K 334, Two Horns and Strings, and we have heard some of the wonderful players in the National Youth Orchestra of China. Great thanks to all of the wonderful youngsters who played for us today, uh, their not so young but very helpful artistic director, Jindong Cai, uh, Vincent Accettola and Nicholas Brown, whose, uh, entrepreneurial spirit sparked the development of the National Orchestra of China, and Xin Fang Chen, artistic coordinator of the orchestra but, here today, our translator in chief. And with that, let's adjourn to our weekly greeting from Terry McGraw.
Terry McGraw: Well, Bob, it's always great being with you and to hear these really wonderful and inspiring musicians. And you continue to share their incredible gift with us every week. I can't wait to hear the fabulous talent you're going to bring us next time on the Young Artist Showcase, and why I'm so pleased to be able to support the series all through, its well over four decades on WQXR and there's so much more to come.
Bob Sherman: Thank you Terry. Meanwhile, since we seem to have a few moments, uh, left over today, here's a little more Brahms, different Brahms actually, but recorded in concert at the 2014 festival.
MUSIC - Brahms: Serenade No. 1 in D Major, Op. 11, V. Scherzo: Allegro and VI. Rondo, Allegro
The Allegro and the Rondo finale of Brahms Orchestral Serenade No. 1 converted into a nonet by Alan Boustead and played by artists at the 2014 Bridgehampton Music Festival.
The Young Artists Showcase heading for its 40th anniversary on WQXR is made possible by Terry McGraw, the underwriting generosity of the Family Foundation, named for his father Harold W McGraw Jr. Our studio engineer tonight was Irene Trudel. Merrin Lazyan is my loyal producing partner every night, and when possible, I'm Bob Sherman. Goodnight, everybody.
Copyright © 2022 New York Public Radio. All rights reserved. Visit our website terms of use at www.wnyc.org for further information.
New York Public Radio transcripts are created on a rush deadline, often by contractors. This text may not be in its final form and may be updated or revised in the future. Accuracy and availability may vary. The authoritative record of New York Public Radio's programming is the audio record.