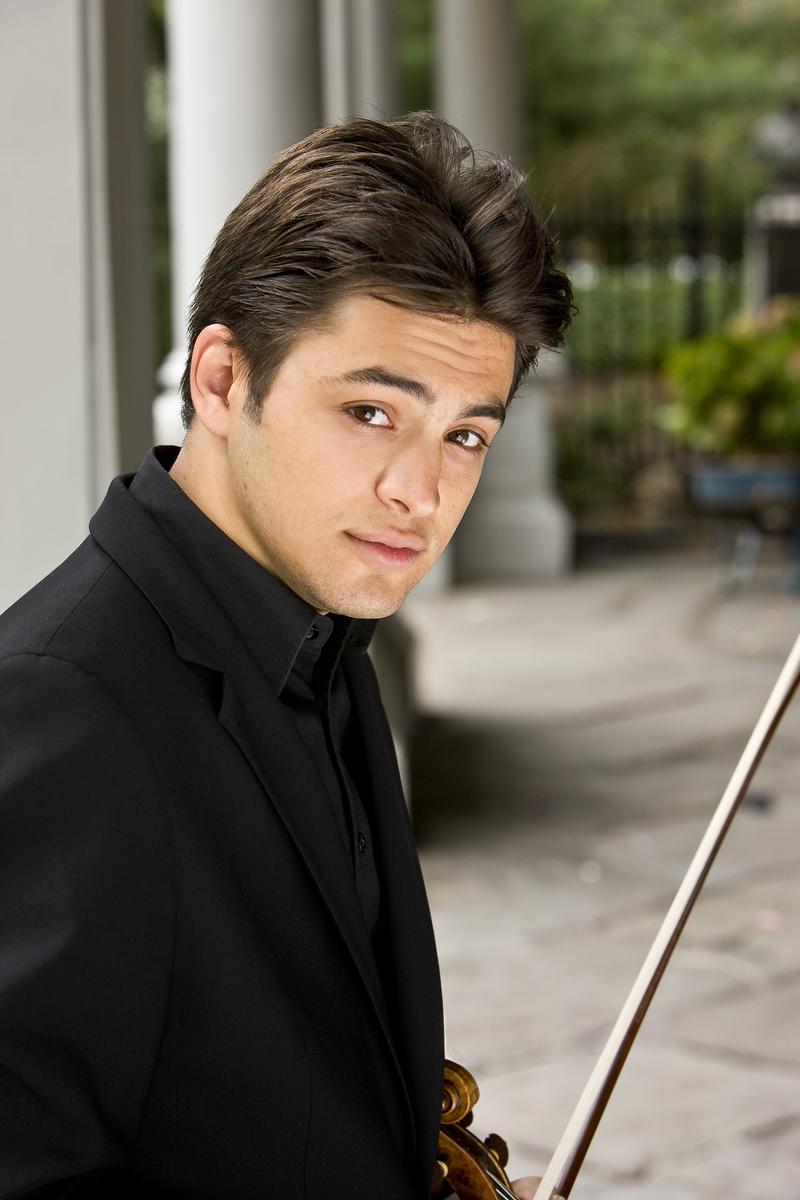 Transcript
Bob Sherman: Hello everybody. I'm Bob Sherman and three Showcase alumni return to WQXR tonight with in concert performances by violinist Asi Matathias, pianist Victor Stanislavsky, and cellist Julian Langford on this edition of The Young Artists Showcase.
I find it enormously gratifying when students, we have introduced here on The Showcase, move on to significant musical achievements, a sense of pride shared by the Harold W McGraw Jr. Family Foundation, which continues to be our underwriting angel into this 40th season on WQXR. Later tonight, we will hear cellist Julian Langford, whom we first met here as a teenager in 2009, but returns now as winner of the 2017 Chappaqua Orchestra's Competition.
And to start us off tonight, we pay another visit to what must have been an extraordinary recital at the 92nd Street Y this past January by violinist Asi Matathias and pianist Victor Stanislavsky. It was just about a month ago that we heard their dazzling account of the Saint-Saëns Sonata. Tonight, we'll get to Stravinsky and right now the world premiere of a fascinating sound study by Chason Goldschmitz who's working toward his doctorate at Juilliard.
It's called Impermanence because, as the young composer explained in a program note, the melodic motifs and textural styles gently give way to each other without dwelling on any one for very long. Well, the whole piece isn't very long, but it has a wonderfully lyric quality that I find most appealing. As you'll hear now, the playing by Asi Matathias and Victor Stanislavsky was also very impressive.
MUSIC - Goldschmitz: Impermanence
What a fine piece from Chason Goldschmitz currently studying with Robert Beaser in the graduate studies program at Julliard, where not so incidentally, Chason won the school orchestra's composition competition. The piece: Impermanence. And we've just enjoyed the first broadcast of the world premiere concert performance by Asi Matathias and Victor Stanislavsky. Also, that same evening came Stravinsky's Divertimento, which has a fascinating history going back to 1928. That was when the Russian dancer, Ida Rubinstein, having just formed her own company, commissioned Ravel and Stravinsky to write music for new ballets.
The French master complied with the now famous Bolero, while Stravinsky chose what he called a compatriotic homage. 1928 happened to be the 35th anniversary of Tchaikovsky's death. So, Stravinsky's tribute took the form of a full length dance work based on Hans Christian Andersen's The Ice Princess, but with music orchestrated and swirled together from little known Tchaikovsky piano and vocal pieces.
Le Baiser de la fée (The Fairy's Kiss) with choreography by Bronislava Nijinska was premiered in Paris in November of 1928. Four years later here in the USA, Stravinsky was giving concerts with the violinist, Samuel Dushkin, and he decided to rework about half of the ballet score into a Divertimento for violin and piano.
Later he would reorchestrate the Divertimento, but that's a story for another showcase day. But this one we have the violin piano original, which is not often performed probably due to its great technical and ensemble difficulties for both players. "I first got acquainted with it," says Asi Matathias, "when I was asked to play the Divertimento at the Jerusalem Chamber Music Festival and was immediately struck by the peculiar and charming way in which Stravinsky interwove the Tchaikovsky melodies with his own unique musical style. The sudden mood and meter changes alongside the beautiful elegance of the music create a stunning piece." And this stunning performance last January was indeed by Asi Matathias and Victor Stanislavsky.
MUSIC - Stravinsky: Divertimento for Violin and Piano
Stravinsky's Divertimento for violin and piano derived from his orchestral ballet, The Fairy's Kiss, and played at the 92nd Street Y this past January by Asi Matathias and Victor Stanislavsky. Shostakovich is next though. Do stay with us here on the McGraw Family's Young Artists Showcase.
I'm Bob Sherman, and as I think we have proved every week over these many, many years of Showcase hours on WQXR, great musical talent is all around us. But since I live in Westchester, I am especially proud that so many of our county orchestras, conservatories, and other arts organizations have taken a leading role in helping gifted young performers. One of the newer champions is the Chappaqua Orchestra whose music director Michael Shapiro just last year inaugurated the ensemble's own young artist competition.
In fact, you may recall that we featured the 2016 winner, then 14-year-old violinist Sakurako Saimaru playing a movement of the Mendelssohn Concerto. Well, this spring the senior division winner of the second annual auditions was 21-year-old Julian Langford now studying with Richard Aaron at Juilliard.
Once again, I can say with high pride that we knew him when! It was actually eight years ago when Julian was studying at the Manhattan School's pre-college division, that he won that orchestra's competition and claimed his prize with what I call was a fine performance of the Saint-Saëns Concerto. In Chappaqua with Maestro Shapiro conducting, Julian Langford opted for the far more challenging Shostakovich Cello Concerto No 1, a work written for and premiered by Mstislav Rostropovich.
MUSIC – Shostakovich: Cello Concerto No.1, II. Moderato, III. Cadenza, and IV. Allegro con moto
The Moderato, Cadenza and Allegro Finale of the Shostakovich Cello Concerto No. 1. And an impressive performance indeed by 21-year-old Julian Langford, winner of the Chappaqua Orchestra's 2017 Young Artist Competition. Music director of the Orchestra, Michael Shapiro, was on the podium. I'll try to impress you with news of our showcase adventures next week right after our weekly words from our number one fan, Terry McGraw.
Terry McGraw: Well, Bob, it's always great being with you and to hear these really wonderful and inspiring musicians and you continue to share their incredible gifts with us every week. I can't wait to hear the fabulous talent you're going to bring us next time on the Young Artists Showcase and why I am so pleased to be able to support the series all through, its well over four decades on WQXR and there's so much more to come.
Bob Sherman: Thank you, Terry. Next week I'll be welcoming back to WQXR two of the most renowned violinists on the concert stage today, Ani and Ida Kavafian. And since Jonathan Feldman will be here too, we'll have a blowout session including Moszkowski's exuberant suite for two violins and piano. So, with that not to be missed enticement, let me add another vote of appreciation for our loyal and generous underwriters, Terry McGraw and the Family Foundation named for his father Harold W McGraw, Jr.
We will also say thanks for the WQXR production expertise of Merrin Lazyan. I'm Bob Sherman.
Copyright © 2023 New York Public Radio. All rights reserved. Visit our website terms of use at www.wnyc.org for further information.
New York Public Radio transcripts are created on a rush deadline, often by contractors. This text may not be in its final form and may be updated or revised in the future. Accuracy and availability may vary. The authoritative record of New York Public Radio's programming is the audio record.