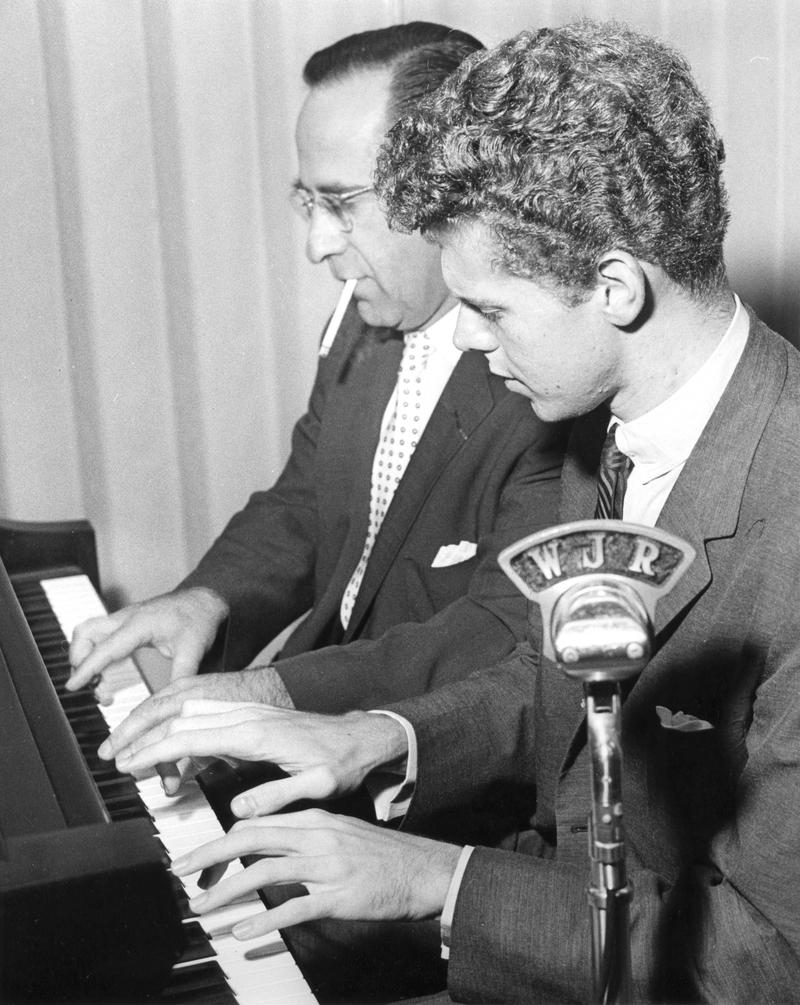 Transcript
Bob Sherman: Hello everybody. I'm Bob Sherman. Just got back from vacation a couple of days ago, so I hope you won't find an encore session tonight, especially since it recalls a radio legend on this addition of the young artist showcase.
We have passed our 39th birthday on the showcase thanks to the underwriting generosity of the Harold W McGraw Jr. Family Foundation. But it'll be quite a while before we begin to approach the 54 years that Karl Haas spent setting a new standard for classical music broadcasting with his adventures in good music. Karl's show aired on WQXR for many of those golden years.
And back in February of 2015, marking the 10th anniversary of his death, I prepared a showcase hour in loving memory of his wit and wisdom. Some of the date references will be out akilter now, but no matter our remembrance of Karl Haas should be no less affectionate this second time around. As it happens, Karl greatly influenced my own ideas and methods as a broadcaster.
Most importantly, perhaps I took from him the conviction that it usually isn't enough just to play a bunch of nice pieces, that there should be some sort of thematic link between them. Also, that education and entertainment need not come in separate packages. In any case, every so often, Karl had an especially enticing hour, which involved listeners in a guessing game.
He would drop revealing hints about a composer's identity while playing some fairly unfamiliar musical examples along the way. And once you started on the show, you were kind of hooked and no way could you turn the dial until finally the truth was revealed. Well, I'm gonna swipe that concept today except, and I don't have enough young artist performances to focus on a single composer, so I will tantalize you instead with half a dozen or so, all in performances taken from various showcase hours in 2014. Just about a year ago, for instance, we heard a charming piece by a composer, especially renowned for his expansive and sumptuous orchestral scorings. On this occasion though, he gave the strings and percussion a nine-minute vacation and scored his Opus Seven for just 13 wind instruments.
Who is he? The super players, by the way, Members of the Michigan State University Wind Symphony.
MUSIC - Richard Strauss: Serenade for winds in E-flat Major, Op. 7
Bob Sherman: And there's our first mystery music with Kevin Sedatole leading the Michigan State University wind symphony. Now, it was kind of a trick question, I'll admit since this early work hardly gave us a glimpse of the explosive orchestrations that would later mark such orchestral staples as Don Juan and Till Eulenspiegel and Ein Heldenleben.
And yes, that gentle Serenade was composed in 1881. By then, 19-year-old Richard Strauss. It was in 1959 that Karl Haas began his extraordinary broadcasting career, and as the 10th anniversary of his death approaches, I'm recalling with high professional admiration and great personal affection, his penchant for quizzes.
I am of course adapting the concept to match our own young artists proclivities. Therefore, we have an encore of a piece played on the showcase little over a year ago. Pianist is Tanya Bannister, whom we had introduced on WQXR or maybe 10 years earlier. The string trio comprising Claudia Ajmone-Marsan, violist Max Marsan, and cellist Roman Ramakrishnan.
Music itself, not often heard, but its composer, a beloved master whose symphonies we cherish, whose trios and string quartets, even a quintet, are staples of the repertoire. This, however, seems to be his one and only work for piano quartet.
MUSIC - Franz Schubert: Adagio and Rondo Concertante in F Major for Piano Quartet
Bob Sherman: The sweet melodic writing probably gave it away though the rather prominent keyboard solos may have confused the issue again. In any event, that was the F Major Adagio and Rondo Concertante composed in 1816, 3 years before the Trout Quintet by Franz Schubert. Our fine performers pianist, Tanya Banister, violinist Claudia Ajmone-Marsan, violist Max Marsan, and cellist Roman Ramakrishnan.
Now sometimes a composer's style is so distinctive that it's hard to miss. On the other hand, try to remember which of his pieces is being played poses its own difficulty. Let's hear three such works recorded during the 2013 Cleveland International Competition by its eventual gold medalist, Stanislav Khristenko. By way of slight hits, number one is in two parts, number two, climbs the hills of an island in Italy while number three is not from one of the sonatas. So, just naming the composer gives you full marks.
MUSIC - Johann Sebastian Bach: Prelude and Fugue in C Minor, Book 1
MUSIC- Claude Debussy: Les Collines d'Anacapri (Preludes, Book 1)
MUSIC - Sergei Prokofiev: Etude in C Minor, Op. 2, No. 3
Bob Sherman: Less than 11 minutes of music that those elegant performances by Stanislav Khristenko offer high indication of his varied stylistic mastery. And reasons more than sufficient for him to advance to the finals, and thereafter he goes to the Gold Medal Award at the 2013 Cleveland International Competition. In particular, we heard Bach's C Minor Prelude and Fugue from Book 1 of The Well-Tempered Clavier, Les Collines d'Anacapri from Book 1 of the Debussy Preludes, and just now Prokofiev's Etude in C Minor Opus 2 Number 3.
I'm Bob Sherman and on this encore edition of The Young Artist Showcase, originally broadcast in February of 2015, we are honoring the memory of Karl Haas with a version of the composer quizzes he used to tease us with way back when. Another puzzler coming up, and we'll even recall the sonorous voice of Karl himself after a short intermission.
Those of you who remember the many wonderful broadcasts of Karl Haas both on WQXR and in syndication on stations around the country, those who benefited as I did so much from his wide musical knowledge and responded so enthusiastically to his personal charm, will feel pangs of nostalgia now, as we listened to part of a brief autobiographical sketch by the great man himself. In the year 2000, Karl, who would then have been around 87 was given some kind of an achievement award, and in his acceptance talk, speech I think is much too formal a word for Karl, he gave us an inkling of how music had always been an indelible part of his life.
Karl Haas: Hello everyone, and my most sincere thank you to the Classic Society for the Lifetime Achievement Award. How far back does it go for me? Well, I can tell you that when I was six years old, my dear mother played the piano awfully well, and I was seated on the floor watching her. And I just watched and hummed the tunes she played, and I said, Mom, how did you start playing like that? Well, that's how it started. I was very lucky to have good instruction, but I also decided then and there that music was going to be my life.
It's difficult when you make a decision like that because it doesn't always work. And especially coming over from Europe, as I did, I had to wait, uh, for my papers and all of that. And in the meantime, I did all kinds of jobs. I remember watching a warehouse crew, but as soon as I got through, I ran home and played. Music was always my real, real desire.
Bob Sherman: The well-remembered voice of Karl Haas. Karl continued his broadcast into his 90th year, and tonight we're recalling his special artistry on the showcase two days before the 10th anniversary of his death. Karl would spend an entire hour playing music by a single composer. Dropping more and more hints about his or her identity along the way.
And our last unnamed masterpiece goes back to a performance we first aired last July from a duo recital by the Swiss cellist Lionel Cottet and the Argentinian guitarist Federico Diaz. I suspect the music will both be very familiar and yet not easy to pinpoint. Perhaps, since it was not originally scored for either cello or guitar. Anyway. Once again, can you name that composer?
MUSIC - Franz Schubert: Sonata in A minor for Arpeggione and Piano
MUSIC - Franz Schubert: Nocturne No. 1 for Guitar & Cello
Bob Sherman: Earlier tonight on this encore edition of The Young Artist Showcase, we had a mystery piece that turned out to be by Schubert. Well, so did the familiar music we just heard. Second and third movements of the Arpeggione Sonata so called because it was composed for that hybrid instrument, which combined elements of the cello and guitar.
What may have made it a bit tricky to identify though, is that it was aptly if unexpectedly recreated on those same two instruments by cellist Lionel Cottet and guitarist Federico Diaz. There has been, by the way, a boomlet of interest in the Arpeggione with new instruments being built. And even I'm told in Arpeggione website out there, almost certainly though it would've long been totally extinct, had not Schubert written that radiant sonata.
Well, so ends our set of tonal teasers and our affectionate a tribute to Karl Haas, encored from its original showcase airing in 2015. Back to 2017, and I'll look ahead to next week after a few words from our broadcasting angel, Terry McGraw.
Terry McGraw: There's nothing more satisfying than seeing some of the wonderful young musicians we introduce on Young Artist Showcase go on to become part of our musical mainstream. And it happens all the time on this program. Last March, for instance, four of the five superb artists who received Avery Fisher Career Grants had already been featured on the showcase. It shows we're not only on the right track but leading the way towards a great American future in the arts. I hope you'll all join us again next week.
Bob Sherman: Thank you, Terry. Next week, performances here in this studio will anticipate the New York recital debut of 19-year-old pianist, Daniel Hsu who won the 2015 Concert Artist Guild Competition, and last year was selected to join the elite roster of Gilmore Young Artists.
Our own Young Artist Showcase, of course, has flourished on WQXR every week for twice 19 years and more thanks to the cultural awareness and community spirit of Terry McGraw and the Family Foundation named for his father Harold W McGraw Junior. Merrin Lazyan is my producing partner here at the station. I'm Bob Sherman. Good night, everybody.
Copyright © 2022 New York Public Radio. All rights reserved. Visit our website terms of use at www.wnyc.org for further information.
New York Public Radio transcripts are created on a rush deadline, often by contractors. This text may not be in its final form and may be updated or revised in the future. Accuracy and availability may vary. The authoritative record of New York Public Radio's programming is the audio record.