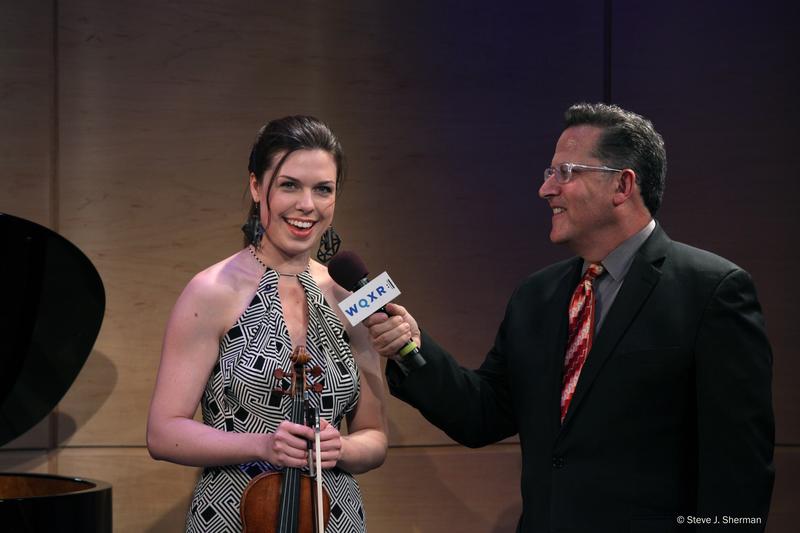 Transcript
Bob Sherman: Hello everybody. I'm Bob Sherman. I heard Tessa Lark maybe three or four years ago. I've been trying ever since to work out a studio session. Well, it's finally happened, and it'll be right now on this edition of the Young Artists Showcase.
We've met all sorts of marvelous players on the showcase, which for these last 40 years has been underwritten one way or another by someone in the McGraw family. It was Harold W McGraw Jr. who was our very first guest, launched this series in 1978. His son, Terry McGraw, is on with me every week now, and of course, the underwriting at the moment comes from the family foundation named for Harold W McGraw Jr. As I said earlier, I've been trying to get Tessa Lark into the studio and we're going to hear Tessa starting with Telemann. This is a movement from the Fantasia No. 4.
MUSIC - Telemann: Fantasia No. 4, Mvt III
How exciting to be sitting here six feet away from such wonderful playing as we've just heard from Tessa Lark. Music of Telemann. Well, Tessa, welcome. Greetings.
Tessa Lark: Thank you.
Bob Sherman: Uh, do you enjoy the unaccompanied side of performing because you do concertos, and you do sonatas with piano and all of that. Uh, this give you a special pleasure to be on your own?
Tessa Lark: Absolutely, yeah. Every different style of performance, um, has its, um, wonderful sides to it. Um, I love the intimacy of playing solo violin. Um, I initially wanted to play piano before I ever played the violin, so I get that side of, you know, the pianistic side of playing when I play violin solo, because you're in charge of the rhythm and the bass and the melody. And I just love, um, exploring all sides of the music like that and solo violin playing.
Bob Sherman: Where did you grow up? What kind of, uh, musical training did you have?
Tessa Lark: I grew up in Kentucky, born and raised there. Um, I played the mandolin before I ever played the violin, so there's a lot of bluegrass in my upbringing. My, uh, father plays bluegrass banjo, and we still play together to this day.
Bob Sherman: Oh, wow. Hey.
Tessa Lark: Yeah.
Bob Sherman: Should have brought him along.
Tessa Lark: Yeah. Get him all the way up here in New York City. A little different here than it is in Kentucky. Yeah. Um, but then my formal classical training started when I was about six years old with the violin. Um, and I started with the Suzuki method. And studied that for about five or six years and got super serious about my music around age 11. Um, and I went to a pre-college program in Cincinnati called The Starling Program.
Bob Sherman: Oh, yes. Uh, Kurt Sassmannshaus was in charge for many years. I don't know if he still is.
Tessa Lark: Exactly. He still is. Yeah. Yeah. Business is booming there still. Yeah. Yeah. An incredible program and opportunity for young kids and, um, I owe it to him that I, uh, pursued music in the way that I have, and he offered many amazing performance opportunities and, um, traveling opportunities too, as a young person.
Bob Sherman: One of the things that I've heard, I would say that you prove it wrong, is that the trouble with Suzuki, the trouble with these string programs is that you learn things by rote, and you don't really develop as a musician. But it, it obviously you surmounted, whatever that problem may be.
Tessa Lark: Well, every method by nature of being a method has its limits, of course. But I was blessed with a really amazing Suzuki teacher and, uh, alongside Suzuki books I was also given fiddle books. So, there's a lot of variety in my training. Um, I think the great advantage to the Suzuki method is, of course there is some rote and a lot of repetition in learning an instrument, but you learn by ear.
And so, the music, uh, you really embody the music in a way from a young age, and you're trained to use your ear, which is the most important part of music.
Bob Sherman: Absolutely,
Tessa Lark: of course. So, I, I, I think it was, uh, a wonderful method to start.
Bob Sherman: All right, we're going to go to a sonata with piano.
Tessa Lark: Yes
Bob Sherman: except no pianist here. You seem to have run through a whole, got everybody that you worked with sick and so, so, uh, none of them could be with us in the studio, but, uh, you have worked with a lot of very fine pianists and number of them have been on earlier programs here, and I. The Ravel you suggested was from an Oberlin recital with Andrew Armstrong, is that right?
Tessa Lark: That's correct, yeah. November 19th, um, is our first time playing a recital together. Actually, we met only in September and played some chamber of music together and really hit it off, um, musically and personally. And so, um, this amazing opportunity to play at Oberlin came along and we sent out a wish list to each other of, um, pieces we would play any day of our lives, pieces that we would need a little more time to do but would be willing to try. And we mixed it all together. And Ravel Sonata was on that list.
Bob Sherman: Right. And from the, the Sonata, we have the blues movement.
MUSIC - Ravel: Violin Sonata No. 2, II. Blues
The blues a la Maurice Ravel, the Sonata played a few weeks ago by Tessa Lark, who's visiting with us today in the Young Artists Showcase and pianist Andrew Armstrong who did visit with us quite a lot of years ago.
So wonderful to have you here, Tessa, as I've said, and you did mention bluegrass in your, in your background several times now. You have come to the symphony of Westchester. Um, I've heard you there. And usually you do your Sibelius, you do your Mendelssohn, and you do whatever you, you know, supposed to do. But then as an encore, you come out and do the wildest kind of fiddle stuff. Uh, is there something different to being a fiddler than a violinist?
Tessa Lark: Well, I guess there's, there's an upbringing to it, you know, uh, folk music, you sort of, um, have to have it in your blood. I think any sort of folk music is that way, or just any genre too with, with jazz. You sort of have to grow up around it.
And, um, classical music is a similar thing, but with, with bluegrass, um, there is a sort of, there's a little more freedom to the mindset than one might find in classical music, just by nature of how the music is passed down. But to see bluegrass music written down is actually the odd thing. And classical music to learn something by ear is less common.
And the composers in classical music bother to write down all of the nitty gritty details so you can really get into the mind of the composer. And there is something exhilarating about finding freedom within those limitations in classical music that I love so much. But then with bluegrass, the improvisational elements of it and the groove and, and the rhythm and just the absolute fun and sense of community also that, um, you get in the bluegrass world is something that I've always been drawn to.
Bob Sherman: So, would you, you are going to play for us if, uh, one of your own fantasies is this
Tessa Lark: mm-hmm. Mm-hmm.
Bob Sherman: So, are you improvising as you go or is this already frozen in place? Have you written it down? What, what's the status?
Tessa Lark: Um, it is not written down. I only just recently, um, got the Sibelius software to actually input that stuff in a computer. Um, and I, yeah, so I haven't needed to write it down. The, um, introduction is something that I wrote, so it is set in stone. And then, um, what follows that is a medley of fiddle tunes, and it's more or less the same every time I play it. Um, if the spirit moves me, I might repeat something. Um, the embellishments that I add are a little different every time I play it, but in Appalachian style music, it's not totally like bluegrass in that the embellishments are not as, uh, drastic as you might hear in bluegrass music or newgrass. Today people start going out with their harmonies or doing, you know, more, more flashy, showy things. And this Appalachian style is closer to the Irish tradition, which is much more simple and therefore poignant.
Bob Sherman: Well, I am most anxious to hear this Appalachian fantasy, and we have it here in the studio by Tessa Lark. And I guess the great advantage of not having it written down is nobody else could play it.
Tessa Lark: For now. Yeah. Yeah. But if I would love for someone to play, if people like it that much. I mean, that's great.
Bob Sherman: Okay. All right. If you will.
MUSIC - Lark: Appalachian Fantasy
And there the Appalachian Fantasy composed and played with little borrowings of folk tunes in there, by Tessa Lark. And it's really fascinating to, to watch you. You, you, your whole body moves with the, uh, with the performance your- I notice you sometimes you tap your left foot and sometimes you tap your right foot.
Tessa Lark: Yeah, a little out of shape. I couldn't keep the the right foot going so I had to switch feet.
Bob Sherman: do you do, uh, anything to stay healthy? I mean, do you, do you eat carefully? Do you exercise? Do you. Run laps. Do you do useful things like that?
Tessa Lark: I try to do all the above. I'm not going to lie to you about it. Uh, kind of fall off that wagon every now and then, but, um, I'm pretty sensitive about the, the foods that I eat and stay relatively healthy. I haven't set foot in a fast-food joint in a long time.
Bob Sherman: Oh, well that's a, that's a good start.
Tessa Lark: Yeah. But, um, New York City, I mean the, there's a wealth of healthful options out there. So, yeah. It's a lot of fun. Um, I have fun finding healthful and really delicious options and try to exercise as much as I can.
Bob Sherman: What's Kentucky cuisine?
Tessa Lark: Fried chicken. I mean it's, yeah. Yeah, it's everything they say it is. Lots of fried stuff. Um, it's really good though, I got to say.
Bob Sherman: Well, it's really good to have you here in the studio, and we are now going to take a short break, but thereafter, a performance that you gave here at WQXR will bring us music by Schubert. So, stay with us. You're listening to the McGraw Families Young Artists Showcase.
I'm Bob Sherman and we are having the extraordinary pleasure of visiting with Tessa Lark right here in the studio. She played Telemann for us, and uh, we heard on recording from a recent recital, Ravel. And now comes Fritz Kreisler. This is his Recitativo and Scherzo.
MUSIC - Kreisler: Recitativo and Scherzo, Op. 6
Delicious music by Fritz Kreisler. Delicious playing by Tessa Lark. This was the Recitativo and Scherzo. Tessa, we talked about your busy schedule and uh, you have quite a few events coming up. I know the Phillips Gallery in Washington has you, I think a recital next week. Yes, in a few days actually.
Tessa Lark: Yeah. December 10th, so, yeah.
Bob Sherman: And then various other things in the area here. So, tell us about some of those. I know you're playing in January for a convention, is it?
Tessa Lark: Yes. Um, APAP, uh, big convention is coming to New York City. Um, yeah, the next, uh, three concerts that I have in New York are all in Weill Recital Hall, so, um, that's quite a privilege to, to be playing there so frequently.
Um, but January 15th. Um, yes, YPCA is a wonderful program for young performers. Um, so I'll be playing a few selections, um, in Weill Hall that day. And then, um, I have the pleasure of being part of two Marlboro tours this, um, coming spring season. So, I'll be in Weill Hall again twice more for those once in March and once in April.
Bob Sherman: Wonderful. Now we are going to wind up with Schubert, the great Fantasie that you played here at The Greene Space.
Tessa Lark: Mm-hmm.
Bob Sherman: I guess a year and a little bit ago. And, uh, with Renana Gutman. Again, a great work that is not that often played. What was your approach to Schubert?
Tessa Lark: He's, uh, a spirit animal of mine. If he were an animal, it'd be my spirit animal. Um, I love the simplicity and poignancy of his music. Um, I mentioned that about Appalachian music too. And actually, I take one of the themes that he uses that he steals from, from himself. Um, he takes it from one of his songs and puts it in the middle of the Fantasie. I took that theme and sort of reworked it for the introduction of my Appalachian fantasy, because I actually feel a kinship somehow from Schubert to Appalachian folk music. And Schubert has this incredible ability, his music of just making these ear worms that sort of don't leave you, but you're just so happy to have that music stuck in your head because it's the most sublime music out there. But with the Fantasie, he, it's um, an interesting piece because it's very, very virtuosic for both players, but at the same time, even if it is fun for the listener, it, the, the profundity of the music is what hits me more in this piece rather than the virtuosity.
But I, I love that it sort of, it has everything, it has entertainment, and it has heart and soul. Um, and it has a journey that it goes through, like all fantasies do. So, um, yeah, one of my all-time favorite pieces.
MUSIC - Schubert: Fantasie, Op. 159
Bob Sherman: The Great Schubert Fantasie, played by our guest today, violinist Tessa Lark. And pianist who has been with us in this same studio, but not on the same occasion as uh, right now, Renana Gutman. Tessa Lark, it's been a joy to welcome you here and to wish you great success for all the upcoming events. Thanks so very much for being with us today and playing so beautifully for us.
Tessa Lark: Well, thanks so very much for having me.
Bob Sherman: And with that, we will say thanks to underwriting angel here at the Young Artists Showcase, Mr. Terry McGraw.
Terry McGraw: There's nothing more satisfying than seeing some of the wonderful young musicians we introduce on Young Artists Showcase go on to become part of our musical mainstream, and it happens all the time on this program. Last March, for instance, four of the five superb artists who received Avery Fisher Career Grants had already been featured on the Showcase.
It shows we're not only on the right track but leading the way towards a great American future in the arts. I hope you'll all join us again next week.
Bob Sherman: Thank you, Terry. 10 years ago, Carnegie Hall and Juilliard combined to form a fellowship program for gifted young chamber musicians with the slightly arcane title of the AJCW Ensemble, an acronym for Academy, Juilliard, Carnegie, and Weill Music Institute.
Following the two-year residencies, a number of the superb players reconvened as Decoda, an ensemble itself devoted to training younger musicians in the art of communication as well as performance. Next week, Decoda, including some showcase alumni, I am pleased to say comes to WQXR, so do try to join us then.
Merrin Lazyan is my producer here at WQXR, and our series is underwritten by the Harold W McGraw Jr. Family Foundation. I'm Bob Sherman. Good night, everybody.
Copyright © 2022 New York Public Radio. All rights reserved. Visit our website terms of use at www.wnyc.org for further information.
New York Public Radio transcripts are created on a rush deadline, often by contractors. This text may not be in its final form and may be updated or revised in the future. Accuracy and availability may vary. The authoritative record of New York Public Radio's programming is the audio record.