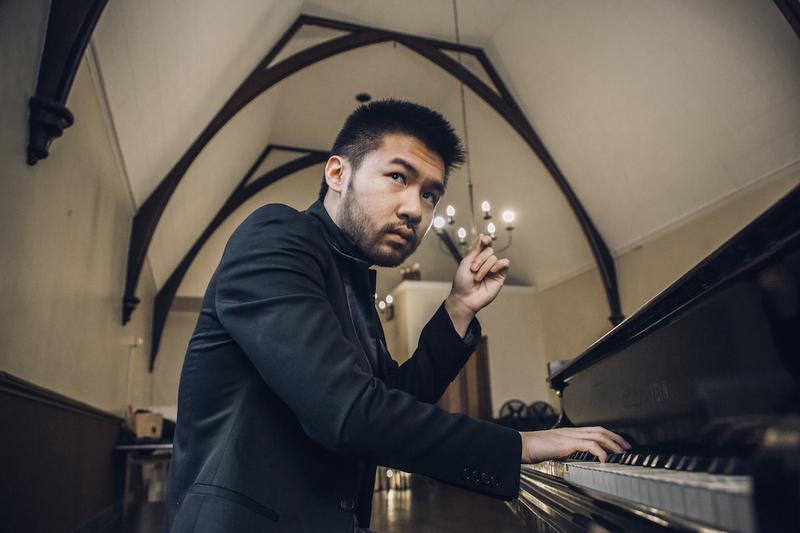 Transcript
Bob Sherman [00:00:07] Hello everybody. I'm Bob Sherman. In January we mark our 41st birthday with a studio visit from Pianist Conrad Tao. Now as America prepares to celebrate our national birthday I'd like to replay that extraordinary broadcast coming now as the twenty one hundred and sixtieth edition of the McGraw family's Young Artists Showcase.
Bob Sherman [00:00:31] Just as it is to Harold W. McGraw Junior who launched a broadcast series back in January of 1978 and the family foundation that now bears his name that we owe our many years on WQXR. It is when some of the talented youngsters we introduce here blossom into musical greats. And from that I derived the greatest satisfaction. And that's why I'm so delighted that Conrad Tao, wonderful pianist we first met as a teenage recipient of a Salon de Virtuosi Grant and a year or two later, Avery Fisher Career Grant is back with us today, and he's become a kind of a classical music superstar these days, thing features in The New York Times and whatnot. Already this season Conrad has not only played at the inaugural nightcap concert of The New York Philharmonic but had one of his compositions premiered by music director Jaap van Zweden. According to that New York Times feature on Conrad he's also working on a new full length dance work. So Conrad welcome back. And please assure us that you're not planning to give up the keyboard anytime.
Conrad Tao [00:01:36] No no not at all. I actually think the last couple of years have shown me that doing lots and lots of different things have actually clarified what I am interested in as a pianist.
Bob Sherman [00:01:47] Well do you think that being a composer has affected your piano playing?
Conrad Tao [00:01:52] I think now I'm prepared to say it undoubtedly has. I mean just because the skills the unique particulars of what it means to compose whether you're a musician or a choreographer or a filmmaker that whole organizational editing way of thinking about music and time has a massive impact on performance. I was just performing the Tchaikovsky Concerto in San Diego and that first movement which is 23 minutes long, basically requires a kind of interpretive composition, which isn't to say you're reconfiguring any of the music itself, but you have to think emotionally, affectively, sonically as a pianist--how are you going to organize this behemoth of a movement, how are you going to put it together--it still has to make sense.
Bob Sherman [00:02:38] Of course now you're going to start with a very short piece-
Conrad Tao [00:02:41] Yes.
Bob Sherman [00:02:42] -by Julia Wolfe it's called "Earring." If I've copied this correct is that correct. I mean like her you what women wear.
Conrad Tao [00:02:49] Yes.
Bob Sherman [00:02:50] And I suppose there's a reason for the title?
Conrad Tao [00:02:54] I find it to be more of an evocative one really. It's a beautiful little crystalline piece and Wolfe describes it as the two hands kind of at first--I'm paraphrasing here but she, uh, but it's the two hands kind of emerge at first playing in different rooms. The right hand playing this kind of insistent samba-type rhythm, and then the left hand really with these cuddly, cushy, warm tones and then they find some sort of merging.
Bob Sherman [00:03:23] And shouldn't there be two earrings in this...
Conrad Tao [00:03:25] Perhaps that suddenly the two hands are if you want. Yeah.
Bob Sherman [00:03:28] All right. Well if you will. Conrad Tao is going to give us the first of several performances today on this birthday edition of the Young Artist Showcase.
Bob Sherman [00:05:17] And that's "Earring." I still think there needs to be a companion piece. There should be two earrings. Music of Julia Wolfe and the first of a number of performances we're going to be enjoying today by Conrad Tao. Conrad how has all this media attention affected you?
Conrad Tao [00:05:35] I mean it's a good question. One of the things you kind of references earlier I've been doing this for a while actually, I've been working for a while in some capacity, and I, I've experienced like some bouts of press coverage because I've had a lot of projects out. I've experienced some version of it before and it used to be very anxiety-inducing. But I don't know I I think after a certain point you start to realize that it doesn't matter so much and it's more about I don't have to worry that much about how the work gets out. You know I try to control it as much as I can because I have intentions that I don't want to be misinterpreted but also after a certain point the whole point of performing for people and releasing music to people and and exposing work to people is to welcome whatever responses people might have to it. And you just hope that it gets close to what your intentions were. So I think hopefully I have a healthy relationship.
Bob Sherman [00:06:34] Do you have a similar relationship with critics? I mean are you content to read what they say and-
Conrad Tao [00:06:41] Yeah I try not to shut myself off. I know plenty of people who say that that's the wisest thing to do is just to not read anything. And I understand that perspective and for a while I really did adopt that. But again I think just as I become more certain of what my goals are expressively or interpretively with what I'm doing it becomes more exciting actually to see how people respond to it. And it doesn't feel so personal it feels more like a sharing actually criticism sometimes feels more like someone sharing how they're you know experience with it was.
Bob Sherman [00:07:16] Very good. Now I asked you before whether being a composer affected your piano being a pianist does that affect your compositional approach.
Conrad Tao [00:07:26] It certainly does. I think being a performer affects my compositional approach. I think I am quite interested in like gesture and performativity just because that's shaped my relationship to music in a very large way. And I hope it means that my music is enjoyable to play from a player's perspective it's--that of course is hard for me to know for sure but I think I I have like a lot of respect for performance. So I think it infuses my work. I think there's a physicality to my music too.
Bob Sherman [00:08:00] Now something particularly intriguing you'll get to play one of your own pieces for us very short one but you have suggested that we tie it to a quite long piece of Beethoven--Tempest Sonata.
Conrad Tao [00:08:12] Correct.
Bob Sherman [00:08:13] What's the idea?
Conrad Tao [00:08:14] It just really they sound good together. It honestly I it's something I do in a lot of my recital programs. And truth be told most of the time it's just it's a really intuitive decision. But I didn't write the piece to go with the beat of No. I wrote this piece that you're about to hear. I wrote it as an encore that the presenter last year requested and they asked you know "could you play like a three minute encore of your own." And I'm just like "I don't have any three minute pieces right now. So let me write a new one!" But I just I for me as a listener one of the things that was really pivotal to my growth as a listener was making a lot of playlists and I call them mixtapes. But I would like make these playlists and send them to my friends and sometimes would you know really edit them together and add a lot of how that listening function was creating these juxtapositions that didn't necessarily even feel like particularly harsh juxtapositions but maybe map out some kind of sonic connection that's hard to place. I mean the most attractive thing is always the thing that's hard to identify.
Bob Sherman [00:09:23] But it's a little like what we do is broadcasters-
Conrad Tao [00:09:26] Yes.
Bob Sherman [00:09:26] When you put together a program with a certain logic that one piece should follow another for a reason.
Conrad Tao [00:09:33] Right, and hopefully not a dogmatic reason either right. Not just a reason that requires a certain familiarity with a kind of you know ideological approach to things. So if you want to try to connect to something a little bit more mysterious but also kind of intuitive or shared and personal but that's the hope.
Bob Sherman [00:09:52] Now mysterious applies to the title of your piece which is if I have it right "All I had forgotten or tried to.".
Conrad Tao [00:09:59] Yes this comes from the book that I read last year which I really loved a book by the San Francisco associated writer Kevin Killian who is part of the new narrative school of writers--Dennis Cooper Dodie Bellamy. And Kevin Killian wrote a book called Impossible Princess. It's a collection of short stories and poetry and it takes its title from Kylie Minogue album of the same name. And this is it's a quote from it. The full quote is "he saw or felt all I had forgotten or tried to with two fingers.".
Bob Sherman [00:10:32] All right. Well I assume you're more figures in to that you'll be using in the course of events. But we will hear Conrad Tao's "All I had forgotten or tried to," and then segway into Beethoven's Piano Sonata D minor, "The Tempest."
[00:38:30] And what a birthday present. Conrad Tao has given us and how clearly I now understand what you were saying about the interplay of your compositional work and your penis stick work because so many of the elements in the short piece of your own that preceded the Beethoven you call it "All I had forgotten or tried to," but the sonic shadings and the the dramatic pacing and even the pedal effects, all of this, again gave such distinction to the Beethoven type of sonata. So.
Conrad Tao [00:39:04] Thank you I appreciate that. That's I mean this part of it is because Beethoven in general but especially this piece, Beethoven is such a sonic explorer and I think that of course because it's centuries old music I think it can be easy to forget how novel there are elements of it still are. I mean especially you mentioned the pedal. There are passages in that first movement of the Beethoven where he asks for you know pedaled that would have been unthinkable at the time. You know clearly looking for an effect.
Bob Sherman [00:39:39] And you think that's Beethoven not some editor that put it in later.
Conrad Tao [00:39:41] Yeah. You can see that that's on the mind that that pedal is being used as a really creative tool which is honestly like not how I was raised to think of the pedal and I I wish that weren't the case. I mean it's fine I found my way. Well do you have the feeling a different route perhaps. But but I feel I just feel like it. It's such a pity when we don't notice that or think well when we flatten that a little bit. Because also the wonderful thing is that is a window into how a performer can bring part of their personality in. You know looking closer at the score and looking at all these little marks again the goal is not for some dogmatic idea of what the piece is objectively is but rather to find lots of new openings with which to negotiate.
Bob Sherman [00:40:27] Well we will have more openings to come because we have another pair of birthday presents to come but we're going to take a short break here. You're listening to the forty first anniversary edition of the McGraw family's Young Artists Showcase.
Bob Sherman [00:40:45] I'm Bob Sherman and we are celebrating the forty first birthday of the McGraw family's Young Artist Showcase in the best possible way with a visit from Conrad Tao and Conrad you put together your own piece with Beethoven. Now you've come up with a different pairing.
Conrad Tao [00:41:04] Yes.
Bob Sherman [00:41:04] And it combines Rachmaninoff one of the Etudes Tableaux with a piece by David Lang and I may have written it wrong because it what I put down here is "wed.".
Conrad Tao [00:41:13] Yes. Correct.
Bob Sherman [00:41:14] That is right?
Conrad Tao [00:41:14] Yes, correct.
Bob Sherman [00:41:15] Oh ok.
Conrad Tao [00:41:16] Wed is one of David's memory pieces which are a set of solo piano works. I think there are seven or eight in total each of which is dedicated to a different friend of David's that died Where is dedicated to a conceptual artist named Kate Erickson who David Lang writes in his program note really beautifully about how what is about Kate Erickson getting married on her deathbed and it's about that really delicate emotional space. And it's it's a gorgeous, gorgeous piece and I have-- this is a pairing that has showed up in my programming now for like four years and I actually often do it as a trio with "wed"--with "Earring," which started our program today. And part of it is just because when I first heard this Rachmaninoff it to Tableau as a teenager my immediate thought was this sounds like post-minimalism, in, you know, a really really beautiful way. Mostly I was responding to this constant rocking polyrhythm which if if anyone's familiar with Philip Glass a solo piano work is actually like it's just a very simple three against two poly rhythm that undergirds most of like Glass's music and a lot of kind of what we might now associate with post-minimal work. And you know for me it just it felt like a natural musical-sonic-emotional connection.
Bob Sherman [00:42:43] All right if you will connect it for us we will enjoy another pair of performances here by Conrad Tao. Rachmaninoff's Etude Tablueax, the A Minor, and David Lang's "wed.".
Bob Sherman [00:55:46] This time we've had a very poignant musical connection between a rock man you know a fate you'd blow and a piece in memory of Katy Erickson by David Lang. And in both cases quite exquisite performances here in the studio by Conrad Conrad. I don't know how to thank you enough for giving us such an incredible birthday present and I'm just so grateful to you. What lies ahead? I mean I've talked about some of the pieces you're working on as a composer.
Conrad Tao [00:56:19] Sure.
Bob Sherman [00:56:20] But what else are you looking ahead to and what sort of creative conjunctions are you cooking up.
Conrad Tao [00:56:27] Well in the most immediate future I'm very excited to be doing my very first Brahms First Piano Concerto in Hawaii. That'll be just that I'll just be great and then I will be premiering the evening-length dance work that you mentioned earlier, a dance work that I've been working on in collaboration with the dancer choreographer Caleb Teicher. That piece is called "More Forever," and we'll be premiering it as part of Guggenheim works in process, so it'll be at the Guggenheim in January January 6th and 7th 2019 I believe. And you just heard that piece by David Lang. I'll be performing in the second production of "The Loser," which is David Lang's opera based on the Bertrand novel starring Rod Gilfry and myself and that'll be in Los Angeles in February. And then just I don't know a lot of you know the usual touring and writing and you know hopefully continuing to make music. Yeah yeah.
Bob Sherman [00:57:23] Wonderful. Again thank you so much. I think it's just been a joy to see you and to say that I knew you win. Great. Good luck to you as you go forward. Thank you Gary very much. And with that we'll step out for our final greetings from Terry McGraw.
Terry McGraw [00:57:41] Well thanks Bob. There's nothing more satisfying than seeing some of the wonderful young musicians we introduce on Young Artist Showcase go on to become part of our musical mainstream. And it happens all the time on this program. It shows we're not only on the right track Bob, but leading the way towards a great American future in the arts. I hope you'll all join us again next week.
Bob Sherman [00:58:06] Great thanks Terry and of course to your generous underwriting colleagues at the Harold W. McGraw junior Family Foundation. For the last several years we have enjoyed studio performances by some of the stellar young singers working with Martina Arroyo and a distinguished Corddry of coaches in operatic preparation. This year the focus is on Strauss's sparkling "Die Fledermaus." So come back with us next week as we uncork the musical champagne here in the young writers showcase. Max Fine will again be at the production desk and if I can find my bat costume I'll be back too. I'm Bob Sherman. Good night everybody.
Copyright © 2019 New York Public Radio. All rights reserved. Visit our website terms of use at www.wnyc.org for further information.
New York Public Radio transcripts are created on a rush deadline, often by contractors. This text may not be in its final form and may be updated or revised in the future. Accuracy and availability may vary. The authoritative record of New York Public Radio's programming is the audio record.