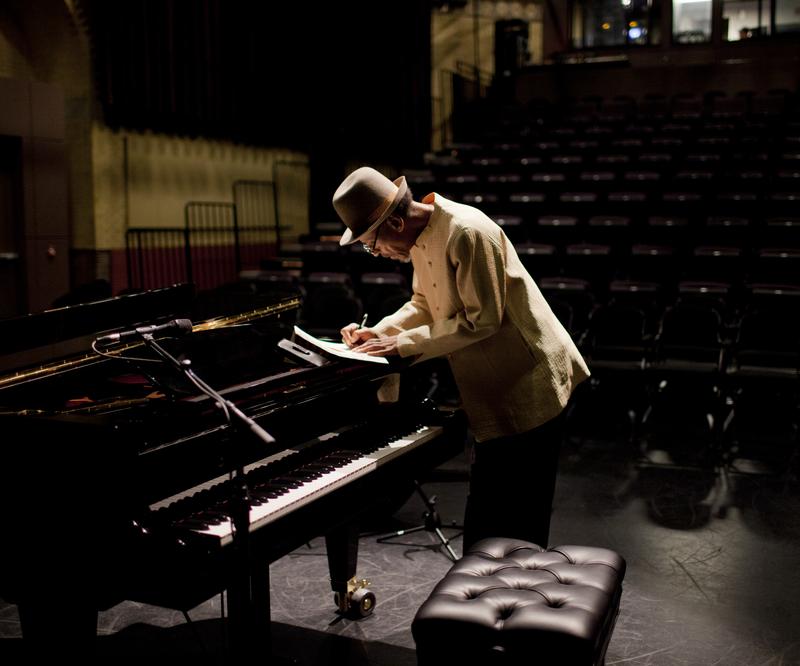 Transcript
Henry Threadgill - Dirt, and More Dirt.
Meet The Composer
Cold Open
Henry
My name is Henry Luther Threadgill.
It's not an occupation. I play music, I create music, and I am a facilitator in the creation of music. And I am the biggest, gift-giver of music. I really enjoy it; I give it to people for a reason: I just want to make a powerful, positive difference.
[Sound Design - Vietnam Tape Reels]
Henry
Oh, I was young. I was, you know, 22, 23 years old, something, I forgot.
And I was with the 437th army band in Kansas in Fort Filey in 1966. And I was in the Army, but I was an arranger.
So, They asked me to do an arrangement—America the Beautiful and all these kind of songs strung together.
You know, I was still, you know, working on my ideas in orchestration and stuff, so I was experimenting, a lot of stuff I was listening to was Cecil Taylor…
[Cecil Taylor - Air Above Mountains]
And Stravinsky…
[Stravinsky: Le Sacre du Printemps, Part 2: The Sacrifice - Sacrificial Dance (The Chosen One)]
And Monk...
And putting it all together a certain kind of way.
And it was going to be played in Kansas City. It was some big political affair, with all kind of ramifications because the Cardinal was there. The Governor, the Mayor, and the representatives from the 5th Army and these Generals and stuff were all on this platform—I knew nothing about this, they just asked me to do this medley.
Well I wrote this medley, and the band director went away for something, so his aide rehearsed the piece as I finished it.
We on this platform out on the street, and the band director hadn't heard it, and he's going to conduct it on the fly, in other words sight-read it.
And um, the band director comes up to conduct the piece…
And, no more than about eight bars and the Cardinal jumps up and says "Who's responsible for this blasphemy!?"
… Who's responsible for this blasphemy?!?
Everybody on that stage needed toilet paper!
[Someplace - Henry Threadgill and Very Very Circus, Live at Koncepts]
They looked at the band leader, the band leader was like—I just knew his pants was damp.
So they said pack up, we out, they didn't finish nothing.
[Higher Places - Henry Threadgill Sextet - Subject to Change]
The next morning, we got back and these people had orders cut on me! "Private Henry Threadgill, blah blah blah blah blah blah blah blah, is now geographically associated with the area under the command of General Pierce in Pleiku." I said, "Pleiku?" And he would say, "Shut up, be quiet." I'd say, "Where is that?" And he would say, "Hey, keep quiet." You know. I said, "Where the hell is Pleiku?"
And the guy goes to say, "...attached to the fourth infantry." I said, "Fourth Infantry Division??" The guy said, "Hey man, be quiet!" You know.
Well, I'm hearing this stuff. You think I'm going to sit, I'm supposed to sit there. And I said, "Fourth Infantry Division? What, wait a minute? I'm—you know, I play saxophone and clarinet. What are you talking about, you know? And where's this Pleiku place?" It doesn't sound like anything in Oklahoma or certainly anything near Paris! I've never heard no Pleiku, Japan, [Laughter] you know! [Chuckle]
So the guy read the thing and then he said, that I had 30 days to get my life in order, and report to Oakland, California, to the shipyards. To the Naval shipyards and wait on further orders to be shipped to Pleiku, South Vietnam. I said, "Pleiku, South Vietnam?!" I said, "What the F.U. is going on here?" You know.
Henry
To have me sent, and put my life in danger, all the way to Washington D.C. and beyond. because of some notes that I wrote.
[Little Pocket Sized Demons - Henry Threadgill and Very Very Circus - Too Much Sugar for a Dime]
[MTC LOGO]
Intro
Nadia
Hey everybody, Nadia Sirota here, and on the show we're talking about the composer Henry Threadgill. Henry is a Pulitzer Prize winning musician who the New York Times called "perhaps the most important jazz composer of his generation." He's been doing his thing for over 40 years, and as it turns out,
[The Devil is on the Loose and Dancing with a Monkey - Henry Threadgill Sextet - Rag, Bush and All]
One of our producers here on Meet The Composer is in Henry's band. So we figured, who better to lead us through this world than him?
This is Curtis Macdonald.
Curtis
Hi!
Nadia
So Curtis, take it away!
Curtis
Okay, so—
[Try Some Ammonia - Henry Threadgill and Very Very Circus - Too Much Sugar for a Dime]
Henry's the kind of artist who you hang out with for a few minutes, and he opens you to a whole new way of thinking. And today, you're going to hear from a bunch of his musicians: Jason Moran,
Jason
Henry Threadgill is the best composer there is, period. Like, why not say that?
Curtis
David Virelles,
David
This is our modern day Thelonious Monk, our modern Duke Ellington. He's the guy.
Curtis
and Craig Weinrib.
Craig
In order to understand Henry's music, you don't have to know anything about music but you do have to be interested in circus, in theatre, in, mass-transit stations. In aerial views of New York. And if you're the type of person who is curious and has open eyes and watches the world around you, then Henry's music is for you.
Curtis
His music reflects his personality. Everything is incredibly conversational. And it's echoed in the way he just walks in the world, or, lives in his neighborhood.
Henry on street
Look at that' look at that!
Jason
I mean, we mustn't separate like he as a personality from his music either.
Okay, so he's a mayor of his neighborhood, right? Lower East Side. So you might see him, outside of his building, talking to everybody.
Henry on street
You see the size of the front of that place?
Curtis on street
Huge place!
Craig
I've routinely seen a small, white toddler being pushed in a stroller by a caretaker yell out across the street: "HENRY!"
Henry on street
Just for me?! [Laughter]
Jason
So who is this guy who lives in the Lower East Side who talks to everybody on the street.
Craig
He's kind of the godfather, or the mayor… So he'll stop in his neighborhood. He'll, you'll be walking down the street going to a restaurant for lunch on the way to or from a rehearsal or whatever, and tap you on the arm and then stop, in the sidewalk, and start telling some big story.
Born - Chicago 1944
[Beautiful Polish song "Basia"- JAN CIŻYŃSKI 1946]
Henry
So, the largest Polish community outside of Warsaw is in Chicago. The largest Serbian community is in Chicago.
Curtis
Henry was born in Chicago in 1944.
Jason
There's a certain kind of artist that comes from Chicago, that understands what the variety of sound can be because of his relationship to the Great Migration.
[Sallie Martin Singers - Jesus]
Henry
Gospel music is born in Chicago. The Delta Irving blues is in Chicago
[Howlin' Wolf - Back Door Man]
—Muddy Waters, Howlin' Wolf—all of them, are playing down in the street, in Chicago.
Jason
You know so all those sounds, and this guy playing this guitar that's out of tune, but knows how to make it sing in a way that [chuckle] you wish that was on Carnegie Hall, but never would get to Carnegie Hall stage. So where do you go? You go down to uh, what's that street—there's a street in Chicago where like, Howlin' Wolf and all them would play on the street, uh Maxwell Street.
Henry
Nat King Cole, Dinah Washington, Charlie Parker, Lester Young, everybody is playing in Chicago, Duke Ellington, in the jazz world. Florence Price is there, the classical composer. So, the radio—let's take one station. Let's say it's eight o'clock and they start out with hillbilly music.
[Ernest Tubb & Red Foley - Hillbilly Fever]
You could go from that, listening to straight Russian composers.
[Mstislav Rostropovich "Cello Concerto No 1" Shostakovich]
But then you could go into a whole Gospel…
And I would run to the piano, when Boogie Woogie came on.
[Honky Tonk Train Blues - Meade Lux Lewis]
Everyday, I would be waiting for that to come on. Because I had to learn how to play Boogie Woogie, or die. [Laughter] One or the other.
But, the thing is, I had to wait, everyday!
At two o'clock it would be time for them to play Boogie Woogie—I'd be there at one-thirty, waiting…
Once they start, I'm just scrambling at the piano, you know, trying to hear what they're doing, re-memorizing and getting my hands on it, and I'm very upset… You know, my hands are so small, and if they've played something I haven't heard before, I'm really P.I.S'd off. Always, when they do that I say aw man, you got me out here like this?!
[laughter]
I learned that on my own. I taught myself to play the piano on my own. Until I got attracted to the saxophone—that became everything. And at the same time, the other thing is in the back of my mind: I wanted to know: How. How does someone come up with something like this? At the earliest stages of when I started taking any lessons or anything, that always stayed with me. How did they do it? How do you write a Moby Dick? How do you write a Lush Life?
["Lush Life" performed by Kay Davis and Billy Strayhorn]
Henry
By the time I graduated from High School I had written my first piece. It was a piece called "Ornette". And by the time I get to Jr. College, I'd written, started to write, a lot more music, and I written down for orchestra.
Curtis
After Jr. College, Henry started playing in a gospel band.
Henry
Yeah, Horace Sheppard out of Philadelphia, the great Horace Sheppard. He had a big troupe, like Billy Graham; it was a black troupe. The choirs, the singers, it was a whole entourage and our job was to, prepare the people for Horace Sheppard.
"Tell Me How Long Has The Train Been Gone" - Bishop Samuel Kelsey & Others
This was some extremely, highly-charged stuff that was absolutely unbelieveable [chuckle]. I never stopped practicing what I learned from that.
Fort Riley, KS 1966
Curtis
So, it's 1966, the Vietnam war is on, and Henry gets drafted. But luckily, he's a talented guy, and he began working for the army as an arranger/composer, he was stationed in Fort Riley, Kansas.
Henry
I got picked for that! I didn't even know you could get a job like that. They knew that I was writing music and stuff, and they offered me the job, of arranger and composer.
Curtis
So he arranges this medley—it's performed, halted…
Henry
Who is responsible for this blasphemy!?
Curtis
And next morning, the very next morning, his papers have been cut. He's being reassigned to the 4th Infantry Division in the central highlands of Vietnam.
[Henry Threadgill & Make a Move - Where's Your Cup - 100 Year Old Game]
Henry
So now I gotta put on these green clothes, boots, and other stuff.
I used to play in Vietnam with just me and a little Italian cat named Napoli from New York. That was my man, Naps.
We both liked a lot of the same people in music, you know. He was into Ornette and Cecil.
He and I could just go ahead and play by ourselves. Structured and unstructured at night.
The piano was so badly out of tune too. You can imagine. Every octave was in a different key! [laughter] You're talking about quarter-tone music, that's nothing. You take your mouthpiece and put it on the end, push it in, you still couldn't find it! [Laughter]
Curtis
He's laughing while telling these stories, but you have to remember, he's playing music with other people, in the middle of a war-zone—the middle of a war-zone!
Henry
Having played music in the United States, you playin' music in a social world that's acting generally civilized, not under the threat of being killed and blown up while you're playing music. That's an entire different type of environment now, to be trying to play any kind of music. The silliest music you can think of, it doesn't even matter what the music is. To think that you gonna be concentrating on this harmonica, or this thumb piano, and looking left and right in the sky to see what's gonna happen around you, that's a whole different experience, with music.
Curtis
Okay, after serving not one but two campaigns in the 4th Infantry, Henry was sent back to the states.
Henry
Yeah I remember, came back from Vietnam at the end of September. I went back to Chicago in '69, and joined the AACM then.
AACM / Failure
Curtis
This is significant. The AACM.
[Muhal Richard Abrams - Young at Heart / Wise In Time]
That's short for the Association for the Advancement of Creative Musicians and Henry was one of the earliest members.
Henry
The AACM is basically a people joined together in a non-profit corporation, with a group of philosophical principles, that has to do with musical democracy.
Each person is required to support the other person's' endeavors, inside that organisation when they are working on music.
David
Richard Muhal Abrams was at the center of it. He basically took under his wing a lot of different young musicians and gave them a platform in which they could play their original music.
Henry
Sure, cause Muhal was always investigating. [Chuckle] The investigation was always on. The game was afoot!
Henry
So I learned from the fact that there's a person who was constantly in discovery.
Curtis
He's talking about Muhal Richard Abrams, the founder of the AACM.
Henry
It fed into my world in that sense, you know.
Jason
So it's not just Henry by himself, you know, it's he and Muhal. But, their relationship to music in Chicago, is where those ideas are also safe, it seems to me.
David
And if you look at anyone coming out of the AACM, they're like extremely, unique. Anyone that you look at from that group is very unique.
Muhal…
[Muhal Richard Abrams - Song For All, Marching with Honor]
George Lewis
[George E. Lewis -- Voyager Duo 4]
Amina Claudine Myers
[Amina Claudine Myers Salutes Bessie Smith - African Blues]
Roscoe Mitchell
[Roscoe Mitchell - Duets with Tyshawn Sorey and Hugh Ragin, A Game of Catch]
Wadada Leo Smith
[Wadada Leo Smith - The Great Lakes Suites, Lake Michigan]
Jason
Each member is insanely different from the other. And that is a major, you know, a major part of what I think draws us to the AACM and especially to a composer like Henry Threadgill who, I always think he's like this early music composer who grew up in Chicago [laughter] on the south side! Like his ideas about funerary music, you know, or, marching bands, and then his ideas about improvisation, and the ways that an ensemble can work together, they seem so ancient that they're new. Like, I don't anyone else remotely close to that.
[David Virelles, improvising over Henry's Old Locks & Irregular Verbs at Q2 Music studios]
Curtis
It's hard to underestimate how rare and significant this is. The AACM is a diverse group of incredibly different personalities, all taking a turn to support their fellow artists, in pursuit of serious original music, in whatever form it may take.
I mean, contrast this with almost any other musical association: Les six, the second Viennese school, Def Jam, they're all drawn to each other cuz they're… SIMILAR. But the thing that brings the AACM together is the thirst for individual experimentation and expression
Henry
If you go into the time-wasting dreaming world with me, if we get the right kind of, dynamics to deal with, there's another place to go.
Jason
You know, there's like, there's no grant system that's kinda handing them 75 thousand dollars every time they write a proposal for an idea. That's not happening for decades, and decades, you know? There's some other system that they rely on.
Curtis
It was like group self-discovery. They could experiment, and try new ideas as vast as their imagination. And they had the freedom to fail. It was a creative incubator, removed from those who were judging them. And because of that, they got stronger.
Henry
It doesn't matter what I think. I'm supposed to be there to serve you. That was the whole thing. For me to develop what I'm doing, I need you there as a tactician.
Jason
And for me, that has been what I thought has made music move forward. Is where these organisations of people who band together around an idea, and that they stay together through the storms.
Henry
If I'm wrong, then let me be wrong. That was the whole principle.
Failure is everything. It's everything in every world too. Nothing happens without failure, failure is it! You know, think about it. Here you crawling, and get up—if you don't get up and fall down, if they keep stopping you, you'll never walk. You gotta fail at walking to walk.
Nadia
When we come back, Henry starts to run. Stick around.
[COMMERCIAL]
ACT II, Rehearsals
Curtis
What um, what's it like rehearsing with Henry Threadgill? Like, how does he go about his rehearsals?
David
[Laughter] Well, he goes about rehearsals in a way that tells you that whatever you rehearsed might or might not happen. So he's basically trying to get the musicians conditioned in a certain way so that they are able to have different ways in which they can navigate the music at any point. So he's trying to train us in rehearsal to do that.
Henry in rehearsal
There's always a discrepancy between writing and reality [laughter]. You know, get the music off up the page. This might come out any kind of way. We're not going to set it, we don't want it to get set… Alright!
Henry
I keep trying to review ways to rehearse, that's the biggest thing now. How to instill the information from different ways, rather than from left to right. All kind of different ways, instill the information so that it gives me room to drop out stuff, to try stuff, you know. And know that this stuff is deeply embedded into the minds of the artists. That's the whole point: that I get the material deeply embedded, and ALL of the material, not a little bit of the information, so the more I get embedded in their mind, the more room you have to move.
Henry in rehearsal
Okay let's keep going, one more time and we'll keep going, okay.
Jason
He's not looking for the finish line, like, "Okay, you played it perfect? Okay, great!" No. [Laughter] It's more like, "Okay, have we all heard parts of what we need to figure out? Okay, let's move to section J, right?" And then if we're not getting, like, a certain phrase, let's play that phrase and then we'll play this one measure for seven, eight minutes, right? One measure of music, you know, that lasts about three seconds. We'll play it for, like, seven, eight minutes, and then he'll be like, "Hmm. Make that a new section." So all of a sudden you're watching his compositional process kind of shift too.
Henry
If I see the new vision, I'm going with the new vision. All I did anyway was open up a path to something, you know.
Henry in rehearsal
What do you got in that four-four bar?
Henry
See, what you write down is never the endgame. You can't get it anyway. I think we as composers, people, all their live, they spent trying to get the whole picture on paper. You can't do it. You come as close as you can with this notation system, and we developed a very sophisticated notation system over centuries now, and still I don't think that any composer would ever say that our notation system has allowed us to really grasp a hundred percent of what is in our mind. I don't believe it.
[Henry Threadgill's "Ensemble Double Up" rehearsing "Old Locks and Irregular Verbs"]
Henry in rehearsal
Yeah, thanks for nailing it you all. Ooh that's bad now. Way to clean this up a whole—some miles away from where we had it!
Jason in rehearsal
Yeah, for sure.
Henry in rehearsal
These delicate parts is you know, they're starting to really come to life.
José in rehearsal
There's a lot less insecurity about it.
Henry in rehearsal
Beautiful.
[Henry Threadgill Zooid - White Wednesday Off The Wall]
José
I'm José Davilla. Tubist and trombonist in Henry Threadgill's Zooid. You know how people have that ability to read other people? He has that ability, that affinity to read into a person's musical ability and see also other possibilities that aren't being done at that moment.
Jason
And so it starts to form I think like, kind of like this—who's the artist that used, Seurat, you know, who uses dots, you know, to kind of like, and then you step back from it. Or like Chuck Close, you know, you step back from a Chuck Close and then you see this portrait of a person's face. But when you're up close on it, right, like, you start to hear what the red is. And then he's like, "That red is still missing the blue that I didn't even write in, you know. But maybe somebody messing up. Or maybe, no, actually, you know, Curtis take a solo there. Let me hear that,
[Henry Threadgill Ensemble Double Up - Old Locks and Irregular Verbs - Part Three]
Jason
And then he keeps working it.
Henry - WNYC Archive 1987
The weaving process is a delicate one there's no set way you can do it each composition would determine how it must be achieved—the balance find the right balance so that it like comes out right sounding this fabric sounds like the way it should sound…
Jason
Or like some designer, you know, some fashion designer who goes to gather all of their textiles, right.
Henry - WNYC Archive 1987
...this fabric sounds like it should sound…
Jason
And then when they put it on the model, and then the model stands and then they circle the model. Then they say, "Rip the sleeve off!"
Henry - WNYC Archive 1987
I try to constantly keep myself in the position of listener and forget all of my knowledge. You know, which is a very very difficult thing to do but I constantly go through this process of being on this side of music and on the opposite side of music, to experience it as the listener.
Jason
For music, since it's in real time, we rarely can see where those edits take place. Or in the finish of a runway show, we don't see, like, the process, right? And so you also wonder, you know, as he lets things be really kind of free in certain spaces and I say free meaning, people can move in a variety of different ways, depending on who they are. But then there are places where he really smoothes it out so that an audience and him, as the composer, hears, like, this thing come together really quickly.
Henry - WNYC Archive 1987
My rehearsals are very important for me because like, the music especially if it has improvisation built into it, then the music is really not finished for me until I've rehearsed it because then it's subject to change.
[Henry Threadgill Sextet - Subject to Change - This]
Henry - WNYC Archive 1987
It's subject to change because what I hear and what can happen in the rehearsal will call for alterations.
David
He always talks about the rehearsal as an exploration, not in the way that you know, you read something from left to right and you leaving it at that. He's looking to expand on the music.
Henry
The end is what? Is to make a musical creative statement. That takes precedence over any little thing that I've done. I'm not gonna like, gonna sink and die over something I wrote. Forget it. Abandon ship. Kill it. Kill the baby! [laughter] There'll be another baby. [Laughter] Kill the baby, is what I say, if necessary. Move on, you know.
Craig
When he walks down the street, you ever notice that? He's like [singing]. He's always singing some march.
[Henry in taxi singing]
José
He's a fond lover of rhythm. You know if you grew up with marching band, you understand. Music is supposed to make you move.
[Henry in taxi singing]
Craig
And like, then you go to hear the music—he's like come inside! And he's walking into his apartment [singing] and then he sits at the piano and he plays [vocalization] and you're like—so this is what you're singing all day, and then that's what you're hearing on the piano?!
Composition
Henry at the piano at WNYC
Look, Curtis, two, two, minor three, four, five, six, no seven, Uh.
[Henry plays piano]
Look, all voices are only moving in that… Whole step, minor…
[Henry plays piano]
Henry at piano
[Laughter]
Curtis in distance
[Wooo!]
Henry at piano
It ain't nothing but…
Curtis
If you examine a piece of Henry's music, you see this fascinating logic behind it.
Henry at piano
You know those things, you know how they work? You know, so this was like, I wrote this whole section as two, two, minor three, four…
Curtis
So, if you examine a piece of Henry's music, you can see this fascinating logic behind it. He spent a considerable amount of time experimenting and developing his approach from the very smallest atomic structures on up.
Henry at piano
So, this kind of blues thing.
Curtis
And he finds a way that with every iteration and performance, it evolves. It's brilliant, it's very unique, and it's very thought out.
Pulitzer
Curtis
Alright, so, I have a funny story to tell. One time Henry was calling me—incessantly from an unknown phone number until I picked up. And so, [laughter] I finally picked up, and He said "Curtis, Curtis! Quick, you got a pen? You gotta a pen? Write this down!" and I said "Maestro, maestro, okay, okay, I'm ready." "You ready?—It's called 'Learning to Compose'" [laughter] And it was a textbook for undergraduate students published in '89 by Larry Austin. And it was this undergraduate text, that was meant to be an introduction to all sorts of composition practices and composers, for students, you know, young students. [Laughter]. But the funny thing is, just 10 days after he tells me to buy a book called "Learning to Compose"—for him… He wins the Pulitzer Prize. He wins the Pulitzer Prize for Music Composition! [Chuckle]
[Unoepic (for guitar) - Henry Threadgill Zooid - In for a Penny, In for a Pound]
Henry
To be recognized at what you're doing on any level is always a wonderful thing because the practice of art it is… It's not always rewarding. You just have to stay regardless. And any time there's confirmation and approval for what you're doing, it always is welcome, I'm telling you, you spend a lot of days out in the cold. [Chuckle] And when somebody say "Come, there's room at the inn!" Thank you! [Chuckle] I can come in, and have a cup of tea. Believe me.
Lee Bollinger awards the 2016 Pulitzer Prizes
The Pulitzer Prize in Music: for distinguished musical composition by an American that has had its first performance or recording in the United States during that year. "In for a Penny, In for a Pound" by Henry Threadgill, the highly original work in which notated music and improvisation mesh in a sonic tapestry that seems the very expression of modern American life. Congratulations, Henry Threadgill. [Applause] Congratulations.
Henry
I found out only after I got this Pulitzer Award, after looking into the history of the Pulitzer, And looking and see, what did I have in common with Elliott Carter, people like Virgil Thompson—what did I have in common with these people. And what we saw was, who was in the military and who wasn't.
There was no other Vietnam veteran that has won the Pulitzer in any category.
Any category, period.
Dirt
Henry in rehearsal
When do we get to the dirt part? [Laughter] So we can go home. When do they get to that part about the dirt? Ashes to ashes, dust to dust. When do they get to the dirt part? [Laughter]
Curtis
Maestro, what is your advice to young artists who are coming up in the world today?
Henry
Coming up today? A very, very open mind and a very, very broad appetite and menu for materials, you know. NASA, with the—what are the investigations going on with the fruit fly? Why have they sent so many fruit flies into outer space, and what is the research that they're letting us know that they're doing—what about the research they're not letting us do? So, can you come in your own thinking and stuff, find out, well, you know—given what they told me, ABC, there seems to be some other ideas like F and G in my own thinking that I better look into. Which could inform you artistically, is the whole thing.
You know, my whole big thing now is, you know, is dirt.
[Old Locks and Irregular Verbs - Henry Threadgill Ensemble Double Up - Part One]
Dirt is earth. And everything is earth. Cause it's only two things. It's either dirt, or life that is not dirt. Everything in this room, basically, is the result of earth. You know, all of the beautiful flowers, the walls, you know, the food we eat, all of the bees and hummingbirds that comes around the flowers, everything, that's earth. Which is dirt.
And we, as the human species, which is not dirt but will become dirt [laughter] is, that is the second part. Which is a part of the equation, "The Great Body of the Riddle".
We have the dirt world, the trees—when you go and look at a redwood tree and a hundred people can stand inside of it; if you are not mystified out of your wits, you really need to see somebody.
You can go to all the performances at the New York City Ballet or to hear the symphony or hear me or anybody else. You get a little bit of information every now and then. But, at a certain point, I think, they stop informing you on a certain level. I think there's some bigger things, and the bigger thing is dirt. [Chuckle] For one, and then that which is not dirt, which is really a complex world. But what there is to learn from dirt is monumental. Absolutely monumental.
This building is dirt. Look at it. Look at what all is in here as a result of dirt.
Curtis
Thank you, Maestro.
Henry
Yup.
Credits
This is Porter Anderson with take two, Meet The Composer season credits. You ready? Here we go: three, two, one.
[David Virelles, playing variations on Henry's Old Locks & Irregular Verbs at Q2 Music studios]
Hi, this is Porter Anderson from Tampa.

Links to all the music featured on today's show are available at http://q2music.org/meetthecomposer.

This episode of Meet The Composer was produced by Curtis Macdonald, Meade Bernard, Alex Overington and Nadia Sirota, with help from Hannis Brown and Jon Hanrahan. Our Executive Producer is Alex Ambrose.

Thanks to our special guests José Davila, Jason Moran, Craig Weinrib and David Virelles. David also performed the music you're hearing right now: a variation of Henry's "Old Locks and Irregular Verbs" recorded live at Q2 Music studios. And a huge thank you to our guest of honor, Maestro Henry Threadgill.
Thank you to Seth Rosner and Yulun Wang at Pi Recordings, and to New Music USA for their flexibility with the use of the "Meet The Composer" name, which became famous through their legacy organization founded by composer John Duffy.

Many thanks to our Season 3 Kickstarter donors, including:
Nico Muhly
John Russo
Elena Park
Benjamin Wyskida
Gity Razaz
I'm Porter Anderson for Q2 Music and Meet The Composer.