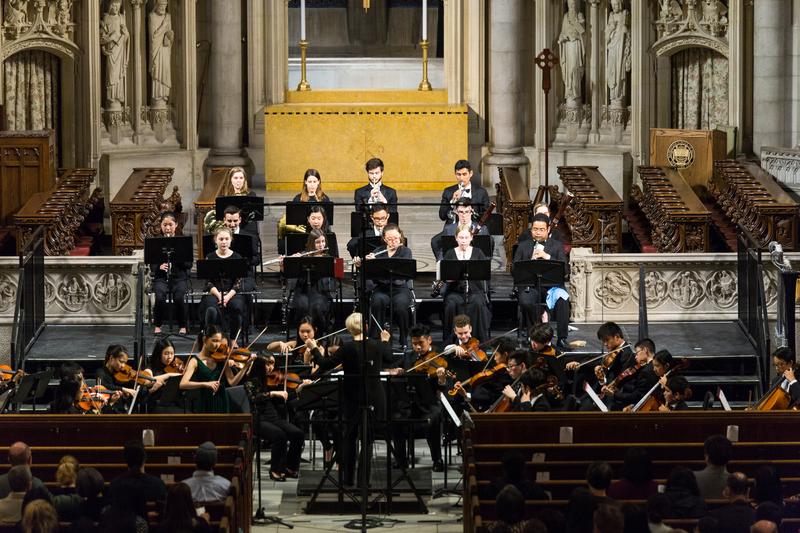 Transcript
Bob Sherman Hello everybody, I'm Bob Sherman and today we take one of our occasional trips to the Manhattan School of Music, to meet some of the talented teenagers in two of the pre-college division's four orchestras; here on this 2,162nd edition of the McGraw Family's Young Artist Showcase.
Bob Sherman And yes, I didn't misspeak earlier there are indeed four orchestras in MSM pre- college division, meaning that during the school year, nearly 300 youngsters spend their Saturdays taking private lessons and then rehearsing within one of those symphonic ensembles. Many more teenagers, of course, are involved with equivalent choral, chamber, and jazz programs. Our own musical adventures as always are presented with high community pride by the Harold W. McGraw Jr. family foundations. One of the very impressive elements of these pre-college orchestral programs that MSM, is that the kids are exposed, not only, to standard pieces, but 20th-century works that would pose significant challenges (I suspect) for a professional orchestra. Case in point, Nathan Hetherington guiding his pre-college Philharmonic youngsters through the rhythmic tangles of David Diamond's Symphony Number One.
Bob Sherman No applause because the rest of David Diamond's first symphony, yet to come in this May 11th concert by the 16 and 17 year old players in the Manhattan school's Pre-College Philharmonic conducted by Nathan Hetherington. Nell Flanders led the even younger members of the Pre-College Symphony. These are mostly 14 and 15, and it's similarly a daunting work that they (as I suspect most of us) had never even heard of before: William Grant Still's Afro-American symphony. This historically significant work: -it was the first symphony by an African-American composer to be played by a major American orchestra (I think it was back in 1930 or 31).
Bob Sherman It's in four movements each bearing lines from a poem by Paul Laurence Dunbar. We don't have time for the complete symphony, but let me bring you two excerpts. The poems are in dialect (which I, of course, will not attempt to replicate). But for the Adagio, the text says, It's mighty tiresome lying around on this sorrow-laden earthly ground and oftentimes I think it would be a sweet thing just to die and go long home".
Bob Sherman Paul Laurence Dunbar's poetic thoughts for the finale of William Grant Still symphony are upbeat and exultant, "Be proud my race in mind and soul/thy name is written on glory scroll/in characters of fire/high amid the clouds of Fame's Bright Sky/the banner emblazoned folds now fly/and truth shall lift them higher."
Bob Sherman Part of the slow movement and the finale of William Grant Still's Afro-American Symphony... And what an impressive performance. Nell Flanders leading the 14 and 15 year old players in the Manhattan School's Pre-College Division Symphony. We'll rejoin the older kids in the Pre-College Philharmonic and meet the two winners of its' own Concerto Competition after we call a short intermission, here on the McGraw Family's Young Artists Showcase.
Bob Sherman I'm Bob Sherman and as promised we return to the Manhattan School of Music Graduation day this past May 11th when all four of the Pre-College orchestras were in performing action. The most advance of the ensembles: the Pre-College Philharmonic, had earlier held a concerto competition, and the two top winners were featured that evening. Here first, Abigail Nishiwaki; then a graduating senior at Scarsdale High School, studying at MSM with Elizabeth Faidley; now a freshman at Princeton, where she plans to divide her attention between music and public policy... Hope music wins out somehow. Anyway, for the last three years, Abigail also served as concertmaster of the Pre-College Philharmonic and her concerto choice was the first movement of the Sibelius, D minor.
Bob Sherman Quite a compelling performance: first moment from the D minor Concerto of John Sibelius, played last May by the winner of the Manhattan School's Pre-College Philharmonic Concerto Competition, not to mention its concertmaster, Abigail Nishiwaki. The Pianist laureate of the concerto competition was 16 year-old Esteban Castro. Although most of Esteban's, quite a number of awards and prizes have been for his jazz performances, he's also composed more than 40 pieces and looks with a special pride on a big band commission from the Jazz at Lincoln Center Orchestra. Esteban Castro did stay within the classical world to collect the Manhattan School prize though, and here is his exciting performance of Prokofiev's Piano Concerto Number one, again with music director Nathan Hetherington conducting.
Bob Sherman Resounding and well-deserved applause for that sterling account of Prokofiev's Piano Concerto Number one, played just a couple of months ago by 16 year-old Esteban Castro with Nathan Hetherington at the helm of the other teenagers in the Manhattan School's Pre-College Philharmonic. I do want to thank Kelly Sawatsky, director of the Pre-College division for making these performances available to us. And that does end our showcase adventures for tonight, meaning that it's time for our weekly greeting from the fellow whose personal enthusiasm and financial generosity have combined to let the Young Artist Showcase move about halfway through it's 42nd consecutive year on WQXR. Here's Terry McGraw.
Terry McGraw Well thanks Bob. There's nothing more satisfying than seeing some of the wonderful young musicians we introduce on young artist showcase, go on to become part of our musical mainstream. And it happens all the time on this program. It shows we're not only on the right track, Bob, but leading the way towards a great American future in the arts. I hope you'll all join us again next week.
Bob Sherman Thank you Terry. Last month Astral Artists announced the 2019 winners of it's national auditions, but next week we'll be eavesdropping on recitals by some of the 2018 laureates; an occasion to which you are most cordially invited. Our Young Artists Showcase far in-away the longest ongoing series in WQXR's history is supported as a community service by Terry McGraw and the family foundation named for his dad, Harold W. McGraw Jr. Max Fine as my stalwart producing partner with thanks due as well, to you: members of our faithful listening panel. I'm Bob Sherman, good night everybody.