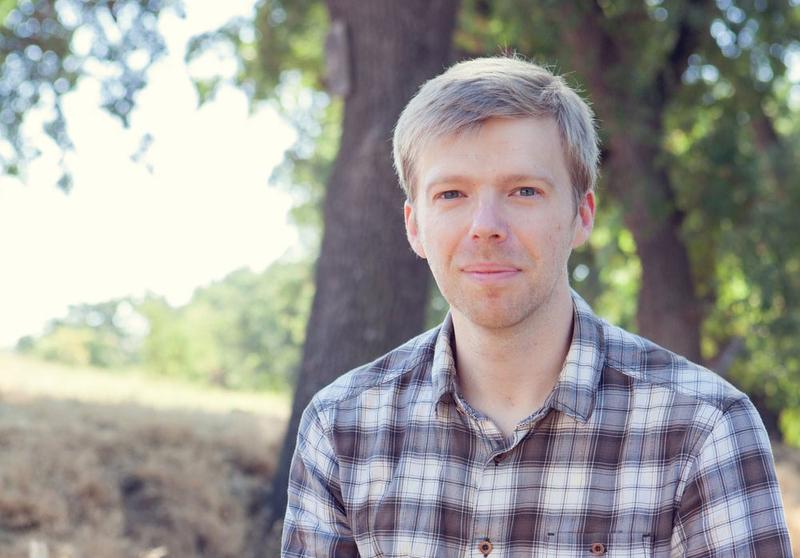 Transcript
[music]
Speaker 1: This is Meet the Composer.
[music]
Nadia Sirota: Do you ever find yourself scanning the dial on your car radio and stumbling upon some music you don't recognize? In my family, we played Guess the Composer, and we tried to figure out who wrote the piece based on whatever little clues we could pick out, an arpeggiated baseline that pointed to Mozart, or some wacky stacked chords that could only be by a French composer, or big-wide intervallic leaps that screamed German music.
When I first heard this music, a piece called Play by today's featured composer Andrew Norman, all of my usual associations pointed in different directions. On the one hand, there's some pretty Pierre Boulez-y complex orchestration. Piles of notes go into creating shapes in high-definition, shapes meant to be viewed from a few steps back. On the other hand, what's this emerging tonal tug? You begin to realize there's some pretty old-school classical harmony in the mix.
Andrew's music fits into a weird spot in new music in between the modernists and the neo-romantics, an irresistible combination of soft and hard sounds that engages so many parts of my brain at once. Today on our show, we'll follow Andrew Norman on his journey from the comfy identity of kid composer, writing emotional filmic music for his middle school orchestra to the too familiar college freakout. This particular freakout starred modernism and atonality. Andrew nearly stopped writing altogether, nearly abandoned his whole childhood identity. He found his way out by flirting heavily with another career choice, architecture.
[music]
Nadia: From WQXR's Q2 Music, this is Meet the Composer, a deep dive into the minds of 21st-century artists. I'm your host Nadia Sirota. Today on our show, Andrew Norman.
Andrew Norman: I'm Andrew Norman, and I'm a composer.
[laughter]
Nadia: Mark Swed of the LA Times wrote, "There is no ends to the odd sounds Norman entices from a fairly conventional chamber ensemble, strings buzzed like insects, winds bursting with pinpoint dabs of color." A couple of years ago at 33, Andrew was a Pulitzer Prize finalist and now he's teaching at USC, his alma mater. Where did it all begin?
Andrew: Back to the beginning. I was born in Grand Rapids, Michigan--
Speaker 4: Welcome to Grand Rapids, Michigan, where old-fashioned family values never went out of style, and music rings from every street corner.
Andrew: --then I moved to Rockford, Illinois, another bucolic Midwestern town. I lived there until I was about nine. I spent about eight or nine years in Modesto, California, did the bulk of my growing up there, and then left for school.
Nadia: Did you take instrumental music lessons as a kid or did you sing in any choirs?
Andrew: I sang in church choir all throughout my childhood. At a certain point, I remember when I was quite young, my parents had a little toy organ in the house. It was the only toy that I played with, so they figured out that maybe I had an interest in music, then they rented a piano, they got me some lessons, but it was very much my own thing. They weren't musical people. They're appreciative, but not super musical themselves. Consequently, I could fake practicing.
[music]
Nadia: What would you do, the fake practicing?
Andrew: Well, I was always just sitting at the piano for hours a day making up my own stuff, not doing what I was supposed to be doing. My piano career languished quite a bit.
Nadia: You used composition or improvisation as a procrastination technique?
Andrew: Oh, absolutely. Absolutely, yes. My parents didn't seem to know the difference. Maybe they did. Who knows? They let me do it. The idea of making up my own stuff with an instrument seemed to be the most natural thing for me, as opposed to perfecting and practicing old music.
Nadia: You said you sang in a church choir, what kind of church choir?
Andrew: My father is an evangelical minister. In every church where he was pastor, always my brother and I sang in the choir. When I got a little bit older, I also played a lot of church music on the piano, and that was my main musical outlet for a while, it was in church.
Nadia: I actually don't know much about the musical traditions of the evangelical church. What does that stuff sound like?
Andrew: It varies greatly, and different churches are very different. Some of them are very traditional, and the music resembles a lot of the Protestant tradition of Lutheran hymns and stuff like that.
[music]
Andrew: Of course, then it runs the gamut all the way to the worship band sort of thing where it's like rock music every Sunday morning, and there was a little of that in my youth as well. It's somewhat embarrassing. Just from a musical point of view, it's a little embarrassing.
Nadia: Were you a keyboard player in an evangelical rock band?
Andrew: Yes, you could say that.
[music]
Andrew: It's so funny because there seemed like there's so many composers in our generation who have this GarageBand experience in their past. I have the evangelical youth band version of that, which [laughs] I've never admitted to in public, but there it is.
Nadia: I love that. [inaudible 00:06:39]
[laughter]
Andrew: Three-chord rock with I Love You Jesus lyrics. It was fun.
Nadia: You know that we're going to email you until you send us recordings of your evangelical rock band from your childhood?
Andrew: Those recordings don't exist.
[music]
Nadia: So you say.
Andrew: I can laugh about it now, and it seems unusual, given the context of my music, but actually, I feel like it's a kind of experience that formed me in a lot of ways, especially when it comes to the idea of music as an emotional experience, that very viscerally-felt arc, that a lot of rock music, and especially evangelical Christian rock music wants to take you on a little journey. That, even now, it's still very important to my work, I feel like.
Nadia: You're also a violist. When did the string instrument thing start happening in your life?
Andrew: String instruments started in the fourth grade in school. My elementary school had a really awesome teacher. I wanted to jump on the bandwagon.
Nadia: So to speak.
Andrew: The orchestra wagon.
Nadia: There it is.
Andrew: I think from the very beginning, I've always been not super strong on technique, but great on spirit in all of my instruments. I started in violin, switched to viola in high school because they needed them, which was amazing. It was the best decision of my life.
[music]
Andrew: I've always been an improviser and not really strong on the focused and practiced technique of whatever instrument I was playing.
Nadia: How did you start writing to begin with?
Andrew: I was always making things up. I wrote some piano pieces, and for me, because I was such a avid improviser, the trick was always notating what I had made because I could play it, but my notation skills were far behind what I could actually make up. That gradually improved, and I had a fantastic teacher in high school who really helped me with notation and the ideas of compositional craft. Actually, in junior high, I started writing for orchestra. I started writing for my little junior high orchestra.
[music]
Andrew: It seemed really natural to me. These were all my friends. I don't know, I just dove in and I wrote a string orchestra piece, and then I wrote an orchestra piece. As a kid in small-town California, you get noticed pretty fast when you're writing orchestra music and you're 14. In a way, that became part of my identity in a way that I've also had to deal with some as an adult like-
Nadia: Kid composer.
Andrew: -kid composer-ness. Special kid composer, known for doing something.
Nadia: Articles mentioning Mozart.
Andrew: Yes. A lot of positive reinforcement at a young age. Even from the beginning, my music had a natural theatricality to it and a natural sense of drama, and often sounded like film music, as was mentioned to me quite often as a child, which is fine. That's also something that I've dealt with.
[music]
Andrew: We haven't talked about this yet, but I also desperately wanted to be an architect as a kid, and in fact thought I was going to go to architecture school until I woke up one day, and I was in music school and I said, "How did this happen?"
Nadia: How did this happen?
Andrew: I don't know. I had this very inspiring music teacher in the last few years of high school. I think she really showed me that it was possible to be a musician and then I just thought of, "Yes, I'll be a musician."
Nadia: Andrew went off to college-
Andrew: I was both a piano performance person and a composer.
Nadia: -and then as many people do in college-
Andrew: I had a freakout about a whole lot of things, and one of them was writing music. I just quit for a while and I didn't know what I was doing. All of a sudden, I was like, "Wait, I'm 20. I should have been in architecture school this whole time. I'm a miserable composer, everything is wrong."
Nadia: One day Andrew found himself in the architecture library.
Andrew: At USC, where I was doing my undergrad and realized that I had this very personal connection with a lot of buildings. I just remembered this whole passion from my youth came back, but then I also realized that there were similar things that I had been trying to do in my music and that I could use architecture as a metaphor for the things that I wanted to try in composition. In a way, I started writing music about buildings.
Nadia: Your breakthrough moment in composition was flirting with architecture?
Andrew: Yes, engaging with architecture, and I can find inspiration there and I started writing music again. I was also struggling a little bit with modernism.
Nadia: What do you mean by modernism?
Andrew: Oh, dude. [chuckles] I didn't mean to say, "Dude." Oh dear, [chuckles] modernism.
[music]
Andrew: My education as a young composer up through high school didn't have much to do with music that had happened in the mid and late 20th century. When I got to school, of course, all sorts of music was thrown at me and that was also freaky.
[music]
Nadia: Music like this piece, Répons, by one of the scariest names in 20th century music, Pierre Boulez. Boulez writes super awesome music, but not without a chip on his shoulder. He famously said in 1971, "It is not enough to deface the Mona Lisa because that does not kill the Mona Lisa. All art of the past must be destroyed." Imagine how this idea impacted a kid who had spent his entire life studying the art of the past and crafting work based on those ideas?
[music]
Andrew: I would love to be a composer who is excited by all that stuff initially, but that's just not the truth. I was freaked out. I think it also has to do with, in part, because I had a pretty formed identity at that point as a composer, like this idea that I've been a composer since I was 10 and people really loved what I did, and then there's all these other ideas of what it means to be a composer that people in the 20th century explored, and I was like, "Ah."
[music]
Andrew: Looking back, I wish I had been just like, "Chill out, Andrew, just experiment and do whatever you want," but I wasn't, I was freaked out by everything. Anyway, the idea of thinking about modernist architecture really helps me get my brain around modernist music, and by that I mean mid-century modernist music.
Nadia: I think probably some of our listeners are thinking about Danish furniture right now.
Andrew: Oh, as am I. I always think about Danish furniture. Come on.
Nadia: Mid-century modern music sounds not a lot like, in my mind, what Danish furniture would sound like.
Andrew: I know. I often think that "Why couldn't they just sound like beautiful Danish furniture?" Modernist music is not like that.
Nadia: Such as?
[music]
Andrew: Such as Boulez, Milton Babbitt, Stockhausen. This is music that tends to be very, very dense, on the surface, very jagged and angsty. You might say it's a little angsty. Also, maybe angst is the wrong word. It can also be very, very detached, very structurally minded, but very inscrutable, in a way, on the surface, and presents a lot of very different ideas about what music can be from the expressive, big romantic paradigm of my youth. As a pianist, I was very much about playing rock on and off and [unintelligible 00:15:13] To me, that kind of expression was what I understood music to be. Encountering something that was entirely different from that was a little shocking.
I would say, one of the interesting things about my development is that that sense of conflict between aesthetic paradigms, it often stops me dead in my tracks. It's been something that I fixate on a little bit. It is often a source of a lot of the tension in my works. I took this whole conflict very, very seriously in a way that I almost-- Sometimes I look around at other young composers and I'm amazed because it seems like they're all just happy with everything. I was like, "Wait, didn't you struggle for a decade with this like I just did? Isn't this a huge deal for you?"
[music]
Andrew: There's modernist people who have these very strong ideas, and then there are postmodernist people or neo-romantic people or whatever people, and they all have very strong ideas. How do you keep them all in your head? For me, there's that attention there between all those ideas. It has one of two effects on my music. One is to completely just shut me down, or it leads to some strange, perhaps, freakish union of the modernist Andrew with the hyper-expressive Andrew.
I never quite know where that's going to land, but I'm getting better about just accepting the fact that I'm genuinely attracted to a lot of different things aesthetically. Even though if you look at them dogmatically, they don't have anything to do with each other, you can find some weird ways to get them to intersect in a piece of music and that's interesting. [laughs]
Nadia: What are these pieces about buildings that you started writing?
[music]
Andrew: I got to spend a year in Rome about six years ago at the American Academy. I made it my goal to visit every church in the city, and I failed miserably because there's 7,000, but over the course of the year, certain churches became significant and important to me. The Companion Guide to Rome is this massive string trio and it's in nine movements. Each movement is a little character piece inspired by a particular church in Rome.
Nadia: There's one big central movement. Can you maybe explain a little bit about what that movement's doing and what it's inspired by?
Andrew: The very last movement of the piece is a third of the piece, it's 10 minutes long. It is the big work and it's preceded by eight little small things, and that movement is called Sabina. It's named after the Church of Santa Sabina, and it has the most amazing translucent stone windows. It's a very plain church in Rome. It's unusual because most of them have just been built on and built on and built on. They're a little bit like your grandma's house, things just accumulate on them.
This one is very, very plain except for these windows which are more than a thousand years old and they're made of translucent stone. One day, I got it in my head to go there before sunrise and watch what happens with these windows and how the light comes in through these golden patterns which are constantly changing, and a cloud passes in front of the sun and they disappear.
[music]
Andrew: It was really amazing for me, and so I wanted to write a piece about it and deal with the idea of morphing patterns. For me, it's all about the open strings and getting a sense of resonance out of three small string instruments, making them sound much larger. There's a moment where it clearly veers into fantasy land. [chuckles] It starts, and it's about light and stone and whatever, and then all of a sudden, it opens up into some huge-- something like, "Where did that come from? I have no idea." Definitely, it's like taking this idea and just making something gigantic out of it.
[music]
Nadia: In this piece, the player's bows almost never stop moving. The texture is intense, almost frenetic, but because of the way string instruments are tuned, the harmonic and melodic material moves at a totally different pace. The music unfolds gradually, almost inevitably, towards a string of ecstatic climaxes.
[music]
Nadia: Sabina is the last moment of Andrews's piece, A Companion Guide to Rome, which was a finalist for the Pulitzer Prize in 2012 and which you can listen to more of on our website, q2music.org/meetthecomposer. When we come back, Andrew and I talk notation, expression, and weird ways to play instruments. Stay tuned.
[music]
Nadia: Q2 Music's first podcast Meet the Composer is finally here. Subscribers to the MTC podcast get not only immersive, plush interviews with some of the most innovative, brilliant, and weird composers out there, they get exclusive recordings of music performed by some of today's hottest ensembles. On Aug 12th, the podcast subscribers can download an exclusive track by Andrew Norman as part of our Bonus Track series. It's all available at q2 music.org and on iTunes.
[music]
Nadia: I'm Nadia Sirota. I'm from WQXR's Q2 Music. This is Meet the Composer. Today, we've been mining the brain of Andrew Norman.
[music swells]
Nadia: In 2013, Andrew wrote a piece for my sextet yMusic called Music in Circles. yMusic's instrumentation poses some pretty specific problems to composers. We have a string trio plus flute clarinet and trumpet. For one thing that's a whole bunch of treble instruments and not a ton of base, and number two, mixing winds and brass who in an orchestra can make their solo lines sound clearly heard above 30 or so string players with three people on the string team can pose some interesting challenges to composers, to say the least. Andrew's solution to these particular challenges was pretty unique.
[music]
Nadia: He actually ended up employing a lot of extended techniques, weird ways to play our instruments, and the result was a sound that was so different, we actually had a bunch of rehearsals dedicated to figuring out how to get the trumpet to poke out of the ensemble texture. Here's yMusic flute player Alex Sopp.
Alex Sopp: I play flute with a bunch of groups, including yMusic and with The Knights. It's super athletic to play his music. I can't tell you how. It really takes every bit of life that you have to give into it, it really takes out of you. For me, especially Music in Circles is the equivalent to going for a really long run or doing something really strenuous.
He would always encourage us to go faster and faster and I think because he really did want that breathless ecstatic run to the finish. He never wanted it to sound too in control. It's all the different sounds and the amount of air that goes into all of these sounds and then just the way that the phrases tumble on top of themselves over and over again. It can leave you a little lightheaded, but I think that lightheadedness is what makes it beautiful.
Nadia: As you may gather, these techniques, these sounds that Andrew is asking for, some of them are pretty standard at this point, techniques like sul ponticello, where a string player can draw the bow close to the bridge to produce a wheezy, ghostly sound or blowing air through the wind instruments to produce the faintest hint of pitch. Others, though, they are straight from the crate, creative Andrew stuff.
Andrew: A lot of my work is all about very clearly and concisely explaining very complicated physical combinations of motions.
Nadia: Your scores must look a little bit different than your typical Bach Partita.
[music]
Andrew: Yes, they do. I would love to be able to write a score that looks like a Bach Partita. Some someday I will. By that, I mean a score that is so crystal clear that, in a way, lots of notes aren't needed about it, notes meaning written instructions. I think that's the beauty of Bach, is that he leaves so much open-ended that we can do whatever we want with it. There's so many possible layers, but for me in my work right now, so much of what makes my music my music goes beyond traditional notation and pushes at the boundaries of what our notation system can do.
By the way, I love notation, I love our system. I think it's the most special thing about being a composer, is that we work with this notation system that has come down to us after a thousand years of evolution and that we're adding to it constantly. It's a beautiful, beautiful thing. Sorry, if I'm getting on a little soapbox here. There's so many kinds of music that don't involve notation that are spectacular and interesting and beautiful, but our little world involves notation. I think that's so, so, so special that when you, Nadia, play a piece by me, Andrew, it's not just me telling you what to do. I write it down and you make something of it. That's amazing to me.
[music]
Andrew: Anyway. Okay, back. I'm back.
Nadia: I love it though. I think we should always have a notation soapbox moment.
Andrew: Everyone, come on, people. Notation, it's amazing. What was I saying? I was saying something about-
Nadia: We were talking about how actually you were pushing notation and the things that you're asking for.
Andrew: Our system of notation, as it has come down to us-
[music]
Andrew: -is very, very good with pitch. When you want a certain pitch, you just write it and everyone knows what you mean. It's pretty good with loudness and softness, actually not so good. It's really good with rhythm. If you're writing rhythm in a certain kind of way you can be very, very clear. Where it really falls apart is when we're talking about timbre. Timbre is a fancy word that just means, I would say, the color of the sound. It's what makes a trumpet sound like a trumpet and viola sound like a viola.
Nadia: Other timbral ideas, aside from just force, are really, really not available to us just in terms of the system of notation that you're talking about.
Andrew: The system is just very vague. There's no clear way, and we have this system of words that we use sometimes.
Nadia: Right. It's also in eight different languages, right?
Andrew: Yes. It's come down to us in this weird combination of different languages and all these terms that mean slightly different things to different people. Gradually, it's like the history of science or whatever, and every once in a while they have a big conference and they decide something. Notation is like that too. Every once in a while something finally makes its way into the standard lexicon. I still feel like we're all mishmashing around when it comes to timbre and stuff like that and how we really are going to describe these things that instruments do
Nadia: I actually have a viola here weirdly.
Andrew: Oh, let's do a demo.
Nadia: Let's do a demo, right?
Andrew: [laughs]
Nadia: Great.
Andrew: Cool.
[music]
Andrew: Oftentimes, extended techniques are used to create different and unusual timbres on an instrument. For instance, I can make your viola sound, not like a viola but like a whispering breeze or something like that.
Nadia: My normal technique of playing a G would sound something like this.
[music]
Andrew: Now we can change that timbre. If you move towards the bridge-
[music]
Andrew: -we get that sound. If you play directly on the bridge-
[music]
Andrew: -you get this amazing air sound. That's changing the timbre of that viola through a very specific extended technique. The slow-motion bow, you want to try some slow-motion bow?
Nadia: Yes.
Andrew: Well, first of all, one of the keys is to do light left finger pressure. Pick a note, maybe-
Nadia: Instead of playing a G# like this, [music] I'm going to use a light pressure so it doesn't really have a lot of pitch.
Andrew: It's a little fuzzy-sounding. I just want you to imagine yourself, you're in a movie that's gone into slow motion and you're really just-
[background noise]
Andrew: You can lighten the pressure, and you can heavy and you can add pressure. You can go closer to the bridge even sometimes and get--
[background noise]
Andrew: This other thing that I did with that slow motion; if you were to finger G, but finger it halfway so it's not fully depressed, and then use some of that slow motion bow. If you massage the pressure in your bow arm and the pressure in your finger in your left hand, you can get a note that sounds like that G but has a little dirt in it.
[background noise]
Andrew: You see how it's coming in and out? Who knows what that sounds like? You by yourself in front of a microphone, but when you get a whole string section doing that-
[background noise]
Andrew: -what it sounded like was actually like an old-timey recording where everything is fuzzy and covered in this layer of sonic dirt. I thought it was really cool. Either I invent my own symbols for these things, these very specific physical combinations of motions that are going to lead to a very specific timbre. I could invent a symbol or a brief word description of them, which then, it borders on linguistics in a way because it's like inventing a language. However you define your symbols in your language, it actually defines what you can do with it musically.
Finding a symbol or a label, that's going to work with all the different ways I want to use it musically is actually-- sometimes that's the primary challenge of my work.
Nadia: The piece that you wrote for yMusic, Music in Circles, had a stroke that I've actually really never seen demanded, which was this stroke where instead of moving back and forth in a bounce like- [music] you asked for me to move it completely up and down, which makes this really interesting sound. [music] What I do like about your music is that that seems like such an obvious move now that I've done it, but before you asked for it, it hadn't occurred to me.
Andrew: Great. [chuckles] I think that move is purely just me goofing off at home and being like, "Well, what happens if I don't move it up and down? What if it's just bouncing on the string?" Not only just use that sound, but then to see where that sound could go, how that sound could develop, that's the interesting thing for me, and then how to describe to you and all the other violists of the world how to make that sound, that's the trick.
[music]
Nadia: I definitely hear some resonance between the yMusic piece and Sabina from The Companion Guide to Rome. Are those pieces related in your brain at all?
Andrew: Oh, very much. They're in the same key in fact, and they both deal with organic growth and how to take something very, very small and spin it into something that is surprisingly large. That piece also deals with the string instruments in a very similar way about getting those open strings to ring.
I had two different ways of working. One is the jump-cut Andrew, I would say, where it's about smashing disparate ideas right up next to each other, having them interact or interrupt each other-
Speaker 6: Oh, Thomas.
[music]
Andrew: -and have this very Tom and Jerry sense or video game-like sense of how ideas go, which can be really fun. There's the other style, which is, it's often really amazing just to watch one thing unfold as if in a movie when they give you a single take and you have to start crying, and that's really amazing. Both the yMusic piece and Sabina are that one take, "Let's watch something unfold in real-time."
Nadia: What are some other techniques that you have been asking for lately?
Andrew: Well, there's all sorts of abrasive scratch tone, which I really love. I don't know. Would you mind handing me a viola?
Nadia: No, go for it.
Andrew: Wow, this is so exciting. These [music] sounds that are-- to me, they sound a little bit-- It's like an electronic sound. It's like when the needle has been ripped off the thing a little bit, or this one. I love this. [music]
Nadia: What I loved about that first electronic sound that you made, just because-- what it looks like is interesting, your left-hand darts really quickly up and down the fingerboard while you're producing that sound and your right hand is also very, very light and fast, and it feels like a cat pouncing on something.
Andrew: I'm glad you mentioned that because, for me, instrumental music is all about the combination of physical gesture and sonic event. They're related. There's a very strong physical gesture and it makes a very interesting musical sound. For me, they're inseparable in a way. I often think about these gestures in terms of the physical impacts, they're going to have, the visual impact. What does it look like for a human being to make this sound in this strange way?
My last big orchestra piece was like, "How can I manipulate the idea of 60 people doing that gesture?" It jumps out because it's 60 people doing this weird physical thing you've never seen an orchestra do in addition to making a really odd sound. Ooh, I've one more, I'm going to show you. I've also been playing around with the pitchless bounce, the one- [music] If you just lighten your fingers, [music] I love that sound.
I wrote this whole- [background noise] that sound. [background noise] That's me just sliding my fingers on the fingerboard. I don't know if anyone can hear that or not. [background noise] It sounds a little bit like, on guitar, the guitar shifty sound. I wrote this whole fugue for orchestra, for strings, which is just this sound. [background noise]
Nadia: By fugue, do you mean old school fugue, imitative writing where there's one voice and then another voice comes in a little bit later with the same material, and interacts with itself?
Andrew: Yes. As you say, a fugue gets a very old-timey thing, but you just put a new sound to it, and then it's like a whole new world.
[music]
Andrew: I'm sorry. I didn't mean to suggest that my music is a whole new world.
Nadia: Well, kind of is.
Andrew: It was a combination of [background music] pitchless thud and shifting sound. It was awesome. I try to be as open as possible and to have a combination of these wacky weird techniques. I also love traditional playing. There's nothing like the sound of a viola section in thirds.
[music]
Andrew: Ugh, kills me. No, let's do it all.
Nadia: As always, if you want to hear any more of anything you've heard on today's show, you can visit our website, q2music.org/meetthecomposer. When we come back from the break, Andrew and I will talk about his most ambitious project yet and what video games and Beethoven have in common. Stay tuned.
[music]
Gil Rose: It's a roller coaster.
Alex: It's fresh.
David Robertson: It's luminous.
Jennifer Higdon: It's breathless.
Gil: It's funny.
David: It's funny.
Alex: Exhilarating.
David: It's a Jack in the box.
Jennifer: It's imaginative. It's expansive.
Alex: Colorful.
Gil: It's frightening.
David: A little scary.
Jennifer: It's energetic.
Alex: It's frenetic.
Gil: It's punchy.
Jennifer: It's rhythmic.
Gil: Its risky.
Alex: It's winded. [chuckles]
Jennifer: It's joyful.
David: It's Andrew.
Alex: The first time that I heard Andrew Norman's music--
Gil: I'm actually doing paperwork.
David: I'm in [unintelligible 00:41:45] Hall.
Alex: I was actually playing Andrew Norman's music.
David: The group is getting ready to play.
Gil: -in my office stereo.
David: The piano makes this little tiny phrase.
Jennifer: That breathless quality
David: Just as the piano is about to finish its phrase-
[music]
David: -the whole rest of the ensemble comes crashing in.
Jennifer: It never just sits there on the page. It never just floats in the room.
David: Which sounds almost like--
Gil: A trip to a very good amusement park.
Alex: It's really driving and full of energy.
David: [unintelligible 00:42:22] some SWAT team has just come into the moment of silence where you are contemplating some poetic image.
Jennifer: It grabs you by the collar immediately and says, "Hey listen."
[music]
David: Then all of a sudden it splinters and you're constantly, "Wait, what is that?"
Alex: Within this great expansiveness.
Gil: After a while, I'm drawn away from my paperwork.
Jennifer: It struck me immediately as a voice that is unique, original.
Gil: Sophistication and the humor and the timing.
Alex: This great sense of unfolding.
Gil: I'm not able to concentrate on what I was doing and I'm actually concentrating on what I'm listening to.
Jennifer: It's changing constantly and holding your attention. To me, that's the sign of really fantastic art.
David: Some of the sounds are simple enough that you can grasp what they are.
Jennifer: Every piece is a unique sound world. It's completely unique.
David: Some of them you're thinking, "Whoa, who put this slippery stuff on the floor?" as you're sliding all around with the strings and the [unintelligible 00:43:21]. There's this amazing sense of trying to figure out where your bearings are and yet at no point, do you ever feel threatened or that it isn't worth it. I'm David Robertson, music director of the St. Louis Symphony Orchestra.
Alex: I'm Alex Sopp and I play the flute with yMusic and with The Knights.
Gil: I'm Gil Rose, artistic director and founder of the Boston Modern Orchestra project.
Jennifer: Hi, I'm Jennifer Higdon and I'm a composer.
Nadia: I'm Nadia Sirota. Today we've been mining the brain of Andrew Norman. As we've said a few times on the show today, Andrew has always been attracted to massive ensembles. He's been writing orchestra music since he was 14. That having been said, last year, Andrew wrote an orchestra piece that was his biggest yet. In a commission for Gil Rose and the Boston Modern Orchestra Project, Andrew wrote a 45-minute symphonic piece that represents something akin to a Symphony No. 1.
[music]
Andrew: The piece is called Play. It is really big and they gave me free reign to do what I wanted. I was like, "All right, I'm going to write an expansive symphonic piece." It's in three big parts. About a week ago, maybe 10 days ago, I had the idea to call them Level 1, Level 2, and Level 3.
Nadia: Is this like a video game?
Andrew: There's definitely a video game reference here.
[video game soundtrack]
Nadia: You've written a piece about a video game before.
Andrew: It's a recurring motive in my output. I'm not a gamer myself, but I really love watching. I think there's something very interesting about the way a narrative is processed in a video game and the way one works through time in a video game.
[video game soundtrack]
Andrew: The idea of trying things again and again, this is very natural to how video games work. You try it, you fail, you try. You choose a door, you go down there, it didn't work. You go back, you choose another door. I think of it in a very formal sense.
[video game soundtrack]
Andrew: I actually think there's something about symphonic form that is very similar to this idea of the do-over button and the, trying things multiple ways. In a Beethoven symphony, they present some ideas, they mix them all up, and then they go back and they try them all again and they get them right. What was gotten wrong at the beginning that created this sort of dissonance, we would say, they go back and they put everything in the right arrangement, which to me, is a very video game-like idea of, we're working our way through this thing, somethings go right, somethings go wrong, and then finally we figure everything out. What had been a mess, we figure out and we do it right.
[music]
Andrew: I could go on and on and on about this. For me what's so amazing about the symphonic tradition, not necessarily all the colors and the amazing sounds that an orchestra can make. It's the amazing formal sense you can get from an extended piece of music with no words in it. What's so amazing to me is when you're listening to a symphony and you have this realization like, "Oh, I've heard this, but now it's different," or, "I'm different because of the three minutes of music that happened in between. I'm in a different place," that sense of a formal click going on in your head, like, "Oh, that was what happened before."
Nadia: You get the payoff of a finale that feels great?
Andrew: Yes.
[music]
Nadia: You don't have a lot of time on your own in listening to a symphony to play with these ideas. They have to be presented to you in a way where you are going to contextualize them differently. How did you use this in play?
Andrew: There's a lot of techniques, but one of them is that, the piece presents you with a gazillion different ideas at the beginning.
[music]
Andrew: Gradually, over the course of the piece, some of these ideas become important as they come back, they start transforming. Some of them don't. Some of them are wrong doors. The piece very much, I would say, jumps around in its own narrative, something that's very common, not only to video games, but also a lot of cinema and TV these days, the narratives that loop back on themselves that aren't linear. This is a climax that happens over and over and over in the piece, Play, and every time it gets to this critical juncture, it comes up with a different answer.
[music]
Andrew: Those are all wrong. Finally, at one point towards the end of the piece, it comes up with the climax that is the right answer or the answer that leads it forward.
[music]
Andrew: This is a very Beethoven idea. Actually, there's nothing new about it.
[music]
Andrew: The percussionists in this piece are not just banging around on things, well, they are banging around on things, but those things actually perform operations on the rest of the orchestra. They're like triggers or buttons on a control for video games. There's a pause button. Every time one of the percussionists hits a particular instrument, the orchestra pauses. There's a fast-forward button.
[music]
Andrew: All sorts of different buttons that I decided, in advance, that these things were going to have these different operations. Who knows if anyone can hear this or not, but that's one of the ways that I actually wrote the piece. It's like, "What's happening? What would it sound like if I randomly paused it at any given moment?" I try it a few times or, "What if I just randomly sped it up and fast forward?"
The piece, there's so many different definitions for the word "play". Play can be a very happy, collaborative, creative word. It can also be slightly dark, this idea of manipulation or control, say you got played. Which I think about a conductor waving his arms and the orchestra plays is very much like a chain of control. They're doing something and people, they're being played.
[music]
Andrew: These percussionists are, in a way, playing the rest of the orchestra like a puppet and master. Anyways, there's this playful aspect of Play, there's sadistic sinister aspect of it, also it's like a play. I love thinking about an orchestra, not just in terms of its sonic potential, but in terms of its human potential. These are human beings making sound. It goes to the ideas we were discussing earlier about the physicality of making sounds and how this can be really dramatic and powerful, people making sound. I did think of the orchestra in terms of various protagonists that are interacting with each other on a very interpersonal level.
[music]
Porter Anderson: Three, two, one. Hi, I'm Porter Anderson from Tampa Florida. Links to all the music featured on today's show along with Andrew Norman's website are available@q2music.org/meetthecomposer. Meet the Composer was produced by Nadia Sirota and Alexander Overington. [unintelligible 00:55:48] was the assisting producer and the executive producer was Alex Ambrose. Thanks to Hannis Brown and Elena Saavedra Buckley. Very special, thanks to Gil rose and BMOP, Jennifer Higdon, David Robertson, and Alex Sopp, and to the LA Philharmonic for use of their live recording of Try.
A very special thanks as well to our Kickstarter supporters, including Eric Summers, Cynthia [unintelligible 00:56:11] Richard Perry, Bill Breagan, Mickey Serota, and Greg brown. Thanks to New Music USA for their flexibility with the use of the Meet the Composer name, which became famous through their legacy organization founded by Composer John Duffy. I'm Porter Anderson.
Nadia: You're listening to New York's Q2 Music, part of Classical 105.9 WQXR. Q2 Music is a listener-supported online station, devoted to music of living composers. Q2 is home for immersive festivals, live webcasts and on-demand concerts from today's leading music performers. Find us at Q2 on Facebook, Q2Music on Twitter and online@q2music.org.
[music]
Copyright © 2022 New York Public Radio. All rights reserved. Visit our website terms of use at www.wnyc.org for further information.
New York Public Radio transcripts are created on a rush deadline, often by contractors. This text may not be in its final form and may be updated or revised in the future. Accuracy and availability may vary. The authoritative record of New York Public Radio's programming is the audio record.