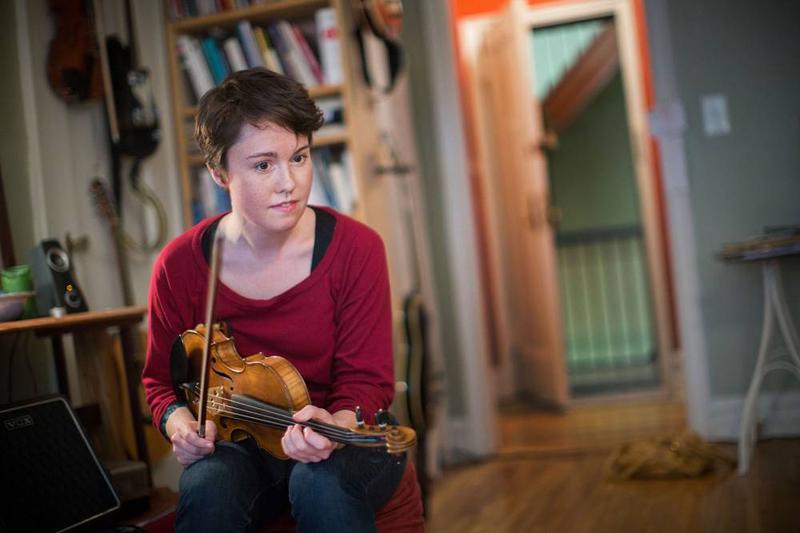 Transcript
[music]
Nadia Sirota: In 2013, 30-year-old composer, Caroline Shaw decided to submit this piece Partita for 8 Voices for consideration, for the Pulitzer Prize with the rationale that A, the $50 application fee was affordable, in her words, half the price of applying to grad school. B, maybe her group Roomful of Teeth would have an easier time booking gigs if they had a little brand recognition by the types of new music movers and shakers likely to be on the Pulitzer Prize Committee,
[music]
Nadia: Then something incredible happened.
[music]
Caroline Shaw: This is where I was. It was three-something, probably 3:03 PM on a Monday. I'd actually just gone to Brooklyn because I thought I had an Acme Rehearsal, and I didn't because I got it wrong. [laughs] I was like, "The didn't do today." I just come back from Williamsburg. I had some time extra the rehearsals that night. I walked down here because it was April and it was getting really beautiful. Then I got a call from a friend and as he was talking to me and telling me, I got a couple of other texts and calls. You know when your phone just keeps doing the thing in your ear?
Nadia: Yes.
Caroline: That was when I got the call about the Pulitzer. I don't like talk about, [laughs] but that happened right here.
Nadia: In case you didn't catch that, Caroline became the youngest ever winner of the Pulitzer Prize for music.
Caroline: We are on, I think it is Pier 64 is it true? Pier 64 west side of Manhattan. Right now I'm looking at the Hudson River. It is so beautiful. This is one of my favorite places in the city for a variety of reasons, but I love the water. I grew up looking at the Albemarle Sound in North Carolina. Something about looking at the Hudson River, it's just water is the same everywhere. Whenever you feel what's going on? Where am I? That's a very grounding thing for me. I love this pier because it's grass all the way down. It's just like probably trash built up on top of pilings. I'm sure I know it's trash.
I know I'm sitting on trash, but that's also this really interesting poetic metaphor. Then it's becomes this piece of grass that's jetting out of this crazy city. Then last summer it was just such an insane time, and I needed to figure out a way to deal with it by myself. I started kayaking and that's the best way to see the city. It's actually from a little boat by yourself, [laughs] and to even kayak back and forth. I never told anyone what I did or why this place was important to me, but we would kayak right by this pier. I would just remember that spot. This is where I was.
[music]
Nadia: For better or worse, the Pulitzer Prize has always had a reputation as a lifetime achievement award, especially for music. Something awarded to people like Charles Ives and Steve Reich closer to the ends of their careers than the beginnings. When I saw Caroline's name among the winners, my first thought was, "This must be a different Caroline Shaw." Caroline's winning the prize was exhilarating. It was a left turn for the Pulitzer. Today we'll explore what exactly makes her Partita so wonderful, and how Caroline uses her resources as a performer and a collaborator to create joyful, stunning work, stay tuned.
[music]
Intro: This is Meet the Composer.
Nadia: I'm Nadia Sirota.
[music]
Nadia: Today on Meet the Composer we mine the brain of Caroline Shaw. Until a few years ago, Caroline hadn't ever had a formal composition lesson. She had a couple of performance degrees and a pretty impressive bio as a performer with a thriving career as a new music violinist in groups like the American Contemporary Music Ensemble and as a vocalist as well in groups like Roomful of Teeth. Caroline had always been composing though. Composition to her was a natural extension of her musicianship totally married to her performance life.
[music]
Nadia: On a bit of a whim, she decided to apply for Princeton's PhD program in composition. Never having had a composition lesson in her life, Caroline was accepted and a couple of years later she won the Pulitzer Prize in music. Caroline's story is fascinating because she composes seemingly without ego. Her musical output is such a natural extension of her personality. Perhaps it's rare we see people rewarded for living their lives beautifully.
[music]
Caroline: I started playing violin when I was two. I don't remember that at all. It was through the Suzuki method so it's the idea that you start studying music when you are learning to speak. Language and music is really connected.
Caroline Mother: Can you sing, Oh Come on Children?
[music]
Caroline: My first violin teacher was my mom actually, so I remember her singing a lot when we were working together. I had two older brothers who play violin also. I would go to their lessons at this other teacher's house Joanne Beth. It was always Wednesday afternoons. When I was about five or six, I started taking lessons with her more. From 6 to 18, I had violin lessons on Wednesday afternoons never changed.
Nadia: Do you remember at all the first moment you connected music to your voice?
Caroline: I became really obsessed with Opera. I was listening to La Traviata every night when I was 10. I remember trying to play, wanting to make vibrato with the violin in the way that this particular singer sang, who'd sing actually a lot like my mom. She starts with a straight tone and a voice and then adds vibrato later on. I started to try and play the violin like a singer.
[music]
Nadia: Did you sing in choirs at all when you were younger?
Caroline: I sang in my local church choir. It's an Episcopal Church. We did a lot of hymns and traditional coral music. There was a youth choir in town. That seemed so nice.
[music]
Nadia: I remember my first string quartet experience I think I was maybe nine. That's when I really fell in love with music.
[music]
Nadia: Caroline, loved playing in string quartets, and to her, it just seemed natural to try to create her own.
Caroline: I wanted to write a string quartet just like Mozart. [chuckles] I didn't really know much about it, but I knew how notes worked. It was definitely a G major and I didn't put any sharps in the key signature because I didn't know what that was. Sounded a lot like a slow movement of a Mozart quartet, but everything was a little bit off. [chuckles]
[music]
Nadia: This template of, "I love this thing. Let's see if I can make one myself," comes naturally to Caroline. While many performers are petrified of writing notes for themselves to play, Caroline is not.
Caroline: Then I started playing a Brahms Violin Sonata when I was maybe 14 or so, and wrote a piece for Viola and Piano. I don't know why I chose Viola I think it was just more Brahmszian. I wrote that actually at music camp at Kinhaven one summer when I was there. They said, "Oh, anyone who--? We had this composer concert. If you have a piece that you've written or you want to write something, we'll do it." I went to this art shack at the corner of the music campus every day, and went up to this loft and would just start writing this piece. That was the first piece I ever completed and played myself.
[music]
Nadia: As you were going into high school, was your thought like, "I'm definitely a musician. I'm going to be a performer when I grow up," or did you have any concept of what you wanted to do with all of that stuff?
Caroline: I do remember one particular, I think it was during that summer at Kinhaven and I played a Clara Schumann piano trio. I remember it was with Tasha Keith on piano and Kevin McFarland on cello who's actually in the Jack Quartet.
Kevin McFarland: Hi. I'm Kevin McFarland, and I'm a cellist with the Jack Quartet.
Caroline: We played this Clara Schumann Trio. I don't know if they enjoyed it as much as I did, but I remember finishing the performance and then listening to that recording and coming home after that summer and saying, "This is what I'm going to do. That is absolutely it," and it was all over. [chuckles]
[music]
Nadia: Deciding to focus her college education on music performance, Caroline went to the Shepherd School of Music at Rice University to study with acclaimed violin teacher Kathleen Winkler.
Caroline: Who's a really excellent violin teacher. I went there because of the nature of the school, a mixture of different kinds of education, and also for her particular teaching.
Nadia: Was the composing part of what you did and the singing part of what you did as important to you in your undergrad as it had been as a kid?
Caroline: As a kid? No, it definitely became very violin-centric for a long time, actually, probably from around age 15 onward. It was--
Nadia: 15 until when?
Caroline: Until now.
[laughter]
Caroline: Full disclosure, I did sing in an acapella group in college for two years.
Nadia: What kind of stuff did you guys sing?
Caroline: I was really good. We sang a cover of Ben Folds Five.
[music]
She's a brick and I'm drownin' slowly
Off the coast and I'm headed nowhere
Caroline: A lot of stuff that I didn't know. We actually sang this song called Like a Prayer. I don't know if you know that one. I totally didn't. [laughs] We were like, "Oh, that like a prayer song. Okay." I sang the lower alto part. [beatboxes] That was my part. Later found out that that's a Madonna song. [chuckles]
[music]
In the midnight hour, I can feel your power
Just like a prayer, you know I'll take you there
Caroline: I did actually a little Gilbert and Sullivan, but mostly I had to keep it hidden from my teacher because I should have been practicing more. I didn't tell her I was in this Gilbert and Sullivan production because I knew she-- I thought she would be afraid, but actually she's that lovely, nice person. She probably would have thought that was fine.
Nadia: The thing is, I feel like there's a lot of things that people do in their undergrad that are a lot worse than being in a Gilbert and Sullivan.
Caroline: Yes. [laughs]
[music]
Nadia: Cool. Kathy Winkler, Rice, and were you like, "Okay, this is it. I've been studying violin. I'm going to go in an orchestra job or something"? What was your post-collegiate mental state?
Caroline: Crazy chaos. I knew I wouldn't do orchestra. As much as I loved it, I wasn't sure I was the person who would win an orchestra job. I'd done one orchestra audition. After college, I lived in Europe for a year. I lived in Paris for about three months. I just saw online there was an orchestra audition for the Paris Opera. I was like, "Wow, I haven't practiced in a while. This would be a good thing for me to do." I went, and it was 350 people.
Nadia: How many openings did they have?
Caroline: I think it was one. [chuckles] 350 people waiting in line. You get a number and for one spot, and there were three rounds. I only played the first round, but it's intense. Everyone is practicing in front of each other, focusing very hard, very tense situation. I knew that that probably wasn't going to be the route that I would go, but I really wanted to play in a string quartet.
[music]
Caroline: I was a senior in college, and I did actually all my grad school auditions and needed to go get a master's. I also applied for this fellowship called the Thomas J. Watson Fellowship. It's not a music thing in particular; it's where you design what you want to study for a year outside the country. Maybe a project that you've always dreamed of, that you've never been able to do, that maybe is a little bit outside the box, and you don't have an internship, or you don't go to school.
It's just you're doing this independent project for a year, and you can't come back to your home country. I wanted to write music, and I wanted to study landscape architecture and gardens. I proposed this idea of writing a series of string quartets based on aesthetic principles of historical formal garden design, actually. I went to all the famous French formal gardens, and a lot of English landscape gardens, and Italian Renaissance gardens. Did a lot of walking and thinking and then meeting people.
Nadia: What pieces came out of thinking about these gardens or looking at these gardens?
Caroline: Actually, they were never finished. I realize now that a lot of what I do and the way I write music is related to things that I was thinking of then. There's something interesting about English landscape gardens, sort of in the 18th, 19th century. One feature of English landscape gardens are follies that construct the fragment of a castle that wasn't there before. It's the idea that "Oh, there's a wistful longing for another time." It's just there in the garden, off in the distance on a hill. This fragment of a castle that it's totally bogus, but an interesting idea. [chuckles]
Nadia: It's like a fake ruin.
Caroline: A fake ruin, yes, that's what it is. I find I do that a little bit with my music, too. You put in a little reference to music of another time.
[music]
Nadia: Do you do that a little bit in your string quartets that you wrote for the Brentano's the Entr'acte piece?
Caroline: Yes.
[music]
Caroline: That's a piece that is thinking about hiding minuet and trios just in terms of its structure but also gestures that are very referential to early music.
[music]
Nadia: I just want to talk a little bit more about how solitude may have affected your creative brain.
Caroline: That's just deep. [laughs] How has solitude affected my life? I tend not to share anything that I'm working on with anyone. I like to write late at night because it's when no one else is around. It's really quiet. I can get away from other ideas and people really. I like to spend a lot of time on by myself. [chuckles]
Nadia: Do you think composition is, by necessity, a solo activity?
Caroline: Well, making music is so social, and I'm making music with people all the time. I want people to make music together, but sometimes you have to go back home and be by yourself for a while and create this thing that is structured in a particular way that you've decided on.
[music]
Nadia: To hear more of this piece on Trackd or any other piece from today's program, go to q2music.org/meetthecomposer. When we come back, Caroline talks Gothic churches playing for dance class and musical 180s.
[music]
Nadia: Stay tuned.
[music]
Nadia: This is Meet the Composer and I'm Nadia Sirota.
[music]
Nadia: Today, on Meet the Composer, we mine the brain of Caroline Shaw. Caroline never really set out to be a composer. In fact, her schooling from a very young age was almost completely violin-centric. After college though, she dropped the script entirely and went to Europe to study landscape architecture for a year courtesy of the Thomas J. Watson Fellowship. While she was over there in near solitude, Caroline started developing the kernels of ideas that would ultimately sculpt her unique compositional voice.
[music]
Nadia: I guess you all lit came back to earth or back to the US.
Caroline: [laughs] Yes, I came back and I started a master's degree at Yale in violin. That was a crazy time because, well, I just spent a year by myself, basically. Then suddenly was thrust into school again, and practicing, and lessons, and that kind of structure, which was really nice and exciting and comfortable I guess after that year, but I wasn't sure what I wanted to do with a violin at that point. Don't put this on air; I didn't practice at all.
[chuckling]
Caroline: I just stopped. I was like, "I'm not doing that anymore."
Nadia: Let me just interject here that while Caroline is soft peddling her violinistic prowess, she's an incredibly talented player with a deep sense of poetry and a complex nuanced sound. This is a recording of her playing Schumann's Violin Sonata Opus 121. Here's violinist composer and frequent Caroline collaborator Caleb Burhans.
Caleb Burhans: The thing that strikes me about Caroline's violin playing, is how similar her playing is to her singing. Her playing has a very humble quality about it. She has a beautiful dusky and dark tone. She really doesn't play with a huge bravura that a lot of violin players play with, yet the sound that she creates really draws the listener in.
Nadia: Anyway, Caroline was not really feeling this path the way she used to and was almost equally fascinated by singing and creating music herself.
Caroline: I got a job singing in a local church choir, Christchurch, New Haven, and it was every Sunday morning. Then the really beautiful thing was every Sunday night, we'd sing Compline at 10 o'clock in a balcony, in the church, where no one can see you. The church is just lit by candles. We'd sing plainchant and early motets by Byrd and Tallis, [unintelligible 00:23:29].
Nadia: What does it feel like to sing in a big Gothic-y stone church? What does that space feel like?
Caroline: It's really resonant for one thing, and you're just sort of surrounded by this old historical architecture and these certain kinds of structures and paintings and smells that are very different from the outside world, which I guess was the idea of the Gothic Cathedral. To sing a lot of this early music in a space like that, it's kind of transporting. Christchurch was a very tall Gothic building and with very low light. It had this dark, mystical quality to it and they were really heavy on the incense there.
[music]
Caroline: Their Tenebrae Service is the most beautiful thing in the whole world. I think it was Thursday night, also all darkness. It's a two-hour Compline, basically. That's why I love it. The first time, my first year there, we got to the Tenebrae Service. It's in the middle of holy week. It was just a very intense musical time. I started weeping when the guys first did their plainchant. I literally wept for two hours. My robe was covered and snot. Don't put this on.
[chuckling]
Caroline: Anyway, Tenebrae Service, always my jam.
[music]
Nadia: One piece that came out of this time in Caroline's life is In manus tuas, a piece she wrote for her friend, the Cellist Hannah Collins. This piece is based on a Tallis motet of the same name, which translated means, "Into your hands." In this piece, Caroline imagines being way up high in the rafters of a cathedral hearing snippets of the Tallis Bathed in Resonance. Hannah recently visited us at The Greene Space on Varick Street and performed this work live for a studio audience.
[music]
Nadia: Do you consider yourself religious at all?
Caroline: No, but there's these things in there that are in there. I grew up with a lot of ceremony, well, a church that had a lot of really beautiful music and very tied to a lot of ceremony. I love that I don't consider myself religious exactly, but there's a certain connection between spirituality and music.
[music]
Nadia: While completing her master's, Caroline kept being drawn to musical activities outside of her program. After investing a year in her creative life, returning to the well-worn path of a career violinist felt a little limiting. When did this whole compositional bug really start nagging at you?
Caroline: It was there for a while, but I was actually really wary of having a composition teacher. I was really avoiding that for a long time. I knew that I wanted to write music since I was in high school. I also know that I'm someone who I get a little literal and I follow directions really well. I like following directions, which is why it can be great for learning the violin. For I think learning about writing music, I worried that I would get stuck and it wouldn't be anyone else's fault; it would be my own. I tried to just learn in my own way through playing a lot of new music, which I just did all the time. I was just paying attention all the time. After finishing at Yale, I lived in New Haven for a year.
That was when life hit and you think. "Oh, wow, this is what I'm doing." [laughs] I lived in a really cheap rent in a warehouse behind the hospital. I started playing for dance classes at this local arts high school and then started playing at Wesleyan, which is 30 minutes north. I would drive to Wesleyan four days a week to play for a beginning modern dance class. There it was great, I could play piano, played a lot of violin. I played all kinds of percussion. Sometimes it would need to be in a rhythm or a meter, I would have to give certain tools that they could use, and other times it was free contact improv.
Nadia: You were basically taking the most interesting composition class where you got a lot of really specific assignments in a row that you had to complete very quickly.
[chuckling]
Caroline: Yes. I love the assignments. I love the idea that I have to do this thing and that's the best possible way to do that.
[music]
Nadia: PS this is a real cellphone recording of a dance class Caroline played shortly after grad school.
Caroline: It'd be in three or in four with a certain tempo, so meter and tempo were key. I really love ballet classes because it is the most regimented, and the most structured, and the most rules. If you're giving let's say for petit allegro, which is usually at the end of the class, and that's after they've done all the warmups, but it's for small jumps. It has to be spritely and the quicker tempo very lively and fun.
Nadia: Well I love the idea that you're creating your own little composition etudes in the context of a dance class.
Caroline: Oh, yes, [laughs] I just made hours and hours and hours of music.
Nadia: During all this time, remember Caroline hasn't had a single composition lesson. She was worried she'd follow directions too well or assimilate the voice of her teacher or just become inhibited. She was always writing music and in 2010, she decided it was time to take this on a bit more seriously.
Caroline: Somehow, they let me into Princeton.
Nadia: How did that happen? You were like, "Okay, I've got undergraduate degree in violin, and a master's degree in violin, and now I'm going to get a PhD in composition"?
Caroline: [laughs] Yes. I thought that I might need to get a doctorate at some point, and I knew that I wasn't practicing enough to do that for violin. I wanted to have the chance to write more music and have a few more opportunities. I didn't know how that worked or if getting a degree in composition might be helpful, and at the same time, it would be getting a doctorate. In Princeton, I knew a couple of people who had been there, and very open place.
Nadia: Was there any culture shock with all of a sudden having structured compositional?
Caroline: Lessons at Princeton you can gravitate to a particular teacher if that's how you work, and work with them on a case-by-case basis. Not necessarily the lesson every week which is my understanding of lessons from violin. It's a weekly thing with the same person working on a particular [crosstalk].
Nadia: Every Wednesday from age six to 18.
Caroline: Yes. Everyone that's where lessons are. [laughs] At Princeton I've actually had been able to have a lot of nice conversations with some of the different teachers Steve Mackey and Paul Lansky and Dan Trueman. Dan Trueman especially because Dan is a violinist and composer and really interested in folk music and breaking down some barriers between those worlds.
Nadia: We're hearing a piece called A Cow Call [Please oh Please Come Home​!​] by Dan Trueman. Luckily studying with him and his colleagues was not what Caroline had imagined, not the stifling oppressive pedagogy she feared. Here's Dan.
Dan Trueman: I met Caroline through her application portfolio. It really stood out for being incredibly musical and original and fresh. Her music really feels like it's of the body and of the breath in large part because she's such a committed performer. I think when she makes music; it's really about making music with other people. I think that really is a product of her feeling like a performer first and not even being comfortable initially identifying as a composer.
Nadia: While Caroline is studying composition for the first time, she's still making her living as a violinist.
Caroline: I moved to New York and joined Red Light New Music which is a new music group around here, and played with them for a couple of years, and was doing a lot of Baroque violin. I still actually went back and commuted to New Haven a couple of days a week while I was living in New York as part of this Yale Baroque Fellowship. It was a mixture of new music and Baroque freelancing.
I started subbing with Trinity Wall Street choir, not as a full member, but just as a sub. Trinity was the extension of what Christchurch in New Haven had been in terms of the repertoire and the kinds of singing and the kinds of singers. The singers in Trinity are really amazing. Actually, a lot of them are in Roomful of Teeth with me.
Nadia: Did you ever have any vocal training or did you just figure it out as you went along?
Caroline: I took a semester of lessons in college once and that was really helpful. Then when I moved to New York after Yale, once I started singing with Trinity I'd taken an audition and they invited me to do the Bach B minor mass. Then I thought, "Oh, I need to maybe figure a few things out." A friend of mine recommended Jacque Horner-Kwiatek, a woman who's in Anonymous 4, and I took a few lessons with her.
Nadia: What was it about the Bach B minor mass that presented challenges?
Caroline: It's got a lot of tricky, fast passages where you have to sing 16th notes really like an instrumentalist more than traditionally like a singer. Very different from the Byrd and Tallis, which is very long notes and long melodies. The Bach can be very fast and very hard.
[music]
Nadia: As always if you want to hear more of anything from today's show you can go to our website q2music.org/meetthecomposer. When we come back Caroline talks yodeling, tube in throat singing, and the shock of success, stay tuned. This is Meet the Composer, and I'm Nadia Sirota.
[music]
Nadia: This is the [unintelligible 00:38:07] from Caroline Shaw's Partita for 8 Voices. Even at first blush, it doesn't sound like other coral music. It doesn't sound like the Tallis or Bach, Caroline sang in church were honestly quite anything I can really think of. It's full of discrete vocal techniques drawn from an extremely Catholic variety of sources all smashed together in a way that's somehow harmonious almost obvious even.
[music]
Nadia: Caroline has this skill of synthesizing performance practices with poetic musical cells and strong structures to create soul-satisfying work. To that end, this piece her most well known germinated side by side with the ensemble that performs it Roomful of Teeth.
[music]
Nadia: How did Roomful of Teeth get started? I know it's an octet correct?
Caroline: Roomful of Teeth is an octet, eight singers. It was founded by Brad Wells.
Brad Wells: I'm Brad Wells the director and founder of Roomful of Teeth.
Caroline: Who has had this wonderful, wonderful dream of exploring the human voice in a way that hasn't really been done before. Our first summer that we were together it was June of 2009. We got together up at MASS MoCA for three weeks, and this was Massachusetts Museum of Contemporary Art in North Adams, Massachusetts. It's so beautiful up there. It's just a massive, massive art museum, really incredible place. Some of us knew each other from Trinity Wall Street or the gigs around town, but this was the first time we were coming together as a Roomful of Teeth and no one really knew what it was. It was Brad's mastermind project.
[music]
Nadia: Did you audition, or did he just pick people?
Caroline: He auditioned. Actually, he auditioned a ton of people all around, gauging whether or not people would be interested in using their voices in a different way, whether they will or not they will be game for it because it's potentially very dangerous, that was the idea.
Cameron Beauchamp: I know all eight of us were a little, I wouldn't say skeptical, but we were maybe a little scared at the beginning.
Nadia: That's vocalist Cameron Beauchamp.
Cameron: I live in Austin, Texas, and I sing in Roomful of Teeth, and Caroline Shaw is one of my closest buddies.
Nadia: Even though the eight members of Roomful of Teeth were chosen specifically for their flexibility, even they were freaked out by some of the stuff Brad Wells was asking them to try.
Cameron: We had no idea what it would feel like to sing these techniques if it would hurt our voices, so we were super careful at the beginning. Brad, of course, was very sensitive to that. We've done quite a bit of research with some of the techniques. We even had a couple of specialists scoped.
Nadia: What does that mean, scoped?
Cameron: Basically, they'd squirt a little numbing stuff in the back of your throat. Then they put a little camera down your throat to see your larynx and see what's going on. They'll have you sing different vowels at different pitches, different sounds just to show if there's any wear and tear on your muscles or if you're sparkling clean.
[music]
Nadia: Why were you guys scared? What is so different about what you guys do with Roomful of Teeth and normal singing or 'normal singing'?
Caroline: The traditional classical training is a technique called Bel canto technique.
[music]
Caroline: It makes these beautiful-- it's actually a way to take advantage of the singer's formant. I really don't know about the stuff. Bel canto literally means, I think, the beautiful voice or beautiful singing. It's opening your throat and letting the vibrato come out, operatic singing.
[music]
Caroline: The very first day we got together, we had two sessions with Kerry Christensen, who's a master yodeler, Swiss yodeling style. I'm going to have to do that.
[music]
Caroline: Breaking your voice from your chest to your head makes this little click in the middle of that I totally love.
[music]
Nadia: Alanis Morissette.
Caroline: Yes, Alanis Morissette, is it Cranberries?
Nadia: Yes, totally.
Caroline: Yes, totally Cranberries.
[music]
Caroline: [laughs] Tons of people do it. There's just this idea of using that break in the voice in a colorful textual way.
Nadia: That was day one.
Caroline: That was day one and the other part of day one was Tuvan throat singing.
[music]
Caroline: We had Ayan-ool Sam, who is the master amazing throat singer from Tuva. He was brought in for two weeks to work with us. The very first day we were making sounds like, [mimics] Tell us. Is this all good? It's like [mimics]
[music]
Nadia: Where's Tuva, first of all?
Caroline: Tuva is a very small country just north of Mongolia, so eastern, eastern Russia. I like to think of Tuvan throat singing as just creating this very bright sound that has a texture inside of it. I think of music really visually, so I just, it's this weird color with little bits of something happening in there. Then you can sometimes make overtones that come out of this really beautiful fundamental sound. The fundamental sound is Khoomei.
[music]
Cameron: Khoomei is-
Nadia: Once again, that's Cameron Beauchamp.
Cameron: -the standard technique for Tuvan throat singing. It's where everyone begins their training, begins their journey as a Tuvan throat singer. There are many advanced techniques that come out of it. Overtones are definitely played with quite a bit. I can do a little bit of that.
[music]
Nadia: To me what that sounds like is almost knowing a little bit about audio production. It sounds a little bit like you're using your mouth to EQ this sound that your throat is producing.
Caroline: Yes, that's exactly what that is, enjoying certain frequencies in a way. You're creating a filter.
Nadia: You have to create an initial sound that is complex enough, that there's stuff you can filter out of it.
Caroline: Exactly. That's exactly what it is. There are different kinds of filters that you can put on it. It really changed my conception of singing but also playing, so thinking about, "Oh, the different filters or tambours I'm able to work with." That was just the beginning. Tuvan throat singing, yodeling, and then belting. That was day two, and the rest of that week.
Caroline: What's belting?
Nadia: The way I think of belting is talking and then just working up in your voice and talking and then you talk like this a little bit. That actually is a warm-up that we do, is when you say, "Nay, nay, nay, nay, nay." That's belting it. It's a very childlike nasal sound, but you don't really want to think of it in a nasal way, as a really good, [belts]. It's actually very comfortable. Guys can belt up to the same place the girls can. It's pretty wild.
Nadia: This reminds me a little bit of those Bulgarian ladies.
Caroline: This beautiful singing that I discovered actually from a friend in Brussels during that Watson year. Here's the CD I've been listening to Mystery of Bulgarian Voices. I was like, "Oh, my gosh, what is that? Most beautiful thing." The Bulgarian women's choir does a lot of beltings of really bright singing in that range.
[music]
Brad: During the first Roomful of Teeth residency-
Nadia: That's Brad Wells, the conductor, and founder of Roomful of Teeth.
Brad: -we were in need of full programs worth of music, so I invited singers from within the ensemble to also contribute compositions or the improv structures or whatever to flesh out the program.
Nadia: Caroline accepted that challenge writing one of the first movements of her Partita.
Brad: In the midst of it we performed passacaglia for the first time. There's a moment at the recap of the main theme after things have devolved into speaking and then a low vocal fry and the voices ascend and hit, slap into their bright belty D major chord and the audience exploded.
[music]
Brad: [laughs] They cheered and they whooped and hollered.
[music]
Brad: All of us onstage were just smiling.
[music]
Brad: It was a moment that captured in an instant what I hoped this project would be, which was more than a standard vocal ensemble, the ensemble that makes use of the voice in a way that is primarily about engaging with audiences directly. The fact that people responded to Caroline's music, they're hearing it for the first time, and they're just excited, and they applaud, and they holler, and they cry out, it showed me that Caroline got it in the most perfect, beautiful way.
[music]
Caroline: I feel so deeply close to that piece, the Partita, but it was something for me, it's this is a lot of me in this. It was very written in my mid-to-late 20s when there's a lot of-- How do you talk about this? How do I talk about music? [laughs] I feel very strongly about this piece. It's as much of myself as I could possibly put into something. I know that it will take a while for another thing to have that kind of deep weight.
Allemande is really hard to describe. It's the swirling out of control, feeling of dance, or just being in the world. Do you know that feeling when you-- Maybe it's a panic attack. Maybe that's what it is. I don't really know if I have panic attacks or anxiety, but probably, there's a little bit of that in the swirling nature of allemande. Then a coming together of a feeling of, "It's going to be okay." That was something I really needed to put into music somehow.
[music]
To the side
To the side
To the side
And around
Through the middle end
To the side
To the side
To the side
And around
Through the middle end
To the side
To the side
To the side
To the side
And around
And around
And around
And around
And around
And around
To the side
Two, three, four, five
And a clock.
Six, seven, eight
Through the midpoint
Two, three, four, five
[vocals]
The detail of the pattern is movement
The detail of the pattern is movement
The detail of the pattern is movement
The detail of the pattern is movement
The detail of the pattern is movement
The detail of the pattern is movement
The detail
The detail of the pattern is movement
The detail of the pattern is movement
The detail of the pattern
The detail of the pattern is movement
The detail of the pattern is three, four
Five, six
The detail of the pattern is movement
The detail of the pattern is
Four, five, six, seven, eight
The detail of the pattern is movement
The detail of the pattern is four
The detail of the pattern is eight
The detail of the pattern is movement
Two, three, four, five, six, seven, eight
The detail of the pattern
The detail of the pattern
The detail of the pattern is movement
The detail
The detail of the pattern is movement
[vocals]
Caroline: That's something I don't want to go into in this interview, but the separation of that composition and performance duties and conservatories makes me very, very sad. It made me sad when I was in college. I hope that it opens up for the cellist who went to conservatory, who has never written anything but write something to say, "Oh, no, I really can do this. It really does matter," even if someone didn't think it mattered when they were younger.
[music]
Nadia: There have been various articles and trend pieces about composer performers over the past decade arguing back and forth, over whether this archetype is seeing a Renaissance or never really been away. From my perspective, Caroline's talking about something different here. She's not talking about composer's feeling the freedom to write for themselves or even just perform their own work, but performers, those who have specialized for years and years as interpreters, feeling the freedom to just create something if they want.
There's a weirdly well-ingrained taboo in the conservatory world. As odd as it may seem, if you major in violin, violin becomes your entire thing, even if you also played flute and piano in high school. Caroline's Partita is such an arresting piece and an amazing example of a performer taking what she knows and creating something beautiful with it.
[music]
Justin Schlichting: Hi, I'm Justin Schlichting from Laguna Beach, California. Links to all the music featured on today's show, along with Caroline Shaw's website are available at q2music.org/meetthecomposer. Meet the Composer was produced by Nadia Sirota and Alexander Overington with help from Elena Saavedra Buckley and Curtis MacDonald. Thanks to Hannis Brown. Our executive producer is Alex Ambrose. A very special thanks to Brad Wells, Caleb Burhans, Cameron Beauchamp, Zachary Wolf, and New Amsterdam Records. Thanks to New Music USA for their flexibility with the use of the Meet the Composer name, which became famous through their legacy organization founded by composer John Duffy.
Also, special thanks to our Kickstarter supporters, including Sarah Small, Eddie Koehler, Lisa Overington, Porter Anderson, James Klosty, Henry [unintelligible 00:57:58]. You're listening to New York's Q2 Music, part of Classical 105.9 WQXR. Q2 Music is a listener-supported online station devoted to the music of living composers. Q2 is home for immersive festivals, live webcasts, and on-demand concerts from today's leading performers. Find us at Q2 on Facebook, Q2 Music on Twitter, and online at q2music.org
[00:58:40] [END OF AUDIO]
Copyright © 2022 New York Public Radio. All rights reserved. Visit our website terms of use at www.wnyc.org for further information.
New York Public Radio transcripts are created on a rush deadline, often by contractors. This text may not be in its final form and may be updated or revised in the future. Accuracy and availability may vary. The authoritative record of New York Public Radio's programming is the audio record.