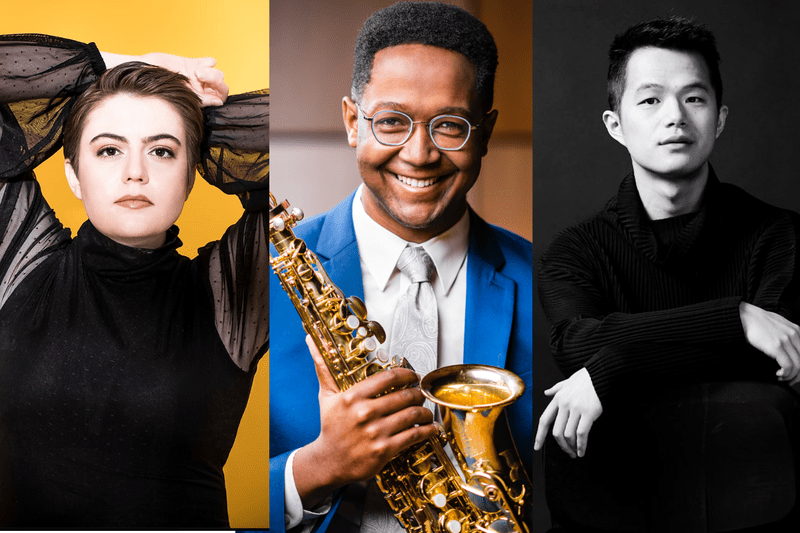 Transcript
Midge Woolsey: Hello, I'm Midge Woolsey sitting in for Bob Sherman. Today, Daniel Kellogg, president of Young Concert Artists, talks about the challenges facing our newest generation of musicians and shares some exceptional performances on this edition of the McGraw Family's Young Artists Showcase.
Now in its 45th year, the Young Artists Showcase is generously underwritten by the Harold W McGraw Jr. Family Foundation. Throughout all of those years and more, Young Concert Artists has been discovering extraordinary young musicians, many of whom have been featured here on the showcase. YCA has been providing them with the tools, opportunities, and infrastructure they need to take their careers to the highest level.
Daniel Kellogg was a young concert artist himself, a composer in residence back in 2002. Today, he leads the organization with a refreshing passion for the artform and an unusual sensitivity, not only to the music, but more importantly, perhaps, to the needs of young musicians. Welcome, Dan.
Daniel Kellogg: Thank you, Midge.
Midge Woolsey: Well, first and foremost, tell us what is YCA?
Daniel Kellogg: Young Concert Artists is an organization that discovers exceptional, young, and unknown talent in classical music and helps them begin major careers as soloists, as composers, chamber musicians, really as leading artists in our field.
Midge Woolsey: So how does a young musician become a young concert artist? I'm sure it's a very appealing get.
Daniel Kellogg: The Susan Wadsworth International Auditions happen every year starting in September. And after a preliminary round in the semi-final round out of more than a hundred applicants, we choose 10 to 12 finalists and ask them each to prepare a mini recital of 25 minutes.
We encourage them to choose a really special program that helps them shine as musicians, but also gives us a complete picture of who they are as artists. And then they perform to a live audience over a daylong event in front of a really prestigious, uh, group of jury members. And at the end of the day, the jury goes into a closed room and has a very careful deliberation to decide who are those truly rare special musicians that are ready to join our roster?
Midge Woolsey: So out of 100 or 150 artists, how many might become young concert artists in a year?
Daniel Kellogg: We have no set number. It, it could be one, it could be as many as five or six. Three to four is pretty typical in any given year.
Midge Woolsey: So you have a couple of memorable audition performances to share with us now. Tell us about the first.
Daniel Kellogg: Yeah, every year with the final auditions, uh, it's a day of fabulous music making, but there's always a few performances that are just gripping and stand out. Violinist Lun Li won the auditions in 2021. He's a young violinist studying at Juilliard, and he came out to perform the Grand Caprice by Ernst.
And this is an unaccompanied violin work that is, Transcription or really a transformation of Schubert's famous song Der Erlkönig. And it's, it's virtuosic, but it's also a, a, a traumatic piece that captures the heart and essence of this incredible song. And Lun came out with this beautiful poise and ability, but also just he had the, the heart and soul of the song really well presented and, uh, was a magnificent performance.
MUSIC - Ernst: Grand Caprice on Schubert's Der Erlkönig
Midge Woolsey: Violinist Lun Li with Heinrich Heinrich Wilhelm Ernst's Grand Caprice on Schubert's song, inspired by Goethe's tale of the supernatural being known as the Erlking - Der Erlkönig. Dan, you have quite a few singers on the YCA roster these days. That's somewhat unusual for YCA, right?
Daniel Kellogg: Yes, believe it or not, we have six singers on the roster right now. We've always supported singers, but we've never had this many.
Midge Woolsey: So, tell us about the singer that you've brought to us today.
Daniel Kellogg: Mezzo-soprano Erin Wagner won in our most recent auditions this past November of 2022. Erin sang a variety of songs. When she sang Ravel's Kaddish, it really just gripped the room and was one of the most memorable performances of the entire day.
She has a beautiful and powerful voice, and even though so much of this song is introspective and quiet, she really just held the room in a magical way. So here is Erin singing Ravel's Kaddish.
MUSIC: Ravel: Kaddish from Deux Mélodies Hébraïques
Midge Woolsey: Mezzo-soprano, Erin Wagner with pianist Sean Chang, and a captivating performance of Maurice Ravel's setting of the liturgical chant Kaddish, written on commission by Ravel in the early 20th century. You're listening to the McGraw Family's Young Artists Showcase on WQXR. I'm Midge Woolsey sitting in for Bob Sherman, and I'm speaking with Daniel Kellogg, president of Young Concert Artists.
So, you're enjoying some pretty exciting success stories these days, and you actually have one very, very exciting announcement to make about this next artist, Steven.
Daniel Kellogg: Yes, Steven Banks most recently has joined the prestigious roster of IMG Artists as the only saxophonist on their roster. Steven won our auditions in 2019, and when you hear him talk about it, he was very well known in the saxophone world, but he believed that the YCA auditions would be his last chance at attempting a concert career that as a saxophone, as it just wasn't in the cards for him to be a concerto soloist with major orchestras.
But Steven is a wonderful musician. I mean, he, has exceptional technique and tone, but his presence on stage and his ability to communicate with audiences is rare, and it has that wow factor we so often crave. He joined the roster as an unknown artist, and we've just patiently been doing the work of introducing him to the world.
And last March, he was the first saxophonist ever to win the prestigious Avery Fisher Career Grant. This February, he'll begin a new concerto written for him by Composer Billy Childs, and he'll be playing that with 10 orchestras that signed on to be consortium partners in this project. And that's a project that YCA designed just to help Steven get in front of more orchestras. So, it's really magnificent that he is now moving on to this prestigious roster as their only saxophonist.
Midge Woolsey: Really nice. Congratulations. So, what have you brought for us to listen to?
Daniel Kellogg: When Steven offered his debut concert in New York City, which happened during the pandemic, he decided what he really wanted to do was to write his own sonata.
He wrote a piece called Come As You Are, where each of the movements is inspired by a spiritual or a praise song, loved by his mother and his sisters. We're going to play now the third movement, which is called Strength of My Life, and it's based on the song titled His Eye is on the Sparrow.
MUSIC - Banks: Come As You Are, III. Strength of My Life
Midge Woolsey: Saxophonist Steven Banks, who many of you might remember as a member of last year's WQXR Artist Propulsion Lab, or from several of his appearances here on The Showcase. We heard Steven, with Strength of My Life from his own composition, Come As You Are with Pianist Xak Bjerken. Now, Dan, you've also brought a recording of Steven playing Mozart on the sax. I mean, did Mozart plan that?
Daniel Kellogg: No. Uh, the saxophone is a very modern instrument relative to so many instruments, and as so many pianists have adopted the keyboard. Music of J.S. Bach saxophonists have found some great repertoire from instruments like the oboe, the clarinet, viola, and cello. Here Steven plays the first movement of Mozart's Oboe Quartet with YCA alums, the Zora Quartet.
MUSIC - Mozart: Oboe Quartet in F Major, K. 370, I. Allegro
Midge Woolsey: Saxophonist Steven Banks and the Zora Quartet with the first movement of Mozart's Oboe Quartet in F. It's time for a quick break now and then I'll be back with Daniel Kellogg and performances by several more of his gifted Young Concert Artists here on the McGraw Family's Young Artists Showcase.
I'm Midge Woolsey sitting in for Bob Sherman. So, Daniel Kellogg, Young Concert Artists is working hard to develop classical music's leaders of the future stars who combine world-class talent with creative vision to bring, as you call it, new reach and relevance to the art form. Now one of the important benefits of being a YCA fellow is the opportunity to work with the other musicians on the roster i.e. collaborate, right?
Daniel Kellogg: Yes, we work to create a lot of opportunities for the artists to work together. Pianist Albert Cano Smit and flutist, Anthony Trionfo both joined the roster separately as individual artists, and yet they first met when they were undergraduates at the Colburn School in Los Angeles, and they've been playing together for years.
They regularly tour together, and they often look for repertoire where both the piano part and the flute part are equally robust. So here is Anthony and Albert performing the Scherzo from Pokofiev's Sonata in D.
MUSIC - Prokofiev: Sonata No. 2 in D Minor, Op. 14, II. Scherzo
Midge Woolsey: Anthony Trionfo and pianist Albert Cano Smit with the Scherzo from Prokofiev's Sonata in D. Now Dan, the selection process for YCA composers is quite different from the annual auditions for the performers, isn't it?
Daniel Kellogg: Absolutely. Composers have the luxury that when we audition for something, we don't have to do it live. We take a recording and a score and we submit it. So, every two years, YCA takes on a new composer in residence, so we get more than a hundred applicants every time we have this search. And the panel looks through all the scores, looking for a really exceptional and rare voice. And then we talk to them and get a sense of who they are and what their vision is for their life and choose one composer to join the roster.
Midge Woolsey: One composer every two years.
Daniel Kellogg: It's a very prestigious program.
Midge Woolsey: Amazing.
Daniel Kellogg: Yes.
Midge Woolsey: So, tell us about Nina Shekhar.
Daniel Kellogg: Nina Shekhar is our current composer in residence. Uh, she's a PhD student at Princeton, and her music has already been performed by the New York Philharmonic and the Los Angeles Angel Philharmonic, and she has a new commission from the New York Philharmonic.
Part of the program is to help the young performers understand the importance of working with living composers. So, part of the composer in residence position is to write pieces for our young performers. Nina paired up with pianist Zhu Wang to create a brand-new piano piece for his debut concert, which happened at Carnegie's Zankel Hall in 2021.
Nina and Zhu both bonded over what it was to be Asian musicians working in America and working in classical music, and they also discovered they had a mutual love of vocal music. So, Nina wrote a piece called Vocalise. And here are Nina's words. She writes, "A vocalise refers to a song without words. We often think of language as a tool to express our identity and emotions, but so much is also communicated non-verbally in the timbre of our voice, in our body language, in our smiles, frowns, and everything in between. In this Vocalise, even though the piano cannot enunciate words, I wonder, if it could still sing. When we take any language as our primary means of expression, how much meaning is lost and how much is gained?"
MUSIC - Shekhar: Vocalise
Midge Woolsey: YCA pianist Zhu Wang with a new composition by YCA composer in residence, Nina Shekhar, Vocalise. Dan, when you were talking about some of the new opportunities for the young artists, I think you didn't mention YCA on tour, and that's a very new, wonderful program right?
Daniel Kellogg: It's a brand-new program. Every year we're going to be putting together a group of four to six YCA artists to tour together, to put together a mixed chamber program where they each get to shine, but they also each get to collaborate together.
We think it's so important for young musicians to learn about chamber music and also to continue to have them build those bonds with each other.
Midge Woolsey: So, you've got three artists, um, who potentially could go on tour together. Tell us about them.
Daniel Kellogg: Right. In this next performance, bass baritone William Socoloff, violinist Benjamin Baker and pianist, Albert Cano Smit, who we've already heard are performing together Strauss's Morgen.
MUSIC - Strauss: Morgen, Op. 27 No. 4
Midge Woolsey: Morgen by Richard Strauss, one of four lieder, by the way, written as a wedding present for his wife Pauline, with text by John Henry Mackay. We heard three YCA artists in collaboration, all of whom are Showcase alums, bass baritone, William Socoloff, violinist, Benjamin Baker, and pianist Albert Cano Smit. Well, we have a little extra time, and so here's Pianist Zhu Wang, once again, this time providing a selection from Schumann's Humoreske.
MUSIC - Schumann: Humoreske, Op. 20
YCA pianist Zhu Wang, providing a selection from Schumann's Humoreske. Thanks for joining us today, Dan Kellogg, and our thanks to the Young Concert Artists who shared their talents so generously with us during the program.
Daniel Kellogg: Midge, YCA is so grateful to the Young Artists Showcase and WQXR for their commitment to illuminating the next generation of classical musicians.
For anyone who would like to know more about our work or attend a live performance of one of these brilliant young musicians, please visit our website, www.yca.org. You might also look up our YouTube channel where you can find hundreds of videos featuring YCA artists.
Midge Woolsey: The McGraw Family's Young Artists Showcase is generously underwritten by the Harold W McGraw Jr. Family Foundation. Here's Terry McGraw with more.
Terry McGraw: Once again, it's always good to be with the Young Artists Showcase and WQXR. I have to tell you, I get awed all the time by the type of talent that we attract to The Showcase, and they're from all over the world: China, Indonesia, Denmark, I mean, you name it. It really is fun and exciting to see such wonderful young talent and to be able to hear them and to have them demonstrate their capabilities.
Midge Woolsey: Thank you, Terry. Next week I'll continue my conversation with YCA President Daniel Kellogg, and we'll hear performances by violinist SooBeen Lee, double bassist Xavier Foley, showcase alumni and classical accordionist extraordinaire, Hanzhi Wang, and more collaborative performances featuring several of the over 300 accomplished YCA alumni.
Program producers for the Young Artist Showcase on WQXR are Eileen Delahunty, Max Fine, Laura Boyman, and Maya Cassady. Our session engineer is Jason Isaac, and our generous program underwriter is the Harold W McGraw Jr. Family Foundation. I'm Midge Woolsey sitting in for Bob Sherman.
Copyright © 2023 New York Public Radio. All rights reserved. Visit our website terms of use at www.wnyc.org for further information. 
New York Public Radio transcripts are created on a rush deadline, often by contractors. This text may not be in its final form and may be updated or revised in the future. Accuracy and availability may vary. The authoritative record of New York Public Radio's programming is the audio record.