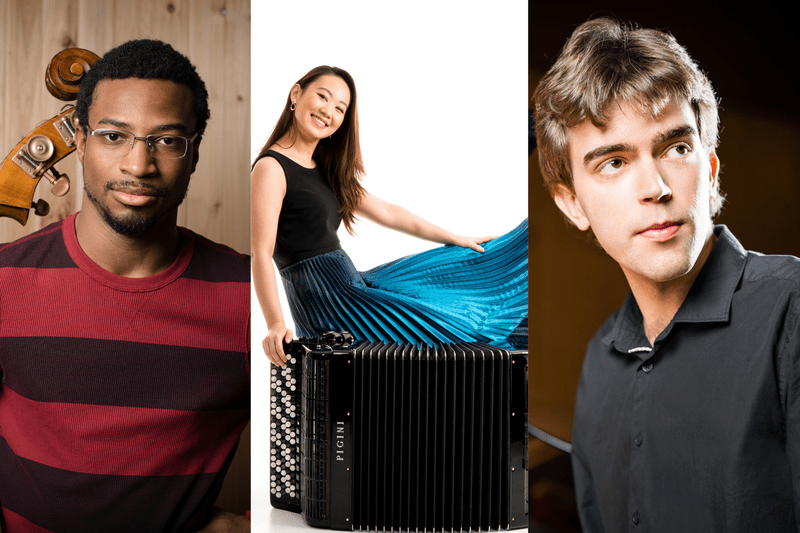 Transcript
Midge Woolsey: Hello, I'm Midge Woolsey sitting in for Bob Sherman. Today, part two of my conversation with Daniel Kellogg, president of Young Concert Artists and performances featuring YCA artists with alumni on this edition of the McGraw Family's Young Artists Showcase.
Midge Woolsey: Since 1978, The Young Artists Showcase has been generously underwritten by the McGraw Family Foundation. As we learned last week, Young Concert Artists has been in business for all of those years and more providing a select group of extraordinary young musicians with the opportunities and resources they need to begin successful careers in classical music.
As a one-time Young Concert Artist himself, Daniel Kellogg was chosen three and a half years ago to follow in the footsteps of YCA founder Susan Wadsworth. He now leads the organization with an intense dedication to the art form and an unusual sensitivity to the needs of young musicians and the music they play.
Welcome once again, Dan.
Daniel Kellogg: Thank you, Midge.
Midge Woolsey: So, Dan, tell us why a YCA Fellowship has the power to make an important difference in a classical musician's life.
Daniel Kellogg: We meet our artists right when they have already accomplished a great deal at the leading conservatories in the world, but they haven't begun their careers yet.
It's a, it's a very sort of vulnerable time and a career. It's a transformative moment, and there's so much to learn. Even though they're already incredibly accomplished musicians, they need a lot of experience, a lot of nurturing, a lot of guidance and mentorship. They need managers who are mission driven and can take the time to promote unknown artists who can't yet command big performance fees, and YCA exists to help artists at this exact time. Violinist SooBeen Lee won the YCA auditions when she was a teenager as a young prodigy. She's known for sort of this virtuosic and bold repertoire, but she's also just a very sensitive and elegant artist. In this recording, which she made during the pandemic, we hear her playing Sebelius and then the Spanish dance by Pablo de Sarasate.
MUSIC - Sibelius: Berceuse, Op. 79 No. 6
MUSIC - Sarasate: Romanza Andaluza, Op. 22 No. 1
Midge Woolsey: Violinist SooBeen Lee with a Berceuse by Jean Sibelius followed by Romanza Andaluza by Pablo de Sarasate. You know, Dan, I think memorable and surprising are the two words I would use to describe Xavier Foley, a very, very interesting guy, and one of several YCA artists who also like to compose. Right? Tell us about him.
Daniel Kellogg: Well, Xavier has this virtuosic idiosyncrasy that is so unique as a bass player that he actually found that writing pieces for himself to play was the best way to communicate from stage. So, he actually has grown over the past several years to an artist that almost exclusively writes the music that he's playing, and he's written for some really extraordinary organizations like, uh, the at Atlanta Symphony and the Sphinx Organization.
His compositional style really fits his playing. So, it's, it's rather unusual. And, um, although his easier pieces can be played by lots of other bassists and have been played by many bassists, his virtuosic passages are really only things that he can execute. So we're gonna hear three short pieces. And the first is a piece he wrote for himself called Upright Metal, which I believe is inspired by heavy metal, the second is the Sarabande from the Bach Cello Suite Number 5 in C minor, and then the third piece is Etude Number 10, which he titled The Dance.
MUSIC - Foley: Upright Metal
MUSIC - Bach: Cello Suite No. 5 in C minor, BWV 1011
MUSIC - Foley: Etude No. 10, "The Dance"
Midge Woolsey: Double bassist. Xavier Foley with a Sarabande from Bach's Cello Suite Number 5 in C Minor strategically placed in between two of Xavier's own pieces, Upright Metal and his Etude Number 10, "The Dance." You're listening to the McGraw Family's Young Artist Showcase on WQXR. I'm Midge Woolsey sitting in for Bob Sherman and I'm speaking with Daniel Kellogg, president of Young Concert Artists.
You Showcase fans might remember hearing this next young woman here on WQXR several years ago. Um, but around that time I actually had the opportunity to meet her and hear her play. And I have to say that until I heard her play, I don't think I had ever heard a classical accordionist. Tell us about Hanzhi Wang.
Daniel Kellogg: Hanzhi is a wonderful accordionist who also views herself as an ambassador for an instrument that has so much to offer. We think of pianists and violinists as soloist, but saxophonists, double bassists and accordionists can also be wonderful soloists. Hanzhi plays a button accordion, but she can play a remarkable amount of keyboard music on this instrument and it's, it's a large instrument and a very heavy instrument, and Hanzhi is a petite person.
It's really striking to see her perform on this instrument. She's spectacular with it. First, we will hear Hanzhi perform the Aria from Bach's Goldberg Variations, and then she'll perform Variation Number 5. After that, we will hear her play Moszkowski's Étincelles, which is a very common encore piece.
MUSIC - Bach: Goldberg Variation No. 5, BWV 988
MUSIC - Moszkowski: Étincelles, Op. 36 No. 6
Midge Woolsey: Classical Accordionist Hanzhi Wang with the Aria and Fifth Variation from Bach's Goldberg Variations, followed by a flashy showpiece by German composer, Moritz Moszkowski, Étincelles or Sparks. If you have a chance to hear this young woman live, I guarantee you'll find it fascinating: Accordionist Hanzhi Wang. Remember that name.
It's time for a quick break now, and then I'll be back with Daniel Kellogg and performances by several more gifted Young Concert Artists in collaboration with some of the successful YCA alumni here on the McGraw Family's Young Artists Showcase.
I'm Midge Woolsey sitting in for Bob Sherman, and I'm here with Daniel Kellogg, president of Young Concert Artists. The Y C A Artist Fellowship program has helped launch over 300 major musical careers by providing invaluable career guidance, including important debuts in New York and Washington DC and other performance opportunities around the globe.
Now, Dan, as a former singer, I completely understand how important it is to guide young singers in choosing repertoire that suits them best, but how does that apply to instrumentalists?
Daniel Kellogg: One of the special challenges for brilliant young musicians is how to sort of stand out and be heard in a field that is filled with great musicians, and finding the right repertoire is key for that. It has to not only be music that fits their artistic temperaments and helps them shine, but it has to be music where they really have something to say about it. And music that just connects to them in a very deep level; music, they're committed to being on stage and sharing with audiences.
Last week we heard YCA pianist, Albert Cano Smit, performing with some other YCA artists. But today we're going to hear him as a solo pianist. He has done a, a brilliant job with these Argentine Dances by Ginastera, and we're going to hear the second and third movement. In the second movement, there's a lyrical and haunting melody, which has a melancholy that just, it fits Albert, even though he is a very happy guy.
There's something about this music that matches him. And then the third movement has this sort of madness and wildness that he also somehow is able to capture with ease.
MUSIC - Ginastera: Danzas Argentinas Op. 2 No. 2 and No. 3
Midge Woolsey: Pianist, Albert Cano Smit and two dances from Alberto Ginastera's Danzas Argentinas Opus Two. We heard the dance of the Graceful Girl and the dance of the Outlaw Cowboy. Now Dan, one of the really important benefits of being a YCA Fellow is having access to and the opportunity to mentor with successful alumni. And there are many on your list, right?
Daniel Kellogg: Our alumni list is, is really sort of stunning. It's a, it's a long list of people over six decades who have had a huge impact in classical music. We have pianists like Emanuel Ax, Jean-Yves Thibaudet, Jeremy Denk, violinists like Ray Chen and Randall Goosby, singers like Dawn Upshaw and Julia Bullock, composers like Kevin Puts, and Mason Bates and ensembles like the Tokyo String Quartet and the St. Lawrence String Quartet. Our alumni have a deep fondness for YCA because they cherish those early years of their career when they really craved the guidance and care that it takes to start a young career. And so, we, we find that the alumni love giving back to the current artists, and we're just beginning an alumni mentoring program.
So, this amazing group of prominent working musicians can support the current artists on our roster. And our current artists love working with these established musicians. You know, joining the YCA roster is like joining a family of some of the most amazing musicians working out there. So, we've been fostering a lot of opportunities for current artists to perform alongside established seasoned artists.
And in this next performance we have flutist Anthony Trionfo performing with YCA alums, violist Hsin-Yun Huang and harpist Emmanuel Ceysson. Here is the third movement of the Debussy Sonata for flute, viola, and harp.
MUSIC - Debussy: Sonata for Flute, Viola, and Harp, III. Finale
Midge Woolsey: Anthony Trionfo with two YCA alums, violist Hsin-Yun Huang and harpist Emmanuel Ceysson. That was the third movement from Debussy Sonata for flute, viola, and harp. Daniel Kellogg, it has been great talking to you about Young Concert Artists. I don't know how many times in my career I have said, "these young people are the future of classical music." But hearing the YCA artists, especially seeing and hearing them live, convinces me absolutely that I haven't just been thinking positively, I've actually been right all along. The commitment these young people display is extraordinary, and the good news is that all of us can look forward to more great classical music in the future as a result. So, thank you for doing all you do to keep the wheels of creativity and achievement in motion.
Daniel Kellogg: Midge, YCA is so grateful to The Young Artists Showcase and WQXR for their commitment to illuminating, uh, the next generation of classical musicians. For anyone who would like to know more about our work or attend a live performance of one of these brilliant young musicians, please visit our website, www.yca.org.
You might also look up our YouTube channel where you can find hundreds of videos featuring Y CA artists.
Midge Woolsey: Now you have one final performance to share, right? Tell us about it.
Daniel Kellogg: This last performance features YCA alum violinist Paul Huang, performing with pianist Harmony Zhu and cellist, Jonathan Swensen.
They're going to perform Smetana's Piano Trio in G Minor, and they're going to offer the finale, which is a Presto. Paul is a wonderful concerto soloist, but also a highly accomplished chamber musician. He's a regular performer with Lincoln Center's Chamber Music Society. Paul worked with both Harmony and Jonathan to prepare this performance and it, and it was a great moment where Paul led the rehearsals and offered a lot of insight, but it was a true collaboration, and the performance they offered is just gripping.
MUSIC - Smetana: Piano Trio in G Minor, Op. 15
Midge Woolsey: The finale from Bedřich Smetana's Piano Trio in G Minor, a performance by YCA alum violinist Paul Huang with two musicians currently on the roster, cellist Jonathan Swensen and pianist Harmony Zhu. The McGraw Family's Young Artists Showcases is generously underwritten by the Harold W. McGraw Jr. Family Foundation. Here's Terry McGraw with more.
Terry McGraw: Once again, it's always good to be with the Young Artists Showcase and WQXR. I have to tell you, I get awed all the time by the type of talent that we attract to The Showcase, and they're from all over the world: China, Indonesia, Denmark, I mean, you name it. It really is fun and exciting to see such wonderful young talent and to be able to hear them and to have them demonstrate their capabilities.
Midge Woolsey: Thank you, Terry. And thanks once again to Daniel Kellogg and Young Concert Artists for sharing their time and talent so generously with us today. You can find out more about Young Concert Artists on their website, yca.org. In 1921, the Conservatoire américain de Fontainebleau opened its doors. Aaron Copeland was the first young artist to apply marking the beginning of a procession of influential musicians and composers seeking the inspiration and knowledge of esteemed French pedagogues, such as Nadia Boulanger and Robert and Gaby Casadesus. Next week, the McGraw Family's Young Artists Showcase will feature selections from the recent Fontainebleau Centennial Celebration that took place at Merkin Hall, at Kaufman Music Center here in New York City, and we'll hear some of the winning performances from last Summer's Prix Ravel Competition at the Chateau outside Paris.
Many thanks to WQXR program producers Eileen Delahunty, Max Fine, Laura Boyman, and Maya Cassady. Our session engineer is Jason Isaac, and our generous program underwriter is the Harold W. McGraw Jr. Family Foundation. I'm Midge Woolsey sitting in for Bob Sherman.
Copyright © 2023 New York Public Radio. All rights reserved. Visit our website terms of use at www.wnyc.org for further information.  
New York Public Radio transcripts are created on a rush deadline, often by contractors. This text may not be in its final form and may be updated or revised in the future. Accuracy and availability may vary. The authoritative record of New York Public Radio's programming is the audio record.