The Magic Flute: He Said, She Said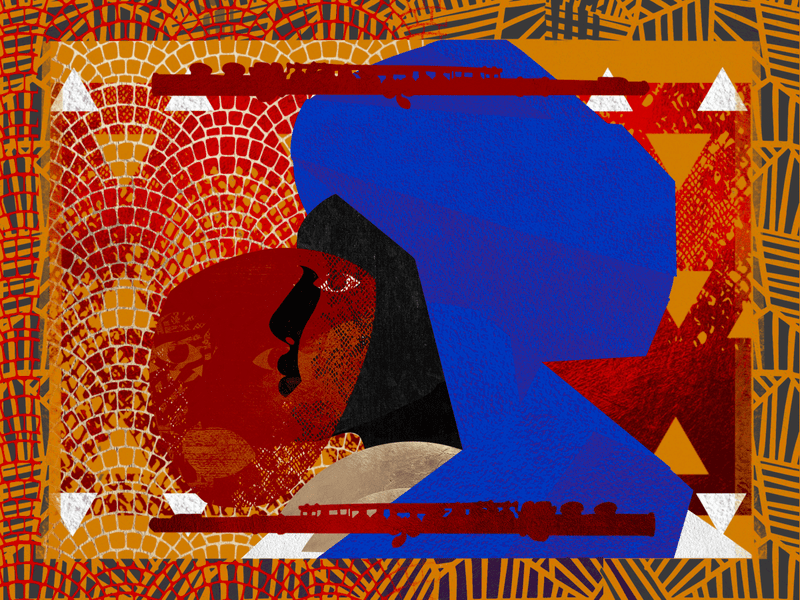 Transcript
Rodell Rosel: For the longest time, I've always wished I was not what I am. Over the years growing up, learning more about how deep being a person of color is, then I realized, "Oh, I'm really glad that I am what I am. Because I have something to say, I have something to talk about."
Raehann Bryce-Davis: You know, it's the battle that we're trying to fight so hard as the society is to have dark-skinned, beautiful representation.
Terrance McKnight: This is Every Voice with Terrance McKnight. The voice you heard at the top of the show, that was Rodell Rosel. He's an operatic tenor of Filipino heritage. We also heard from mezzo-soprano, Raehann Bryce-Davis. This is a new podcast from WQXR that interrogates the culture of our classical music saying, and looks at ways to make it more beautiful for all of us. We've been talking about the representation of Blackness in opera, and Mozart's The Magic Flute, that will be the character of Monostatos, he's the Black guy. He's an enslaved prison guard, who's smitten by the princess Pamina, who he's supposed to be guarding for the high priest Sarastro. Last episode, we introduced Rodell Rosel, who has sung the role of Monostatos numerous times, I asked him to go into character, so we could get an understanding of the human being beyond his station as a comedic buffoon slave. And I asked one simple question, "Monostatos, what do you want?"
Monostatos: I want to be loved, I want to be acknowledged, I want to belong, I want to be looked at how people look at everyone else, I want to be part of something part of a family, part of a couple, part of a group. And that's all I want.
[music]
Terrance McKnight: Monostatos wanted things that were off-limits to most men of his heritage and white society. There were codes, laws, and bylaws that prevented that. Some of those living in Vienna were purchased and given as luxurious gifts. So the Black man, Mozart put on stage reflected real life for Black folks. It was also a blueprint for how Blacks were to be understood and managed.
What does that blueprint say? How were Europeans meant to understand Black people living among them? They weren't. That other something that still takes place today. The old blueprint has been passed down through the centuries. UC Brown, my former professor at Morehouse and I, used to talk about this, especially when he will come back from traveling abroad.
Brown: There are many places where people never see a Black face in a course of a week, in some of the far ends of places like Eastern Europe, and Russia and the bordering area, to the Middle East. They just don't see Black people, and they stare and it's the most uncomfortable feeling. They're looking at everything. They don't say anything, because I think sometimes they wouldn't know what to say. Your novel.
Terrance McKnight: Your novel, so novel, that a fictionalized portrayal, in a play a movie, or an opera might be the only experience of Black people that folks in these places have.
Brown: And the sad part is, if that's the only example that you have with these characters, that's what they go away with.
Terrance McKnight: Whether it's reality, or whether it's play-acting on stage?
Brown: Precisely.
Terrance: Mm-hmm.
Brown: Where do you draw that line between what is real, or what is something that has been contrived? In the 19th century, a populace of people who really had a different sense of who we were. It doesn't make excuses for them. It simply says that there was a level of ignorance among people who were probably unwittingly not even aware of what they didn't know. This whole sense of being occupiers and a kind of master race lead to attitudes, that in some respect caused this kind of problem to fester because they weren't concerned about showing the humanity and the inner workings of African society. Uh, they were concerned about colonizing and claiming territory. Your race in the sense of who you were at the base of your humanity did not matter.
Terrance: Monotatos, therefore, was an object, a plot device, something to be feared and ridiculed. Here's Soprano Sylvia McNair.
Sylvia McNair: Monostatos is described as a Moor. The Moors were the people from North Africa, predominantly Muslim. They were dark-skinned, and therefore in central Europe, they personified bad things.
Monostatos: [foreign language]
Sylvia McNair: These were stereotypes that those central Europeans had. We have inherited them. It's our responsibility to move the story forward.
Terrance: I'm looking at the libretto right now, the original text that Mozart used to write the music. There's a scene early in the opera where Monostatos captures Pamina and her love interest Tamino. They were trying to escape Sarastro's temple. Now, Monostatos is just following orders, and he proudly tells his master Sarastro, "You see what a good job I've done?" Sarastro says, "Of course," and then offers Monostatos a reward, and just for kicks, for laughs for the audience, and to show off his authority, his superiority, Sarastro rewards Monostatos with 77 lashes across his feet, sends him off to be beaten. Why not? It served as a reminder of the place that Black people held in white society, and of course, there was the course right there to say, Hey, amen. Maybe not quite like that.
[MUSIC - RIAS Kammerchor & others: Die Zauberflote, K. 620, Act 1: "Wenn Tugend und--]
Long live Sarastro. In his divine wisdom, he rewards and punishes at one turn, when virtue and justice, true with fame, the path of the great, the earth is in realm of heaven and mortals are like gods.
[MUSIC - RIAS Kammerchor & others: Die Zauberflote, K. 620, Act 1: "Wenn Tugend und--]
You're listening to every voice with Terrance McKnight. Don't go. We'll be back.
[MUSIC - RIAS Kammerchor & others: Die Zauberflote, K. 620, Act 1: "Wenn Tugend und--]
[MUSIC - Berlin Philharmonic & Karl Bohm: Die Zauberflote, K. 620, Marsch der Priester]
We're back. That scene of Monostatos being dragged out made the point that Blacks were completely at the mercy of white rule and whimsy.
[MUSIC - Berlin Philharmonic & Karl Bohm: Die Zauberflote, K. 620, Marsch der Priester]
Much of what happens to Monostatos in this opera became a template for-- You got it. American menstrocy, that form of theater performed among white audiences in the 19th century. It consisted of white actors putting on Black face and performing racist stereotypes for entertainment. Audiences demanded to see Black folks being portrayed as loud, lazy, threatening, nervous, dishonest, and childish.
[MUSIC - Berlin Philharmonic & Karl Bohm: Die Zauberflote, K. 620, Marsch der Priester]
When I was a kid, I remember people saying, "Act your age, not your color." You all know what I'm talking about. You probably heard a few of those slurs growing up. These stereotypes were fomented in European opera and in forms of American entertainment. This became the lens through which Blackness was seen and understood.
[MUSIC - Martin J.: Not Happening]
Terrance: One of the biggest laughs in the Magic Flute is the scene when Monostatos and his band of slaves hear music. They become so captivated by the music that they forget the important task that they're supposed to be accomplishing. Instead, they get caught up and can't help but to dance.
[MUSIC - Martin J.: Not Happening]
Of course, the audience is tickled when this happens. Keep in mind, the role of Monostatos has traditionally been performed by white singers tasked with portraying Blackness. Imagine the kind of things they did to get laughs. That was the good. One tenor who apparently nailed it was Charles Lyle, a British tenor. Here's a dramatic reading from the Daily Telegraph.
Voice Over: A word of praise must again be given to Mr. Lyle, who invests the part of Monostatos with an importance due to genuine humor and finished acting. In the scene of the slaves' involuntary dance, Mr. Lyle excites laughter such as is rarely heard in an opera house. The Daily Telegraph, 1870 London.
Terrance: Monostatos' comic relief in this opera, he dances for laughs. He gets beaten for laughs, but it's no laughing matter. When he catches feelings and expresses them and the desire for a kiss from Pamina. We ask Jan Burnett and Sylvia McNair, two Sopranos who sang the role of Pamina for their perspective on Mr. Monostatos's intent.
Sylvia McNair: Depends on the production. I remember when I've done it, he has come in and he is being forceful and I am doing my best to comply, but still standing up to him saying, "You know, this is not okay."
Jan Burnett: I just wanted a kiss. That's all I wanted.
Sylvia McNair: But there's not much power that I have because I am the prisoner.
Jan Burnett: I feel that asking nice was not working.
[music]
Sylvia McNair: It's lust and selfishness that we see him living out with Pamina. He wants to seduce her, but he sings to himself, "Pamina is not available to me because I'm a slave and a slave is ugly."
Jan Burnett: I had no intention of really defiling her or violating her.
Terrance: Once again, I'm looking at the libretto and it doesn't actually say that Monostatos puts his hands on Pamina. What he actually says or does, doesn't really matter. The point is, she felt threatened and she went into full care mode and told her captor, Sarastro, that she was trying to run away with Tamino only because the Black guy was being lusty. After that, Monostatos was banished into eternal darkness. I'm looking at Pranathi Diwakar. She's on our production team. She's had a curious look on her face as I've been talking about Monostatos. What's up, Pranathi?
Pranathi: When I think of the character of Monostatos, I think of the examples of people that I interviewed for my own research. There is a prevalence of colorism in India, and there's two reasons for this. One is the system of caste, which is thousands of years old and has taken different forms over the centuries. One of the main features of caste is that it's tied to colorism.
Proximity to lighter skin has often been equated to human value, to social prestige, and beauty. The inverse of that, which is dark skin, has been equated with negative stereotypes such as being lazy, being less worthy, being criminal, or being ugly. When we talk about Monostatos and his feelings of, I'm not good enough, it reminds me of something that someone said during my fieldwork. These are musicians. They are funeral singers, and they come from a part of town that is heavily stigmatized because of its association with untouchable caste communities. These young men who aspire to become film heroes, every time they mention their address or the director sees their face, they are cast as gangsters or villains.
[music]
In daily interactions and also pervasive cultural media, people with darker skin are constantly treated as criminal, vulgar, um, lazy, uneducated, and these stereotypes tend to result in even those who are oppressed, absorbing these ideals. With women, they often try and lighten their skin. A lot of women, starting from my grandmother's generation, would apply this cream to lighten their skin. For women, being lighter skinned meant that you were more desirable, meant that you were more marriageable, and that you came from class, beauty, grace.
Terrance: That's Pranathi Diwakar. She's a post-doctoral fellow in the social sciences at the University of Chicago. She's also a sociologist, writer, and researcher of caste music and urban segregation in India. We began this episode talking about colorism when mezzo-soprano Ryann Bryce-Davis mused of a society of beautiful dark skin representation. WEB Dubois said, "The problem of the 20th century is the problem of the color line." We're still dealing with that. That's what needs canceling the color line.
In our next episode, we're going to go back to Morehouse College and hear from voice instructor Dr. Melvin Foster, who talked to us about preparing young Black men to sing operatic roles. We'll hear from Jenina Burnett, Sylvia McNair, Rodell Rosel, talking about some changes that have been made in the Magic Flute and some changes that still need to be made to make opera more palatable for modern audiences. That's what this podcast is all about, bringing the past into the present and the stage into the streets where we all work, live and love together. Join us next time. This is Every Voice with me, Terrance McKnight. Many voices, many cultures, one people.
[music]
This episode of Every Voice with Terrance McKnight was produced by David Norville. Our research team includes Ariel Elizabeth Davis, Pranathi Diwakar, Ian George, and Jasmine Ogiste. This episode sound design and engineering is by Sapir Rosenblatt. Our original music was composed by Brother Jeromy Thomas and featured Harpist Dr. Ashley Jackson. Our project manager is Natalia Ramirez. And Tony Phillips is our executive producer.
Elizabeth Nonemaker is the Executive Producer from WQXR podcasts. And Ed Yim is the Chief Content Officer at WQXR. This project is supported in part by the National Endowment for the Arts, and you can find more information on the web at www.arts.gov. Special thanks to MET Archives for some invaluable research statistics. If you enjoy this episode, please take the time to rate and review us on Apple Podcasts or wherever you listen. I'm Terrance McKnight. We'll see you next time.
Audience: We listen to every voice with Terrance McKnight. Shout out to him and the crew.
Copyright © 2023 New York Public Radio. All rights reserved. Visit our website terms of use at www.wnyc.org for further information.
New York Public Radio transcripts are created on a rush deadline, often by contractors. This text may not be in its final form and may be updated or revised in the future. Accuracy and availability may vary. The authoritative record of New York Public Radio's programming is the audio record.