The Magic Flute: Invisible Man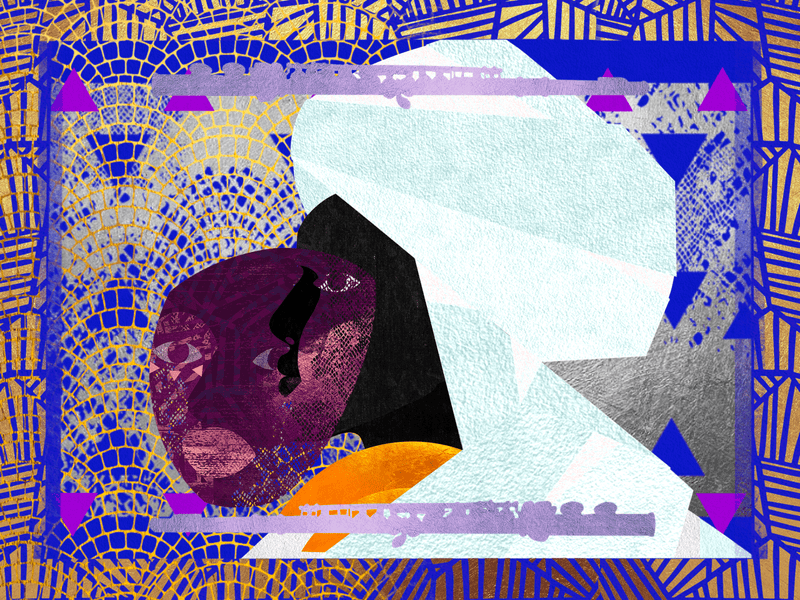 Transcript
Raehann Bryce-Davis: You know, it's the battle that we're trying to fight so hard as a society, is to have dark-skinned, beautiful representation.
[MUSIC: Tito's Groove]
Terrance McKnight: This is Every Voice with me, Terrence McKnight. It's a new podcast from WQXR that interrogates the culture of our classical music scene and looks at ways to make it more beautiful for all of us. In this series, we're talking about representations of Blackness in opera. What we're talking about today is The Magic Flute, an opera by Mozart written in 1791.
The Magic Flute is considered one of the great operas of all time. Many music students, and directors, conductors, they're studying this opera right now somewhere in the world. And because it was written more than 200 years ago and audiences had a different understanding of the world 200 years ago, there's a conversation that has to happen right now to ensure that this opera and this art form don't perpetuate ideas that are regressive to our social fabric.
Sylvia McNair: You know, they say that sunshine is the best disinfectant. When we are talking about race in opera, we are pulling these issues out from the shadows. We're taking them out from underneath the rug where they've kind of been buried, hidden. We're shining light on them. The sun is shining on them.
Terrance McKnight: That was soprano Sylvia McNair
[MUSIC: Die Zauberflote Overture]
Terrance McKnight: The Magic Flute is a fairy-tale opera set in Egypt. It describes Pamina, a beautiful princess being held captive by a ruler named Sarastro, who actually has her best interest in mind. He's protecting her from her mother, The Queen of the Night. Monostatos is the Black slave who works for Sarastro. He's the prison guard who becomes captivated, smitten by Pamina's beauty.
Now, Pamina's mother promises her daughter to Monostatos if he can help her escape, but Pamina is afraid of Monostatos because he's Black. She instead falls for a prince. A guy named Tamino, who comes to her rescue, and in the end, they find love and light, while Monostatos on the other hand is beaten for lust and treason. He and Pamina's mother are cast into eternal darkness.
So in the first episode of our series, mezzo-soprano, Raehann Bryce-Davis, a Black woman, shared her experience of a read-through of The Magic Flute. She was in college at the time and she was shocked to learn of the opera's racial overtones. In his aria, Monostatos sings about being desperate for acknowledgment, but he can't get it because he's Black. And according to the opera, Black is ugly.
Raehann Bryce-Davis: And I was just like [onomatopoeia]. [laughs] And as the only Black person in the room, I looked around like, "Huh, is everybody equally appalled?" [laughs]
Terrance McKnight: Can you imagine going to an opera, a play, or a movie knowing that that line was coming? In Mozart's opera, Monostatos, he's not a major character. He's the court lackey. He's the buffoon. He's the butt of the joke. He doesn't even have to sing beautifully. He's only there for comic relief, and that's exactly why we're shining the light on him.
That's why we're bringing him into the spotlight. We're giving him his due because some of us live with the legacy of invisibility every day. And in this show, I like to say that we bring the past into the present, and the stage into the streets, where we all live and work together every day trying to make things more beautiful for all of us.
[MUSIC: Every Voice Shout]
Terrance McKnight: You're listening to Every Voice with Terrance McKnight, many cultures, many voices, one people.
[MUSIC: Every Voice Shout]
Terrance McKnight: The year the Magic Flute was written and performed, the British Parliament rejected a motion to abolish slavery. But in Haiti, a revolution began led by Toussaint Louverture that would overthrow French colonial rule and lead to the emancipation of hundreds of thousands of African people, many of whom settled in Louisiana, creating that very rich culture in New Orleans.
So this opera depicting African enslavement and invisibility had political and social implications and impact around the world. The first year was performed more than 100 times and finally made its way to America in 1833. It was performed in English several times here in New York City, and at the time, there were more than 15,000 free African Americans living here. But they were always at risk of being arrested or kidnapped and sold into slavery, children included. Slave labor was big business.
[MUSIC: "Allegro" from Die Zauberflote Overture]
Terrance McKnight: And so an opera representing enslaved Africans was normal and acceptable to an audience of the day. And some productions, Monostatos and his band of slaves were called Negroes as opposed to Moors. But although opera companies were comfortable depicting Black characters, it was a whole other story when it came to actually featuring Black performers. Since the Metropolitan Opera's founding in the 1880s, Magic Flute has been performed nearly 500 times, but not one Black singer has ever sung the role of Monostatos. Zero. It's very interesting, right?
Monostatos, in addition to being enslaved and self-admittedly ugly, his role in the opera is that of a criminal. And he falls in love with a woman who doesn't look his way, and he contemplated kissing her while she was asleep. His boss, Sarastro, didn't go for that. So of course, he had to reprimand Monostatos because Pamina was frightened. Bass, Kevin Maynor, has sung the role of Sarastro around the world.
Kevin Maynor: Sarastro has to discipline Monostatos, so there is that immediate feeling of superiority that we get from Sarastro, and he's banishing Monostatos away and disciplining him. And he even calls him, was thought of as a negative term, he calls him Black. You know, schwarze.
Terrance McKnight: Clearly, Sarastro didn't know anything about being Black and proud. Born too soon. Right now, I want you to meet someone very familiar with Monostatos. This is tenor, Rodell Rosel, who sung the role of Monostatos 15 times. And he says he understands that role from his own personal experience.
Rodell Rosel: I'm someone who is gay and Asian, so I'm already different to begin with. And I think it helps to connect with the character that way. For the longest time, I've always wished I was not what I am, but over the years growing up, learning more about how deep being a person of color is, then I realized, "Oh, I'm really glad that I am what I am because I have something to say. I have something to talk about."
[MUSIC: Sunrise]
Rodell Rosel: And with this character, you know, playing it, I'm able to put my own twist or my own interpretation of how do I make my character be the character that was written, but at the same time, connect with people? And I think that's what I'm-- I was able to do every time I come out.
Terrance McKnight: In order to empathize with anyone, whether on stage or on the subway, we have to, first of all, see them as equally human. For this show, I asked Rodell Rosel to go into character as Monostatos so we can get a better understanding of who Monostatos is.
Rodell Rosel: I'm just a regular person, born a regular person, but born with not your traditional beauty or pleasant features. The society is used to looking at beauty in a very specific spectrum. I do not fall into that spectrum. I'm born with very unusual facial characteristics that people might find, uh, gruesome, ugly, or people may be afraid of. They would react to me like I would hurt them or I would do anything bad to them.
Terrance McKnight: He's talking about the way Pamina is responding to him. She's the princess and prisoner that he's responsible for guarding. He's got his eyes on her in more ways than one, but she only sees him as a lustful, scary big Black guy.
[MUSIC: Largo from Die Zauberflote Overture]
Rodell Rosel: I am attracted to her because she made me feel something that I have not felt before. Attraction, love, admiration. And his was the first time that I saw someone who I immediately admired because of her beauty. But because she has never seen anyone like me, her reaction towards me was the opposite.
Terrance McKnight: This character, Monostatos, doesn't sound like the butt of a joke to me. Maybe I'm being overly sensitive, but the idea of another human being being invisible in society and considered ugly in society because of how they were born, is pretty despicable. Stick around. You're listening to Every Voice with Terrance McKnight. We'll be back in a moment.
[MUSIC: Sunrise]
Welcome back. Before the break, we were talking about how Monostatos feels alienated because of the way he looks and where he comes from. You know, I spoke with some of the folks on my production team about that, about their own personal experiences of being othered.
Pranathi Diwakar: My family moved from India to Los Angeles when I was six, and I sounded very different. I grew up speaking English because of colonization, class, all these other things, but I sounded different, still, because my accent was different.
Terrance McKnight: Meet Pranathi Diwakar. She's a post-doctoral fellow in social sciences at the University of Chicago, where she studies caste music and urban segregation in India. And happily for us, she's a researcher for this program.
Pranathi Diwakar: And I remember dressing differently from the other kids in my school. My mom would put me in dresses, which we called frocks because the British colonized us. And I remember saying, "Oh yeah, my frock is dirty." And someone said, "Your frog is dirty?" And I said, "No, my frock." And I remember just feeling so alone and then learning how to code switch. Then I learned that if you conform, you end up getting accepted but there's a cost to that, and I think that is loneliness.
We moved back to India and I sounded different again, so I had to code switch back into my Indian accent. So I got really good at being sort of a chameleon with my accents. And then I moved back here for grad school, and I said, "No, I'm not going to change my accent from the Indian accent because, you know, I wanna be political about it." And then nobody could understand me and they thought I was stupid, which doesn't work great in a PhD program. So I switched again. So there's a loneliness to that.
Terrance McKnight: Dave Norville is an oboist and is a producer for the show. He told us how feeling othered has caused him to feel insecure, but race is only a part of it.
David Norville: The biggest things that really caused huge insecurity for me as a child, there were three main things that I've even to this day subconsciously tried to go against and move away from. And I think that has to do with my speech, my height, and my skin color. Some of the students that I went to school with, they actually gave me a nickname that probably some people from my old high school still-still call me today. They call me KB, um, which stood for Kenya Boy.
And they called me that because they said my skin was-was very, very dark. All those things have actually, I think they've shaped and molded my personality, uh, through and through. You know, a lot of the things that I've done, a lot of the ways that I've worked really hard have been motivated by, uh, an impulse to avoid rejection or avoid failure rather than achieve success or achieve internal validation.
I feel like part of the reason why I could feel some validation in classical music or theater performance, anything like that, was because if I could get that attention, that applause, that validation, that could, uh, supplement some of the loneliness that I felt deep, deep inside. And I think that's part of the reason why this story of Monostatos really captivates me so because I think there are a lot of young Black men who, in isolation, are dealing with these feelings of loneliness and are acting out in certain ways. I've had several friends who have-have lost, you know, those battles with depression, with loneliness, who have taken their own lives. Um, loneliness will make us do a lot of crazy things. We as human beings are wired for connection.
[MUSIC: Every Voice All Call]
Terrence McKnight: The need to connect with other human beings is universal. As we see in this opera, whether you're a princess, a prince, or a prison guard, there is that desire to be seen and to be acknowledged. In Mozart's Magic Flute, the basic human drive becomes a joke when it's aspirational for someone who's seen as less than. And unfortunately, we as humans haven't figured out how to fully see and appreciate the entirety of our human family.
Given the negative racial stereotypes and the agenda of this 18th century opera, there are those who say, burn it down, stop performing it, cancel it, but I'm learning through this process with my team and with artists like Raehann Bryce-Davis, Chauncey Packer, Sylvia McNair, and Rodell Rosel, that there is a depth, complexity, and humanity that can be brought to this opera that could be an important teaching moment in modern society, much more than Mozart and his librettist Schikaneder saw or were able to realize during their day.
For this podcast, we're trying to see the world through the eyes and experiences of those who get overlooked and misrepresented. So in the next episode of the show, we'll hear how Monostatos responds to not being seen or acknowledged. And we'll hear from singers who have performed the role of Pamina, and we'll get their take on how we make this opera sing for all of us living in the 21st century.
[MUSIC: Every Voice All Call]
Terrence McKnight: You're listening to Every Voice with Terrence McKnight, many cultures, many voices, one people. This episode of Every Voice with Terrence McKnight was produced by David Norville. Our research team includes Ariel Elizabeth-Davis, [unintelligible 00:19:11], Ian George, Jasmine Ogest. This episode, sound design, and sngineering is by Sapir Rosenblatt, and our original music was composed by Mr. Jeremy Thomas. Our project manager is Natalia Ramirez, and our executive producer is Tony Phillips.
Elizabeth Nonemaker is the executive producer for WQXR podcast, and Ed Yim is the Chief Content Officer at WQXR. And thanks to the Met Archives for some invaluable statistics. This project is supported in part by the National Endowment for the Arts. You can find more information on the web at arts.gov. If you enjoyed this episode, please take the time to rate it and review it and review us on Apple podcast or wherever you listen. We'll see you next time.
Harlem Cats: You're listening to Every Voice with Terrence McKnight. Woo. Shout out to him and the crew. Woo.
[MUSIC: Every Voice All Call]
Copyright © 2023 New York Public Radio. All rights reserved. Visit our website terms of use at www.wnyc.org for further information.
New York Public Radio transcripts are created on a rush deadline, often by contractors. This text may not be in its final form and may be updated or revised in the future. Accuracy and availability may vary. The authoritative record of New York Public Radio's programming is the audio record.